Julia Rose bio: Age, boyfriend, modelling career, famous stunts
Julia Rose is an American model and reality star who went viral for exposing herself on live TV during Game 5 of the World Series in 2019. Her popularity further increased when she began dating YouTube star Jake Paul.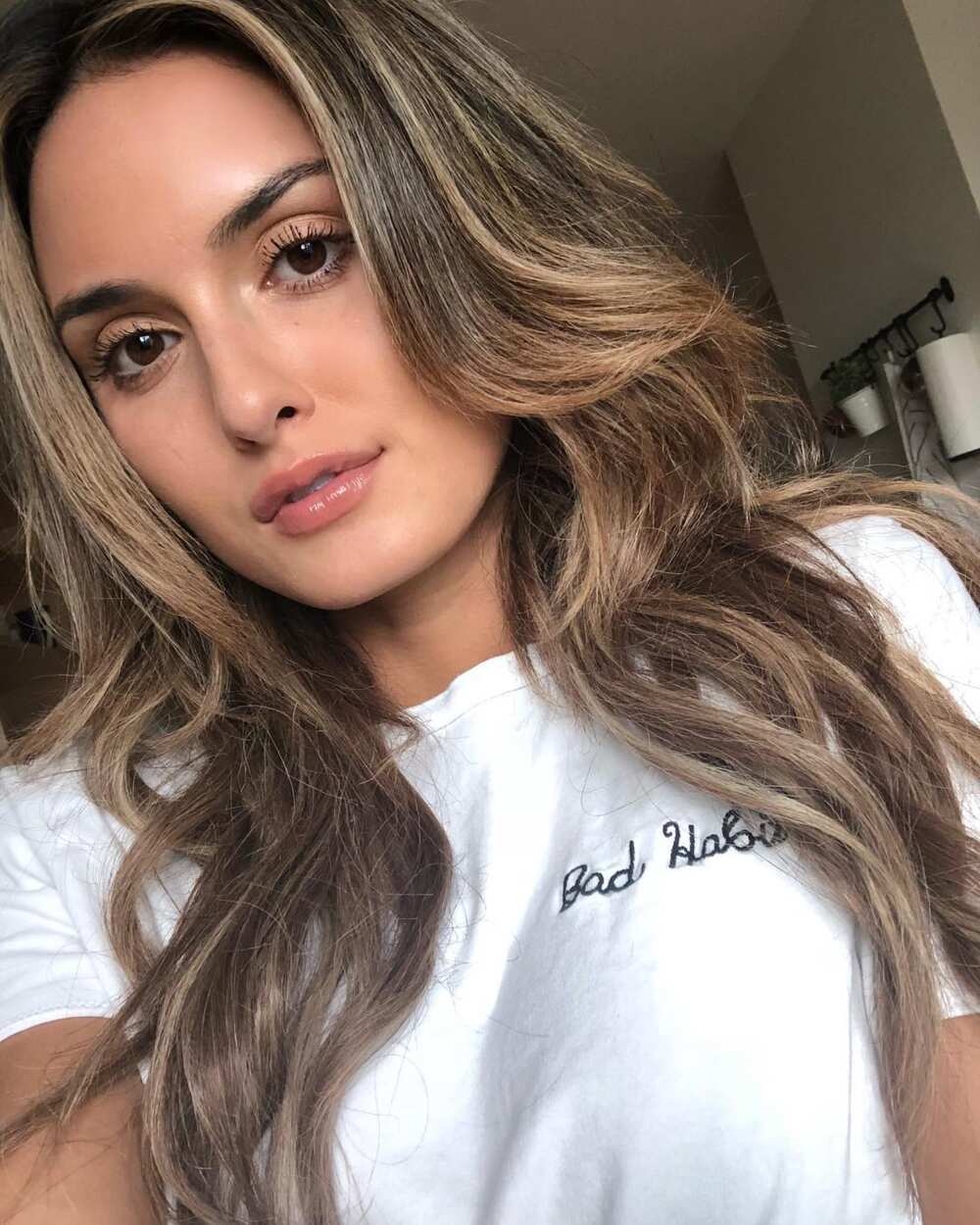 Julia Rose is a 26-year-old who has found her passion in life and is sticking to it. Though she became famous for participating in an indecent exposure in a public place on live television, the model claims she did it for charity.
Profile summary
Name: Julia Rose
Age: 26 years
Date of birth: December 30, 1993
Place of birth: New Orleans
Nationality: American
Height: 5 feet 6 inches
Weight: 56 kg
Hair colour: Dark brown
Eye colour: Brown
Horoscope: Capricorn
Occupation: Model, reality TV personality, magazine editor
Net worth: $3,000,000
Who is Julia Rose?
Julia Rose is a model, social media personality, reality TV star, and CEO of SHAGMAG. She was born on December 30, 1993, in New Orleans, Louisiana, USA, but grew up in Texas. Julia Rose age is 26 years.
She is a graduate of Texas State University.
Body measurements
The model is a young woman with an attractive body. Her body measurements are 32-25-37 inches in the bust-waist-hips ratio.
Career summary
Before Rose became famous, she worked as a bartender at H*oters and few other locations in Austin, TX, and Los Angeles.
In 2018, she was one of the Sports Illustrated Swimsuits 2018 casting models.
She is the founder of a digital magazine named SHAGMAG.
She also featured on the reality show Are You The One? on MTV.
How did Julia Rose get famous?
The 26-year-old shot to fame when she and her friend Lauren Summer exposed themselves during Game 5 of the World Series in 2019.
The Washington Nationals were hosting the Houston Astros, with the fixture being broadcast live on Fox Sports. As the camera panned around during a break in play, Lauren Summer and Julia Rose lifted their tops and revealed their bare chests on live TV.
After the clip went viral, the ladies came on social media and confessed that they were the "offenders". Rose shared the video on Twitter writing,
"guilty as charged".
Lauren Summer posted a news report of the incident on her Instagram story with the caption,
"we did it guys."
She also posted the clip on Twitter saying that she had to do it for the internet.
The Julia Rose Lauren summer indecent exposure reportedly earned them a life ban from all Major League Baseball stadiums and facilities.
Julia shared a letter allegedly from Major League Baseball stating why she is now banned from all stadiums. The letter reads:
On October 27, 2019, you attended World Series Game 5 at Nationals Park in Washington DC. During the game you violated the fan code of conduct by exposing yourself during the 7th inning, in order to promote a business...You are hereby banned from all Major League Baseball stadiums and facilities, indefinitely.
The letter was supposedly sent from the vice president of Security and Ballpark Operations for the Office of the Commissioner, David L Thomas.
Summer also uploaded a photo of the same letter. Many people, however, did not believe that the letters were genuine due to how quickly the two models received them.
Summer went on Twitter to reveal that they did not regret what they did, and hinted at what the reason for their actions probably was.
Summer tweeted,
To clarify, yes we knew we would get banned, yes the letters are real, and yes I would do it again lol. More importantly, subscribe to @SHAGMAG_ because the proceeds go directly to women with breast cancer to pay for their medical bills.
Julia Rose and Lauren Summer are both models. Lauren is a Playboy model.
Who is Julia Rose boyfriend?
Julia Rose is single at the moment. She was previously Jake Paul's girlfriend but the pair broke up almost as fast as they got together.
Paul began dating Rose six months after he and YouTuber Tana Mongeau had a fake wedding in Las Vegas.
The model and Paul met on the set of his music video for These Days, and he officially introduced her as his girlfriend in a vlog posted on March 20th, 2020.
Paul and Rose were spotted together in Miami for his boxing match against British YouTuber AnEsonGib on January 30, 2020. Paul quickly knocked out his opponent and won the match in the first round.
Rose supported Jake all week ahead of the competition. The new couple even hung out with Paul's ex after the match.
At the afterparty, Rose and Mongeau staged a fake fight, which ended with a passionate kiss, as a joke on Paul. Rose later posted a friendly photo of her and Mongeau on Instagram.
Before Jake Paul, the model was engaged to Stephen McHugh. She met him on MTV's dating show Are You the One in 2016. McHugh proposed to Rose in 2019.
McHugh helped co-found SHAGMAG.
Why did Julia Rose dump Jake Paul?
The couple just went public with their relationship in March 2020 and broke up not long after. Jake announced that he got dumped by Julia in one of Logan Paul's vlogs. He said,
I'm hungover, depressed and heartbroken because my girlfriend dumped me, because I'm a f—ing idiot. Julia, if you're watching this please take me back. Guys, if you're in a relationship don't take what you have for granted.
They love birds have since gotten back together after Jake took some steps to apologize to her, including a billboard advert.
Net worth
The model's estimated net worth is $3,000,000.
Social media
Rose is very active on social media and she has millions of followers. There are 4.8 million followers on Julia Rose Instagram page.
For those who are interested in seeing Julia Rose model shots, her Instagram page is where you should be.
Julia Rose is perhaps a controversial personality, but there is no doubt that she is a hard-working young woman who is doing what she can to give herself a good life and she is enjoying it.
Source: Legit.ng