Client exposes alleged witch, Angela Nwosu, calls her fake
- A Nigerian lady, Ukoha Esther Kasarachi, has called out an alleged witch, Angela Nwosu
- Esther called out Angela after the products she got from her did not work
- The lady recounted how she saved N80k to buy Angela's products and how the 'witch' allegedly ties people's destinies with her giveaways
PAY ATTENTION: Click "See First" under the "Following" tab to see Legit.ng News on your Facebook News Feed!
The African society is one that has its foundation in a lot of traditional things but education and civilisation has helped put a stop to many of those happenings.
However, seeing as things that are enshrouded in mystery still fascinate a lot of people, some individuals have made it their business to practise it and claim to proffer solutions to people's plights.
Just recently, a young lady identified as Ukoha Esther Kasarachi called out an alleged witch, Angela Nwosu.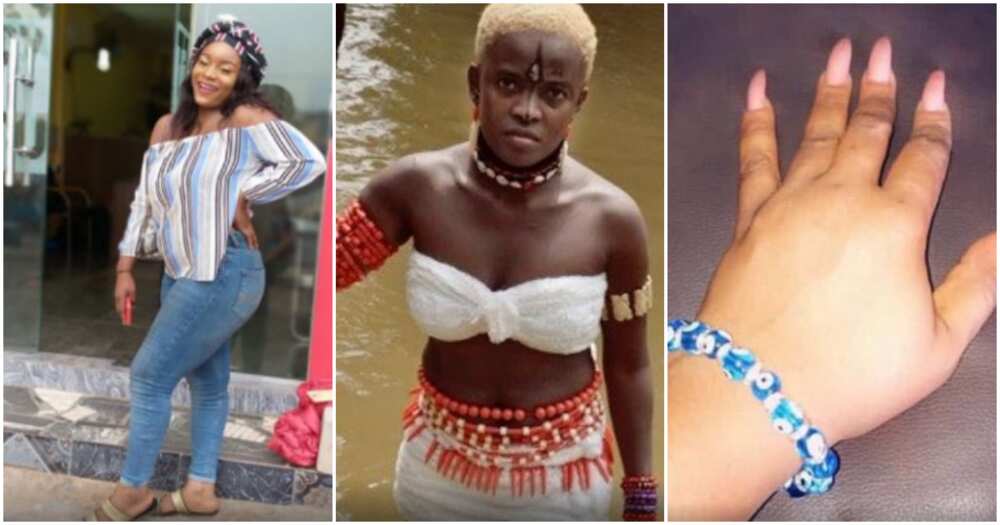 According to Esther, she used to be a die-hard fan of Angela despite the warnings from her friends. Explaining further, she said that she saved about N80k to get products from Angela which did nothing to solve her problems.
The young lady said that she reached out to Angela on how she started having bad dreams after buying her products.
Esther eventually thanked God for making her realise the wrongdoing. She also said that Angela was only using people like her to make money.
She wrote: "PLEASE READ! VERY IMPORTANT.
I Ukoha Esther Kasarachi publicly denounce ANGELA NWOSU and anything or anyone that has anything to do with her.
I've been in the dark these past year; my life has taken a different turn. I've stopped going to church, stopped praying.
Believing that one blue eyes bracelet or any fetish thing would be the final solution to my problem, not knowing I enslaved myself to mental slavery.
I started following this woman since last year, I was a die-hard fan..
I would tackle anyone who says anything about her, her both accounts and page were on my "see first"
My girlfriend Hrm Sandra Eche has talked and talked a lot of times advised me to leave this woman, I no gree. she said I have a shining star and following this woman might tamper with the God-given luck I have, I say for where?
My best friend Uju Hadassah Uju talked and talked, I said nothing can separate me and Angela. Some of my friends became scared of me..
I started practising stuffs I don't know anything about. I started wasting strength, time and energy. I was saving 30k to use and buy bracelet. I was saving another 50k for scrub.
It just dawned on me that this woman is using us to do business.
Before everything she did was right in my eyes till when one of my friends favor that bought this blue eyes 3 times, testified that its scam. I started being careful till I came across Zobba Zanne Zeus(search this name now now and read make your eyes open)
And it dawned on me that I have been in darkness since. I also had one very scary dream about her, I ran to her inbox..this woman read and ignored. E plenty, I can't remember all of them now. I started having relationship issues…tight financial issues.
She has used giveaways to tie down peoples luck and destinies.
Ask yourself what she does for a living that she gives out such money?
If you ain't talking money in her inbox..she no dey answer you.
She sells bracelet, scrub, and she said she's introducing oil. All for what? For good luck? So the God-given luck no do us again.
I thank God for this realization. I am never going back. This is an open confession. May God forgive me for placing a mere bracelet above him.
I live in Owerri, precisely; I would appreciate anyone who would be willing to help me go to church at least every Sunday. I don't go to church mainly because I was abused by pastors but I want to try again."
Hmm…Nawa o.
In other news, Legit.ng reported that a fake pastor was disgraced after he was caught planting charm on cousin's land to extort him.
PAY ATTENTION: Do you have news to share? Contact Legit.ng instantly
Slum Chronicles: Surrounded By Witches | Legit TV
Source: Legit