- Reverend Al Sharpton, a popular activist in America, made an emotional speech at George Floyd's funeral service on Tuesday, June 9
- The activist assured Floyd's family that they are going to keep pushing for justice no matter how long it takes
- Al Sharpton added that Floyd's death was a crime, saying that what happened to him could not have been done to a white man
PAY ATTENTION: Click "See First" under the "Following" tab to see Legit.ng News on your Facebook News Feed
Reverend Al Sharpton, one of the foremost human rights activists in the US, gave a very moving eulogy at George Floyd's funeral service in Houston on Tuesday, June 9.
He said that God looked at an "ordinary brother from the Third Ward, from the housing projects" and made him the face of a movement that would child the world.
Sharpton said that what happened to the late black American man was not "just a tragedy" but that "it was a crime", CBS News reports.
In pointing at the hypocrisy of some people in authorities, he said that though they are standing and grinning in front of cameras, they are the people who are going to try to slow the justice process and Floyd's family down.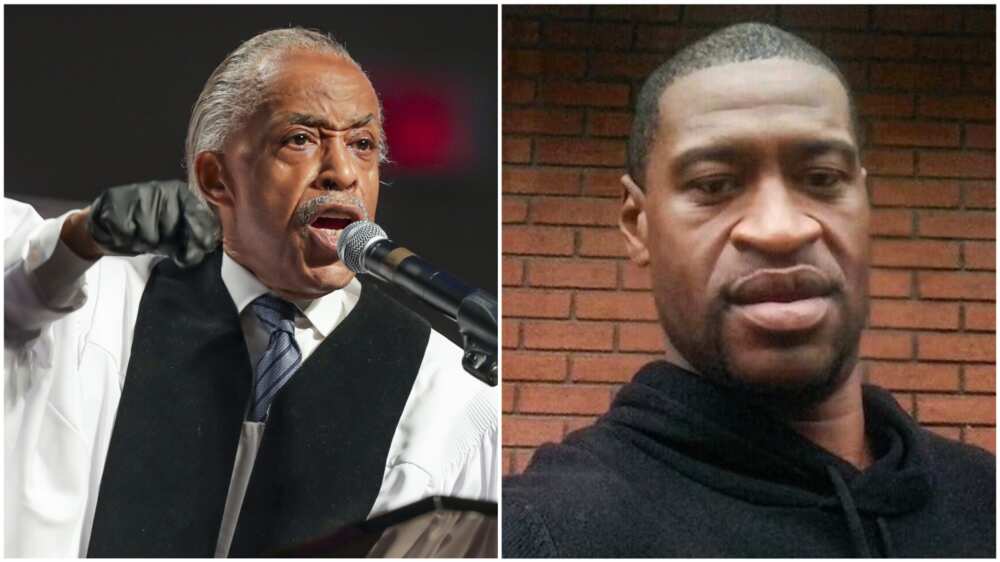 "If four blacks had done to one white person what they did to George, they would not have to teach social lessons…, they would send them to jail. Until we know the price for black lives is the same for white lives, we're gonna keep coming to this situation over and over again," he said.
Sharpton also gave his words to Floyd's family that the fight for justice is going to continue for a very long time and they are not stopping anytime soon.
"We are fighting wickedness in high places. When you can put your kneel on a man's neck and put it there for eight minutes and 46 seconds, that's not even normal to a civilian let alone a police officer," he said.
Meanwhile, Legit.ng earlier reported that UK protesters tore down the statue of Edward Colston, a 17th-century slave trader as a way to show that racism does not have a place in today's society.
PAY ATTENTION: Download our mobile app to enjoy the latest news
It should be noted that the protesters are among thousands of others who are advocating under the aegis of the Black Lives Matter movement. The statue of Edward was torn down in Bristol, England, and thrown into River Avon, left to drown.
He was an English merchant, slave trader, member of parliament, and a supposed philanthropist. Edward was born in Bristol to a family of merchants that had lived in the city since the 1340s.
George Floyd: I was also arrested, handcuffed wrongly - Nigerian in Minneapolis | Legit TV