The beautiful Daphne Oz is the true embodiment of what it means when people say that women can have it all. The best selling author, television host, mother and wife seems to have a perfect life.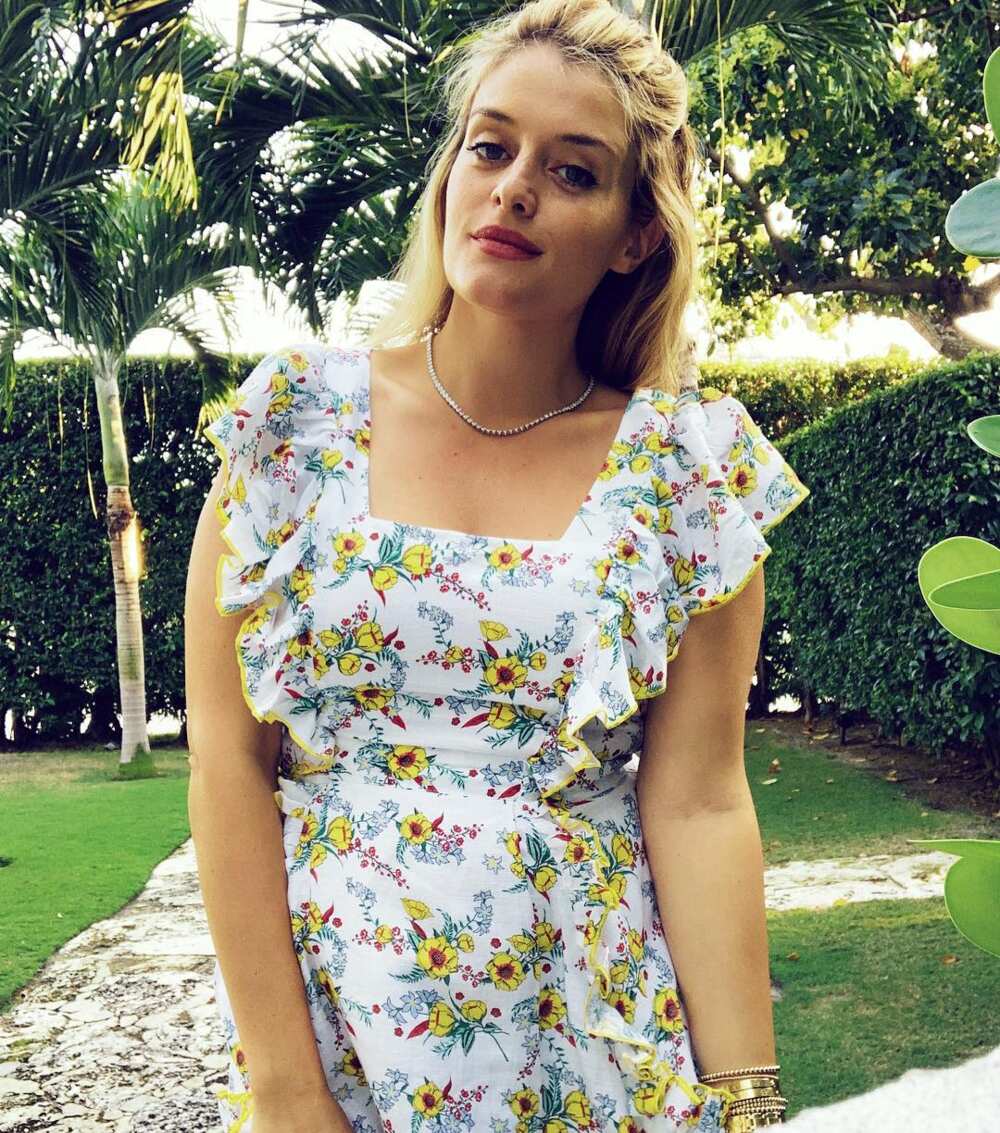 Having a famous and rich dad is what most of us would want in life. Daphne's parents are both rich and quite famous in their chosen fields. Their daughter followed in their footsteps and has carved a place for herself in the world of good and healthy food.
Here is all you need to know about the incredible Daphne Oz.
Daphne Oz profile summary
Name: Daphne Zur Oz
Age: She was born on 17th February 1986. She turned 33-years-old early this year.
Place of birth: Philadelphia, Pennsylvania USA.
Zodiac sign: Aquarius
Nationality: American
Siblings: She is the oldest of four. She has two sisters and one brother namely; Zoe Yasemin Oz, Arabella Sezen Oz, and Oliver Mustafa Oz
Ethnicity: Caucasian - She has Turkish, Italian, Irish, Cornish, Swedish, and Swiss-German roots
Height: 5ft 5 inches (1.68 m)
Weight: 62 kgs
Eye colour: Grey
Hair colour: Blonde
Profession: Nutritionist, author and television host
Who is Daphne Oz?
She was born on 17th Feb 1986 in Philadelphia to parents Mehmet Oz and Lisa Oz who are both actors. Her parents and doctors considered her a miracle baby because the now author was born with her umbilical cord around her neck. Due to this, doctors gave her an Apgar score of 2. Doctors never expected her to survive and feared that she may have suffered brain damage. Thankfully, she made a full recovery.
She spent her childhood in Сlіffѕіdе Park, Nеw Јеrѕеу. Growing up, she was raised as a vegetarian but gave up the way of life once she turned 18-years-old. She graduated from Рrіnсеtоn University in 2008 with a degree in Near Eastern Studies.
Daphne Oz and Dr Oz
Due to their very similar last names, most people often wonder, " Is Daphne Oz related to Dr Oz?"Yes, the star is Dr Oz's firstborn daughter. Describing her childhood days, she says that they were always a close-knit family. She explains that she loved their family trips as they always had wild games of cards going on, or Oz family football, or picnics on the beach.
I always felt very lucky to have such a big, supportive, loving family.
Dr Oz even walked his daughter down the aisle on her wedding day. Father and daughter support each other in their respective careers. She has appeared numerous times on his famous TV show and he has also been a guest on her show as well.
Daphne Oz The Chew
Is Daphne Oz still on The Chew? She had been a huge part of the ABC show, The Chew, since it first aired on 26th September 2011. When the seventh season returned and she was no longer on the show, questions like 'Why did Daphne Oz leave The Chew?, 'Why hasn't Daphne Oz been on The Chew?' 'Did Daphne Oz leave The Chew? and many more were asked by fans who had come to love the show and had no idea what happened to Daphne Oz.
On The Chew Daphne Oz was a co-host together with Carla Hall, Michael Symon, Clinton Kelly and Mario Batali. Despite bad reviews about its first episode, the show grew to be one of the best and most loved daytime TV shows. The show and its co-hosts were nominated for multiple Emmys and eventually, they won in 2015. So, why did Daphne Oz leave The Chew when she and the show had so much success?
Just a few weeks before the return of the show to ABC for its seventh season, she released a statement that said,
"It has been so much fun having lunch with you on TV's most delicious daytime show for the past six seasons, and I am immensely grateful to have found dear friends in my co-hosts and our team. I have had the great privilege of growing up at our family table, and have shared some huge milestones along the way - including the birth of my first two children, and the recent announcement of a third on the way! I am lucky to have had The Chew as a bright beginning to my career
While the author and her ABC family never gave a specific reason for her departure, many fans speculated that her 3rd pregnancy was the reason as to why she left the talk show. ABC never replaced her until the show's cancellation in 2018.
Daphne OZ husband
The star's husband John Jovanovic was born in 1986 to parents Nada Jovanovic Dimitric and Sretko Dimitric. He grew up in Chicago, Illinois. Just like his wife, he attended Princeton University where he graduated with a Bachelor of Arts in Politics. He also has a Masters in Business Administration in Finance and Entrepreneurial Management (2014) from the University of Pennsylvania - Wharton School.
He is a financial analyst and Investment Director at Mercuria Energy Group Ltd.
A fun fact about the couple is that they met while they were both in Princeton and once they graduated, the decided to get married. The couple tied the knot at just 24-years old on 26th August 2010.
As of now, the couple has been married for nine years.
Daphne Oz pregnant
Is Daphne Oz pregnant? The TV show host has been pregnant four times. With her husband John, they have four adorable children. To all those wondering, "Is Daphne Oz pregnant again?" the answer would be No. The woman just gave birth a little over two months ago.
Daphne Oz kids names are:
Philomena Bijou - She is 5 years old
Jovan Jr - He is three and a half years old
Domenica Celine - She is currently 20 months old
Giovanna "Gigi" Ines - She was born on 14th August 2019
Her life after The Chew
So, where is Daphne Oz from The Chew? Her life has not been quiet since she quit the TV show. Just a year after quitting the show on ABC, she became a regular on her dad's show where together, they host the show 'The Dish On Oz'. On the show, she invites special guests such as celebrities and they prepare fun and easy meals that are targeted to show the viewers how to make quick, easy and healthy meals for the whole family.
Daphne Oz net worth
The host and author has an estimated net worth of about $15 million. Most of her money has been made from her work as a TV host. She spent about 6 years on ABC before she quit. Her salary while working with the company was estimated to be between $65,000 and $70,000 annually.
Other than hosting, she also makes an income from her best-selling healthy eating books. On Amazon, the books' prices range from $5.74 to $21.86. She also gets paid to guest star on popular food shows such as Fox & Friends, The View, Good Morning America, Cooks vs Cons and many more.
She also works as a celebrity chef. To hire Oz as your chef you will have to fork out a fee of $20,000 – $50,000.
Despite her uncertain start in life, Daphne Oz has made incredible strides in her personal life and career. With a beautiful, happy and loving family and a full bank account, one can say that she has made it in life.