SMS Africa - how to sign up, use and pay
SMS Africa is a technology and software development company that offers reliable services for sending bulk SMS in Nigeria to individuals, organizations, schools, churches e.t.c. The cost-friendly platform allows individuals to send messages to multiple contacts effectively.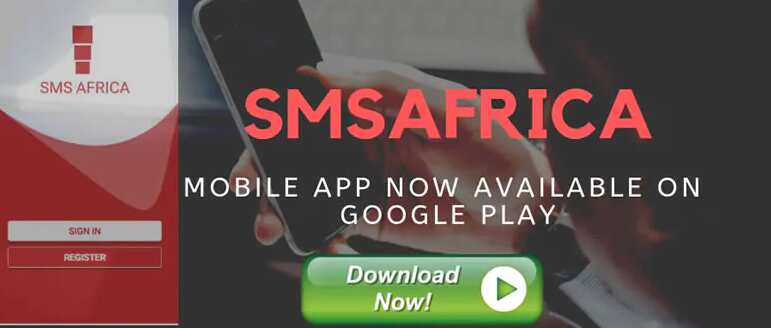 SMSAfrica bulk SMS for businesses is used in marketing, strategizing and in daily office operations. The platform allows businesses to connect to customers by inviting feedback, sending reminders and even sending customers available offers. Here is more about SMS Africa.
What it offers
The benefits that are associated with the platform include;
Quick delivery of bulk messages- the messages reach the intended contacts immediately. You also get a delivery report on the status of your text message
Reliability and cost-effectiveness of service- the rates for sending the test messages are affordable and this increases efficiency.
Sender ID branding
Uploading/downloading contacts easily via CSV and text- you can also create a contact list to which you send the recurring messages.
Their core mission is to ensure convenience in communication among people in a technology-driven world.
Areas of application
The technology can be used in sending messages to different audiences and for various purposes. Below are the different areas of application:
Efficient message delivery to friends, staff members, and customers
Delivery of goodwill messages
Follow up of newcomers and converts
Provision of periodical messages to parents and guardians about their kids in school
Sending invitations to special occasions, i.e. product launches
How to send bulk SMS in Nigeria
The platform has made it easier for customers to send customized bulk SMS in Africa and to various contacts. All you need is to create an account, buy credit using different loading options and then you cand send your messages.
Bulk SMS registration in Nigeria
Follow these simple steps to register;
Visit the SMSAfrica website
Enter your first and last name
Enter a valid email address
Enter your username and confirm the password
Select your state and phone number
Click complete registration and wait for verification
SMSAfrica login
The platform has multiple options that make it easier for its customers to send messages. Once you complete registration, sign in to your account, purchase credits and send messages. The available options include;
E-Tranzact
Sign in with your email and password
Select buy credits
Select the Etranzact option
Enter the 16 digit code and load card
Begin sending messages
Scratch card
Purchase the SMS Africa scratch card
Sign in with your email and password
Click on buy credits
Select scratch card option
Enter the PIN and load card
You can then send messages
Interswitch
Sign in with your email and password
Select buy credits
Choose the online payment option
Enter the number of units you wish to buy
You are immediately redirected to the Interswitch payment page
Input your card details
You can send messages as your account is now automatically credited
If you are having difficulty in getting scratch cards or locating their sales points, you can opt for the bank payment option.
With this option, pay into any of the bank accounts specified below. Send the confirmation message to info@smsafricang.com. Within a few minutes, your account is credited once your payment is confirmed.
Account name: MEGANET MOBILE LIMITED
Account no: 0126706357
Account name: MEGANET MOBILE LIMITED
Account no: 0059978811
Account name: MEGANET MOBILE LIMITED
Account no: 1013331219
Account name: MEGANET MOBILE LIMITED
Account no: 2022774684
SMS Africa app
The bulk messages provider also has an Android mobile app that you can download from the Google Play Store. Enter your email address and password and begin sending personalized messages to your contacts
The bulk messages platform offers awesome rates for sending messages. Some think of it as being the most reliable and cheapest bulk SMS site in Nigeria. With communication being a key factor in company progress, SMSAfrica has provided a reliable contact tool among professionals.
Source: Legit.ng News