Tulsi Gabbard is a Democratic Party presidential candidate for the upcoming 2020 US elections. She recently came into the limelight after the Democratic presidential debates. While she began as one of the lesser-known candidates, her strong stances regarding national issues have catapulted her into popularity. Her recent criticism of California's senator Kamala Harris is probably Gabbard's most talked-about incident of late.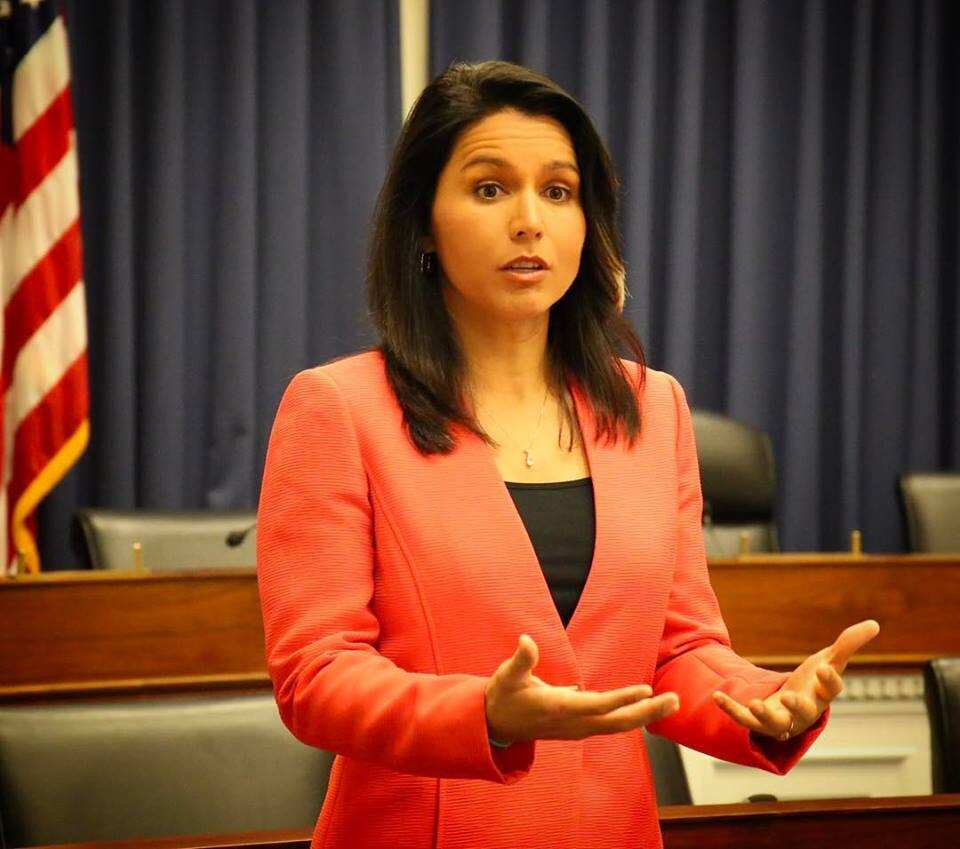 The thirty-eight-year-old congresswoman was born in American Samoa. She moved to Hawaii together with her family when she was two years old. Americans born in the small island have US nationality but not citizenship. In the case of Tulsi Gabbard, she was born to a US citizen parent and thus acquired citizenship by birth, which makes it viable for her to vie for the presidency.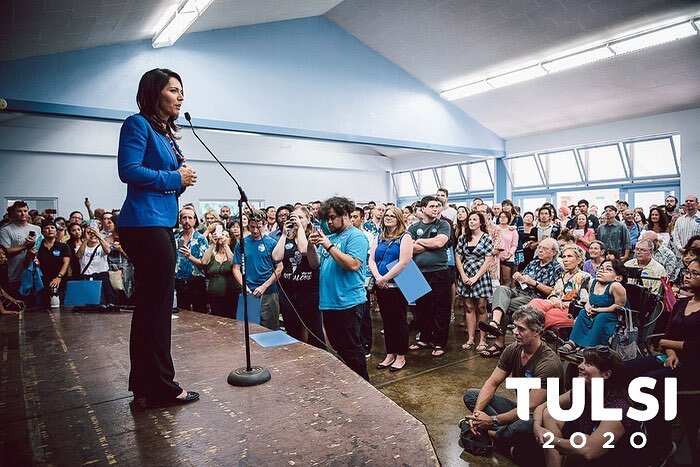 Tulsi Gabbard profile summary
Date of birth: April 12th, 1981
Age: 38 years
Place of birth: Leloaloa, American Samoa
Profession: Politician
Net worth: $250,000
Marital status: Married
Spouse: Abraham Williams
Height: 5 feet, 8 inches
Horoscope: Aries
What you should know about Tulsi Gabbard
Here are some interesting facts about the congresswoman who is vying for the presidency.
She made congressional election history
If Tulsi is elected president, she will make history by becoming the country's first woman president. On the plus side, Gabbard is not new to election records. In 2013, she became the first American Samoan to be elected to the US Congress. She was also the first Hindu elected to the office as well as one of only two women combat veterans to make it to the Congress. At the time, she was the youngest woman in Congress at 31 years.
She is a war veteran
In 2004, Gabbard stepped down from her position as a state official to serve in a war zone. She served with the Army National Guard in the Middle East. She was deployed for a year with the Logistical Support Area Anaconda in Iraq. She served with a field medical specialist unit and was awarded the prestigious Meritorious Medal at the end of the twelve months. In 2006, she began working as an aide to Hawaii's senator while still being actively involved with the National Guard.
During this period, Tulsi enrolled in the Alabama Military Academy, once again making history. She became the first woman in the school's history to graduate with distinguished honours.
She previously served in her State's House of Representatives
Tulsi was a member of the Hawaii House of Representatives for two years. She was elected to Hawaii's legislature at 21 years of age, making her the youngest woman to win an election to a state legislature in America. In 2004, she decided to file for reelection to the legislative post but ultimately thought against it. She instead chose to enlist with the military.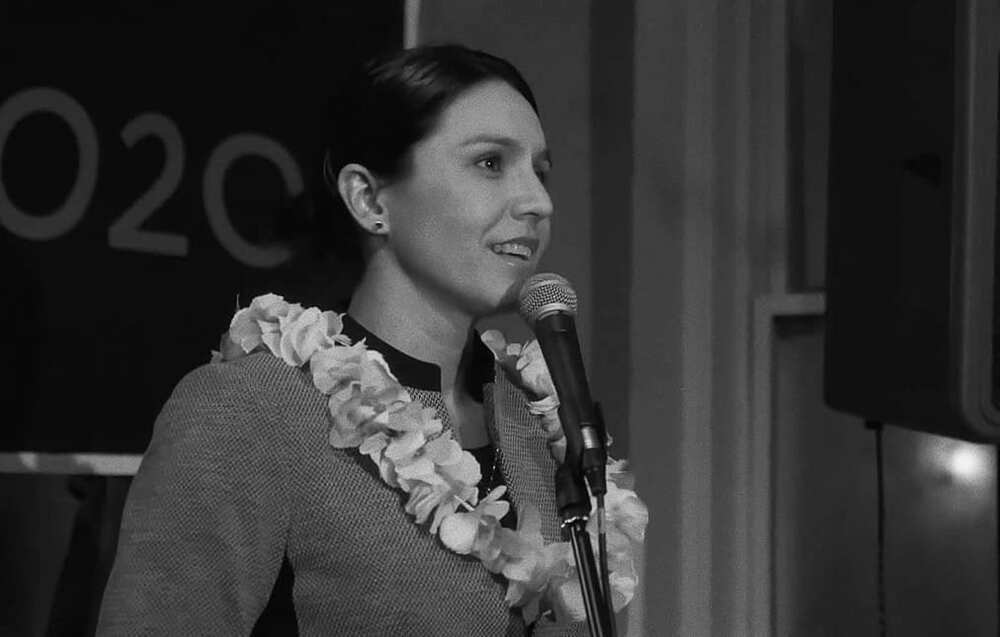 She serves on two House committees
Tulsi is a member of the 116th Congress where she is a member of two committees and four subcommittees. The first is the House Committee on Financial Services. She is in the subcommittee on national security, international development, and monetary policy as well as the one for inclusion and diversity.
Gabbard is also a member of the house committee on Armed Services. One of her most controversial issues regarding her committee membership regards her views on the Syrian president, Bashar al Assad. She is a strong advocate for anti-interventionist policies.
She endorsed Bernie Sanders in the 2016 elections
Before the 2016 presidential elections, Gabbard was the vice-chair for the Democratic National Committee. She stepped down from the position to support Bernie Sanders during his campaign. Explaining her decision, Tulsi stated that she wanted the country to avoid wars of regime change brought about by interventionist policies. Bernie and the Democratic Party went on to lose the election to the Republicans.
She has strong stances on the environment and women's reproductive rights
Gabbard tabled an aggressive climate-related legislation in Congress. Her idea would require a significant move away from fossil fuels and encourage the use of renewable energy. She suggested that electric utilities use eighty per cent renewable energy by 2027 and a hundred per cent by 2035. On women's rights, Gabbard believes that women's decision to end their pregnancies are difficult, fundamental and profound soul-searching. She believes that the government should not interfere in a woman's right to choose what to do with her pregnancy.
She has stated her main political issues for the upcoming election
When Gabbard announced her intention to run for the presidency, she outlined the main issues defining her campaign. These included climate change, healthcare, criminal justice reforms and peace. She stated that the point of war and peace was central to her agenda and the pillar upon which her other issues rest on.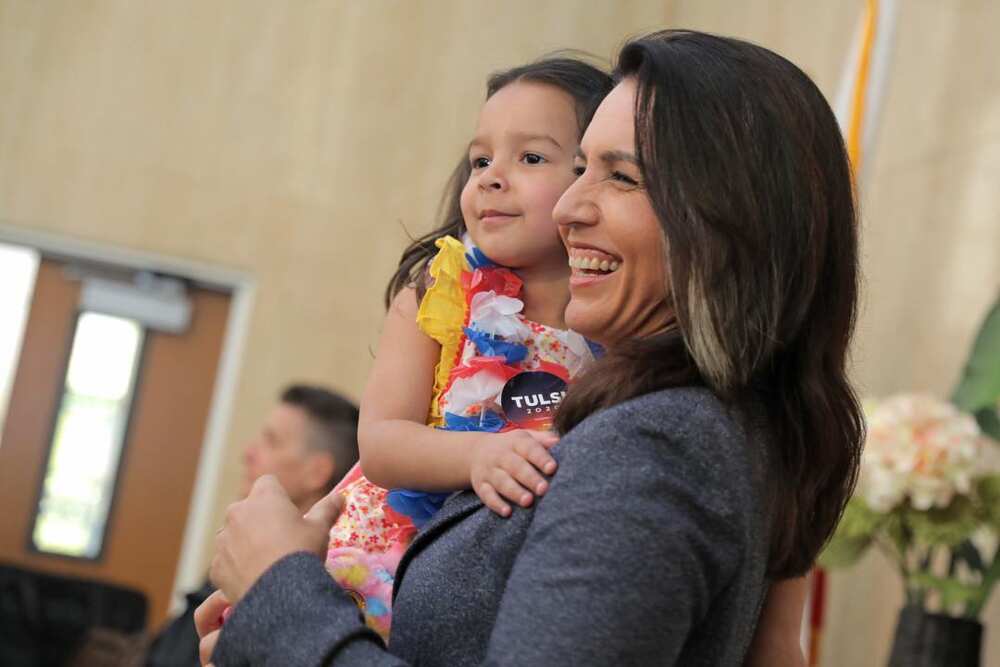 Tulsi Gabbard policies
The Tulsi Gabbard platform for election to office is based on certain positions regarding the day to day issues involving the country. Here are the congresswoman's views on central issues:
Healthcare
Gabbard advocates for a Medicare for All plan which would provide all-inclusive healthcare services for all Americans. She says that universal healthcare must be ensured as well as have an empowered government that can negotiate with pharmaceutical manufacturers in order to lower the price of drugs.
Immigration
In 2015, Gabbard faced criticism for voting to enforce extreme vetting for Iraqi and Syrian refugees entering the country. However, in a turn of events, she is now openly critical of President Trump's zero-tolerance border policy. Gabbard supports reforms related to immigration as well as the DACA (Deferred Action for Childhood Arrivals). The plan would protect undocumented people from deportation if they came into the US as children.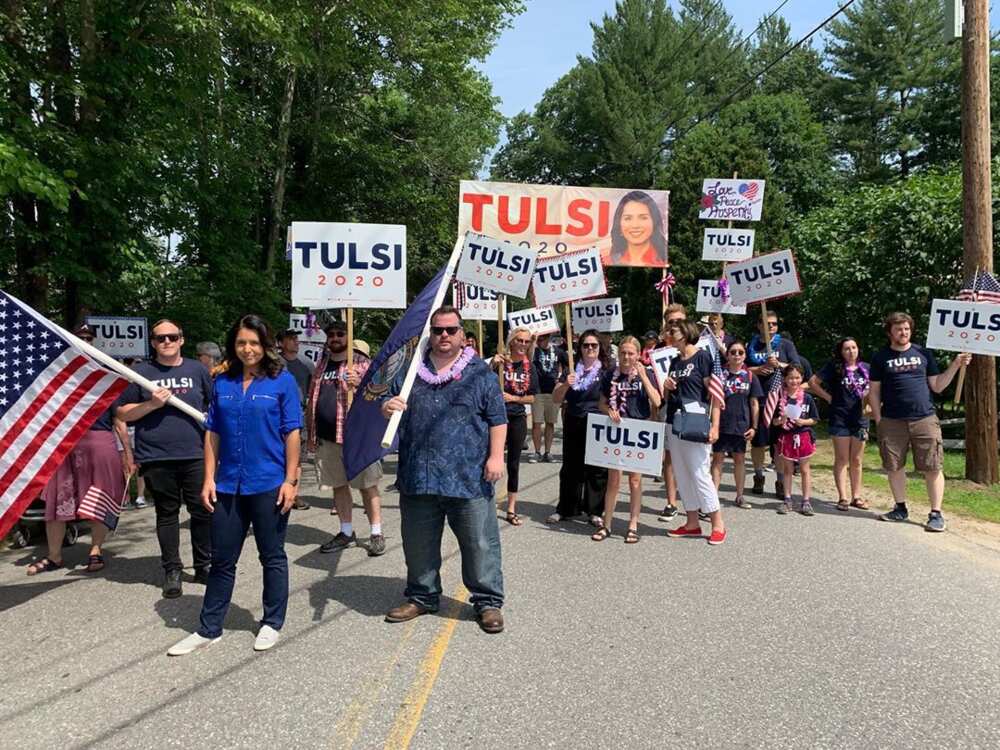 Gabbard is a strong advocate for ending interventionist programs which she says causes the inflow of refugees into the country. She proposes targeted aid and funding as solutions to the immigration problem.
Climate change
Congresswoman Gabbard is well known for her strong stance regarding the environment. She wants America to move away from the usage of fossil fuels. In 2015, she introduced a legislation to Congress titled OFF Act. The act proposes that 80% of the electricity used in the country should be from renewable sources by 2027 and entirely from renewable sources by 2035. She further proposes to end economic subsidies given to the fossil fuel industry to discourage production.
Campaign funding
The congresswoman has repeatedly called for campaign funding restructuring. She suggests that politicians serve lobbyist groups that wrote them the fattest cheques during their campaign. Gabbard states that ideally, an elected person should serve the electorate and not the campaign financiers. She describes her campaign funding as people-powered.
Abortion
During her early political career, Gabbard strongly opposed abortion. However, she has since changed her position. She now supports preserving women's right to choose. She has acknowledged her change of opinion regarding this highly divisive issue. In 2019, she accused her fellow democrats of portraying religious bigotry when they questioned a judicial nominee's impartiality on abortion.
LGBTQ+ rights
At a certain point in her life, Gabbard worked for the Alliance for Traditional marriage. This was a strongly anti-gay body that was led by Tulsi's father. In 2004, when the congresswoman was a state legislator, she voted against a bill legalizing civil unions between same-gender people. However, she has since taken a turn on her LGBTQ+ views.
Gabbard apologized to the LBGTQ+ community and acknowledged that her views have changed. She now supports same-gender marriages and strongly opposes the president's ban on transgender people enlisting in the US Military.
Education
Gabbard suggests free community college education for everybody. According to the congresswoman, all tuition fees in 4-year colleges should be waived for families that make $125,000 or less per year.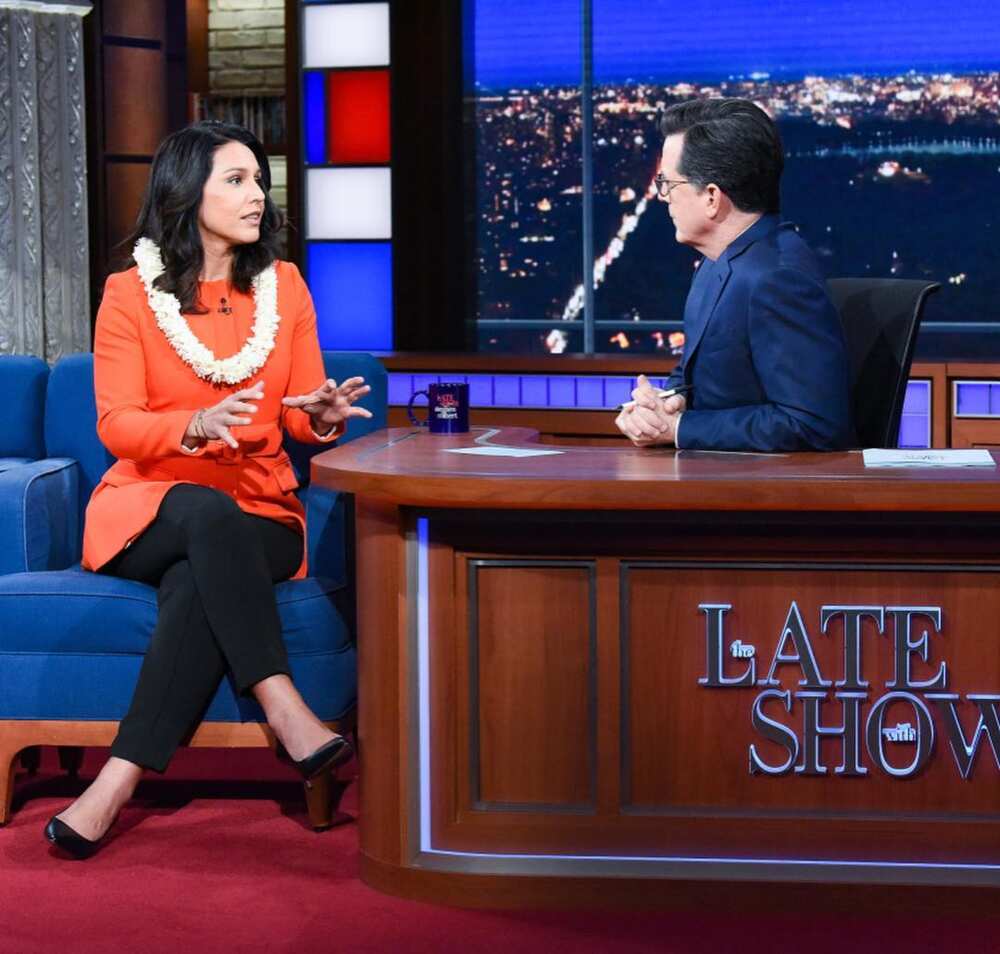 Criminal justice
According to Tulsi, there must be reforms done on the criminal justice system to ensure more equality. She stated that currently, black men receive harsher sentences as compared to other ethnicities and races in America. She was a co-sponsor in the legislation to reduce the levels of mass incarceration in the country.
Trade
One of Tulsi's best-known trade opinions was her stance against the Trans-Pacific Partnership, describing it as bad for Americans. In general, Gabbard is not a fan of the sitting president's trade policies. She strongly opposes his trade wars with China and suggests that Americans need a win-win trade strategy with its partners based on cooperation and not confrontation. She goes on to add that Americans' retirement plans, mortgages and salaries should not be tied to happenings on Wall Street.
Foreign policy
Gabbard's foreign policy stances are probably her strongest ones. Gabbard is a war veteran and thus has extensive experience in foreign policy matters. She is strongly opposed to wars aimed at changing regimes. Gabbard believes that countries can deal with their problems without the need for international intervention.
She received criticism from the political divide in 2017 for meeting with Syrian President Bashar al Assad. In her defense, she stated that the only alternative to having conversations with such leaders is to engage in more warfare. Gabbard thinks the US should pull its troops out of Afghanistan and Syria since it is not the 'world's police'. She has been a staunch critic of President Trump's support for Saudi Arabia and thinks that it is a bad idea for the president to withdraw from the Iran denuclearization deal.
READ ALSO: Return to where you came from - Trump tells 4 congresswomen
Taxes
Tulsi proposes more taxes for wealthy Americans as well as the removal of policies that give tax breaks to large corporations. She recommends a tax system that works for all Americans and not just the society's elite. Gabbard is a vocal critic of President Trump's tax bill which she describes as a failure that has only added to the national debt by providing tax giveaways to the country's large corporations.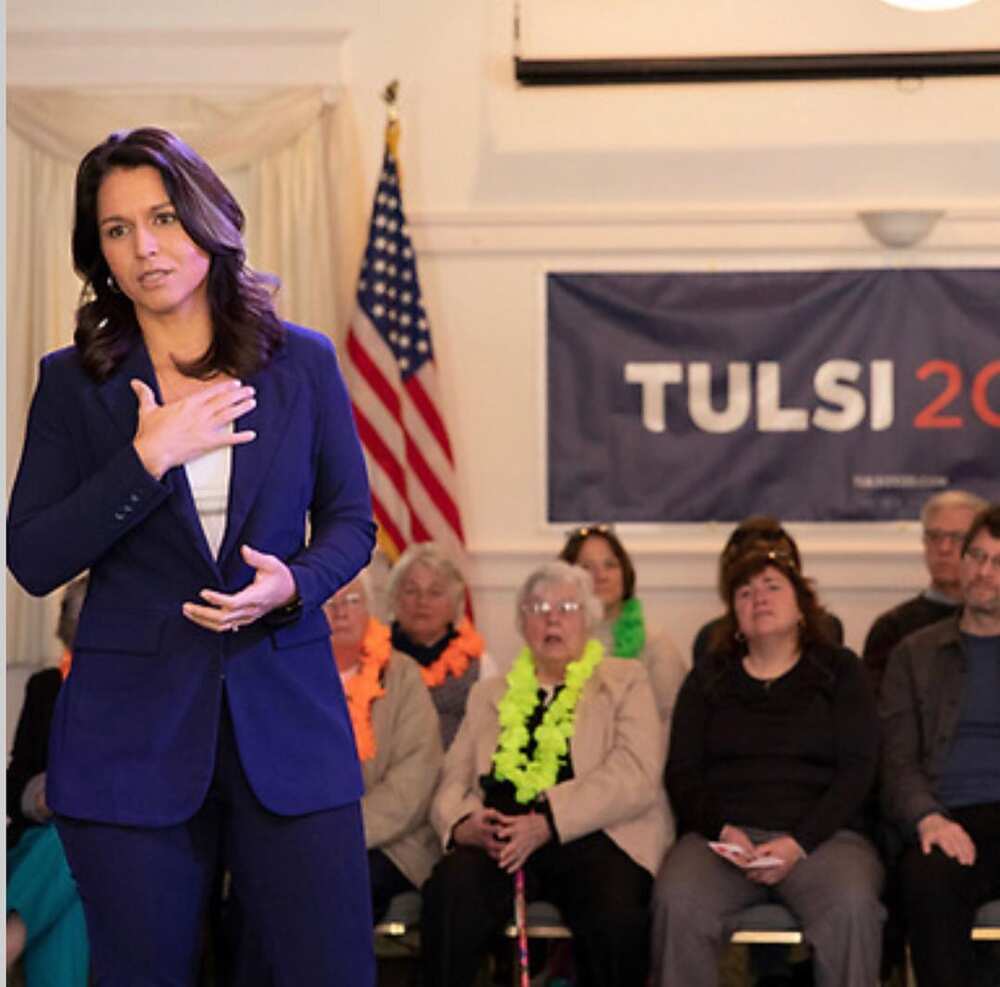 Tulsi Gabbard in the 2019 Democratic debate
Gabbard joined nine other democratic candidates on July 31st for the second night of the Democratic presidential debate. The other nine candidates included:
Joe Biden: Former vice president
Kamala Harris: California senator
Cory Booker: New Jersey senator
Julian Castro: Former HUD secretary
Andrew Yang: Business leader
Jay Inslee: Washinton Governor
Kirsten Gillibrand: New York senator
Bill de Blasio: New York City mayor
Michael Bennet: Colorado senator
Before the debate kicked off, Gabbard caught the attention of the crowd with her white pantsuit that stood out from the sea of dull-coloured suits. As she stepped out onto the stage, social media went crazy about the Tulsi Gabbard white suit terming it as a power statement. Some online users suggested that her outfit showed her readiness to fight.
Winners and losers Democratic debate
So, who won the debate? While lower-ranked candidates had their moments, it seems the biggest winners of the July debate were, unsurprisingly, the front-runners. Senators Elizabeth Warren and Bernie Sanders carried the night.
Tulsi Gabbard destroys Kamala Harris
One of the highlight moments of the second debate night involved Kamala Harris. Gabbard questioned Kamala's record as a prosecutor. She also reported how the former prosecutor blocked evidence that would have helped free an innocent man.
She claimed that Kamala kept prisoners locked past their sentences to provide cheap labour for the state of California. These statements caught Kamala off-guard and provided a moment for Gabbard to shine.
Tulsi Gabbard closing statement
In her final remarks, Gabbard noted that when she was growing up, protecting the environment was not politicized. It was part of her culture. She closed with a sentimental petition to voters, "As president, I will end this insanity, it doesn't have to be this way."
At the end of the second debate night, Tulsi Gabbard was the most searched Democratic candidate on Google. The number of donors for her campaign had also increased rapidly. One of CNN's political analysts termed Gabbard's performance on the night as 'game-changing'.
Quick facts about congresswoman Gabbard
We believe you will find these personal facts about the candidate interesting as well.
Is Tulsi running for president?
On February 2nd, 2019, Gabbard announced that she was running for president in the 2020 elections. In her announcement speech, she explained why she felt the need to run and what she would do to make a great nation.
What race is Tulsi Gabbard?
Gabbard's father is of American Samoan descent while her mother is Hindu. She is of American nationality and Hindu religion.
READ ALSO: 2016 US election: Trump cleared of conspiring with Russia
What political party is Tulsi?
She belongs to the Democratic Party.
How old is Tulsi Gabbard?
Tulsi Gabbard age is 38 years (as of 2019) having been born on April 12th, 1981.
Tulsi Gabbard wedding
Tulsi wed her husband, Abraham Williams, in 2015.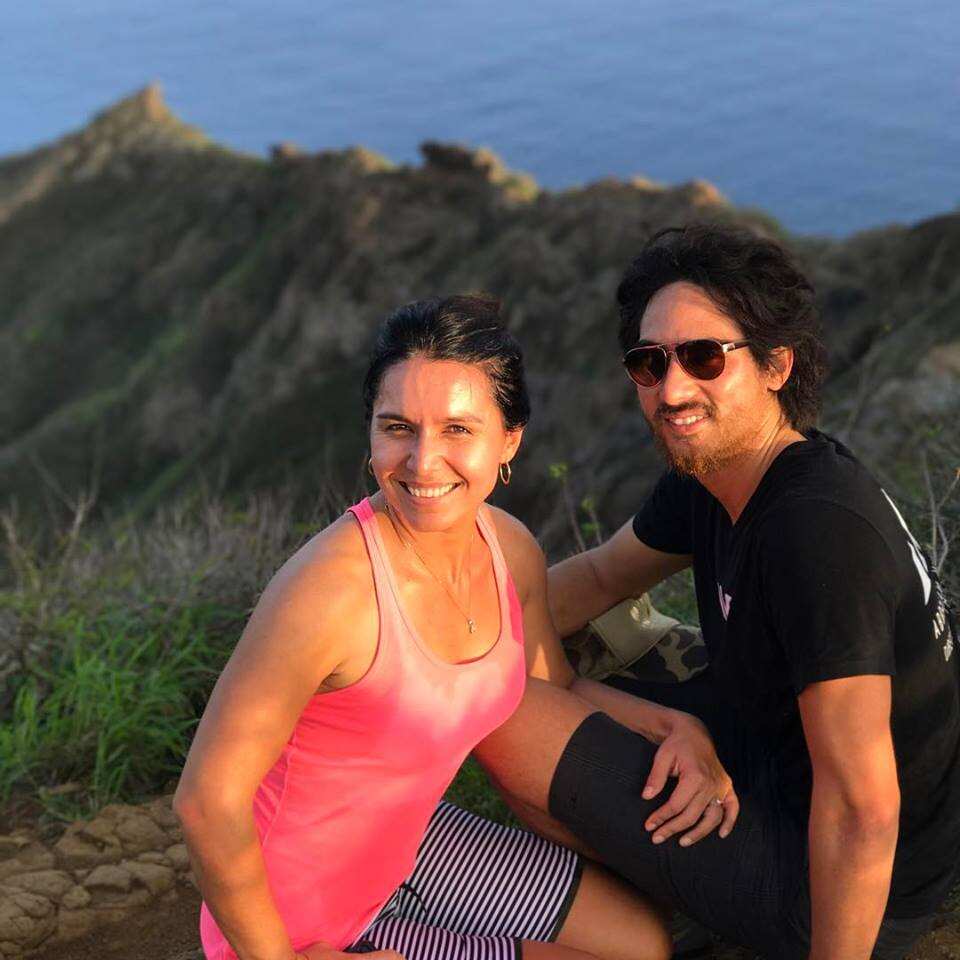 The ceremony took place in Hawaii, and Gabbard described it as being 'literally just perfect'.
Tulsi Gabbard social media
The congresswoman is active on social media platforms. Tulsi Gabbard Twitter, Facebook and Instagram accounts are all abuzz with updates.
Leisure and surfing
The internet is not short of Tulsi Gabbard surfing images. surfcamp.travel describes her as America's surfing politician. Well, the presidential candidate certainly knows how to have some fun.
Tulsi Gabbard height and other body measurements
The congresswoman has a body measuring 37-26-38 inches for bust, waist and hips. You may have across some Tulsi Gabbard hot photos on the internet. She knows how to keep looking fabulous. Her height is 5 feet and 8 inches.
What is Tulsi 2020?
Tulsi 2020 is the official Tulsi Gabbard president campaign. It includes a site that explains why the congresswoman is the ideal candidate to clinch the presidency as well as her vision, dream and ideas for a better America.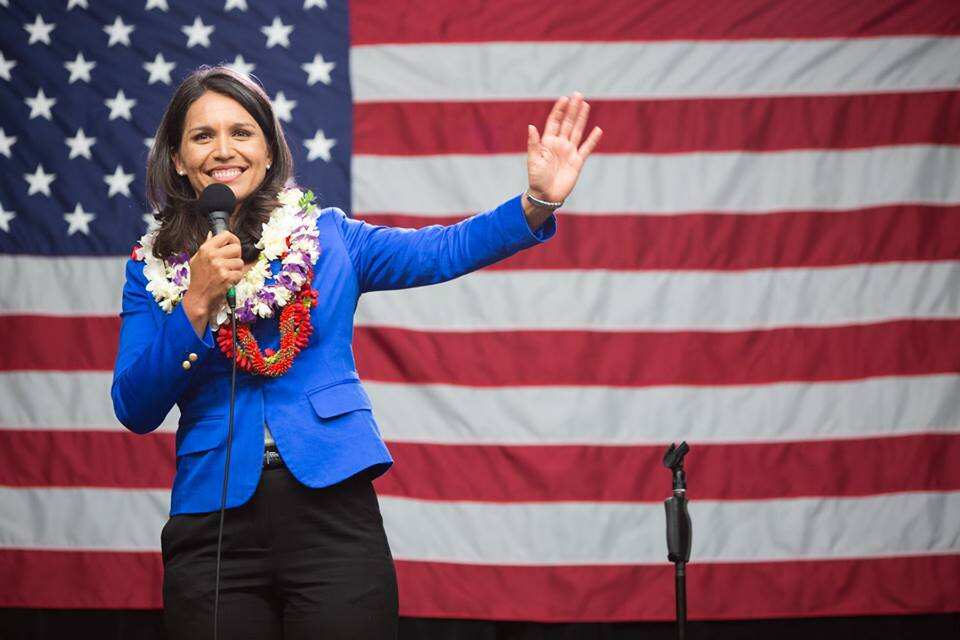 While it is still too early to figure out the front runners for the presidency, it seems Tulsi Gabbard is a strong candidate. Her progressive views regarding energy and education could work for her. This profile paints a picture of a young, ambitious woman who has it in her to win whatever she sets her eyes on. If her previous election record is anything to go by, Tulsi is one candidate to watch out for.
READ ALSO: Mueller Report summary: top 10 facts you need to know about it