Woman gives ex-husband her kidney five years after their divorce
- A woman identified as Kelly Hope, is currently being applauded for donating her kidney to save her ex-husband
- According to reports, Dan Pyatt was down with kidney failure and in need of a transplant
- After waiting for 12 months without a donor, Hope decided to donate hers in order to save him
While many people become estranged after a divorce, it isn't always the case as some manage to remain good friends regardless of the situation. This has been the same for Kelly Hope and her ex-husband of 5 years, Dan Pyatt.
It appears remaining good friends with his ex-wife and mother of his kids, paid off as she recently saved Pyatt's life. Pyatt who had two failed kidneys was on a 12-month waiting that was yet to produce any donor.
Kelly Hope seeing that there was no hope for a donor anytime soon, decided to come to his aid and went for a test for the transplant. Although Hope was a good tissue match, their blood didn't match.
READ ALSO: Lady 'weds' her pet dog on live television after 4 failed engagements
They were running out of time so, after considering the risks, they decided on a blood-incompatible transplant which involves removing antibodies from the blood to prevent rejection. The operation was a success, and Dan was discharged just five days later. "He bounced out of there, you could see the difference immediately," Hope told Mirror.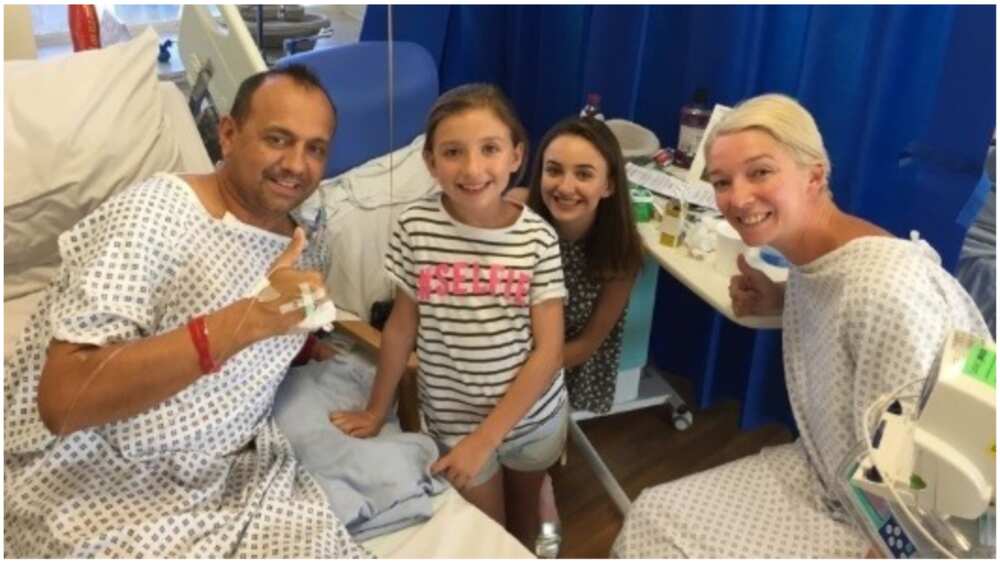 READ ALSO: Personal letter from the Editor-in-Chief of Legit.ng (former NAIJ.com)
Recalling his initial response to her being a donor, the 43-year-old said: "He said to me, 'I can't ask you to do that'. But I told him, 'It's not up to you. It's my decision. I know what the risks are and I'm doing it.'Even though we weren't together any more, I wasn't prepared to let my children be without a father. And Dan is only 44, he's got so much more life to lead."
PAY ATTENTION: Get the Latest Nigerian News on Legit.ng News App
Speaking on what led to the crash of their marriage, Hope had this to say: "There was no one else involved, we just weren't getting on any more, even though we tried and tried. We had different priorities, life pressures, work patterns. I was a PA at the time and Dan was a taxi driver so we were like ships in the night.
We didn't just walk away, but in the end we realized we couldn't keep going around in circles. It was making the atmosphere at home horrible. It wasn't healthy for the children, so we both decided it would be best to separate."
Pyatt and Hope had begun dating at 18 and married 13 years later in 2007. So after their divorce, the two were determined not to lose the friendship they'd had since childhood.
Do you have news to share? Contact Legit.ng instantly
With Dan on anti-rejection tablets, and able to return to work, they spent some quality family time together.
"Everyone says to us, 'Surely you'll get back together now?' but it's brought us closer in a different way. At Guy's they said they'd never had an ex donate, but everyone's relationship is different. When we split we were able to save the best parts of our relationship and rebuild from that. To me, I was giving a kidney to the father of my children and the best friend I've had since I was 11.We might not be married now, but we're still very much a family and I had to make that sacrifice to keep our family together," Hope said.
As for Dan, he is still overwhelmed by his ex-wife's extraordinary gesture.
Meanwhile, Nollywood actors Faithia Balogun-Williams and Saidi Balogun have reunited on a movie 13 years after their crashed marriage. In new photos posted on Faithia's page, she was spotted with her ex-husband on the film set. Despite their differences, they have buried the hatchet and moved on as colleagues.
Can You Take a Blood Oath With Your Partner? | Legit TV
Source: Legit.ng