'Marry two wives or get jail time.' Is Swaziland's new law true?
'Marry two wives or get jail time.' This piece of news has swept Africa like a storm after being first published earlier this month and presented as a statement made by the King of Swaziland. Can this ever be true?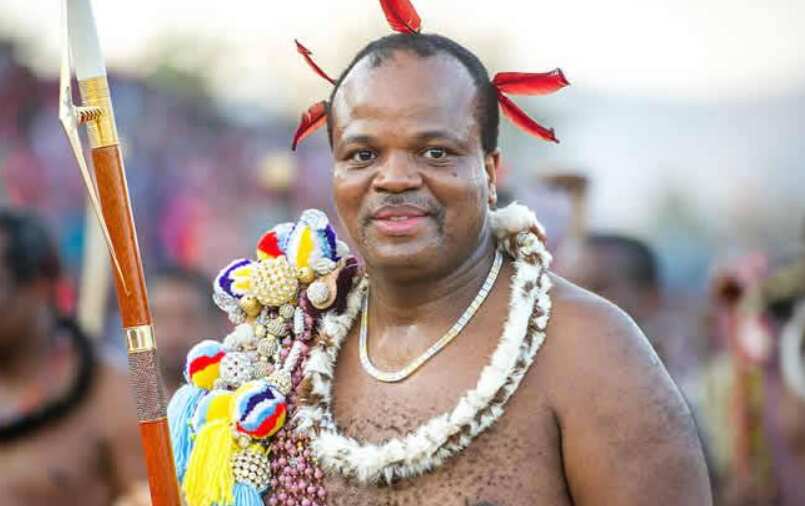 The news was published and later reposted by reputable and trusted sources. That is why the audience reacted immediately, and the reaction was different: from disbelief to making jokes. However, as it happens to many viral news and facts, the truth was soon discovered.
'Marry two wives or get jail time.' True or false?
First of all, to drive away all the doubts, the news is complete, total, and absolutely false. His Majesty, King Mswati III, has never ever said anything like this. In spite of many previous controversial reports, this statement does not belong to the King. The country is spoken about in the connection of its women who pass innocence tests regularly and perform thematic festivals. Still, all the rumours about the deficit of husbands and the need to marry more women are just that, rumours.
The reports based on the false statement of the King came in different forms. There appeared variations of the news that contained information regarding marrying two or even five wives.
READ ALSO: Mum and her 2 daughters lost to family for 2 years as China cracks down on Muslim worshippers
As it was stated by different sources, the new order was going to be brought into effect in June 2019. The new order would allegedly urge men to get married to many wives. The wedding costs would allegedly be covered by the government. What is more, the false articles promised that the government would purchase houses for the newlywed who obeyed the new law. At the same time, the cases of disobedience were said to be prosecuted and to lead to life imprisonment for both men and women.
What King Mswati III said about 'Marry two wives or get jail time.'
After the reports were made public and went viral, the King turned to the audience through a press statement.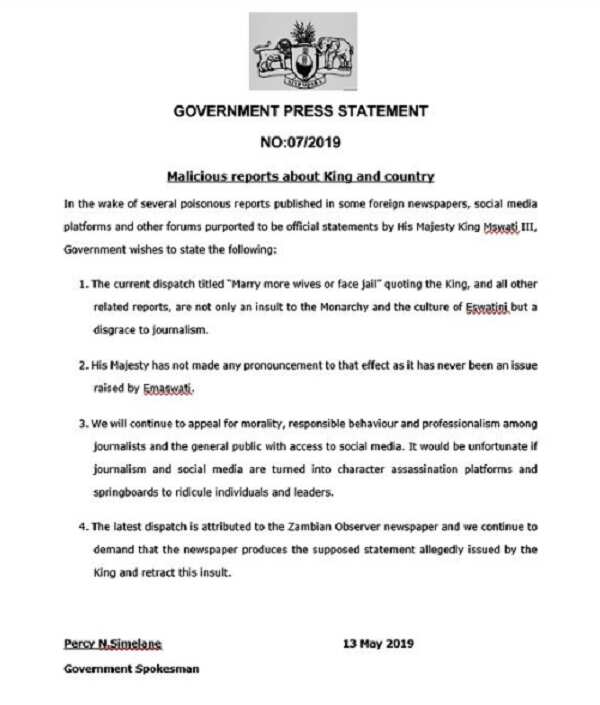 He named the news 'poisonous' and evaluated it as a strong insult to the Swaziland monarchy in particular and a total disgrace to the very essence of journalism, in general. In this connection, King Mswati turned to journalists, social media means and all those who could make news viral with an appeal for responsibility, professionalism, and high morality.
Also, the King turned to Zambian Observer with a demand to retract their false, insulting report. Instead of it, they have his official statement now.
The reaction of the audience to 'Marry two wives or get jail time.'
Users of social media like Instagram or Twitter reacted to the news immediately with a series of memes and comments. Here is what people say in response to numerous viral Instagram publications dedicated to the false order:
On my way to Swaziland. Please my king Zwelithini do it @v.cigarettes
Do the women have a say in this? @karenlisa_m
And what are women saying about that , he should speak for himself not everybody likes the nonsense his doing yena @i_am_lulu88
I'm going home to Swaziland @quiniso_officially
If this is true, then I am coming to marry an eswatni lady very soon @diorunov
Can't stop laughing @oyintola96
Good luck @dig410
Twitter reactions are somewhat similar and mostly joking, but there are sensible comments, too:
IS UR PASSPORT READY? @OlaOlastree
How do one get a visa to this place? Am asking for a friend. @AnekeTony
The King should contact me, we can strike a deal. Na to just mobilize 10,000 men from naija go Swaziland. O simple gan @babz9ja
The king should sponsor the ladies to travel out of the country and find love elsewhere. Instead of paying for marrying 5, give them scholarship to school abroad. They will become independent and find love. @CACCOT1
I'm relocating @Sir_waless
I'm moving here. Finally there'll be peace of mind. You wouldn't need to consider cheating. Just marry @theayosoyemi
Fake news though. Such similar stuff was pushed about Eritrea last year too. Southie girls will never get that cheap to go on discount like that. @wahleyworldchan
This is social media users' reaction to the false news, and this is how such news usually become viral through funny comments and memes that are posted and reposted. Also, this is a vivid example of how false news like 'Marry two wives or get jail time.' can insult and damage the reputation of an entire country, its ruler, and its government.
READ ALSO: Naira Marley arrested: what happened?
Source: Legit.ng