Have you ever wondered who has the longest legs in the world? We are here to satisfy your curiosity and to tell you a fantastic story about the woman who has incredibly long legs. Her name is Ekaterina Lisina and she is officially known as the person with the longest legs in the entire world. How long are Ekaterina Lisina's legs, and what are some other interesting facts about her? Check out her exciting biography!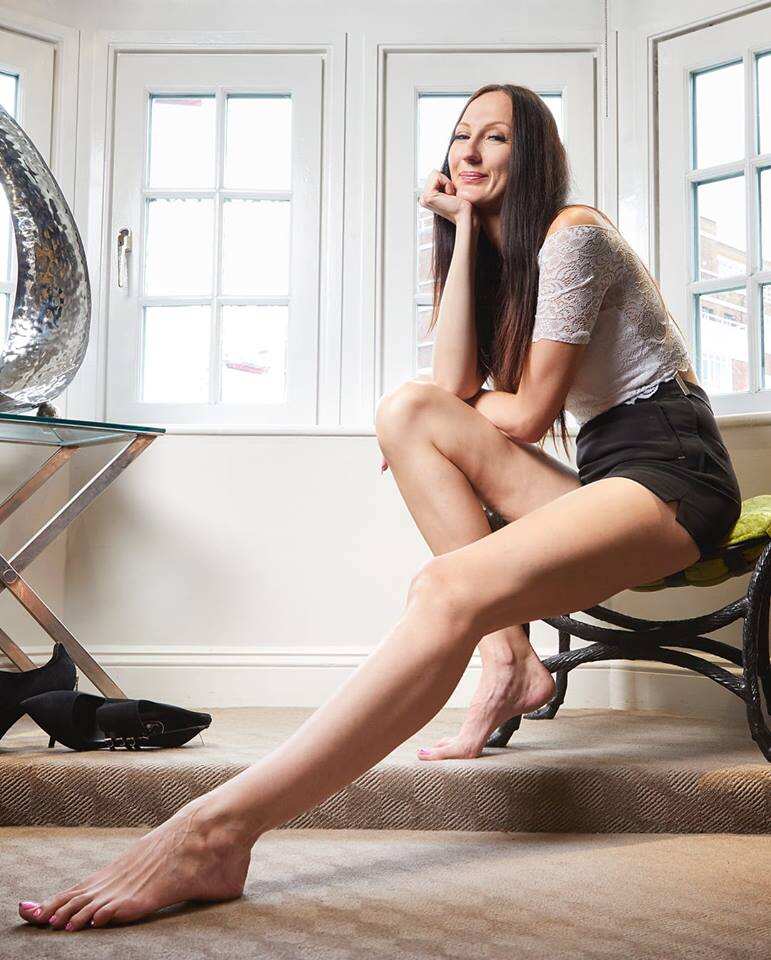 This woman had a long path to success and had to endure a lot of difficulties. Even though she is mostly famous because of her large legs, they are not her only good quality: she also has many other talents and has received plenty of awards for them. Are you curious about this incredible woman already?
Ekaterina Lisina: who is she?
First and foremost, Ekaterina Lisina, or Yekaterina Lisina which is an alternate spelling of her name, is an athlete. From taking a look at her, you would probably guess that she plays sports, and it is true. She has been a basketball player for many years and has built a successful career. Except that, Ekaterina Lisina model work is remarkable.
The world records of Ekaterina Lisina
Ekaterina holds a few outstanding Guinness World Records. She appeared in the 2018 edition of the book. She is officially the woman with the longest legs in the world – according to the measurements, her right leg is 132.2 cm long (52.0 inches), while her left leg is 132.8 cm (52.2 inches). Even if her right leg is a little shorter, it did not prevent her from getting an honorary title of the woman with longest legs ever. Ever since Ekaterina was officially crowned the tallest Russian woman and appeared in Russian book of records, she always dreamed of beating the record of the previous long-legged model from the Guinness book, and her dream came true in 2018.
Apart from that, she won another award – she became the tallest professional model in the world. Ekaterina Lisina height is 205,7 cm (which equals to 6 feet 9 inches). Along with this, she weighs 87 kg. She wears the 47 European shoe size, which is the 14th size in the United States, and her clothing size is XL (44). She has one more award for the biggest feet among Russian women. Ekaterina Lisina feet are 30.5 cm long.
Her path was quite bumpy, and you would be amazed to know how Ekaterina came to such success. The story of this tall lady is fascinating.
Ekaterina Lisina biography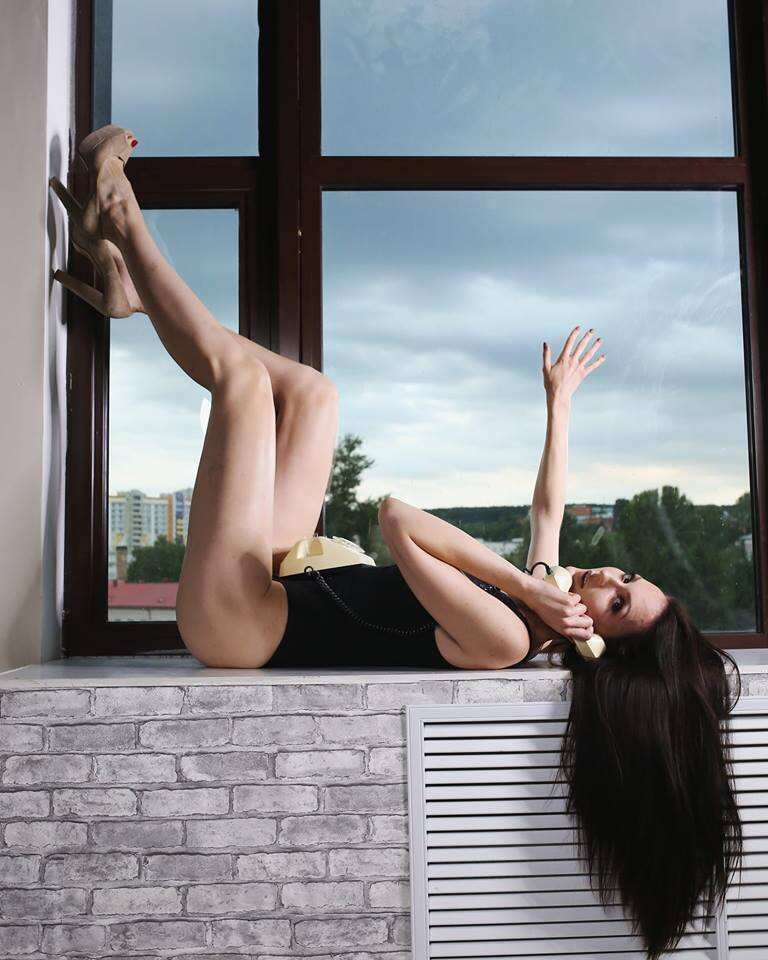 The future model, athlete and record breaker was born in Penza, a city in Russia. She was born on October 15, 1987, and her zodiac sign is Libra. Currently, she is 31 years old. Her parents, Viktor Lisin and Galina Lisina, were very tall people as well, so the height genes ran in the family. As her parents remembered, when Ekaterina was born, and they picked her up from the hospital, they saw how her legs were incredibly long for a baby and were taking a considerable part of her body. Later, when she was a school student, her peers often bullied her for being the tallest, and her father had to have a word with the mean children a couple of times.
However, Ekaterina eventually learned to deal with harsh comments. Even though initially she was a little ashamed of her height at first, she quickly realised that her height would give her a huge advantage in sports, and during her school years, she started playing basketball. Eventually, she managed to pursue a fruitful career in this sport.
Ekaterina wants to show the world that all tall women are beautiful, and they should not have insecurities about their height. During her basketball career, she noticed that a lot of female players are slouching to seem shorter than they are. Her purpose is to show every tall lady that they can be very charming and attractive and have a huge advantage in such careers as sports and modelling.
As for the personal life of Ekaterina, she follows the religious beliefs of Hinduism and is a passionate follower of Goddess Lakshmi. Since she converted to this religion, she completely stopped eating meat, and she also meditates every day.
Ekaterina Lisina basketball career
Throughout her sports career, Ekaterina played for a few big clubs in Russia and abroad. In 2004, she became a part of the Mizo Pecs basketball team, based in Hungary. Two years later, in 2006, Ekaterina left this club and moved to Sparta&K M.R. Vidnoje, the club that played in Russian Premier League. She was a star of basketball club CSKA Moscow from 2007 to 2009. Then, the player moved to Slovakia, where she played for Good Angels Kosice. In 2009, she came back to her previous club Sparta&K M.R. Vidnoje, yet she only stayed there until the next year. In 2011, Ekaterina migrated to another club from Russian Premier League, Dynamo Kursk, where she remained until 2014.
Perhaps, the greatest achievement of Ekaterina's career is competing as a part of the Russian Olympic team. She participated in the Summer Olympics 2008 in Beijing, and she delivered a stellar performance, which led to her winning the bronze medal together with her team. However, this is not her only achievement. She was a World Cup medalist, European Champion, and won various Russian and Hungarian championships and cups multiple times. In the period from 2006 to 2014, the talented basketball player managed to grab a lot of awards, and all of her clubs were happy to have such a tall and flexible woman on their team. She ended her career on a high note in 2014 and decided to become a model.
All of Ekaterina's incredible achievements have earned her an honourable Master of Sports of Russia title. She also got a medal for her services to the motherland, which was given to her in gratitude for her development to the sports and physical culture, as well as her high achievements at the Olympic Games.
Ekaterina Lisina modelling career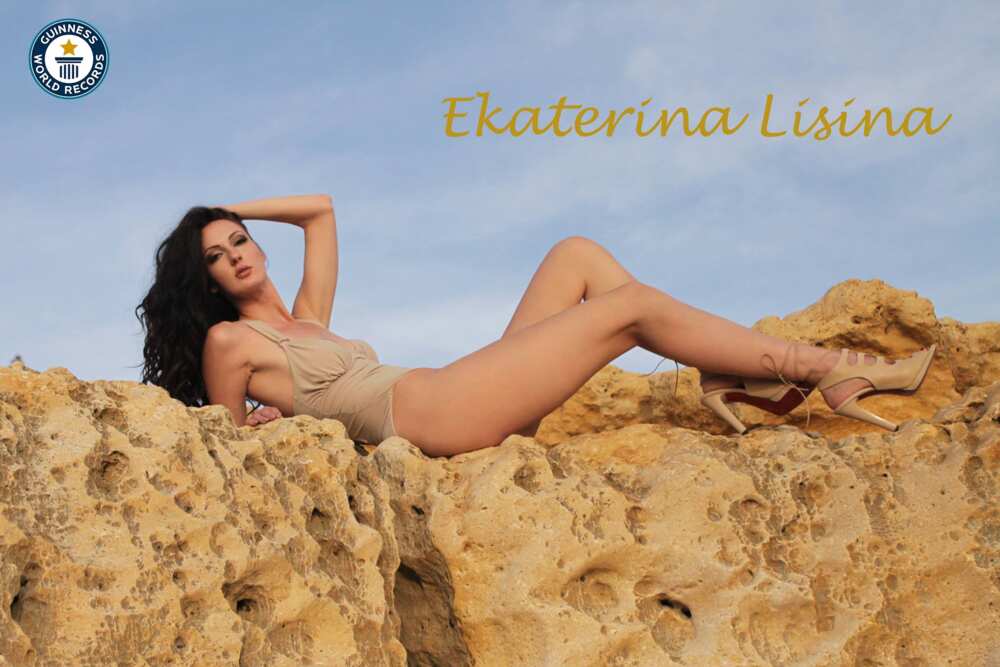 Ekaterina wanted to become a model from the young age, and when she was only 16 years old, she started going to model agencies in hopes that she will be chosen. She was rejected at first because of her height, so she decided to focus on basketball. However, after reaching professional sports success and ending her career in basketball, she remembered about her modelling passion and realised that her age still allows her to be a model. She started social media pages where she posted her photos and instantly felt people getting interested in her height. Ekaterina started receiving a lot of messages where people asked for pictures, in which they could compare her to other, shorter people. She did some research and understood that she is the tallest woman in Russia.
The Russian beauty has a personal website with all the information about her. Ekaterina's profile includes a lot of photos where she demonstrates her long legs and huge feet. Moreover, she is now modelling for adult websites, where she shows her feet. She calls herself "Foot Goddess Calipso" and charges people, who have a special love for feet, for private sessions over Skype. She also represents the Russia-based agency "World's Tallest Models", where all the female models are over 193 cm high, and the minimum height of male models is 197 cm. This agency was created to prove all the stereotypes wrong, and show how unique tall models are.
This woman has many talents: she is not just a model and a basketball player but also a singer, dancer and a self-described natural in front of the camera. She had a chance to show her acting talent in the English movie about the first rugby championship among women, where she played one of the tallest athletes in the United States national team. She was chosen for this role because she is fluent in English and speaks without an accent. Except for English, she also freely speaks Slovakian and Czech, because she used to live and play basketball in these countries.
In her opinion, tall women should be more confident about themselves and their talents, instead of basing their entire life on getting married and taking care of home.
READ ALSO: Tallest woman in Nigeria
Ekaterina Lisina husband
Many people who learn about Ekaterina Lisina and her incredible height are wondering whether she has any problems in her romantic life connected with it. Perhaps men who she pursues intimate relationships with are uncomfortable with her being so much taller than them? Does she choose to go on dates with only tall men? Luckily, Ekaterina has answers to these questions.
The tallest woman in Russia revealed that height does not matter for her, but if a man is shorter than 180 cm (5 feet 9 inches), she does not feel comfortable enough with him physically. Despite being so tall, she is popular among men.
She had funny stories connected with relationships: for example, once she had feelings towards the man who was 213 cm (almost 7 feet, and slightly taller than her). She saw that he also likes her, but he was hesitant to start a relationship with her. It turned out that he was used to dating shorter women, and not those who are almost the same height as him.
In general, Ekaterina likes brave and charismatic men. Currently, she does not seem to be in an official relationship – at least, media is unaware of it. She is entirely focused on her career – she travels around the world and meets interesting people. She even met the tallest man in the world, Sultan Kösen, whose height is 251 cm (8 ft 2.52 inches). According to Ekaterina's Instagram post, next to him she felt like a small and gentle woman.
Ekaterina used to be in a past relationship with the father of her son, who she gave birth to in 2011 (many Russian sources confirm this information). Not much is known about him or the reason they split. However, nowadays Ekaterina is open to new relationships and experiences. Even though she is a busy woman who has a lot of meetings, advertisements and photo shoot all around the world, she still finds time for her son when she comes home.
Ekaterina Lisina is a unique person who has a genuinely exceptional backstory. She is an Olympic bronze winner, the tallest woman in Russia and the tallest professional model in the world. This is a very impressive luggage of titles, and she is not going to stop there.
READ ALSO: Youngest professor in the world