Most handsome boy in the world and his story
Children are all beautiful because they are the light of our life. Their cheerful smiles and endearing personalities make them all the cutest. However, there was a boy who got famous because of his good looks, and now he is known as the most handsome boy in the world. Do you want to read his exciting story? If so, you should proceed with this article and find out how exactly the world's most handsome boy became famous!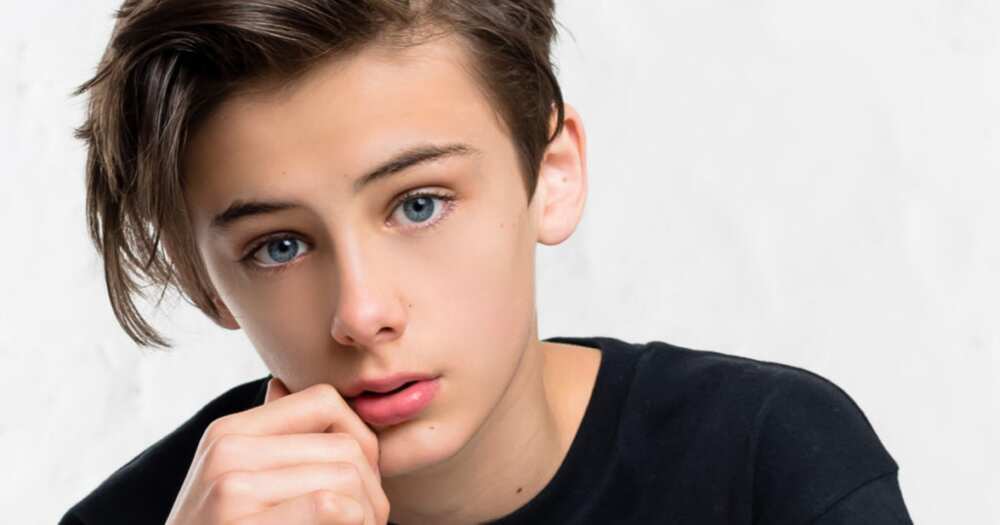 Photo: sweetyhigh.com
The most handsome boy in the whole world: who is he?
It is obviously hard to say who the most handsome kid in the world is. Of course, for every family, their child is the cutest, and overall every child has a special charm. We must clarify that our today's character is not necessarily more beautiful than all the other children in the world. The title of the most handsome boy ever was given to him by the fans as a reward for his extremely fine looks.
He has quite an interesting story, and handsomeness is not his only redeeming quality – he has a lot of talents aside for his cute face. So, if you are already curious about him, we welcome you to read this article and find out exciting things about this talented and handsome boy.
This young man's name is William Franklyn-Miller. His residence city is Melbourne, even though he was born in London. He was born in 2004 (March 25th), so he is only 14 years old. However, he first became famous two years ago, when he was 12. The story of William Franklyn-Miller's fame is reminiscent of a fairytale. He never thought he would achieve such a huge popularity overnight, but it was like a dream come true for the young ambitious man.
William Franklyn-Miller has been modeling since he was young and at first, it was just a fun hobby for him. He has worked on a few campaigns and cooperated with the modeling agent in Covent Garden, but he was not very popular back then. One day, everything suddenly changed for the boy, when the famous Japanese blogger saw his photo online and decided to post it on her Twitter. This tweet has become viral, receiving thousands of retweets, and of course, a lot of people in the comments started asking for William's Instagram page.
When William went to check his Instagram that day, he was surprised to see thousands of new followers. The boy could not understand where they have come from. His family thought that he is somehow getting the fake followers. William's mother, Shannon Franklyn-Miller, instantly thought that her son's Instagram account was hacked because there was no way he could get so many followers in one day. Later, through the comments, William found out how all these people tracked him. The fans were messaging him, saying that he has now become very popular in Japan and China. They also dubbed him "the most handsome boy in the world". William was overwhelmed by such popularity, but of course, it was flattering him, and all the newfound fame was good for increasing his modeling and acting profile.
READ ALSO: Most beautiful women in Africa
Since he became an internet sensation, things went uphill in William Franklyn-Miller's life. He started getting more modeling and acting propositions from different kinds of projects. For instance, he starred in the show "Jack Irish", where he played a younger version of the character played by Guy Pierce. He was also the model for Harrod's Christmas window. He also an appearance in the Peking Duck music video.
When he achieved his instant game, the various Asian shows started inviting him as a special guest. He has been doing different Skype interviews, and many popular news outlets wanted to have a chat with him. Also, the fans of William are mostly very supportive of him – they have created a fan community where they discuss all of his latest ventures and ask him to visit their countries.
William is not just focusing on acting and modeling. He is a schoolboy, so his primary concern is now studying. However, he does not forget about his hobbies – he auditions for a lot of movie roles.
In 2016, he started his movie career with starring in the short film called "A Fish out Of Water", where he played the role of Zac. William has achieved even bigger fame when he appeared on the popular action TV series "Arrow", where he acted the role of young Joseph Wilson. Aside that, he has made an appearance in the drama series called "Neighbours".
2018 was the year when William played the role of Thomas in the thriller short movie "Watcher", directed by Joshua Hoareau. Another one of his recent roles was in the action and drama short movie "The Resurgence",. Finally, he also was in the fantasy movie "Four Kids and It", which was directed by Andy De Emmony – he played Carl.
As for modeling, he does a lot of work in this sphere. He is now represented by Bayside Modeling Agency. He has modeled for a lot of popular brands. For instance, one of the brands that he worked with was "Rock Your Hair" in 2017.
READ ALSO: Hottest Nigerian female musicians without makeup
Interesting facts about William Franklyn-Miller that you never knew
William Franklyn-Miller is very active on social media. He often updates his fans on Instagram, as well as records videos on YouTube. Therefore, he shares a lot of facts about his personal life and interests. Here are some exciting things about the finest boy in the world that you would surely want to know:
William would like to go skydiving someday. However, at the same time, he is terrified of it. As he stated himself, he does not have the guts to jump out of the plane and finds it absolutely crazy.
Of course, since William is a model, he really loves fashion. He likes both high-end fashion and streetwear. His favourite trend is oversized hoodies and other street-style items.
William was absolutely amazed when he bumped into the actor Jack Black in one of Hawaiian Apple stores. As the boy remembered, his idol was an awesome guy when he got to know him in person.
When asked which time he would want to live in if he had a choice, William says that he wants to live in the future. He appreciates the amazing architecture and technological progress. He enjoys seeing the modern buildings and cars, and he is curious to see which gadgets will be around in the futuristic world. From his own words, he is dying to see what the iPhone X3 would look like.
His favourite movies are Star Wars saga. He would like to live in the fictional world of Star Wars and use a lightsaber to fight the bad guys.
He also loves the series "Doctor Who", and thinks that it would be awesome to play the role of a teenage Doctor.
When William describes himself, he says that he is a funny, caring, and hardworking guy. Apparently, his one million followers on Instagram wholeheartedly agree with this statement.
William has two younger siblings: a brother and a sister. Their names are Noah and Siena.
READ ALSO: Most beautiful Nollywood upcoming actresses
This was the article about the most handsome boy in the entire world, as his fanbase calls him. If you would like to get the latest updates from William Franklyn-Miller's life and see his gorgeous modeling photos, you can follow his Instagram: (William.franklyn.miller). He is also willfmofficial on both Facebook and Twitter. Finally, you can find him on YouTube by his real name William Franklyn-Miller, where he often records video blogs for his fans and talks about his life.
READ ALSO: Most handsome kids in the world
Source: Legit.ng