Nigerian celebrities and prominent people born in November
November's birthstone is topaz, and its two zodiac signs are Scorpio and Sagittarius. Aren't you curious to learn more about Nigerian celebrities born in November which is also the month of chrysanthemum birth? Let us look at some of the most prominent people whose birthday is celebrated or honored at this time of the year.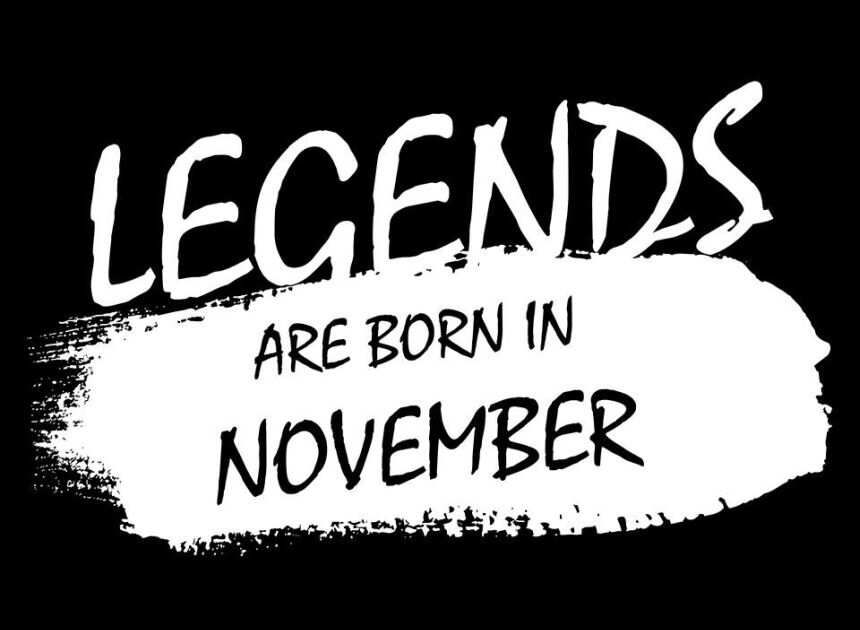 November born celebrities
There are so many famous people in Nigeria who have become successful in different spheres of life. Some of them have conquered the music Olympus, while others are recognized as talented entertainers, sportsmen, poets, politics, and businesspersons.
Anyways, below you will find a list of Nigerian celebrities born in November.
One thing you will know about them (for sure) is their zodiac sign since the choice is limited to two possibilities only. Those people whose birthday is celebrated until November 21st have the most powerful sign of Scorpio. Those famous men and women who were born on November 22nd and until the end of the month are Sagittarius, and their personalities are usually positive and adventurous.
READ ALSO: Nigerian heroes and their contributions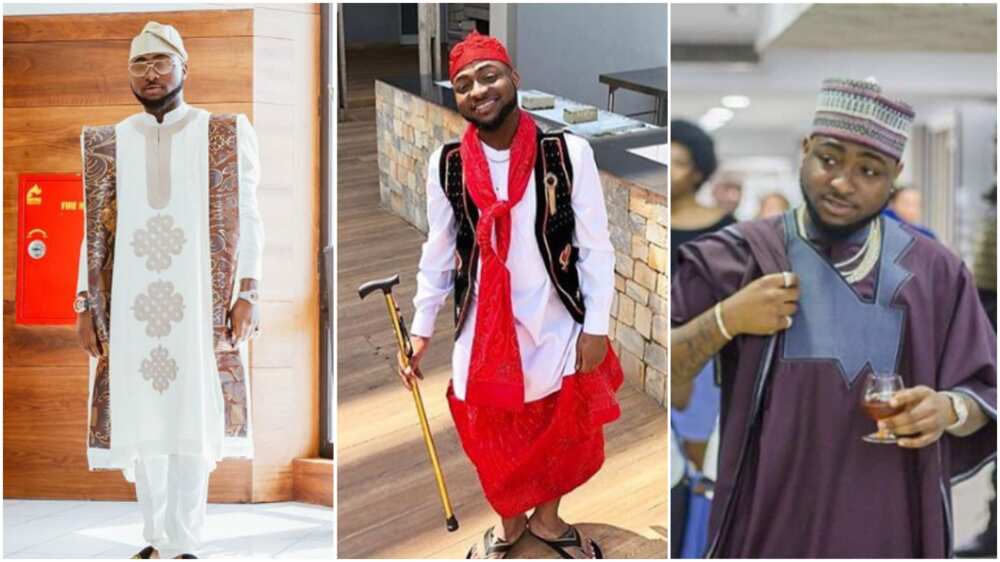 Davido; photo: Instagram
List of Nigerian celebrities born in November
So here they come. Every person from this list is respected, remembered or loved by millions of Nigerians.
Maryam Babangida – November 1, 1948
Nigerians will always remember this woman whose heart stopped beating in 2009 as the lady who formed the title of First Lady of Nigeria.
Chief Chukwuemeka Odumegwu Ojukwu – November 4, 1933
He served as the military government in 1966 and led the creation of Republic of Biafra that consisted of some Eastern territories of Nigeria. This politician died in 2011.
Femi Otedola – November 4, 1962
This famous and rich Nigerian businessman founded a private company called Zenon Petroleum and Gas that distributes and markets petroleum products. He is also the chairman of Forte Oil PLC.
Jim James Ovia – November 4, 1951
Who doesn't know Zenith Bank which is the big commercial bank in Nigeria? It was founded by Jim James Ovia back in 1990.
Munachi Abii – November 5, 1987
This woman is a well-known model, hip-hop singer (her stage name is Muna) and TV presenter in Nigeria. Back in 2007, she won the title of the Most Beautiful Girl of our country. She was a student of the Benson Idahosa University back then.
Reuben Abati – November 7, 1965
This columnist officially was chosen as the Spokesperson for the President Goodluck Jonathan and served from 2011 until 2015.
Murtala Muhammed – November 8, 1938
This is another famous person from the history of Nigeria. Back in 1975-1976, he became the Fourth Head of Nigeria as a military ruler, he died in 1976.
Chika 'Nancy' Ike – November 8, 1985
This 33-year-old beauty used to be a model. She is also a well-known Nigerian actress, film producer, and businesswoman.
Bryan Okwara – November 9, 1985
The 32-year-old man is a famous Igbo actor. Besides this, being as tall as 191 cm he is a participant of different contests. He won prestigious Mr. Nigeria in 2017
Joseph Benjamin – November 9, 1976
One of the co-hosts of Project Fame, Joseph Benjamin is also a famous actor and model. He is the winner of the title the African Actor of 2012 and was called the best lead Nollywood actor the same year.
DJ Cuppy – November 11, 1992
READ ALSO: Who is the most popular musician in Nigeria? - Top 10
This gorgeous woman is a famous Nigerian disc jockey whose real name is Florence Ifeoluwa Otedola and stage name is DJ Cuppy. She won the title Best Female DJ by NEA Awards back in 2015.
Herbert Macaulay – November 14, 1864
This was a talented man who was one of the founders of Nigeria Daily News, worked as a journalist, enjoyed politics, loved music and studied architecture. He is best remembered for founding Nigerian nationalism.
Stella Obasanjo – November 14, 1945
This beautiful woman is remembered as the First Lady of Nigeria. She was the wife of Olusegun Obasanjo who was the President of our country in 1999-2007. Unfortunately, she died in 2005.
Dimeji Bankole – November 14, 1969
Many Nigerians know this politician as the youngest Speaker of the House of Representatives in Nigeria. He took this position after elections in 2007 being 37 years old, and he served in office until 2011.
Gabriel Torwua Suswam – November 15, 1964
After studying and practicing law, Gabriel Suswam turned into politics. He became successful and was elected as the Governor of Benue State from 2007 until 2015.
Ayo Fayose – November 15, 1960
This politician was twice chosen as the Governor of Ekiti State. At first, he took this position from 2003 until 2006. Later he was elected again in 2014, and he is believed to have plans to run for president in 2019.
Nnamdi Azikiwe – November 16, 1904
Shortly known as Zic, this man used to be the first President of Nigeria. He took this significant position after our country became independent and he ruled from 1963 until 1966. Students and modern youth should know him as the 'father of nationalism.' The prominent man died in 1996.
18. Oge Okoye – November 16, 1980
This London-born lady lived most of her life in Nigeria, studied here and has become one of November born celebrities who is added to our list. She has been part of Nollywood film industry since 2001. Her most known roles are in such movies as Spanner, War Game, Blood Sister and over 100 others.
Dieprey Alamieyeseigha – November 16, 1952
Even though this politician died in 2015, he is remembered by citizens of Bayelsa State as their Governor who ruled in 1999 – 2005.
Saint Obi – November 16, 1965
This is a famous Nigerian actor who starred in Heart of Gold, Candle Light, and more than 60 other films. He also produces his own movies in Nigeria. His real name is Obinna Nwafor.
Chinua Achebe – November 16, 1930
The author of the famous Nigerian novel Things Fall Apart. Even though this impressive novelist died in 2013, he is remembered by many citizens of our country.
P-Square – November 18, 1981
Even though this duo has split, the two twin brothers who were part of P-Square were born in November. Their names are Paul and Peter Okoye. They are both musicians, dancers, and singers.
Goodluck Jonathan - November 20, 1957
Who doesn't know this prominent man? He was the country's Vice-President in 2007-2010 and became the President of Nigeria 8 years ago.
Davido – November 21, 1992
READ ALSO: Richest celebrity in Nigeria in 2018 - Top 10
The winner of BET, Kora, Ghana Music Award, and many other prizes, Davido is one of the top Nigerian celebrities born in the month of November. Even though he was born in the USA, he is extremely famous in Nigeria where he builds his music career.
Mallam Nuhu Ribadu – November 21, 1960
This Master of Laws was the Chairman of the special commission founded in Nigeria to fight with financial and economic crimes in 2003-2007. After working as an anti-corruption officer, he became the Chairman of Petroleum Revenue Special Task Force and took this position in 2012.
Yakubu Aiyegbeni - November 22, 1982
Shortly known to all his fans as simply Yakubu, this famous man is a former football player who represented Nigeria as a part of the national team from 2000 until 2012. He is also famous for scoring 96 goals in the history of Premier League (this makes him one of the top goal scorers from Africa).
Atiku Abubakar – November 25, 1946
This is another famous politician who was born in November. He served in Nigeria Customs, became the governor of Adamawa State and was elected as Vice President in 1999. He took this position until 2007.
Don Jazzy – November 26, 1982
Relatives and close people know him as Michael Collins Ajereh, but millions of music fans love him as Don Jazzy who is a famous Nigerian singer and producer. His record label called Mavin Records is a real home for many talented musicians, including Tiwa Savage and D'Prince.
Michael Adekunle Ajasin – November 28, 1908
This man used to be a politician who governed the Ondo State back in the early 1980's. He is still remembered for signing the law about the creation of Ondo State University that is currently located in Ekiti State and known as EKSU or Ekiti State University Ado Ekiti.
Sunday Mba – November 28, 1988
This footballer is a midfielder from Nigeria. He plays for the national squad and also represented several teams in his career, including Turkish club Yeni Malatyaspor, French team CA Bastia and several Nigerian squads (Dolphins, Warri Wolves, and others).
Now you know many Nigerian celebrities born in the month of November. We would like to wish every person whose birthday is celebrated this month to have a happy birthday, stay happy, and healthy.
As for our celebrities, we wish them to keep warming the hearts of thousands and millions of people. Being born in November can be so special!
READ ALSO: Famous Nigerians that are world celebrities
Source: Legit.ng