Today, we are going to show you a list of the top football arenas on the African continent as of the year 2018 to let you choose your best stadium in Africa. Africans are known to be no less professional football players than their European and American colleagues, and magnificent stadiums they build in many African countries prove this fact. We are charmed with their passionate game as well as every admirable stadium in this list. Enjoy reading and watching!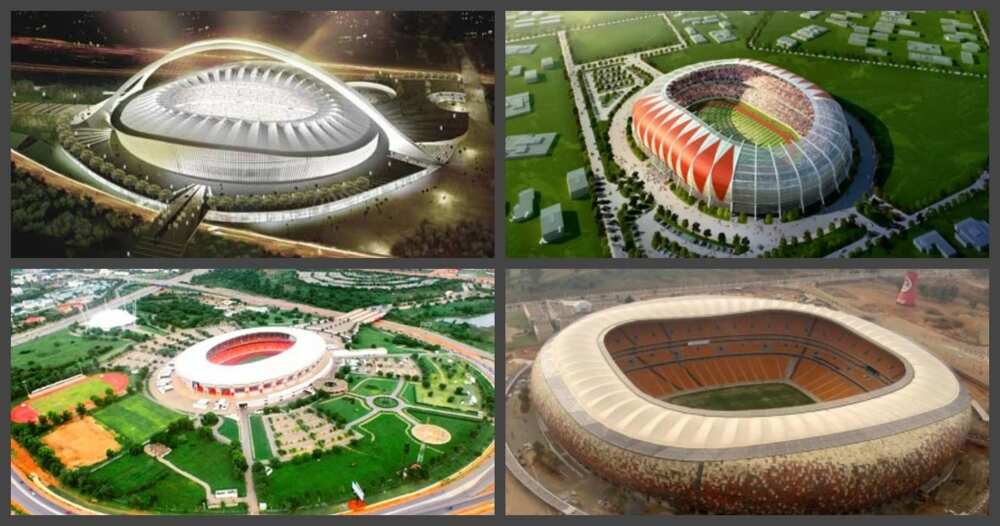 Which stadium is the best in Africa?
When picking up the best football arenas for this ranking, we were taking into account such elements as capacity, attractiveness, comfort, and ability to host the world's most significant sporting events.
1. Soccer City Stadium (South Africa)
If you are wondering where is the best stadium in Africa located, you need to go to South Africa. This country is famous for great love for football and an enormously high number of stadiums.
With a capacity of almost 95,000 seats, Soccer City Stadium, also known as FNB Stadium (First National Bank Stadium), is the largest stadium in Africa. Soccer City Stadium was constructed in 1987 in Johannesburg, South Africa. What is interesting about this sports arena is that it is also called The Calabash due to its resemblance to the African pot.
Also, Soccer City was the main stadium to host the 2010 FIFA World Cup between the Netherlands and Spain. FNB Stadium has been used for different sporting, cultural, and political events.
The Soccer City Stadium cost $440 million.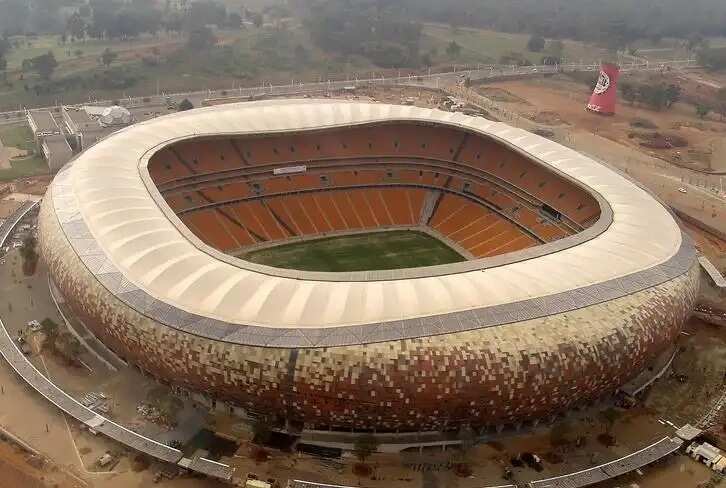 2. Moses Mabhida Stadium (South Africa)
South Africa is the wealthiest African country when it comes to football arenas. The number 2 in the list is the Moses Mabhida Stadium named after Moses Mabhida, a former General Secretary of the South African Communist Party.
It has almost twice lower capacity comparing to the Soccer City Stadium, namely, 54,000 seats though the amount of money spent on the construction is literally the same. Moses Mabhida Stadium has quite a symbolic design. Located in Durban, it gathers millions of spectators representing the unity of the nation through sport. The "Durban Stadium" design, chosen by Gerhard le Roux, was inspired by the national flag of the country. The arc stretching over the stadium symbolizes the unity of South Africa.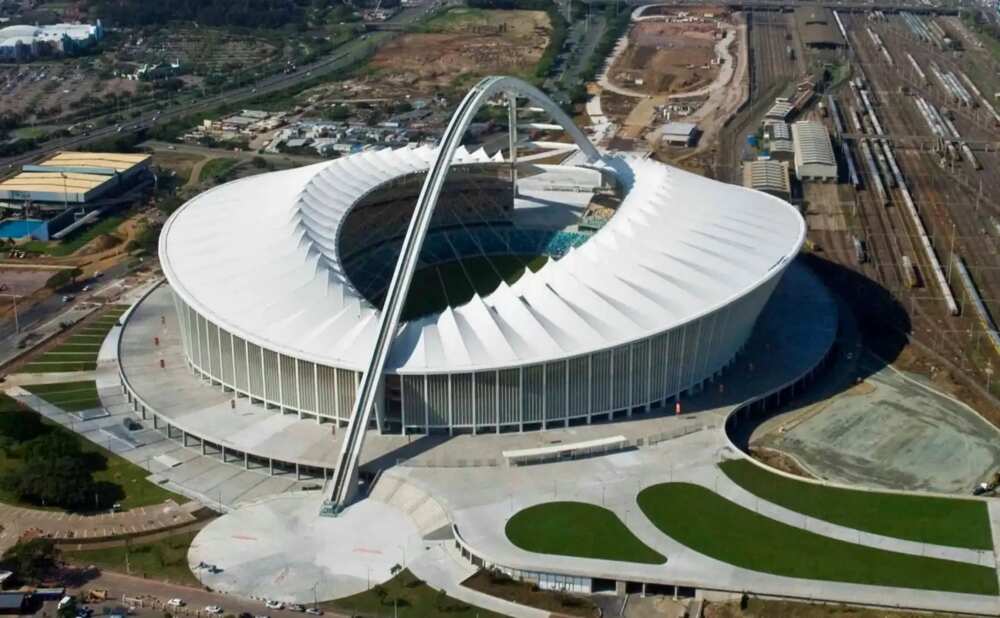 3. Cape Town Stadium (South Africa)
One more sport monument located in South Africa is the Cape Town Stadium. After this football arena was ruined in 2007, it has undergone a reconstruction to be one of the ten stadiums to host the FIFA world cup of 2010.
Nearly $600 million to renovate the stadium with increase in capacity from 18,000 to 70,000 seats. The Cape Town Stadium is definitely one of the most impressive. It stands in the neighborhood of Green Point, between Table Mountain and the Atlantic Ocean.
READ ALSO: How to watch live football on PC in Nigeria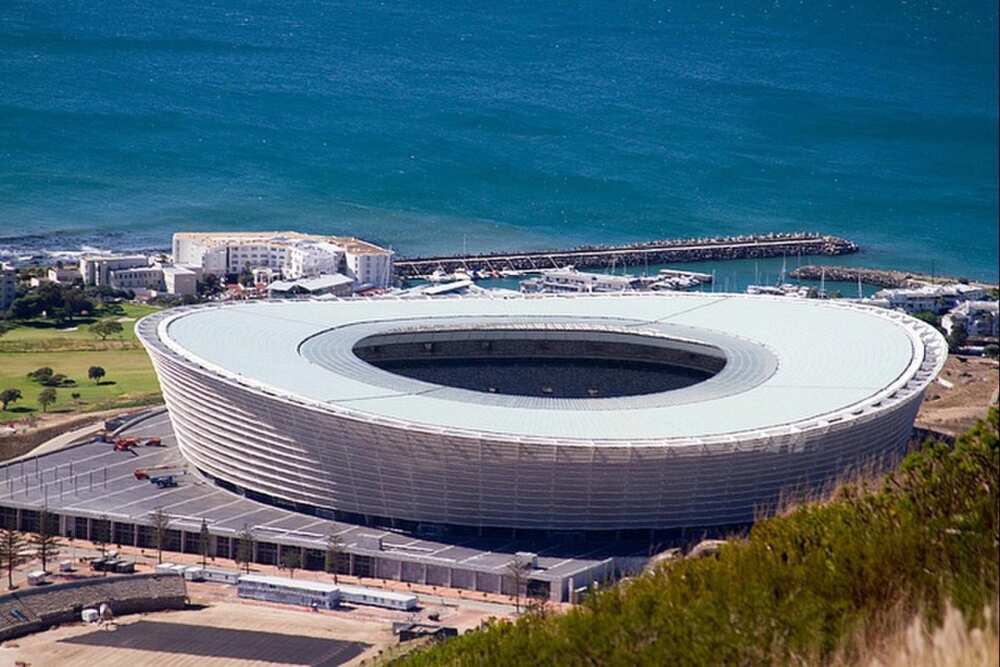 4. Nelson Mandela Bay Stadium (South Africa)
This football arena was one of the five stadiums built in South Africa for the 2010 World Cup. The Nelson Mandela Bay Stadium is a famous tourist attraction as it was built in Port Elizabeth located two kilometers from the coast of the Indian Ocean.
The stadium was designed by German architects and constructed on $270 million budget. When talking about this arenas' name, it was not directly given in honor of Nelson Mandela but Port Elizabeth that was renamed Nelson Mandela Bay.
The stadium capacity is almost 50,000 seats.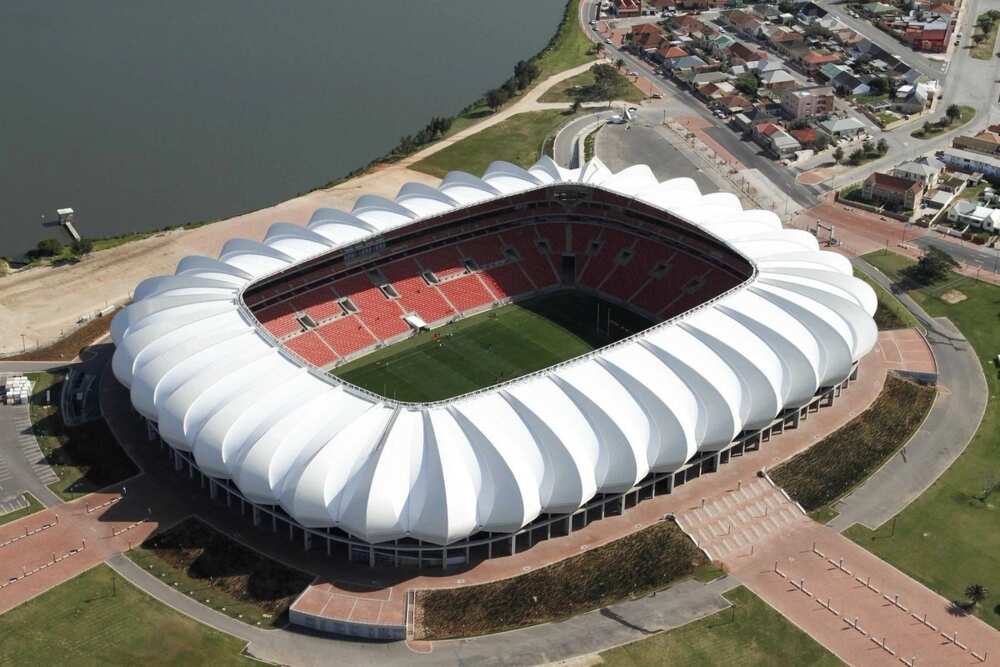 5. Peter Mokaba Stadium (South Africa)
The Peter Mokaba Stadium is one of the five stadiums built for the 2010 World Cup. It is also one of the cheapest ones which cost is $150 million. The past structure with one grandstand and three standing areas was modernized and extended.
With a capacity of 45,500 seats, Peter Mokaba Stadium became a favorite gathering place of many football fans living in South Africa and coming here from abroad. This football and rugby union stadium was named after a well-known politician and activist Peter Mokaba.
READ ALSO: Nigerian richest footballers and their net worth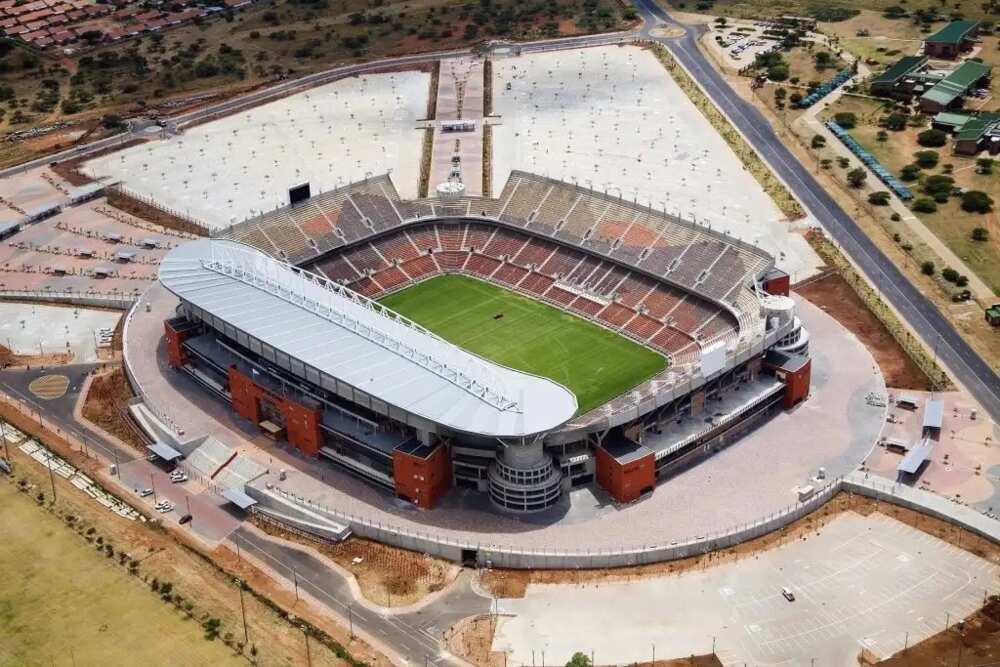 6. Mbombela Stadium (South Africa)
The Mbombela Stadium can also be included in the number of stadiums built specifically for the 2010 FIFA World Cup. It is located seven kilometers west of Mbombela, South Africa. A word "mbombela" in SiSwati, a Bantu language, means "many people in little space".
This arena was designed as a rectangle construction with rounded corners and capacity of 40,000 spectators. The authorities spent around $150 million which makes the Mbombela Stadium one of the cheapest stadiums, at least, on our list.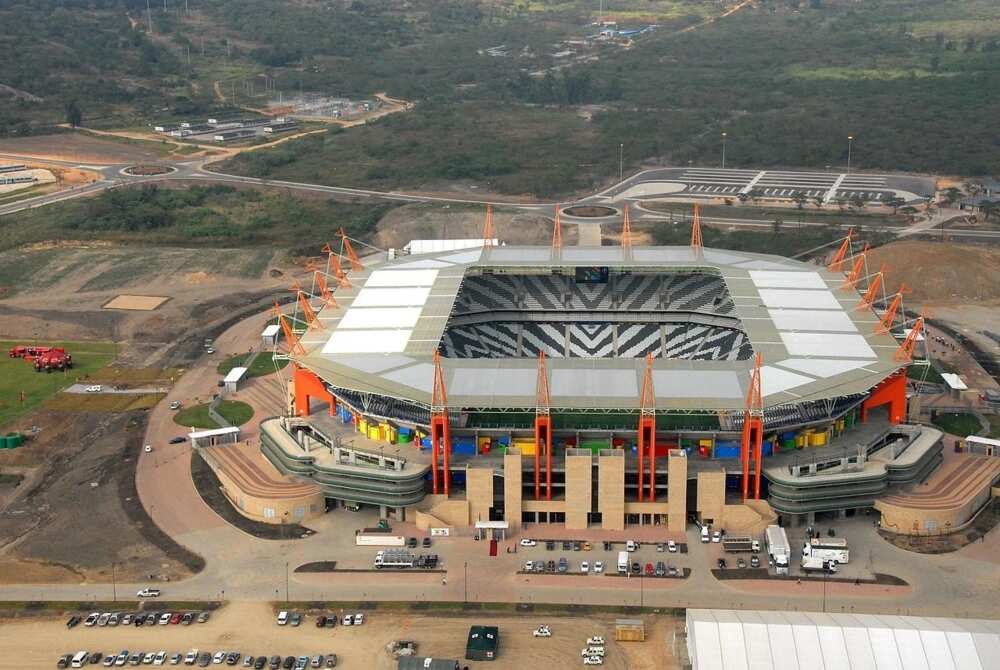 Choose your best stadium in Africa now
7. Abuja National Stadium (Nigeria)
Now, what about other African countries? Nigeria is our next destination point. The Abuja National Stadium is an ultra-modern national sports arena located in Abuja, being home to Nigerian national football team. With a capacity of around 60,000 seats, it is purposed to multiple sports events.
The Abuja National Stadium was constructed in 2000 to host the 8th All Africa Games. This sport monument has an elegant, artistic design being, perhaps, one of the most beautiful stadium in Africa with the construction budget of $350 million.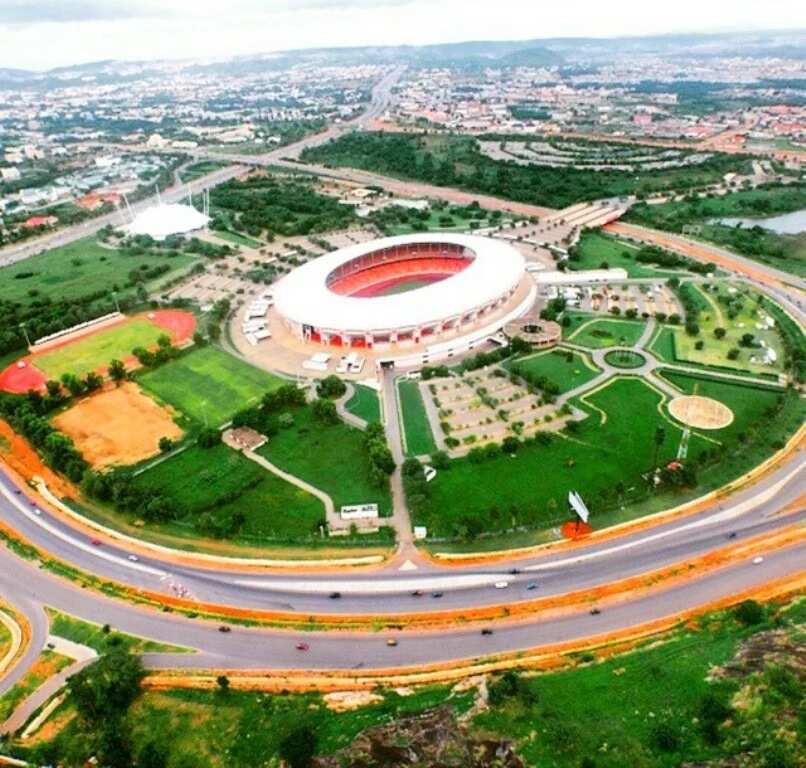 8. Borj Al Arab Stadium (Egypt)
Opened in 2007, Borj Al Arab Stadium is located only 25 kilometers west of Alexandria, Egypt. It is the largest multi-purpose sports arena in Egypt and the second best football stadium in Africa (after Soccer City stadium).
The capacity of this stadium is 85,000 seats. Interesting that Borj Al Arab Stadium was constructed by the whole team of designers and constructors, to be more specific, Egyptian Armed Forces Corps of Engineers.
READ ALSO: Top 10 beautiful stadiums in the world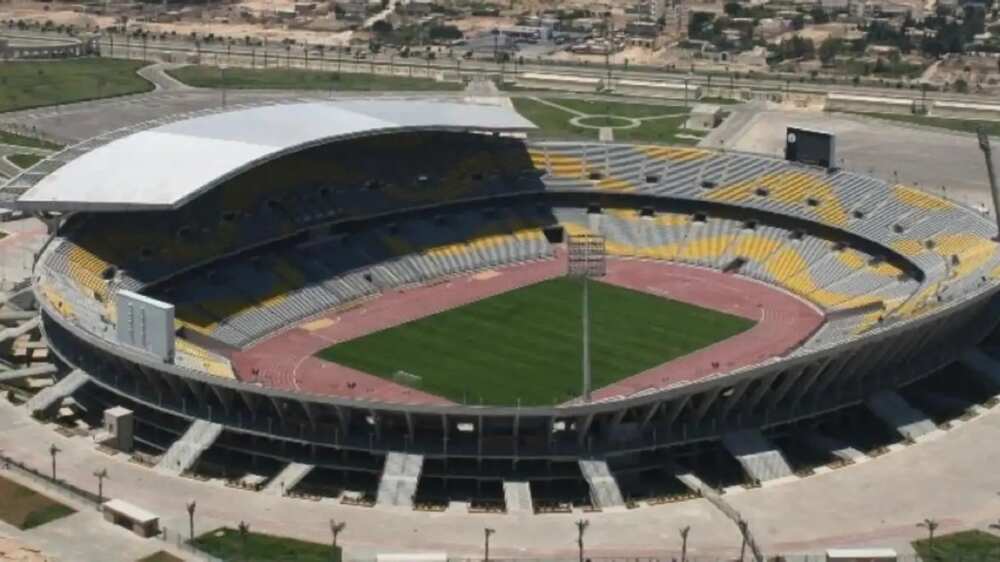 9. Stade d'Angondjé (Gabon)
Stade D'Angondjé or Libreville Friendship Stadium is a joint project of Gabon and China. Designed as a 36,000 m2 metallic structure. The Angondjé stadium was the main sports arena to host the African Cup of Nations in 2012 and 2017.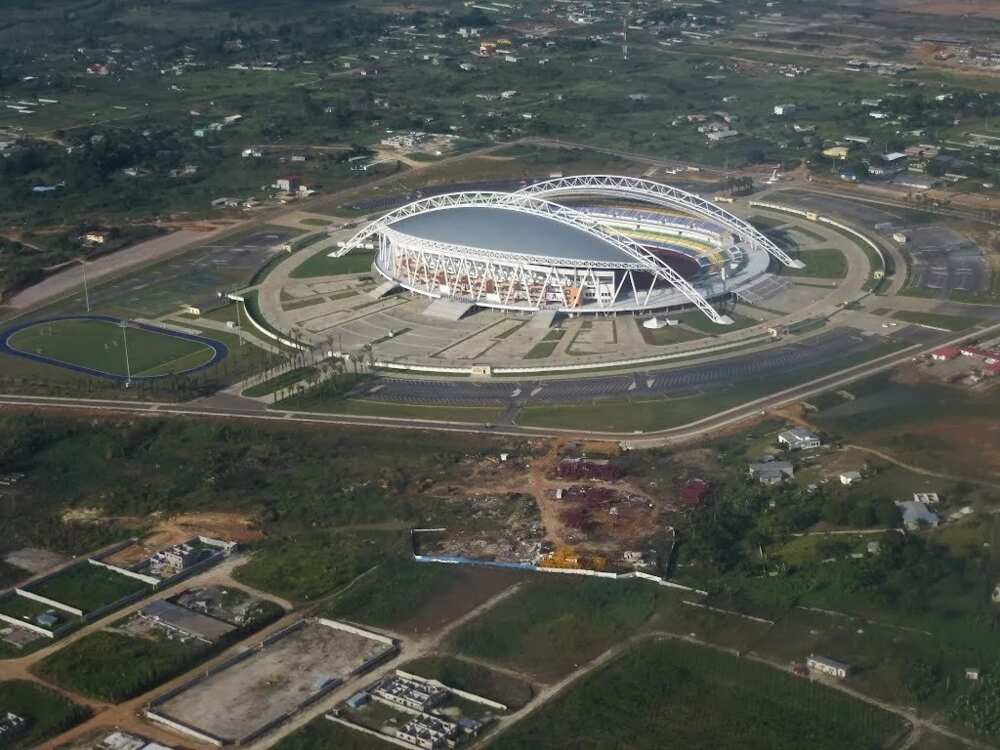 10. Estadio 11 De Novembro (Angola)
The 11th of November is the date of Angola's independence day which became a title of a newly-built stadium Estádio 11 de Novembro located in Belas municipality in Luanda, Angola. It is a multi-purpose stadium. This gorgeous 50,000-seat stadium was opened in 2010 to host the 2010 Africa Nations Cup.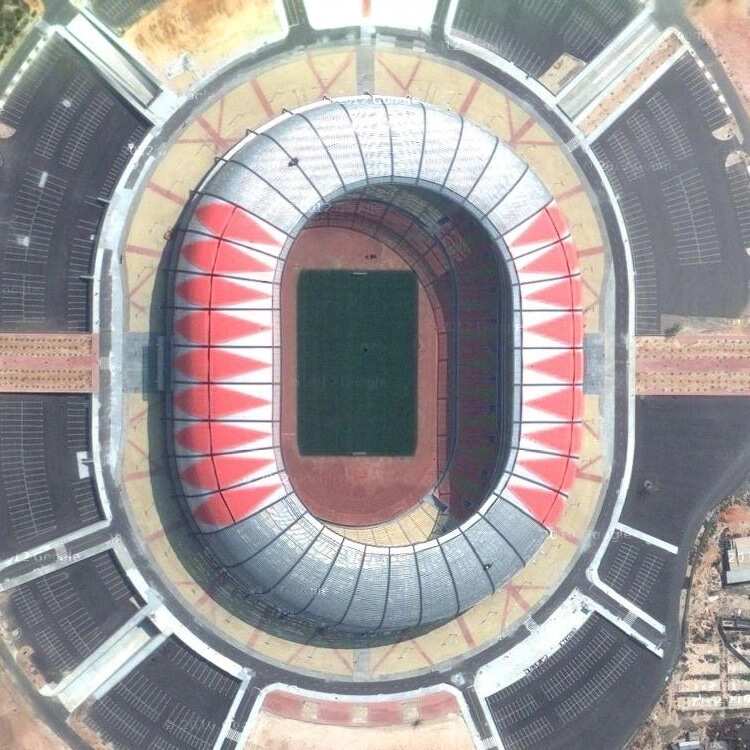 We hope you have enjoyed the information above. As you see, each of the stadiums is unique in its own way and deserves to be on the list of the best stadiums in Africa.
READ ALSO: 7 richest football club owners in Africa