Nigerian lady cries out for help following threats from her baby daddy
- A Nigerian lady identified as Achoakawa Jane Egobunma recently cried out for help over death threats and maltreatment from her baby daddy
- According to the Facebook user, her baby daddy, Michael Ugwuezi Nwankwo almost tricked her into abortion after scamming her
- She revealed how she went behind his back to have the baby is now scared for her life
A Nigerian lady identified as Achoakawa Jane Egobunma recently cried out on Facebook over the maltreatment and death threats she has been getting from her baby daddy who she revealed identity as Michael Ugwuezi Nwankwo. Jane cried out o, begging that if anything happens to her, he should be held responsible.
The mother of one who sounded helpless narrated how it all started when she got into a relationship with Michael in 2012. After a few years, her boyfriend revealed to her his intentions to travel out of the country and hopes to be settled there with her.
To accomplish his goal, he asked her for money and she helped him thinking it was for a better future for them both. It turned he swindled her of the money and her properties which he sold at a meager amount. Unfortunately, she later found out she was pregnant with his child and decided to reach out to him.
READ ALSO: Juliet Ibrahim shares before and after photos of her newly completed house in Accra
On hearing the news, Michael who lied that he was a staff at a Nigerian university showed up and took her to the school to be registered as a an antenatal patient. After visiting the doctor, she complained of a headache and was advised to take pain killers. Michael stepped out to get the medicine and came back with something else which he convinced her was from the doctor.
After ingesting the tablets, she started bleeding and was rushed to a hospital where her so-called boyfriend had instructed the doctor to terminate the pregnancy. Knowing this, she pleaded for the doctor to leave her child and managed to escape. She cut all communications with Michael but got the shock of her life when he returned when her baby was seven months old.
She revealed she has been through hell since then.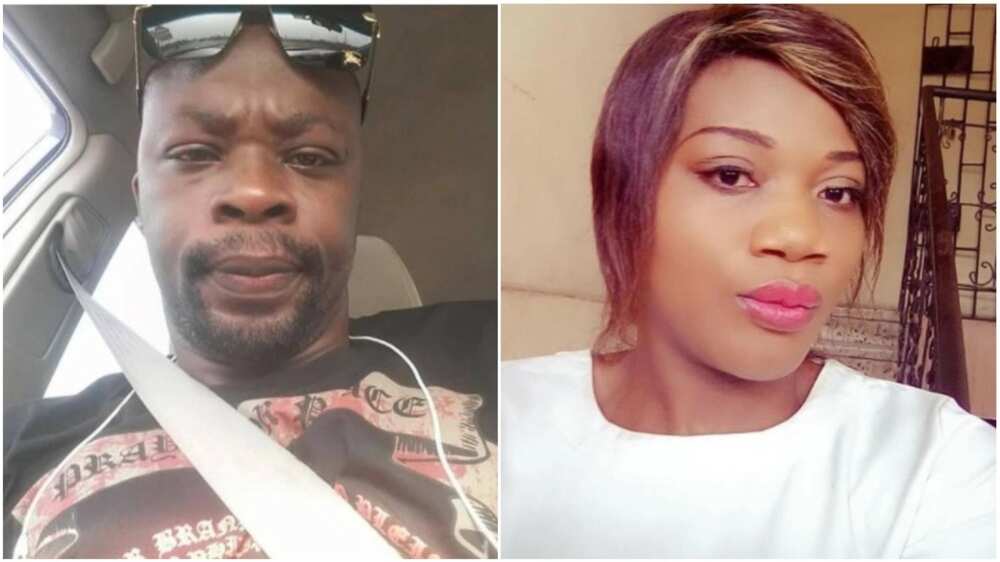 Read her post below:
"Please don't hide my identity am tired of this emotional Blackburn! This is how it happened and how I became bad. Many of you have been wanting to know me and my story and here I am finally. Yes !!! I have a child.. Yes ,am a single mother, yes am in my early 30s, yes the father of my son is MICHAEL UGWUEZI NWANKWO!!!
I got into relationship with Michael Ugwuezi Nwankwo in the year 2012 while I was still at the university , but we consummated our relationship in 20l5 December.in 20l6,March, Michael Ugwuezi nwankwo told me of his intentions to travel abroad and how he wanted us to base abroad and that his friend CHELSEA DAISY EA was going to assist us getting the VISA. Michael lied to me he was working with BABCOCK UNIVERSITY ILLISHAN REMO OGUN STATE, but it was all lie as I letter found out Michael nwankwo was operating a business center inside Babcock, when I found out, I couldn't help but to forgive him when he started pleading..
In April, Michael came up with the issue of raising money for him to travel urgently as his friend Chelsea ea Daisy had sent him an invitation. As at then, I didn't have up to the money he demanded and as he repeatedly came to my office and collected three hundred and ten thousand naira from me on different occasions in my office and two days after he collected the money, he came crying in my house and making calls telling the person he was calling that he will raise the money that they should give him time. On hearing all the conversation between him and the caller I told him that the only solution was to sell my properties in my house and he said he would get a buyer!
As soon I went to work that morning, he called me that he has gotten a buyer so I told him to sell what he can and raise the money.Michael letter called me to inform me that he sold my refrigerator, television, generator for l50,000 thousand naira.I couldn't believe it and at the same time didn't question him but simply told him that ,that was too poor. He fled up and I had to let go.after he collected the money and sold the property, he finally engaged me and we fixed a date to see his family members, a night to the said day, I received a text massage from Michael's father.. MR.EMMANUEL E.O NWANKWO..an elder of the SEVENTH DAY ADVENTIST CHURCH .IN MOWE..warning me to stay away from his son and family of I wanted peace!
I contacted Michael and he told me not to mind his father that he was just teasing me.soon after that,I started receiving threatening calls from his brother ERNEST ENYINNAYA NWANKWO on the same issue and this was in 3rd August 20l6.i decided to avoid Michael as I couldn't understand him anymore and i avoided his calls .in September, I realized I was pregnant and I had to call him to inform him and then he told me he would be coming to Lagos that evening after he had closed from the business center work he was doing. That night, he finally came to Lagos where i lived and the next morning, he took me we traveled back to Babcock university teaching hospital were he registered me for antenatal clinic.
On returning back to Lagos, I was spilled and temperature was high we called the doctor, and he said I should take emzor paracetamol that I will be OK so Michael went and got me the a different medicine and claimed that the doctor suggested it, so I collected it coupled with my antenatal medicine and 30mints letter, I started bleeding and Michael got a vehicle that took me to a hospital in Ogun state were the doctor was already paid to conduct an evacuation! When I found out the plan, I pleaded with the doctor not to carry out Michael's instructions and that I would double whatever Michael paid him.the doctor was merciful and agreed with me and letter told Michael that the evacuation had been completed and that I had lost my womb in the process .
READ ALSO: Nigerians react to the viral picture of Tonto Dikeh kissing Bobrisky
Immediately, Michael called her sister EZINNA NWANKWO JULIET who promised that they will be sending me money to control the bleeding and that I shouldn't sorry myself over that doctors report. I didn't mind them nor said a word I was just all to my self until I left for Lagos. The I started receiving credit alerts on my phone as money sent by Michael. Repeatedly, I received alerts from Michael which he said was for compensation of loosing my womb.continued sending 5thousand naira weekly and a times monthly and when he found out I wasn't responding to his calls, he stopped sending as I used the money he sent to me for my antenatal clinic. We left to Michael's house and from there back to Lagos and I complexly avoided Michael as Michael didn't know I still had my pregnancy!
As soon as I gave birth, my baby was 7months old when Michael in the middle of the night on the 24th DEC 20l7, Michael came with some people that claimed to be police officer's to kidnap my baby and I alerted the police in my area and they came while Michael was arrested through the help of BAR. EMEKA UGWUONYE.by the area commander shagamu, the matter was letter changed to Court and Michael was remanded in KIRIKIRI PRISON . soon after his release from the prison, he continued he has continuously assaulted me and has threatened to kill me last week Wednesday, I started receiving other calls by one onyinyechi emmanuel a 3rd year student of political student of abia state university,but didn't take that seriously as I have noting to do with Michael anymore and had moved on with my life. Michael started sending massages on the internet claiming am the one who made the screen short publication and stated threatening me again.
Micheal and his siblings ganged up and beat me up and letter locked me up in his room for 6hrs claiming its a tip of the iceberg for me for sending him to the prison.today, Michael created a Facebook account with my name and picture asking people for assistant in my name. And also made a post on his Facebook Page which is (Michael Michael (able God) threatening to deal with me and ready battle for more publication about me.please I beg you all members of the public, of anything happen to me, just know that Michael Ugwuezi nwankwo is responsible for it.below are the screen short.. a particular woman has been after this so called onyinyechi to leave her husband and now micheal is after me threatening to kill me. With her sister JULIET EZINNA NWANKWO.. Please I decided to make this open because this matter is getting out of hand and o don't know what else they have in stock for me…I have been dying in pain and silence because of what people will say..and those that will mock me but I don't care anymore..
If I die today, Michael Ugwuezi nwankwo and his family members killed me.I am not the woman in the picture asking onyinyechi to leave her husband, its another woman that made this publication and they tagged me have giving the woman my story. I don't know any of this two.neither the onyinyechi Emmanuel nor the Stacey Nnamdi.My family members have asked to stay calm that he can't do anything to me but I can no longer keep calm."
Na wa o!
PAY ATTENTION: Read best news on Nigeria's #1 news app
Mom's Blog Ep 3: Does A Mom Have Weekends? on Legit.ng TV
Source: Legit.ng