Wedding hairstyles in Nigeria: best styles for brides
Let's talk about wedding hairstyles in Nigeria: Best styles for brides. Are you going to get married? Then read the most relevant information and see bright photos. Adhere to our tips, and you'll be the most charming bride!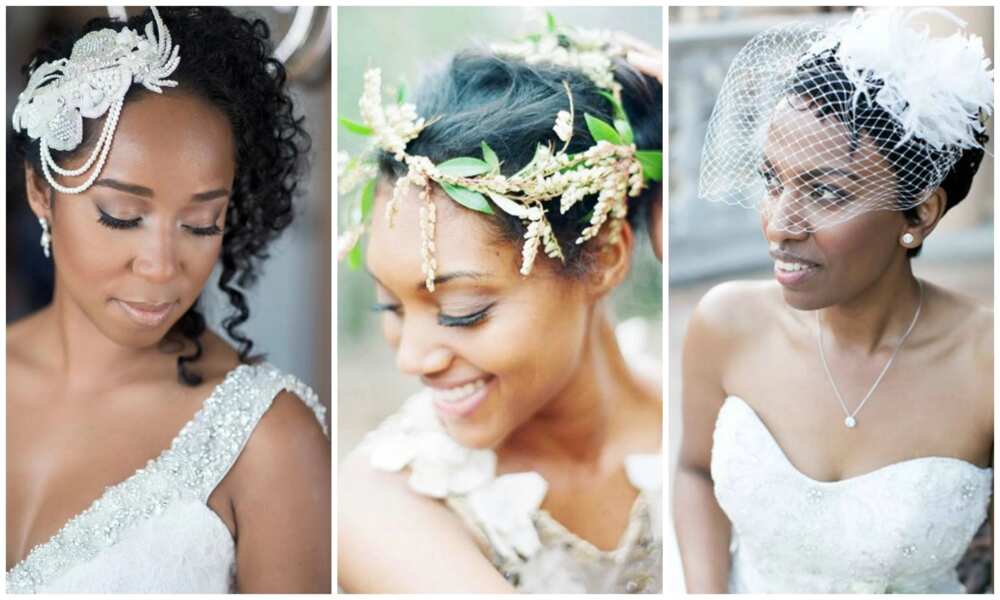 A new wedding season has come. Future brides are studying blogs and forums and looking for ideas of the most beautiful and romantic look. On the wedding day, everything is essential: wedding dress, accessories, shoes, hairdo, manicure, and makeup, etc.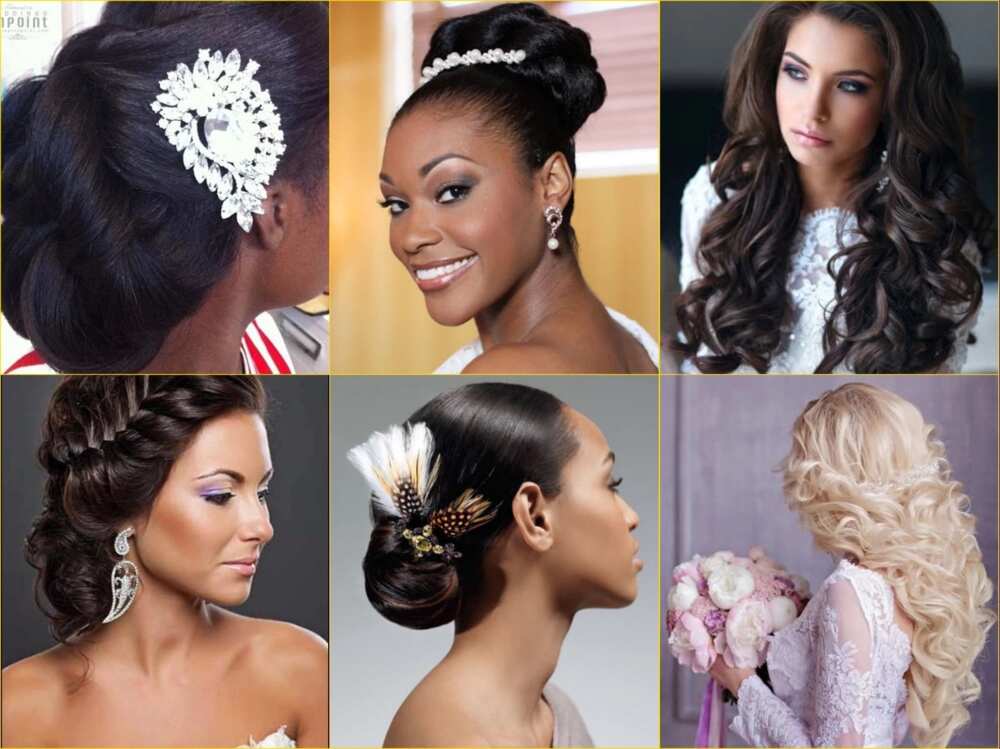 Wedding fashion changes regularly. Thinking about what hairstyle to make for the celebration, you should get acquainted with the main trends offered by stylists. What are bridal hairstyles relevant in 2018?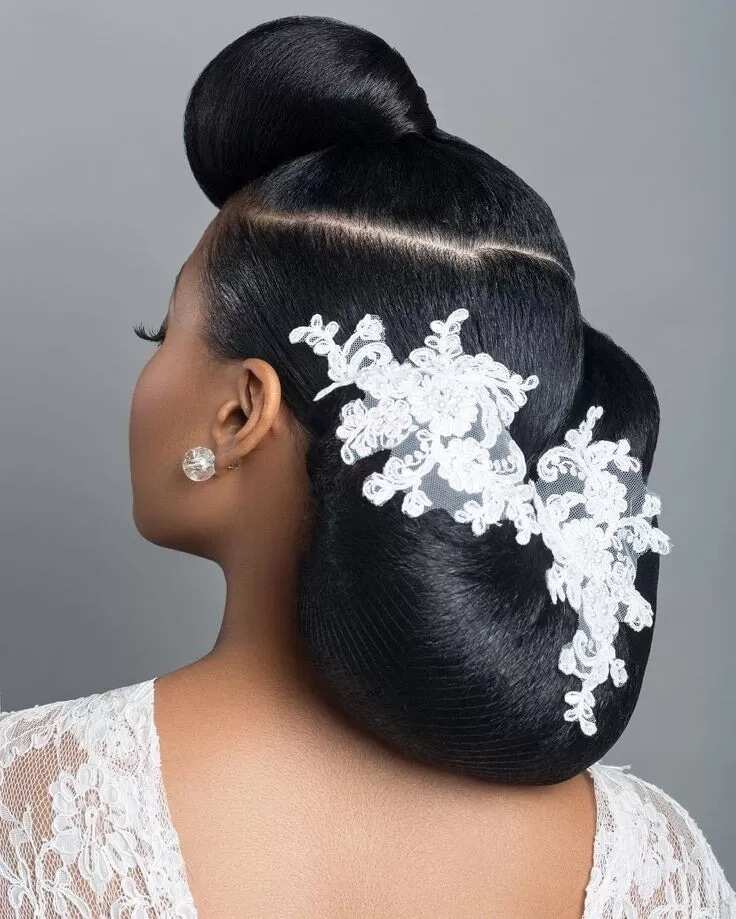 In our review, we find out fashion trends of Nigerian bridal hairstyles 2018.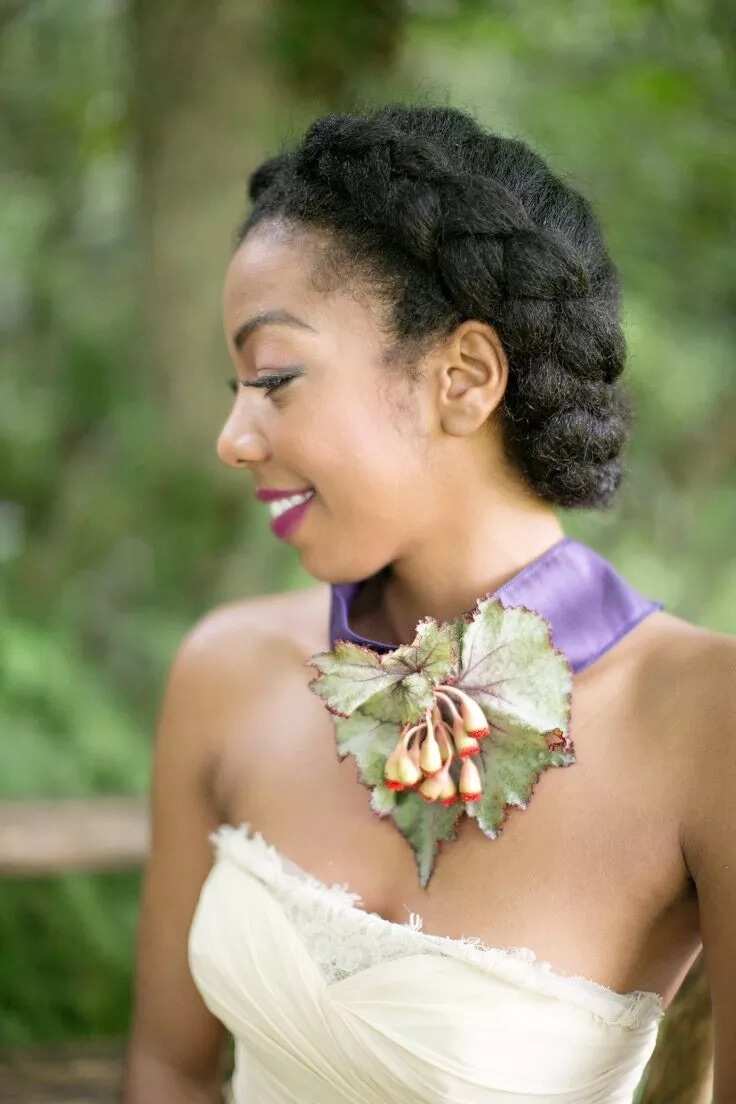 Fashion trends in wedding hairstyles 2018
If we talk about the new wedding hairstyles in Nigeria, we can admit simple and easily made wedding images created by designers this season. Romantic curls, tails, and buns are very simple hairstyles, similar to popular everyday styles.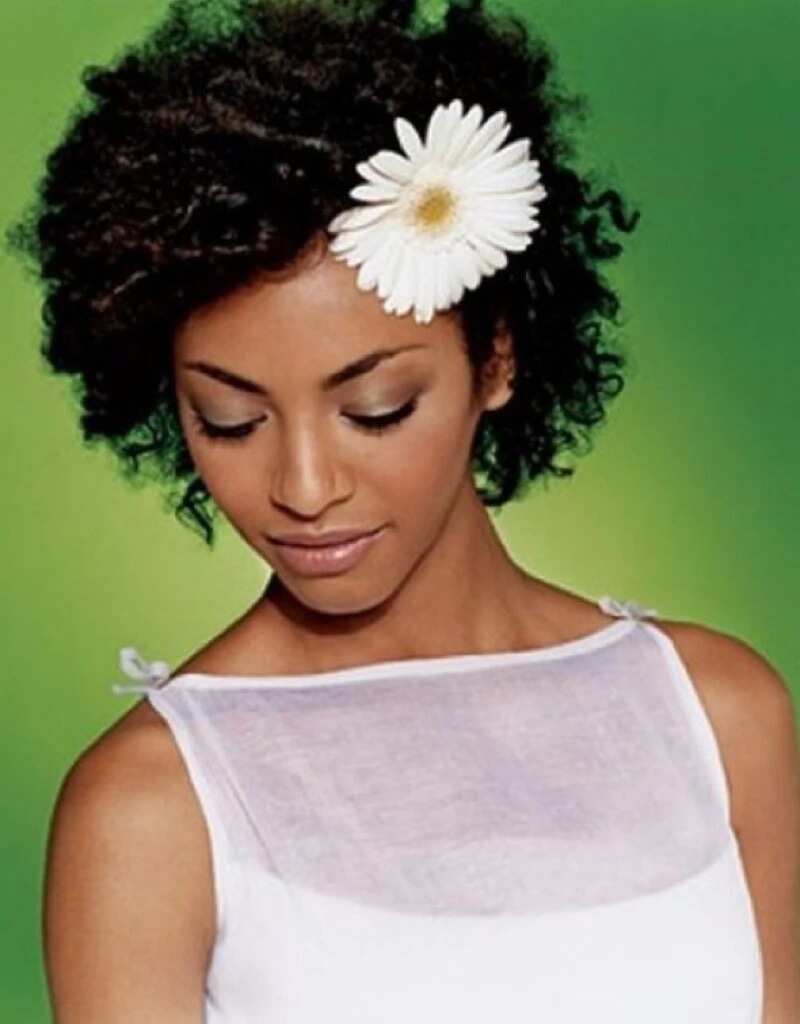 There is no complicated hair styling. Almost any trendy wedding hairdo 2018 can be done on your own or with the help of a friend. It's enough to create waves using ironing. Besides, you can fix hair with a gel in a smooth bundle and the wedding hairstyle is ready.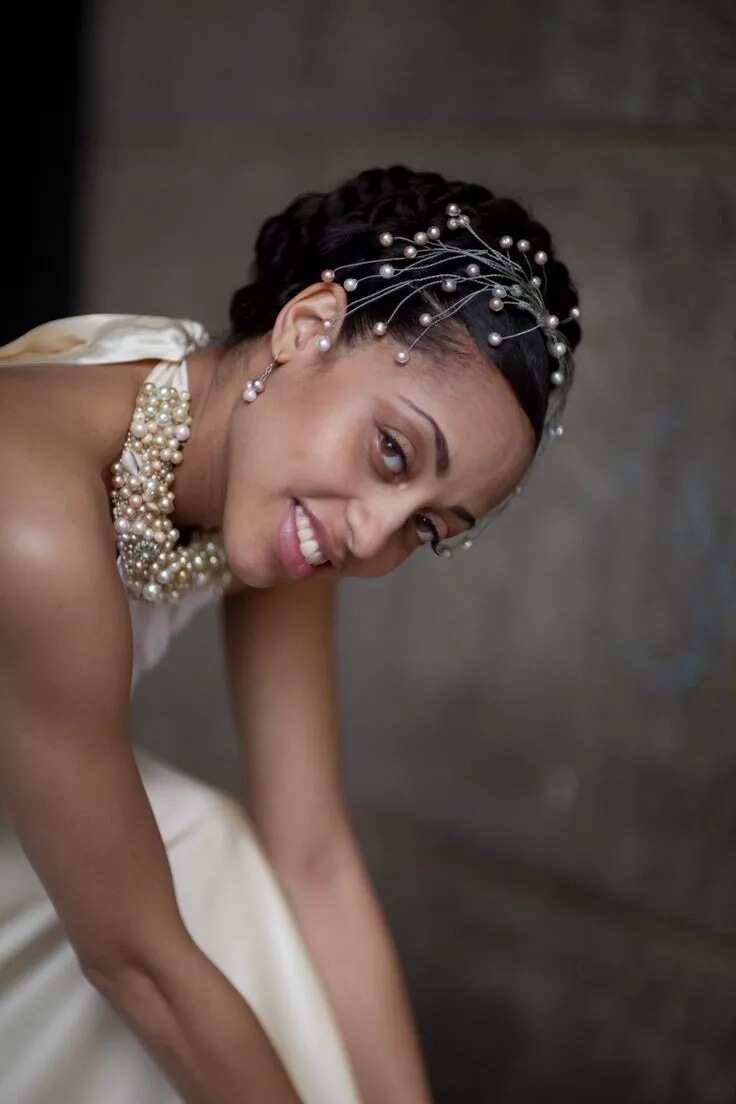 Wedding hairstyles with accessories
The latest wedding trends for hairstyles require the use of exquisite accessories. Even the simplest hairdo plays in a new way if you add a stylish element. In fashion, there are barrettes with rhinestones, diadems in the bindweed form, headbands with small neat bows, and hairpins with pearls.
The most beautiful wedding images created with stylish accessories can be seen in the following photos.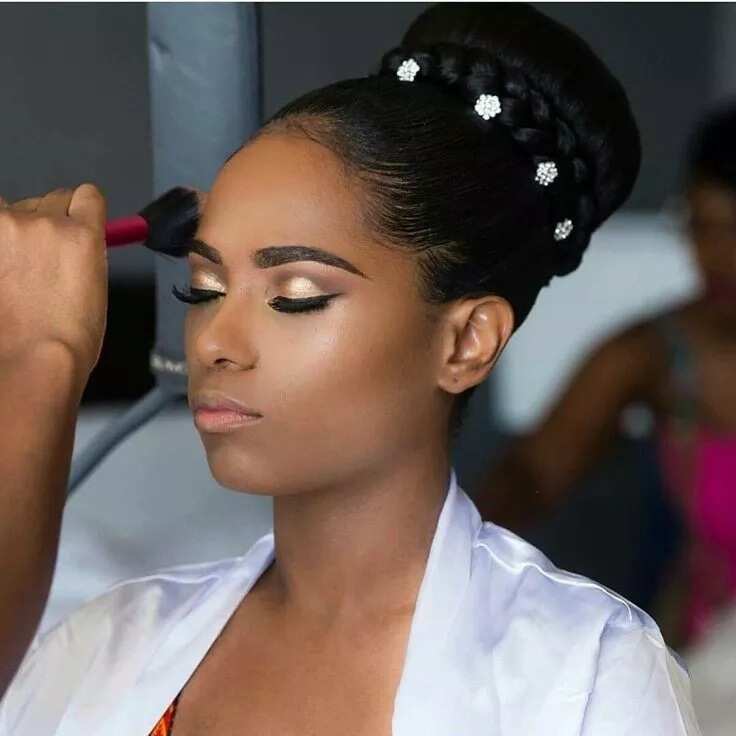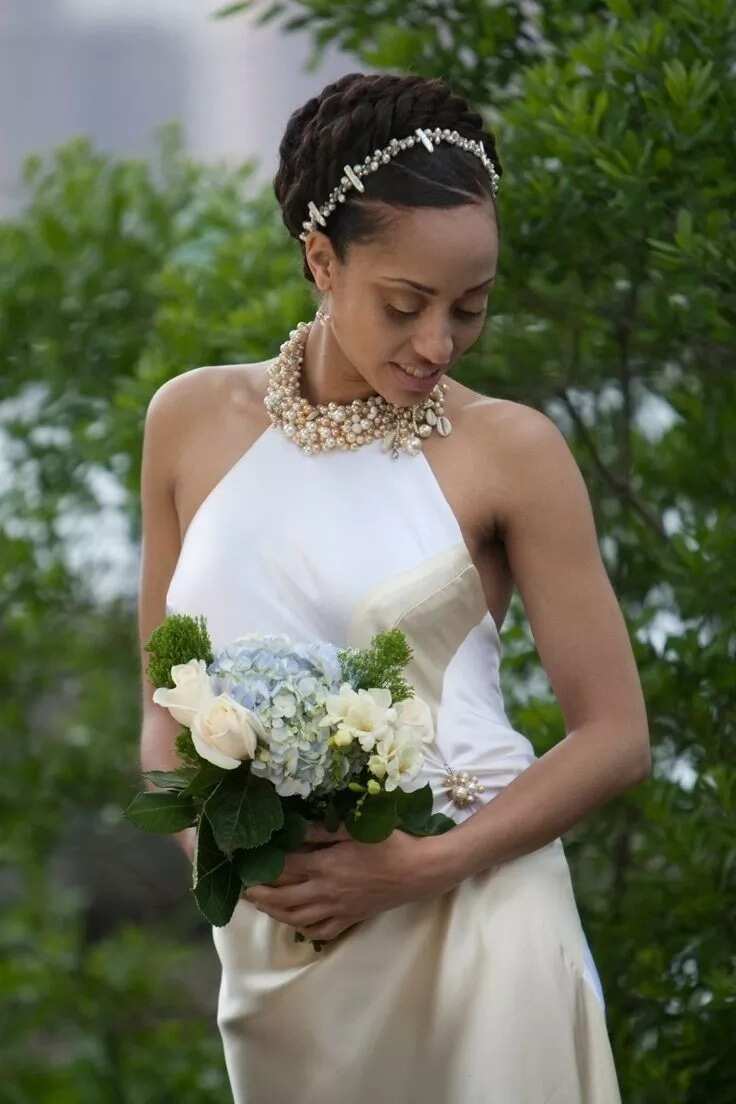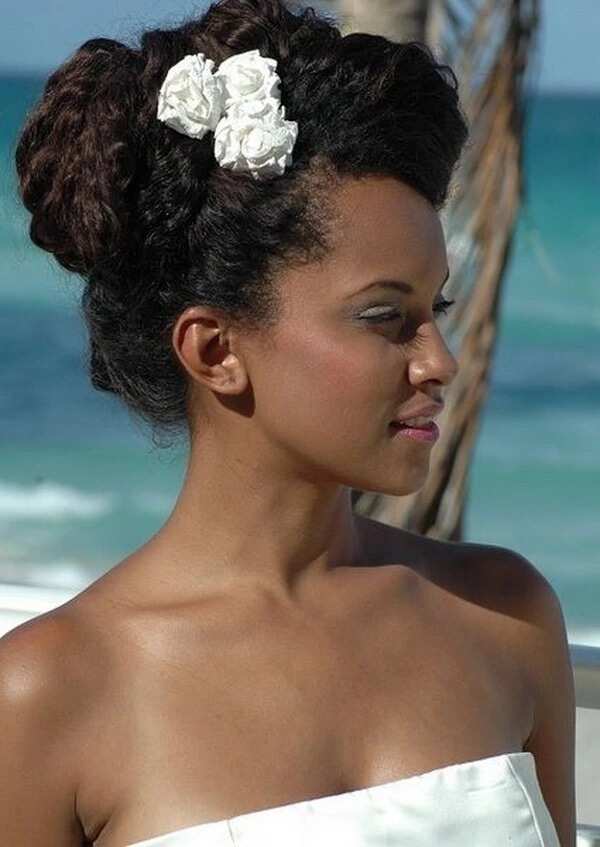 You can make a beautiful style on the side using a comb with stones and rhinestones or fix a bunch with a hairpin in the minimalistic style. If you wear bangs but want to experiment, you can comb all the hair back. Then fix the hairdo with a rim or crown.
By the way, hairstyles for medium or long hair removed back are considered an actual trend of the summer season.
READ ALSO: Latest wedding gowns in Nigeria 2017-2018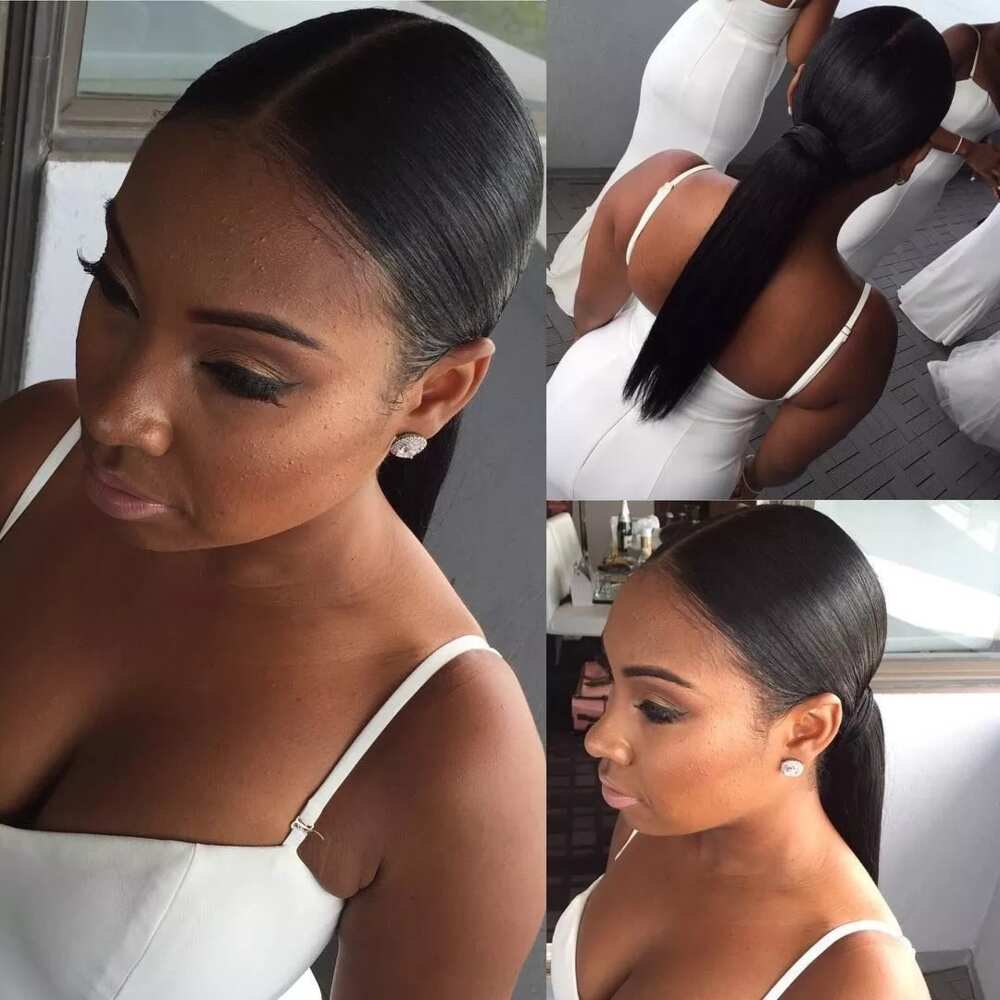 Simple bridal hairstyles with a tail
It's no secret that despite all the contemporary trends for visual lips' growth, wide eyebrows making, and ultra-long eyelashes using, men still like girls who are distinguished by their natural beauty.
Therefore, modern fashion for wedding hairstyles 2018 says that the bride should be as natural and sweet as possible, without the heaped hairdo. The future spouse must recognise the girl he once fell in love with.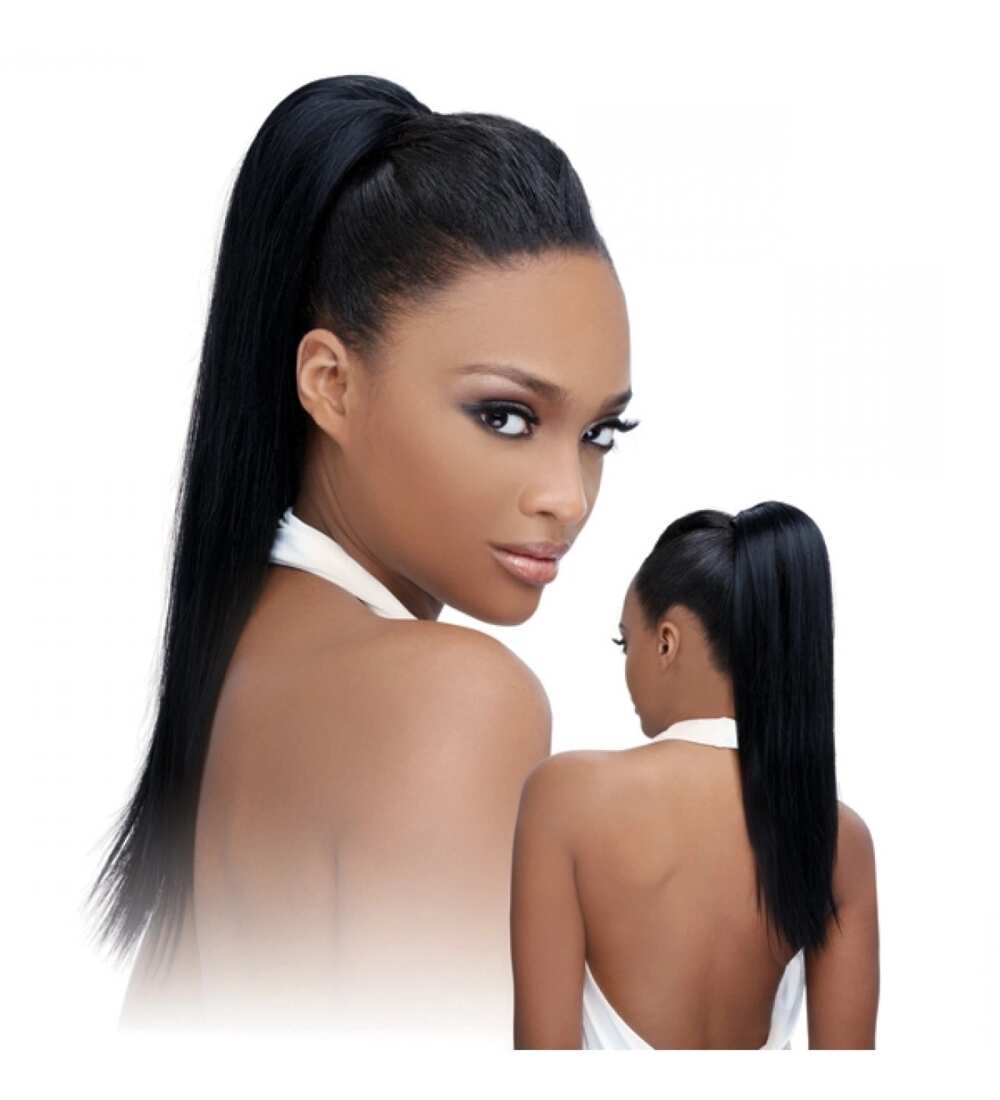 A classic everyday hairstyle is a ponytail. You can slightly improve it: curl the hair, tie a stylish ribbon or use a beautiful hairpin. Then one of the most stylish hairdos for a modern bride is easily created. Trendy wedding hairstyles 2018 with a ponytail can be made in several variants: in
a tail form with waves,
a kind of a high ponytail
a smooth styling with a low tail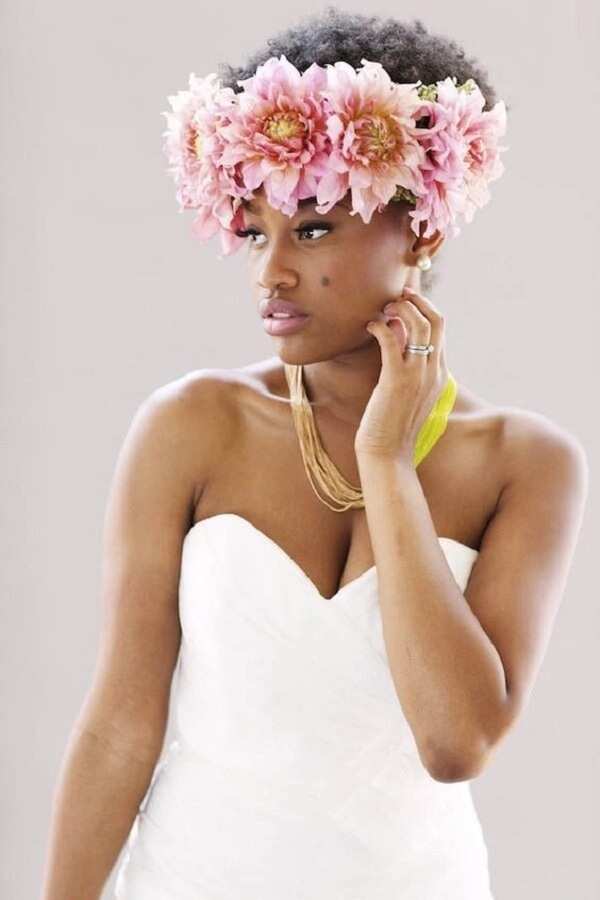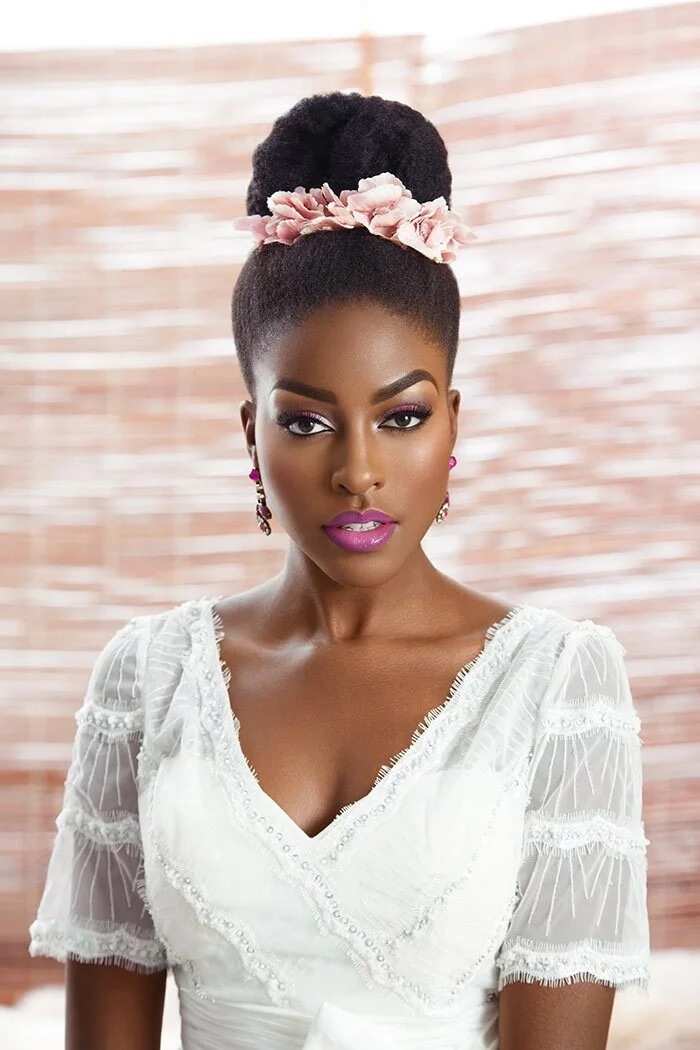 Trendy wedding hairdos with flowers and wreaths
Hair designers offer romantic wreaths made with small roses or field flowers as a novelty in wedding hairstyles. This beautiful wedding accessory can decorate absolutely any hairdo whether it's gathered hair or loose. A small wreath can suit you as a wedding hairstyle for short hair. You don't need to invent any new decor, just buy a hair ornament with fresh flowers or handmade flowers.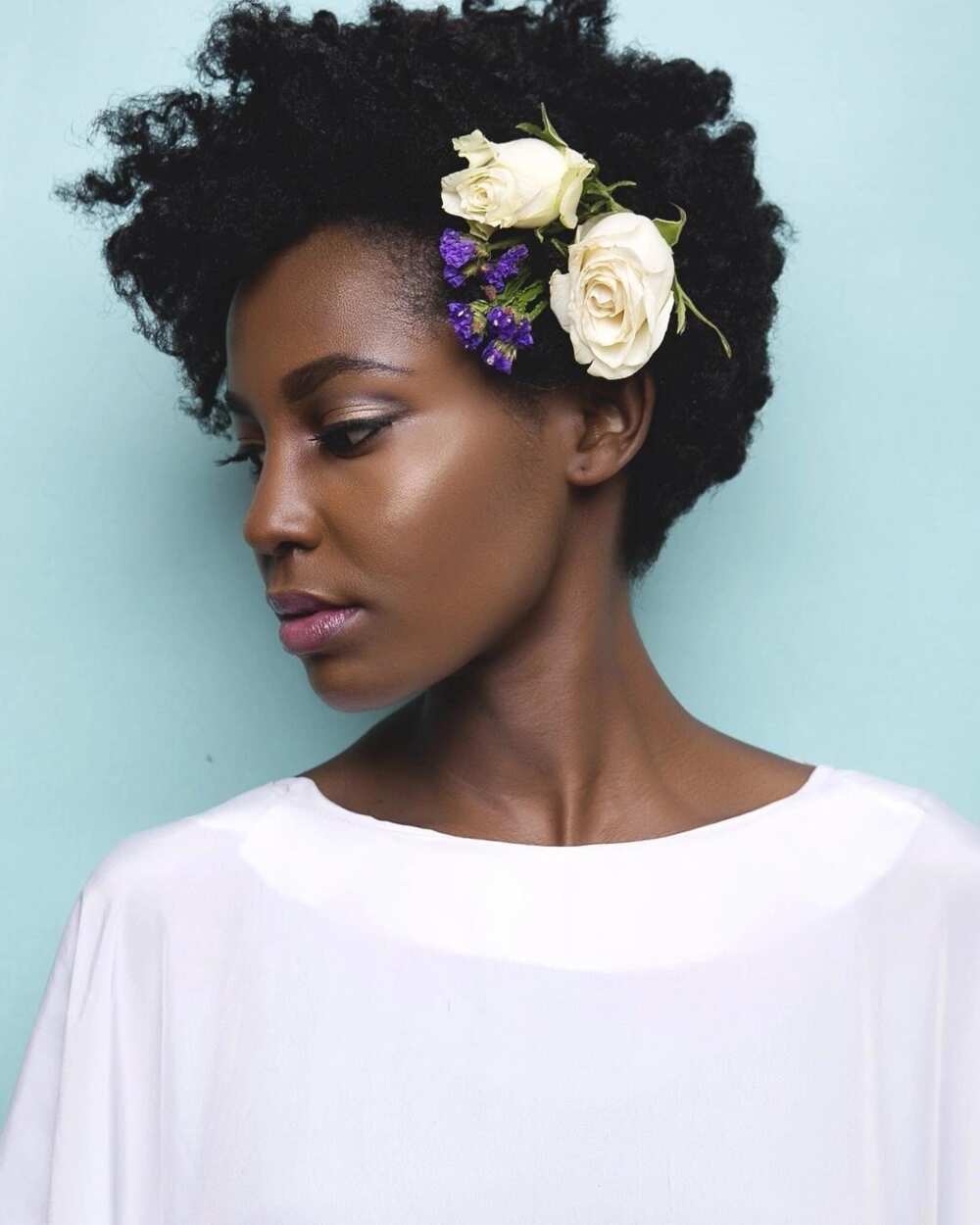 For several seasons images with slightly dishevelled hairdos in Boho style don't go out of fashion. For making a wedding hairdo out of simple braiding, interweave your hair with a small inflorescence of field plants. Use the invisible hairpin to fix the hairdo properly. You can see lovely and dreamy brides' images in Boho style in the selection of photos from the wedding collections 2018.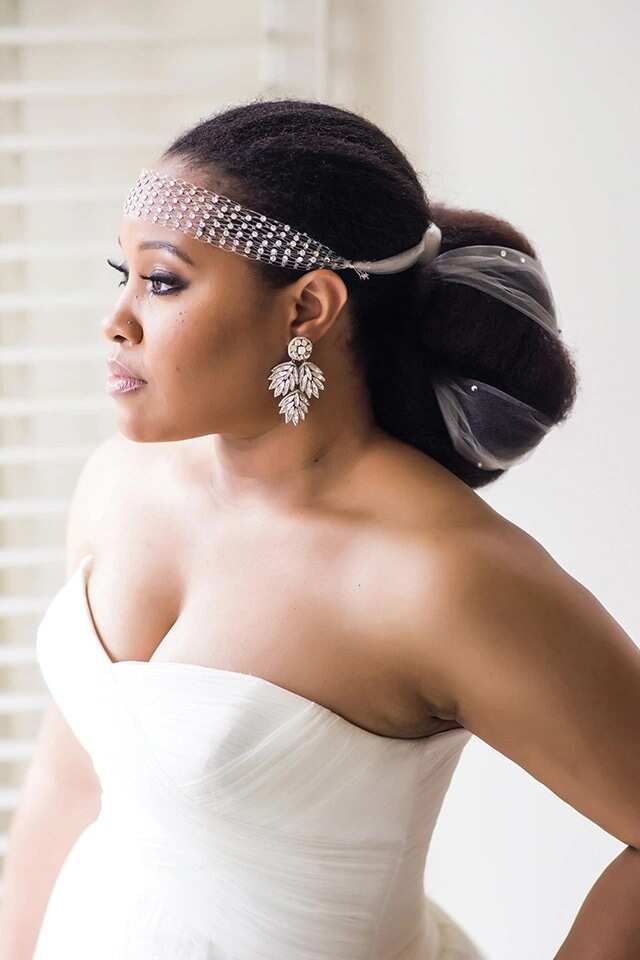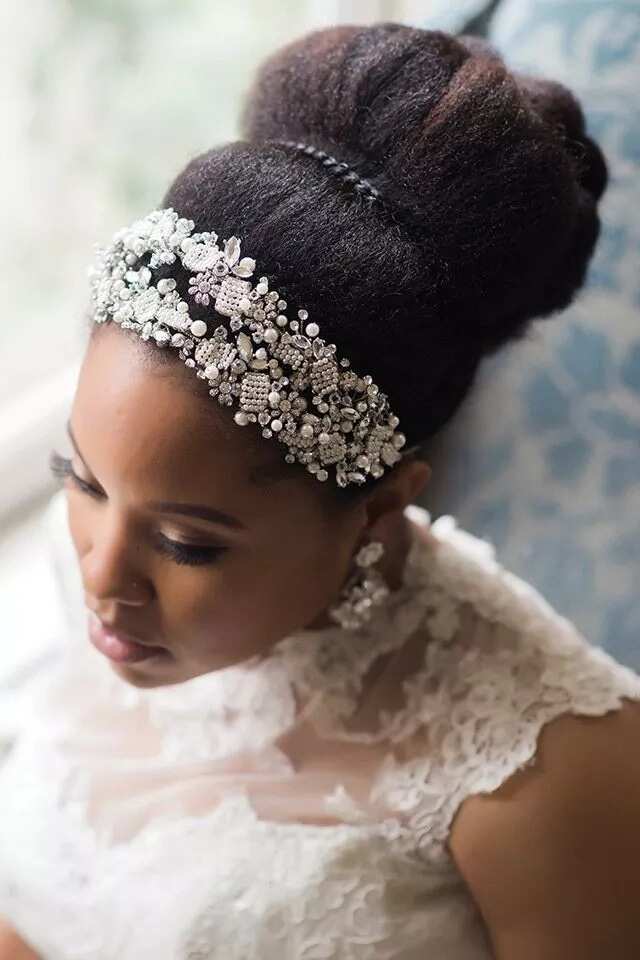 Classic wedding hairstyles with a low or smooth bun
Trends 2018 of wedding hairdos don't exclude the ageless classics. A smooth or slightly dishevelled bun always looks great as a festive hairstyle. Use a bouffant or bagel for making a more voluminous version of the styling. If you want your hair more dense and pliable, it's recommended to sprinkle it with a cosmetic composition for styling with sea salt. Then you can easily collect a beautiful and tidy bun.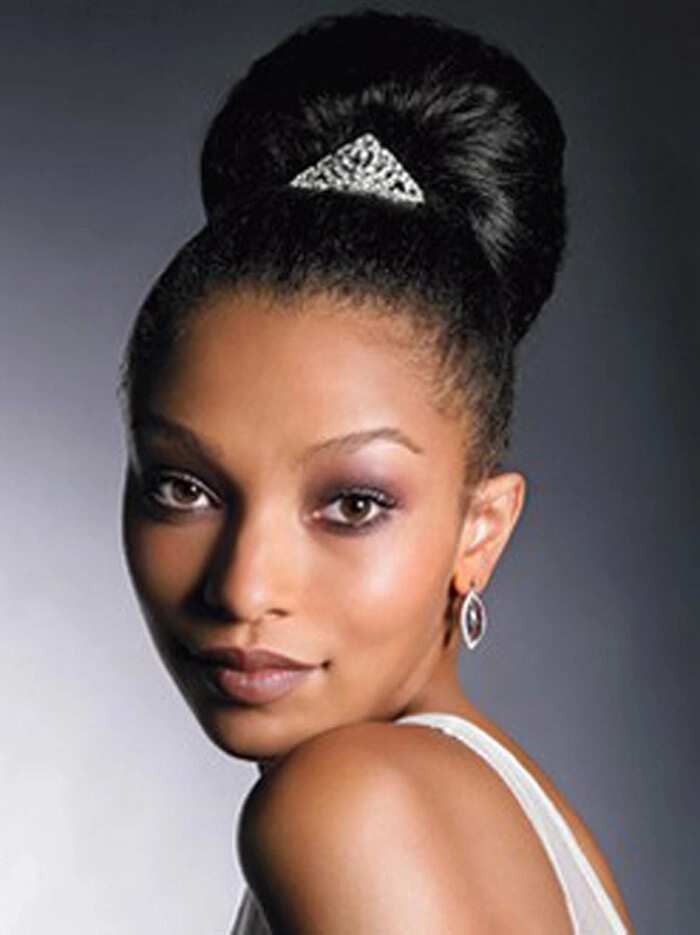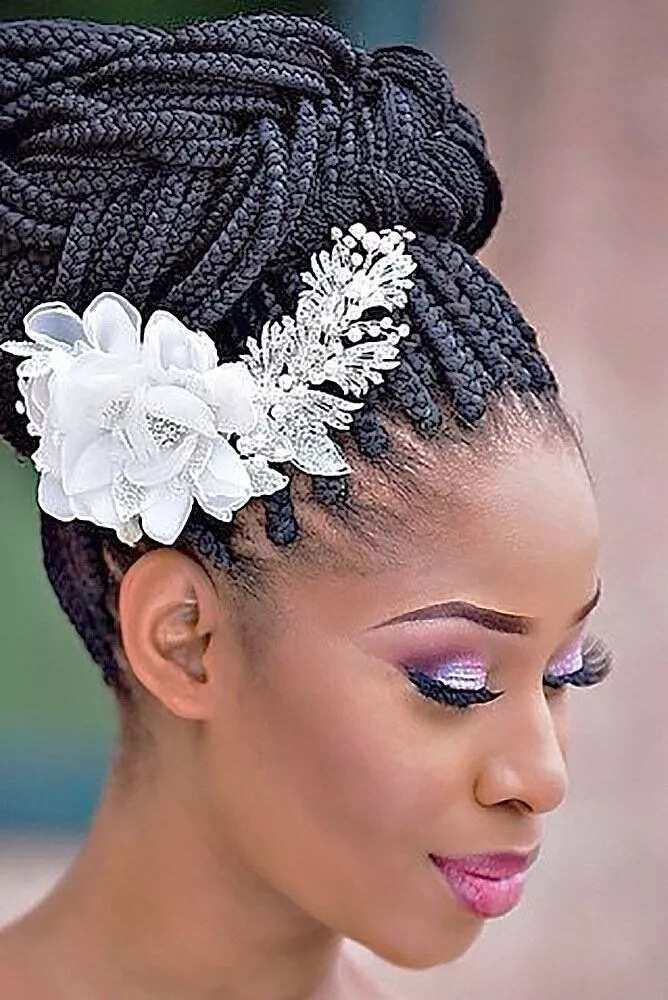 The wedding hairstyle photos 2018 clearly show how an ordinary bun can instantly turn into a stunning hairstyle with accessories.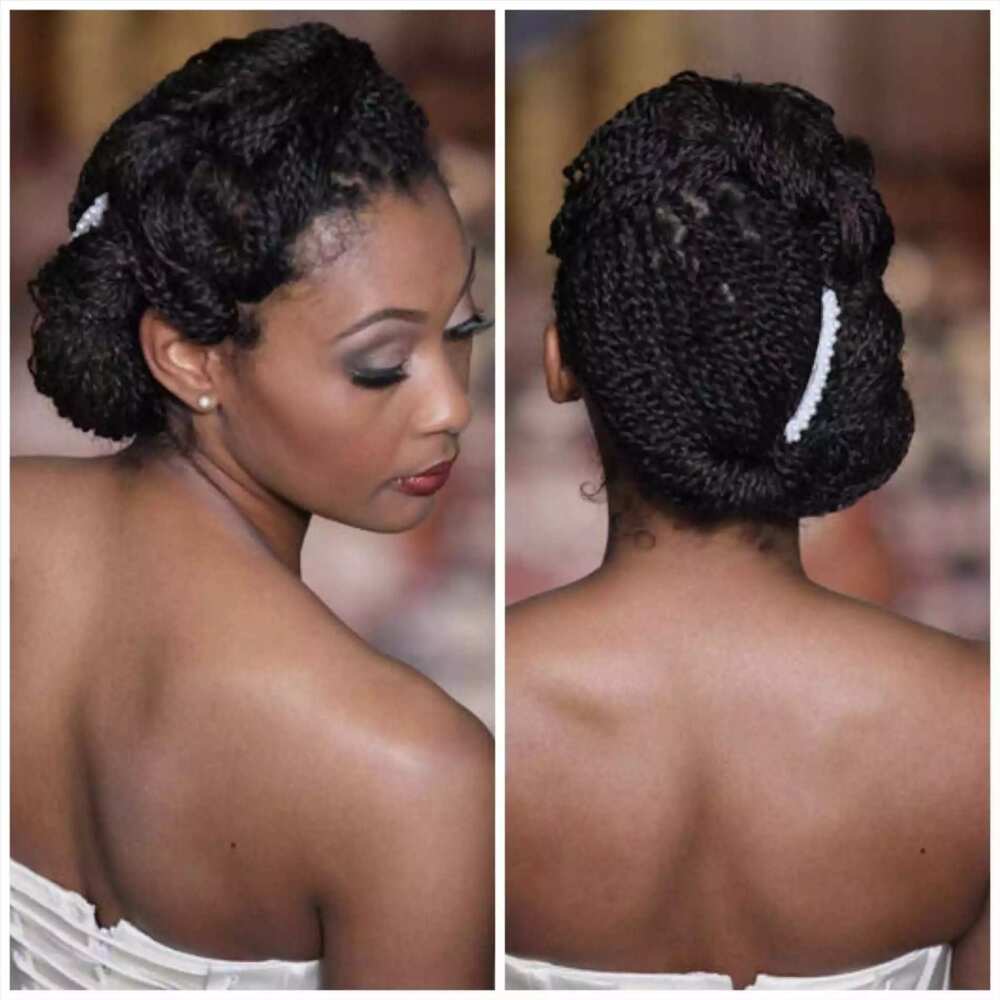 Wedding shell hairdo
Shell hairstyle is one of the most versatile, as it leaves your neck and back open. Due to its simplicity, you can make this hairdo yourself. Just pick up the hair in a bun. Then make a hole at its base. After that, hide your hair through the hole and fix the styling with a barrette.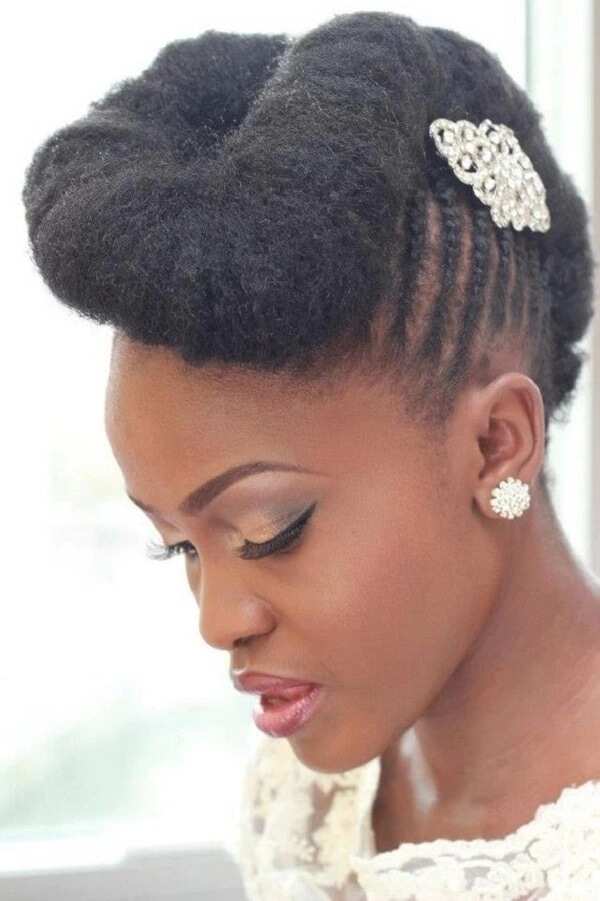 Shell hairdo was named due to its external resemblance to the seashell. You can decorate it with pearls. They can also be added to the wedding bouquet.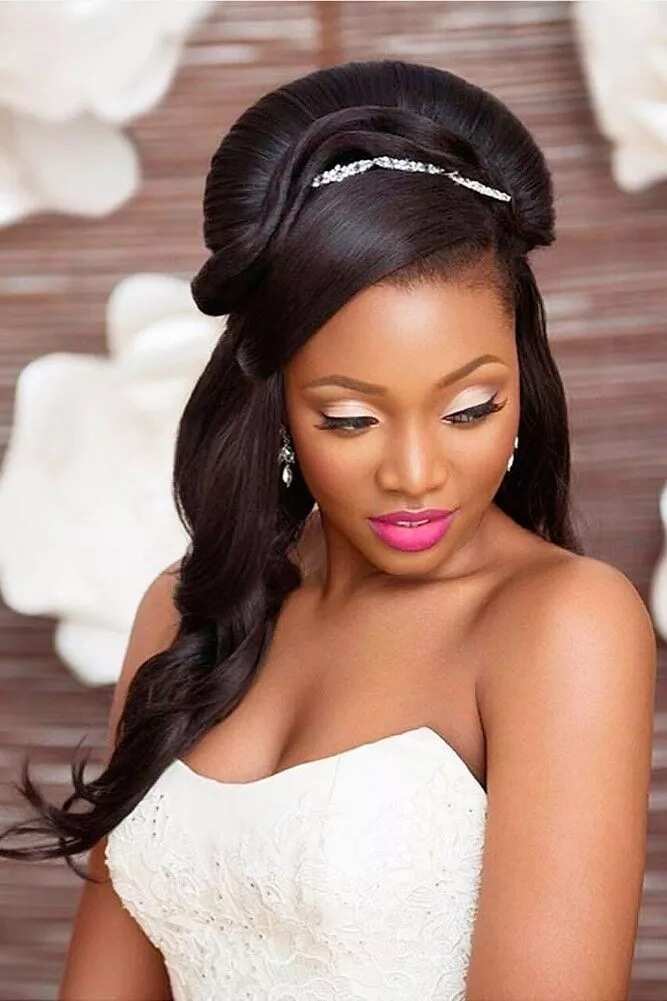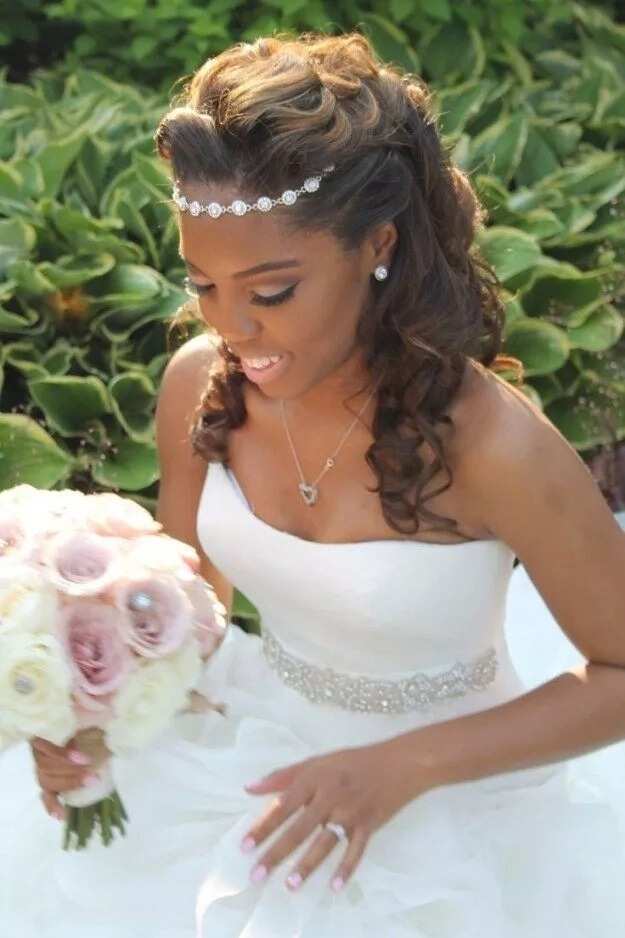 Hairstyles for long hair with curls and waves
If you have chic long hair, then don't pack them in a bun. The hairdo with flowing hair suits you ideally. The latest trends of wedding hairstyles provide options for the long hair styling in Hollywood curls form with elongated bangs removed to the side. Also, light waves are in trend. They are relevant more than one season. You can make them with ironing and hair styler.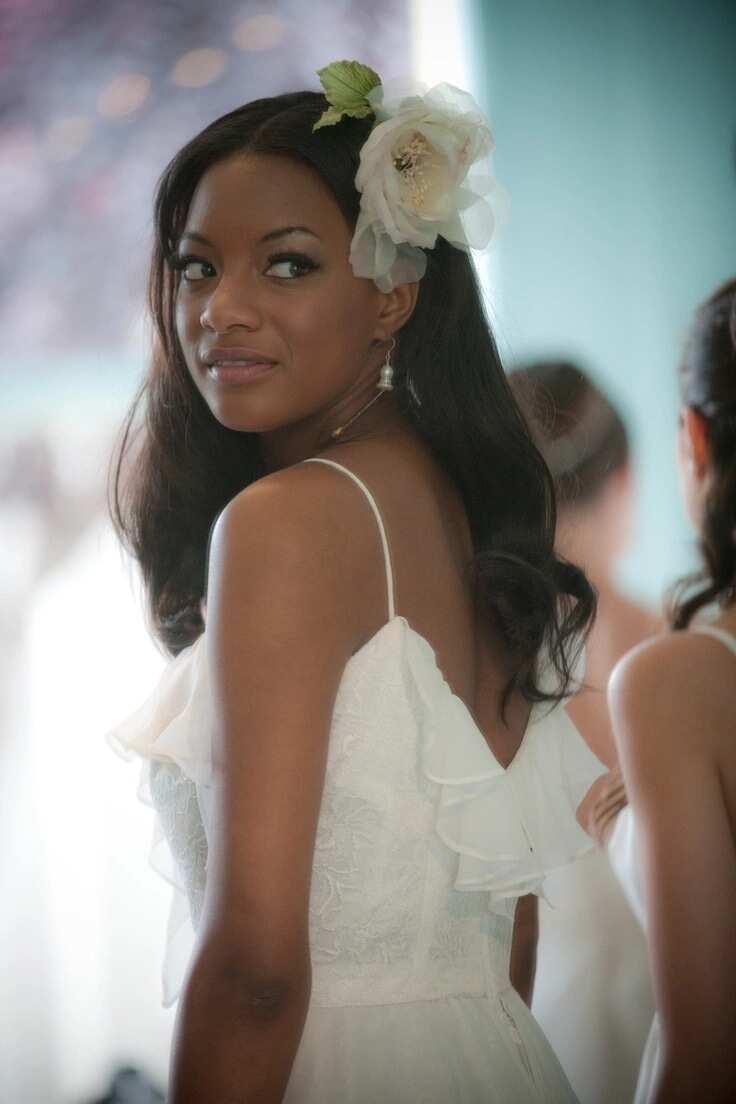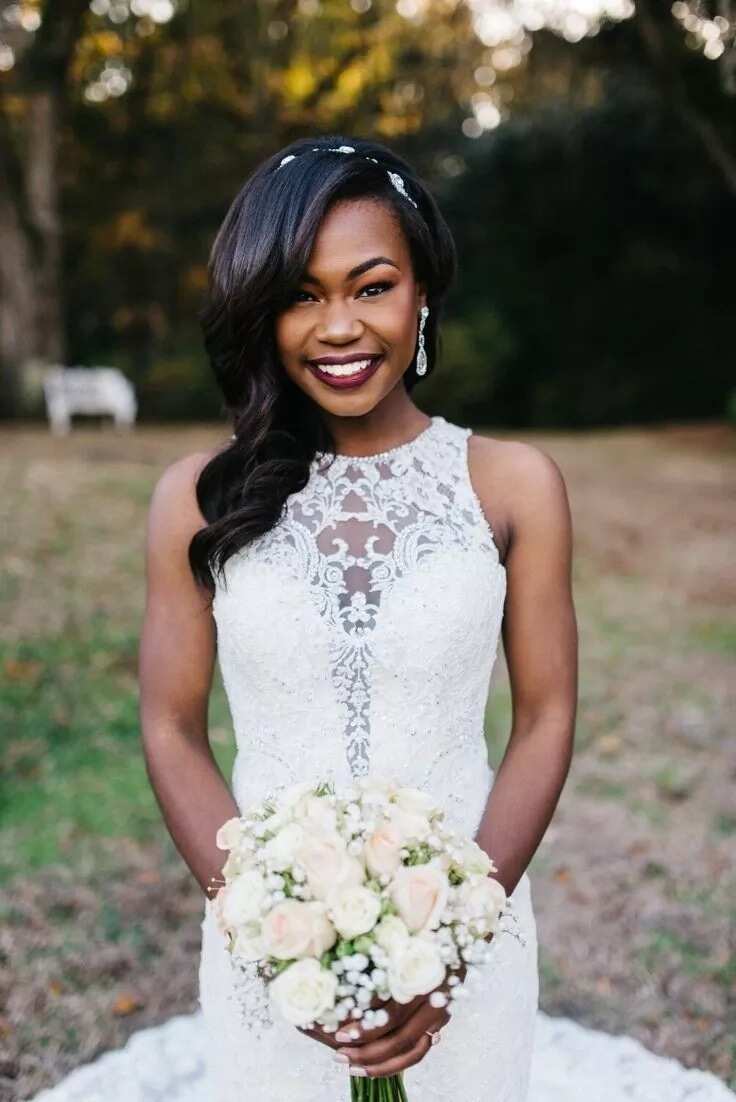 If you do not have your native long hair, and you want such hairdo, don't despair. You can use false curls or weaves.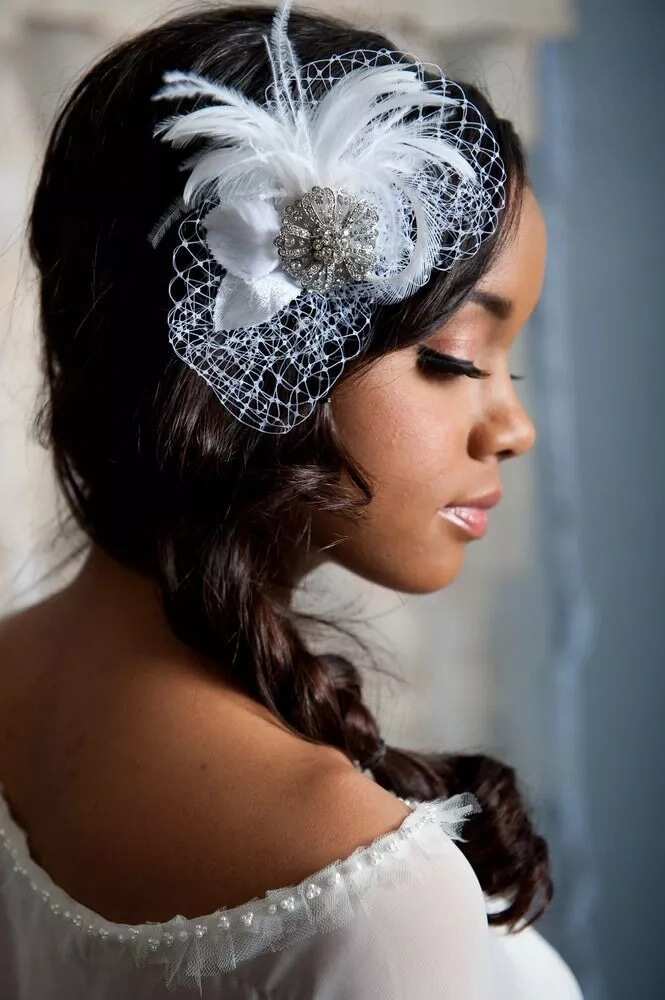 Beautiful braiding
Trendy hairstyles 2018 cannot be imagined without beautiful braiding. You can weave the braid to the side and slightly dissolve it by decorating the wedding decor or inflorescences. Besides, you may plait the thin braids from the bangs like a ring,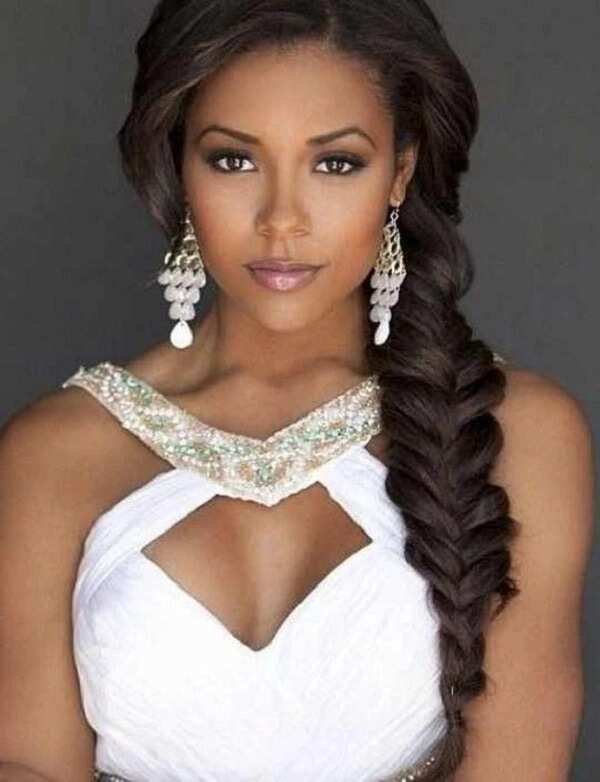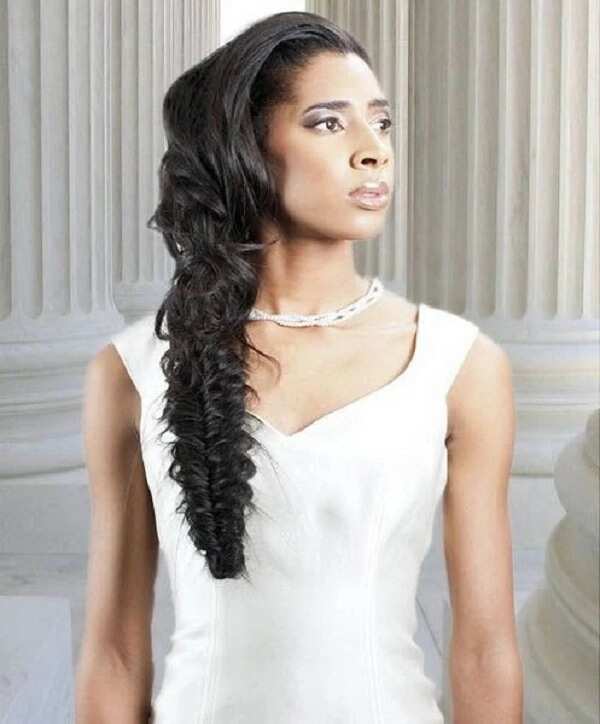 It's also relevant to make the braid using the parting. You can finish the weaving with an elegant bun on the top of the head. Come up with a lot of beautiful braids. See photos and be inspired by novelties and fresh ideas.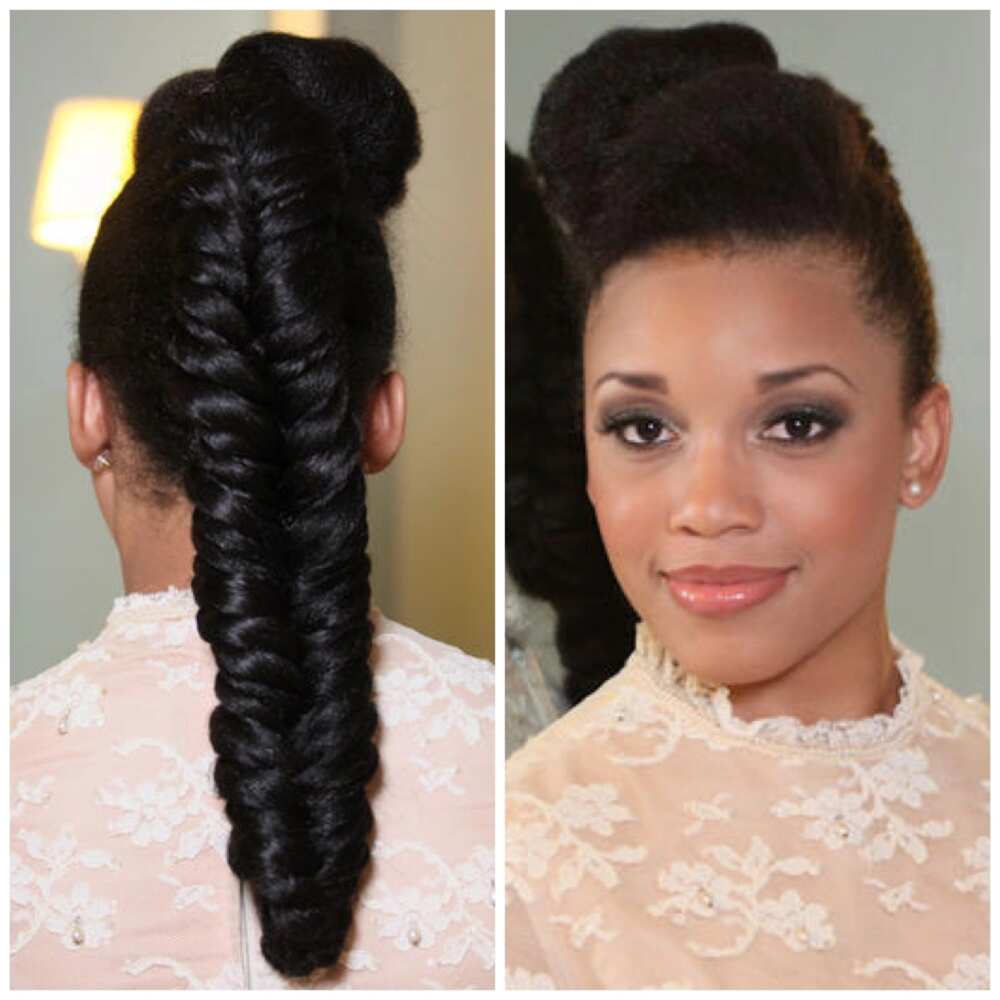 Today, a bit modified spikelet and reverse French braid are also on demand. You may decorate them with pearly thread or fresh flowers. Carelessly interwoven hair helps to create a sensual and feminine image, emphasising the natural beauty of the bride.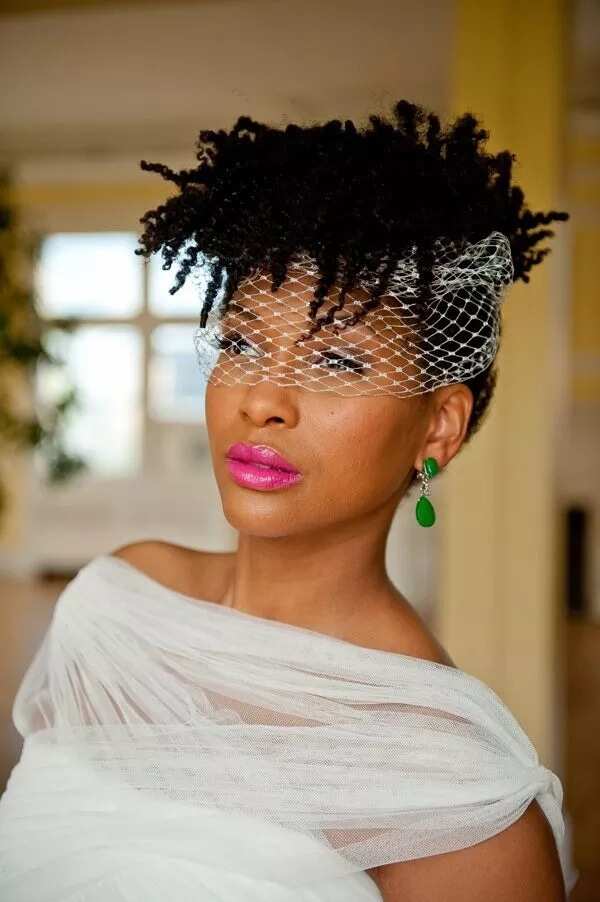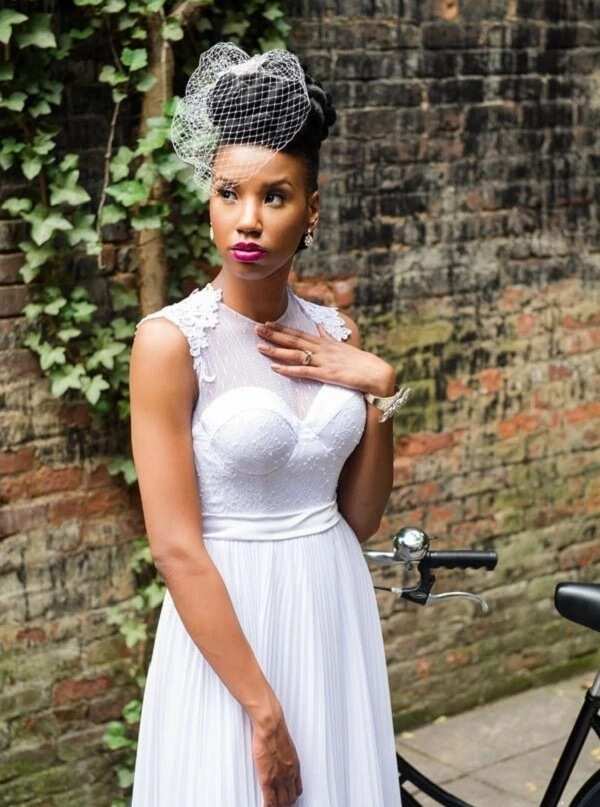 Hairstyles with a veil
Trendy wedding hairdos are differed in 2018 because of active accessories, and headdresses use. Extravagant hats with wide margins, small sparkling diadems, headband with flowers or a bow, as well as small rims or hats with a veil are in trend. It's worth noting that wedding hairstyles with a veil look aristocratic and elegant. This option is perfect for a tight-fitting wedding dress, mermaid's style with a long train or wedding suit.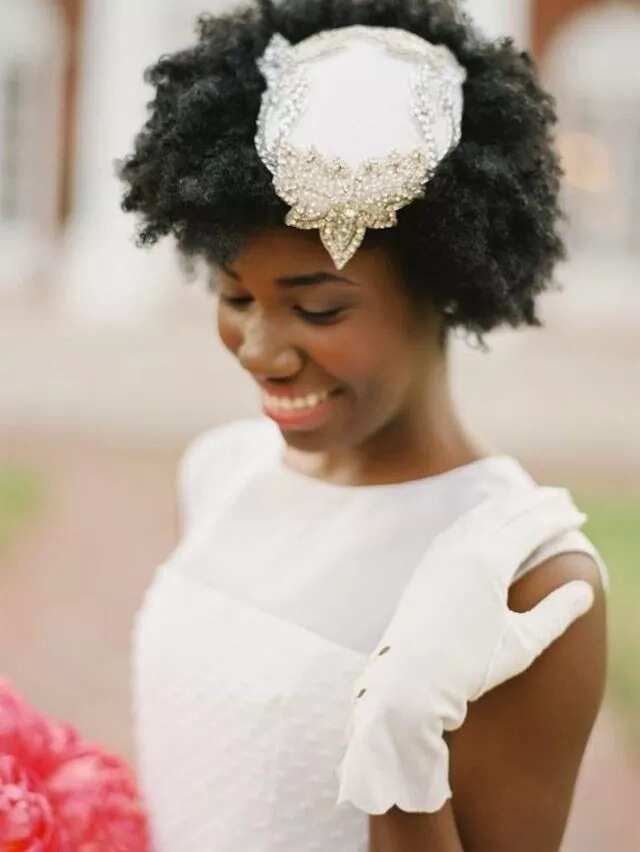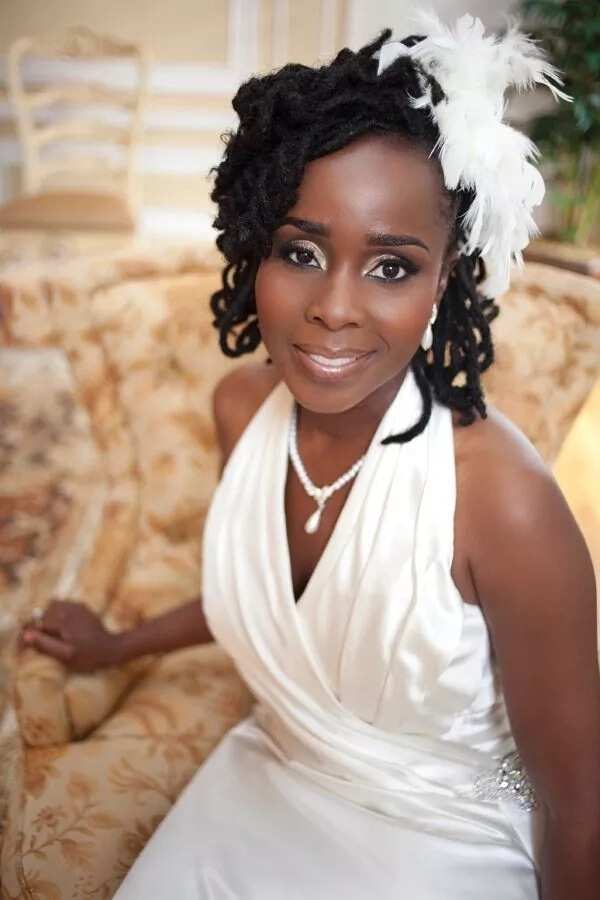 Simple hairstyles for wedding
Wedding fashion 2018 is full of unexpected experiments. Relevant wedding hairstyles provide not only minimalism and brevity but also an absolute absence of festive hair styling. On the world podiums, the bride models defile in wedding dresses with a veil fastened to the simplest everyday styling in the form of light beach weaving on the bob hairdo.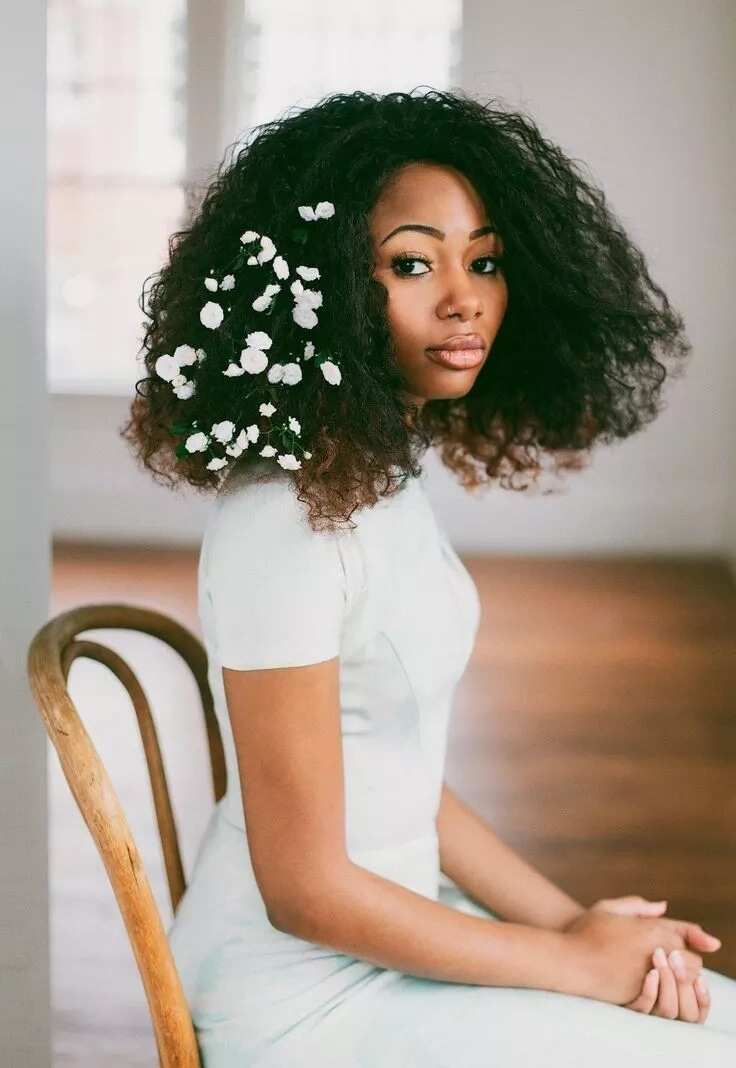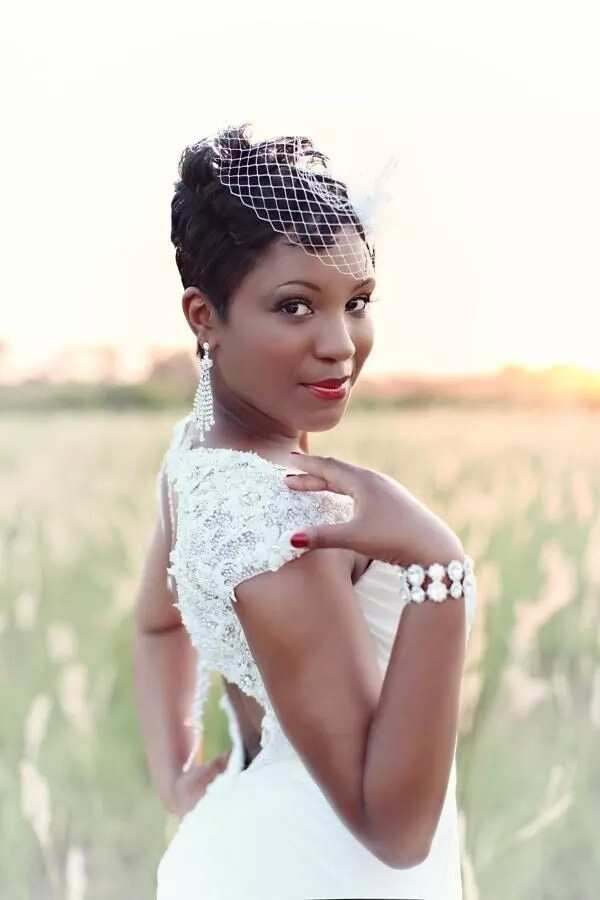 Now a straight short bob with a smooth cut is in fashion. And if you have such haircut, then you don't need a special hairstyle to be on trend. It's enough to make hair volume and fix the veil. Brides with short hair don't need to be afraid of the bouffant.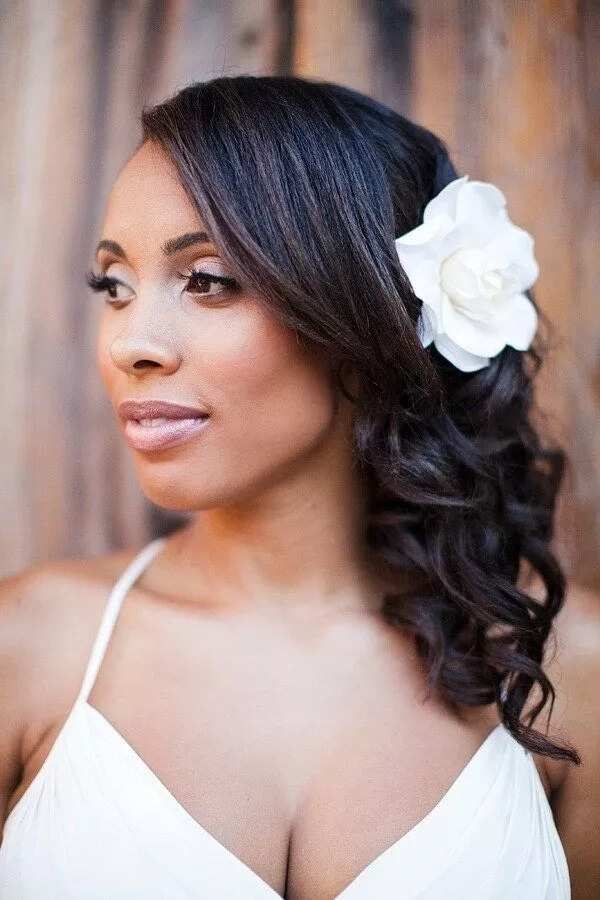 Also, you can go the other way and give up the veil, focusing on your hairdo. In this case, use various accessories (ribbons, rims, hairpins and fresh flowers).
Asymmetry is in demand 2018 too. It can be an asymmetrically trimmed bangs or hair, styled like a wave on one side.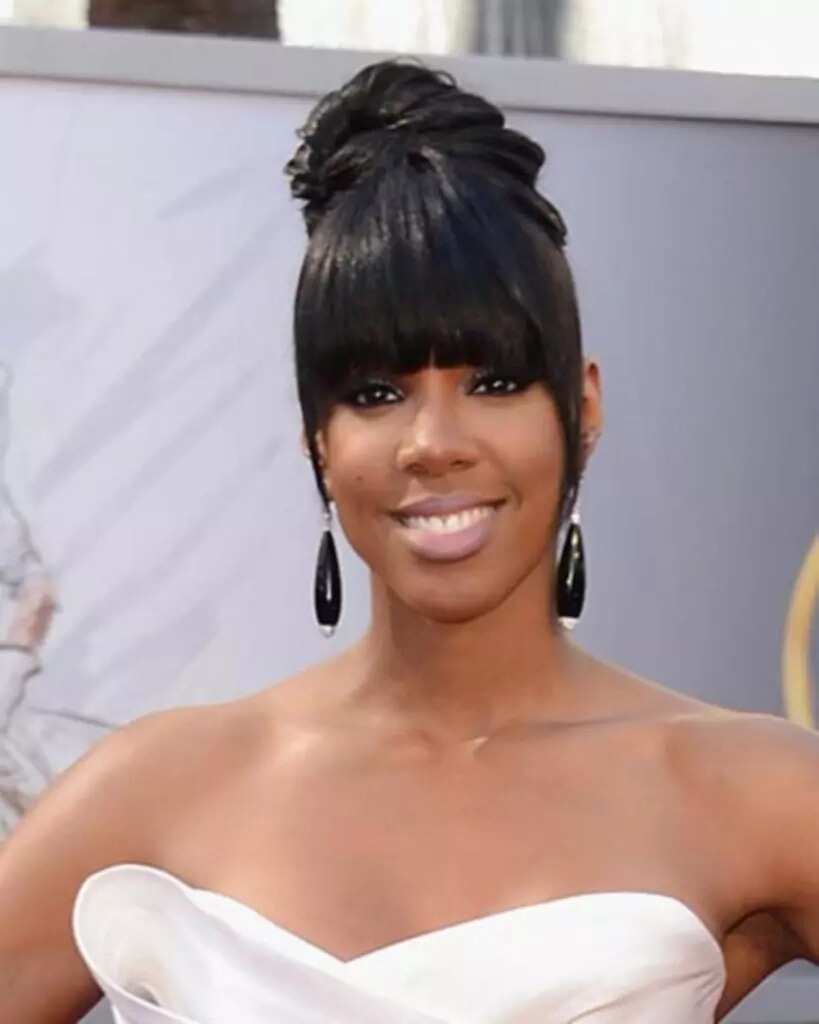 Wedding hairstyles with bangs
If you wear bangs, take the wedding hairdo seriously. You should take into account not only the face shape but also the whole image.
Stylists don't recommend cutting the bangs just before the celebration, as a result, may be shorter than expected. Do it a few weeks before the event.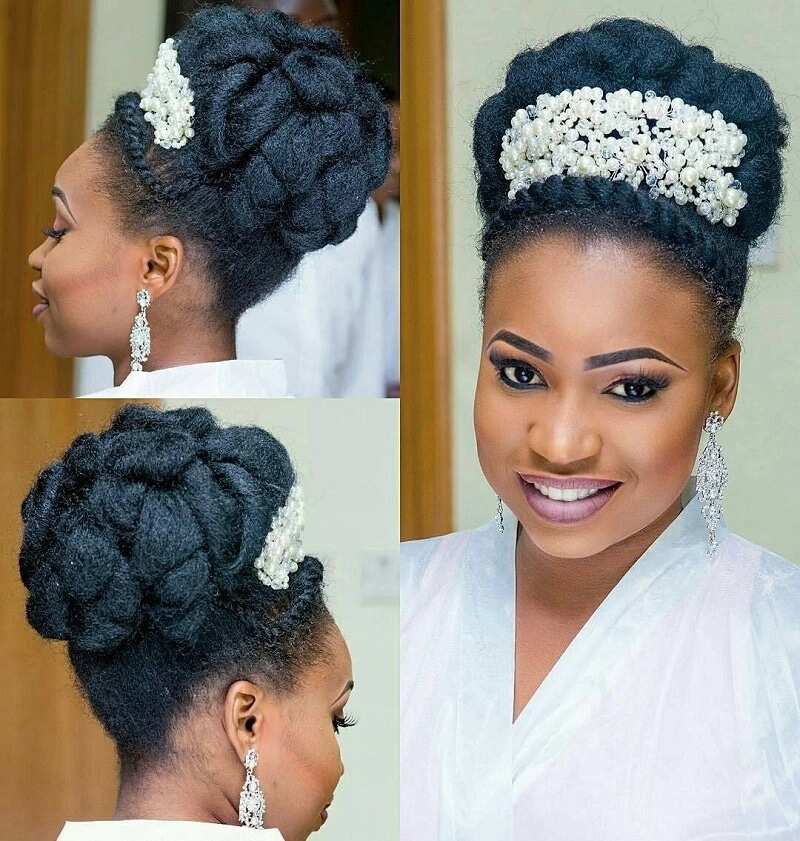 Bridal hairstyles with a diadem
Diadem is always up-to-date in the wedding hairdos because it's often associated with a crown. Therefore, the bridal hairstyle looks majestic and exquisite.
All brides can use a diadem regardless of the face type, wedding outfit or hair length. Accessory selection should be based on the style of the wedding attire and decoration.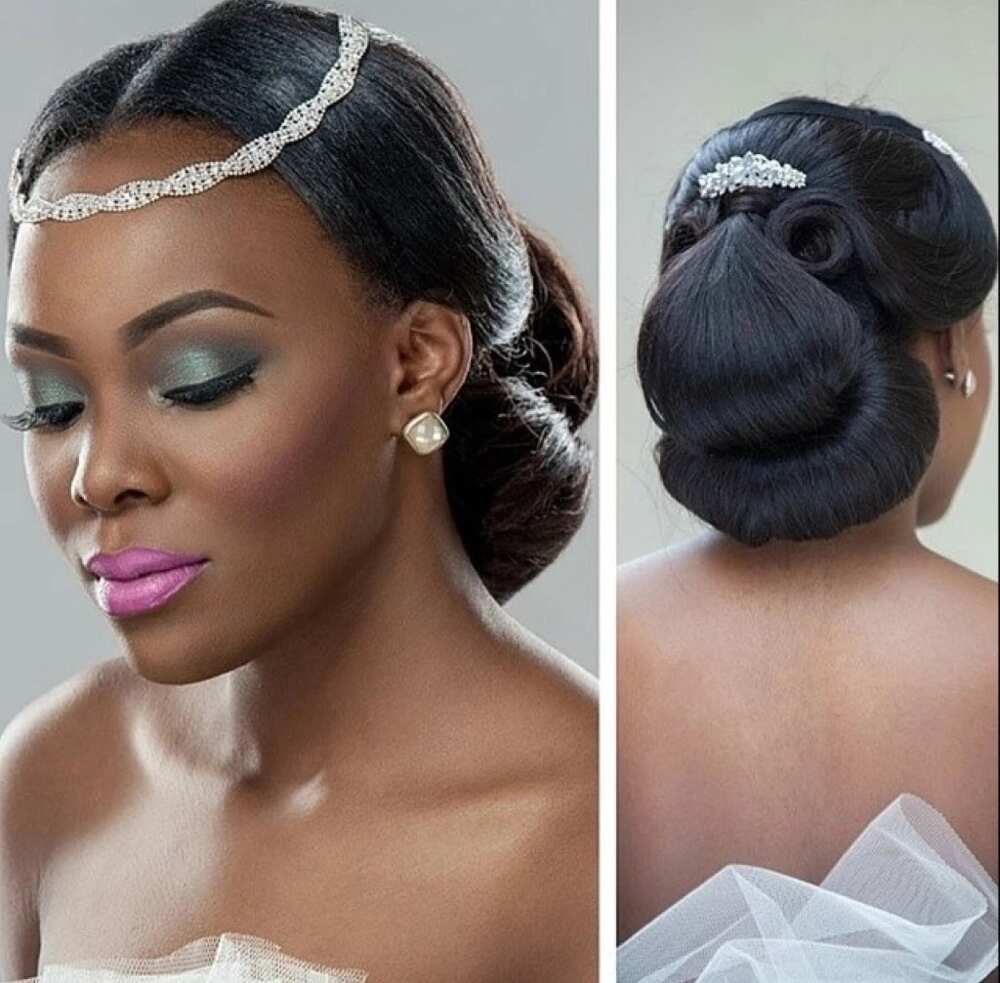 There are a lot of options for the diadem. Some of them look like a crown, others like a rim. The diadem is successfully combined with bangs, curls or braids. Sometimes it's complemented with a veil. If you want to show the diadem's beauty, it's better not to make a complex and multi-layered hairstyle. The hair can be slightly raised from the back and smoothly combed in front.
Today designers offer to replace diadems with a large comb. The novelty of the season is the exquisite jewellery with rhinestones falling to the forehead.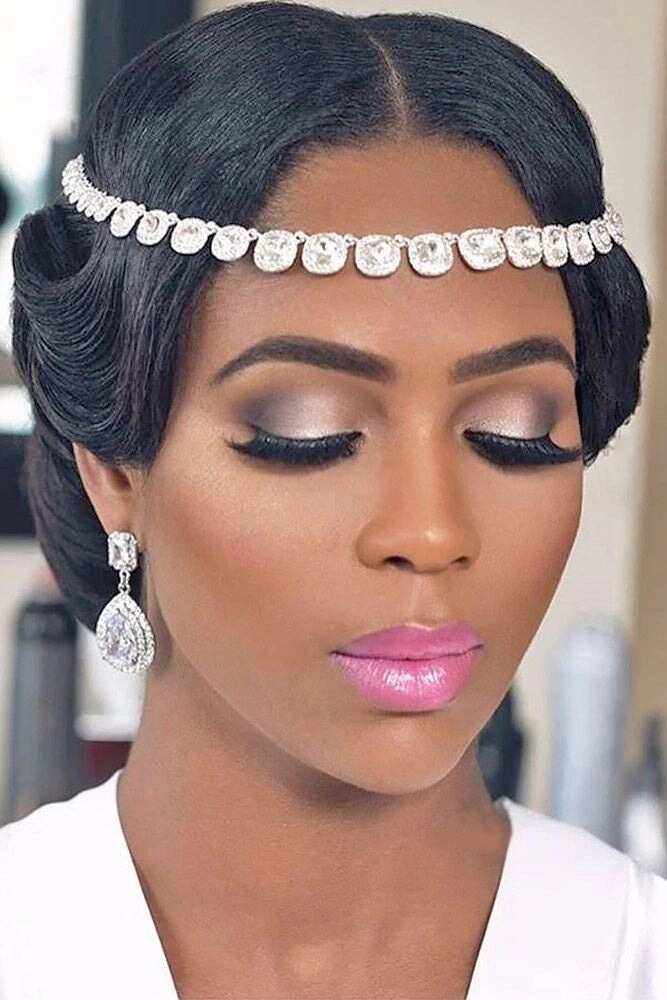 Wedding hairdo in Greek style
If you want to look like a goddess from Olympus, and not worry about the strands falling out of a hairdo, use the Greek hairstyle. Usually, such hairdo is chosen for the wedding gown in the same style. As for me, it can look impressive with other styles too.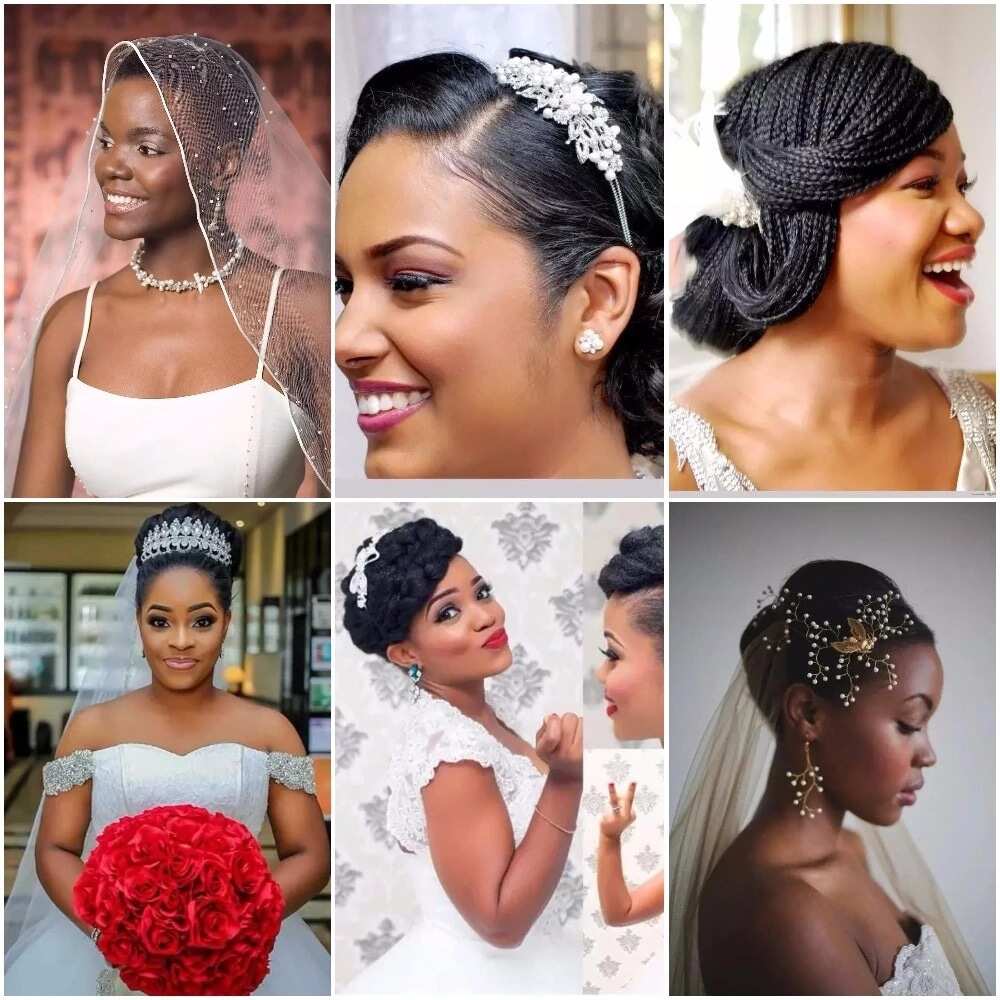 Appealing to each Nigerian bride, it's better to choose a bridal hairstyle in advance. You can rehearse a few days before the celebration.
READ ALSO: Colours that go with purple for a wedding: Best combinations
Source: Legit.ng