International media reacts to Buhari's UK medical trip
President Muhammadu Buhari left for London on Tuesday, May 8, for a four-day medical visit, setting off renewed concerns about his health.
The medical trip has generated heated reactions from Nigerians home and abroad.
For nearly two years, President Buhari has been receiving treatment for an unspecified illness, which he has repeatedly refused to discuss.
READ ALSO: Breaking: President Buhari to travel to UK to see doctor
President Buhari's latest trip also comes after three weeks of strikes by health care professionals who are calling for better working conditions and more funding.
The president's medical trip has also caused reactions from some foreign news media.
Reacting to the latest trip, New York Times recalls that during President Buhari's campaign, he promised to end "medical tourism," the practice of Nigerian politicians receiving medical treatment abroad even as most citizens are forced to rely on underfunded state medical services.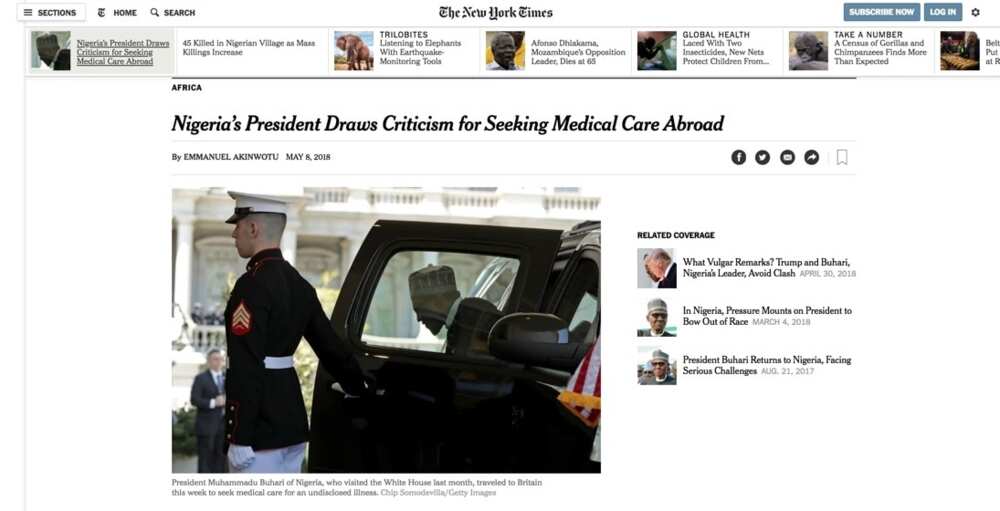 Thus, for someone who promised to end medical tourism, and who has also reportedly urged politicians not to go abroad to seek medical care, the American news giant said: "Nigerians see Mr Buhari's actions on health care as hypocritical".
In its own reaction, CNN reports that President Buhari's trip to the United Kingdom to see his doctor has reignited "speculations about the state of his health and ability to rule Africa's biggest economy."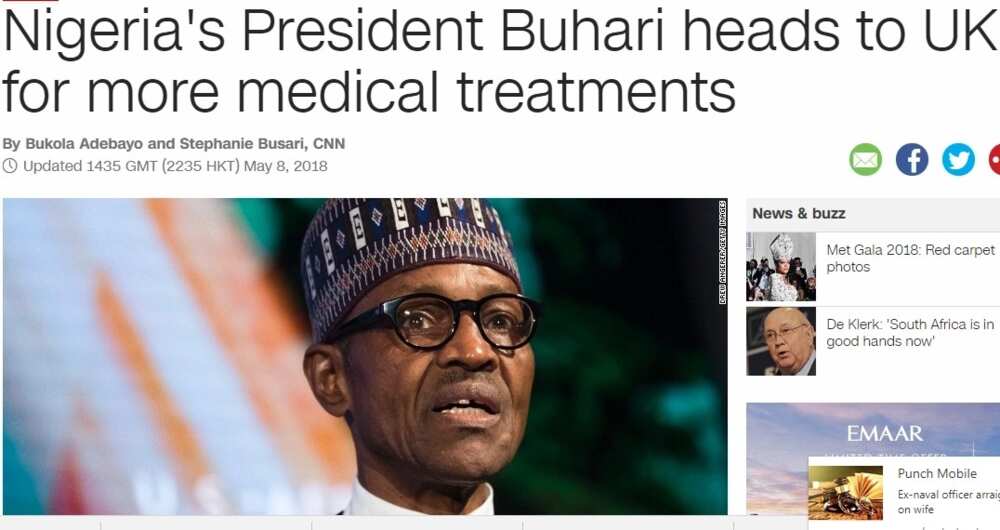 "Buhari's medical trips abroad have sparked intense debate among Nigerians on social media. Many argued that funds spent on medical bills abroad could be used to develop the country's health care system which is in dire straits," CNN further reports.
Reuters, in its report, recalls that President Buhari's prolonged absence last year led to series of protests, asking him to either return to the country or resign.
The report in part: "Buhari's prolonged absence from Africa's most populous country sparked numerous protests last year, including demands that he should resign and calls for more transparency about his condition."

Reuters further states that a recurrence of the last year's prolonged absence may cost President Buhari his 2019 re-election bid.
According to the British news media: "Any repeat of last year's lengthy absence could hinder the president's re-election campaign which got off to a shaky start after he drew criticism for saying many young Nigerians think they need "do nothing" because they live in an oil-rich country. The president's challenges include a surge in communal violence and high-profile attacks by Boko Haram militants that have turned security into a highly politicised issue."
President Buhari is scheduled to return to Nigeria on Saturday, May 12, at which point he will have reportedly spent more than 170 days in London on official medical leave since becoming president in 2015.
Meanwhile, Legit.ng previously reported that Femi Adesina, one of the spokespersons for President Buhari, on Tuesday, May 9, declared in an interview that the president remains the only person who can reveal details about his health challenge.
He declared that the president's health is private and personal.
When asked if it is certain the president will return on Saturday as scheduled, he said: "When you talk of guarantee, man cannot guarantee. Nobody can guarantee anything."
He reiterated that no man can guarantee that the president would return after four days as promised, but that it is hoped that he would be in Nigeria as scheduled.
Street GIST: Buhari Says his 2nd Term Bid is People-Centered; Do You Agree? | Legit.ng TV
Source: Legit.ng