We can disgrace those who are sharing our national cake - Moghalu
- Presidential hopeful, Kingsley Moghalu, has said that Nigerians can collectively kick against corruption
- Moghalu said the way to go about it is by disgracing those perceived to be sharing the nation's treasury.
- He made the statement during a programme organised by The Covenant Christian Centre in Lagos
Presidential hopeful, Kingsley Moghalu, has said that Nigerians can collectively kick against corruption by disgracing those perceived to be sharing the nation's treasury.
The former deputy governor of the Central Bank of Nigeria (CBN), said this on Tuesday, May 1 in his address on The Platform, a programme organised by The Covenant Christian Centre in Lagos.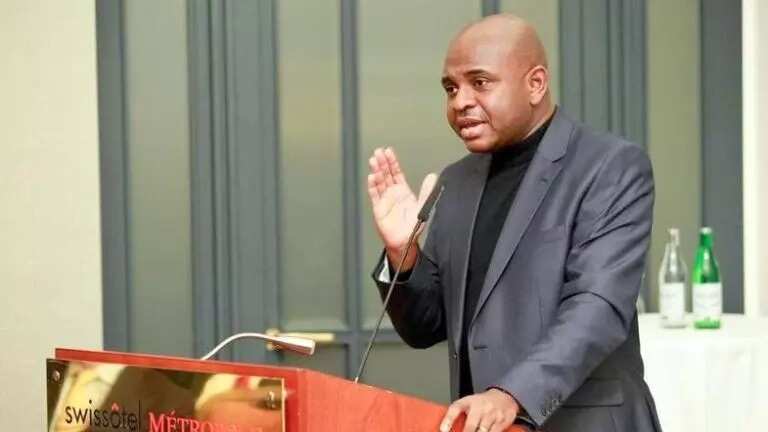 PAY ATTENTION: Read the best news on Nigeria's #1 news app
"We can disgrace those who are the sharers of our national cake. Those who believe that they are the custodians of the limit of our possibilities, we can disgrace and send them into retirement which they have refused to go," he said.
Moghalu, 55, also said politicians who are considered old should be sent packing and questioned the leadership skills of Nigerian politicians amidst poverty and other challenges in the country.
According to him, the young population of Nigeria should take advantage of the forthcoming 2019 elections and vote for their desired leaders.
"Let us send the recycled politicians politely back to their villages. Are we not afraid of what we manage?
"Are we not afraid of the leaders that we have in this country? Are you billionaires not tired of the country that you have to explain and defend at the World Economic Forum?" he queried.
Moghalu explained further that his decision to contest for the highest political office is passion driven. He said he is tired of the way things are run in the country.
While criticising some leaders considered to be selfish, he called on the masses to use the power of the ballot in the 2019 elections.
"I don't want to be that big man who is in the four by four, drowning in the pot-holes and chatting on the cell phones to pretend not to be in the potholes.
"That is what we have in Nigeria. We grow rich and successful, forgetting the average person. In fact, our recycled political class whom we must overthrow in a democratic revolution at the ballot box come 2019, all they exist for is that our people remain poor," Moghalu said.
READ ALSO: 2019: Youth movement declares support for President Buhari's re-election bid
Meanwhile, a former governor of Kano state, Malam Ibrahim Shekarau, has declared his interest in contesting for the presidency in the 2019 general elections under the platform of the Peoples Democratic Party (PDP).
Shekarau, 62, who is also the immediate past minister of education, said in an open letter, that his decision to seek for PDP's presidential ticket was informed by clarion calls from Nigerians and after wide consultations.
PDP's Magnificent 7 for 2019 on Legit.ng TV
Source: Legit.ng