See Ankara dresses with lace that are popular this season. Each model is a unique creation. It embodies the fantastic ideas of Nigerian ladies and fashion designers.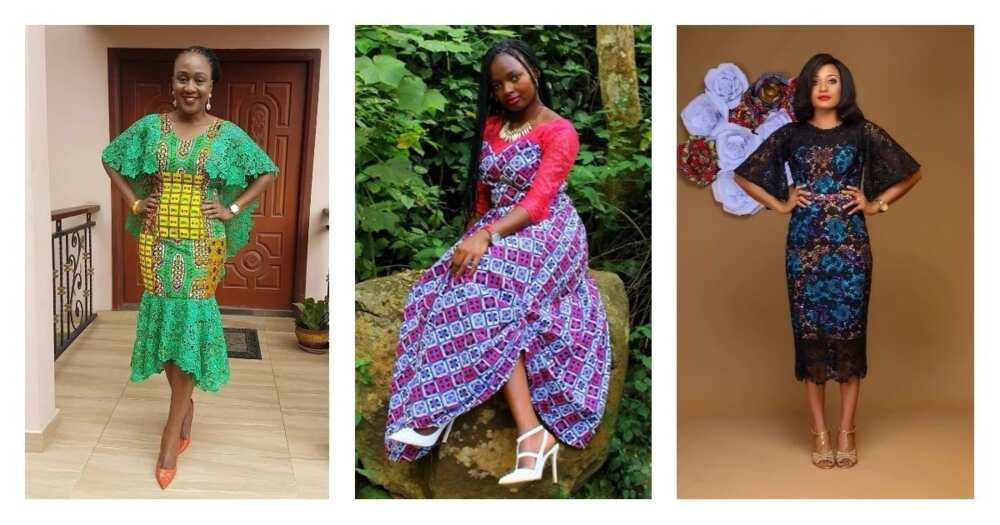 Ankara dresses with lace are the main trend of African fashion in 2018. A combination of bright Ankara fabrics with lace is a favorite feature of Nigerian fashionistas. Ankara textile decorated with the most delicate lace trim allows creating excellent images for any event.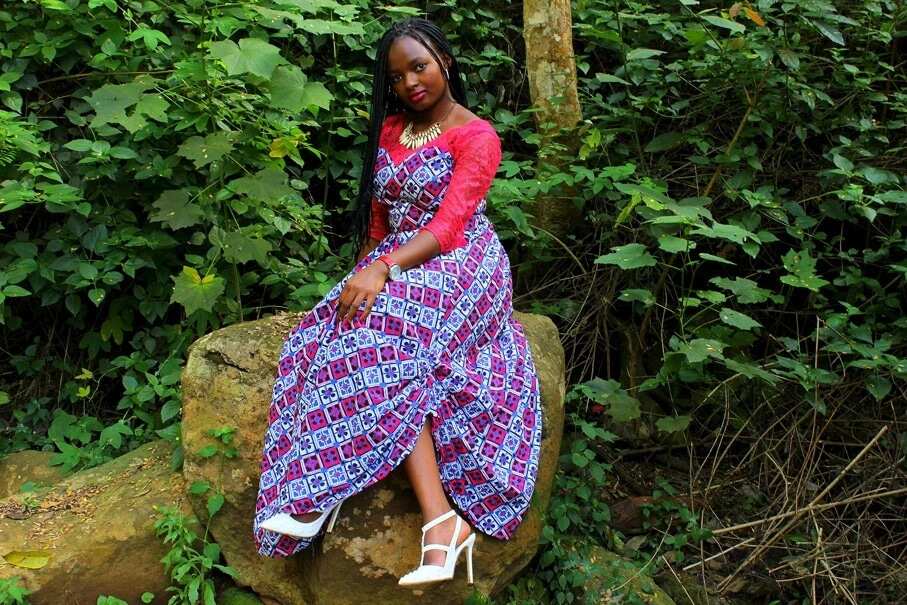 During the season 2017 Ankara gowns with lace were in vogue. In 2018 the trend is still relevant. Such outfits have remained popular.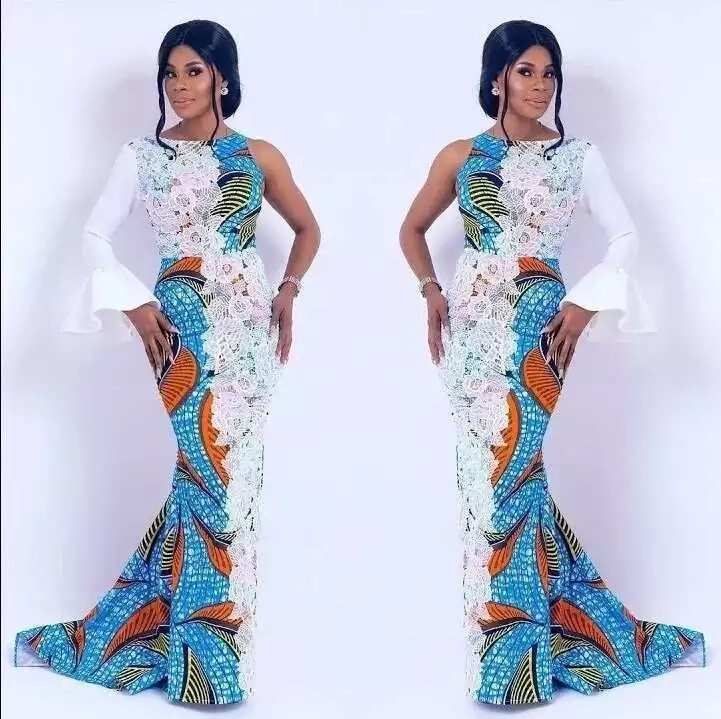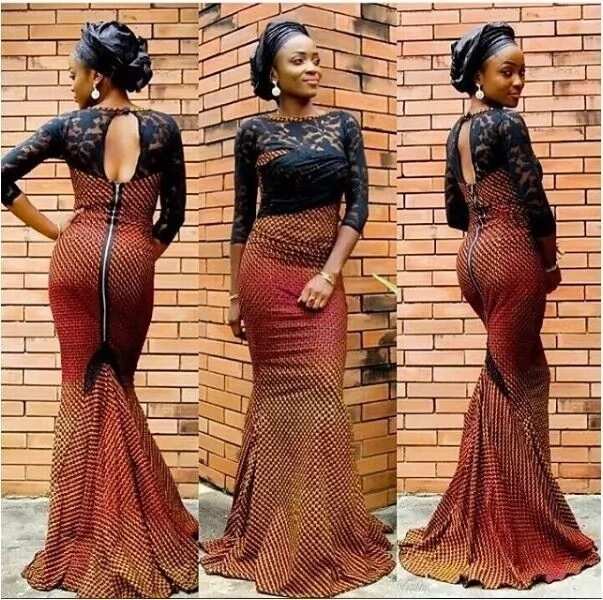 Ankara and lace: timeless classics
The classic design of Ankara lace styles for a dress is to adorn the back, sleeves, or décolletage with lace. Thus, an incredibly mild accent is placed on particular parts of the female figure. The loose lace of several layers perfectly matches Ankara materials.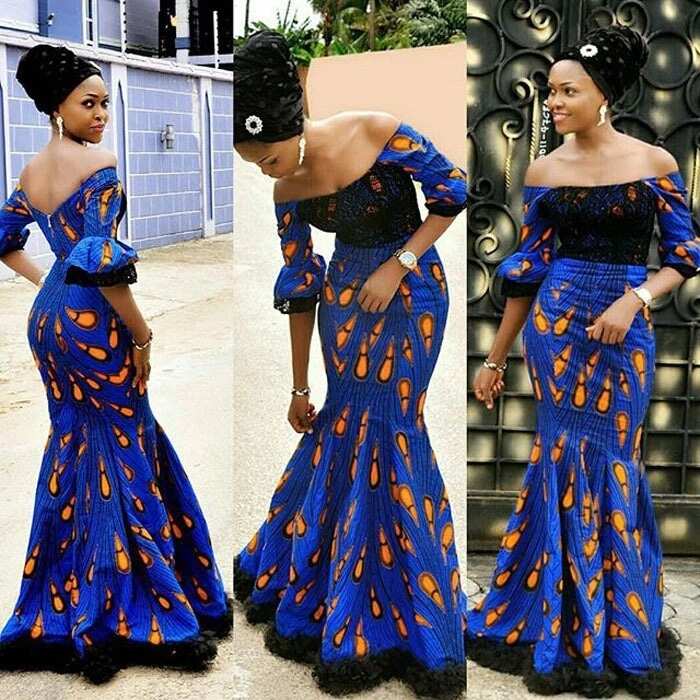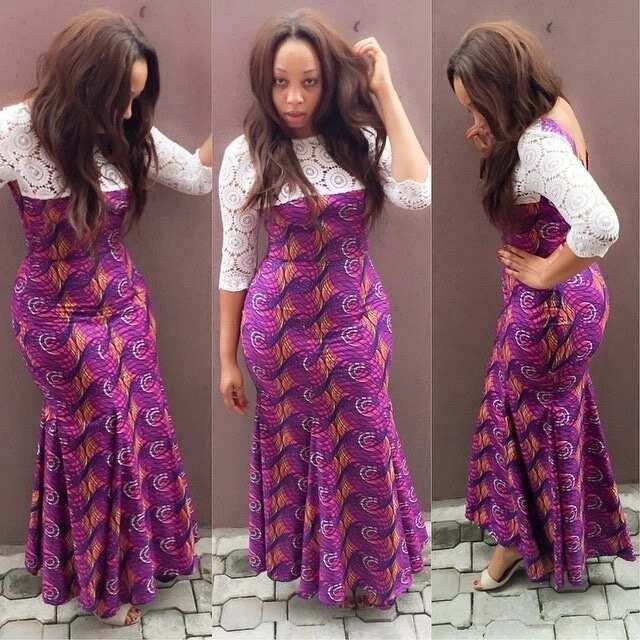 The items of black and white colors will never leave fashion. Ankara gowns with black or white lace are at the top of popularity now and must have of this season.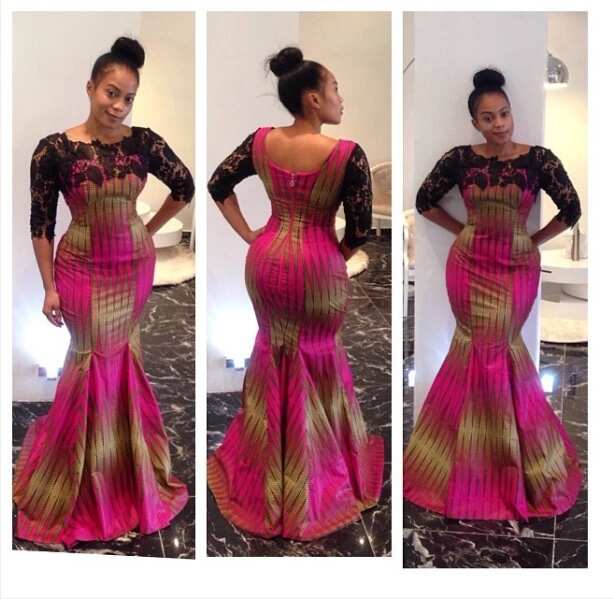 Black color can hide some of the figure's shortcomings and emphasize its merits, namely:
Black lace sleeves of three-quarters length can hide the plump arms.
The grace of a beautiful posture is underlined by dresses with a black lacy back.
A long dress with large black lace patterns with a deep neckline can optically lengthen your legs, and it looks that you are taller than usual.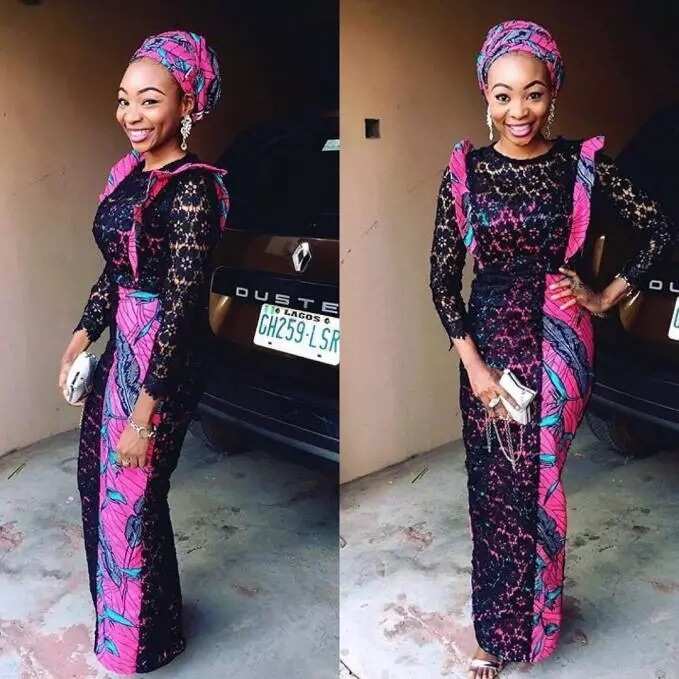 Using laces in the shoulder and neck area makes the body slimmer. The lace insert on the back successfully accentuates the harmony of a female figure. Choose decor for Ankara dress with black lace inserts carefully. The most suitable type of trim is embroidery decorating with beads, sequins, and paillettes.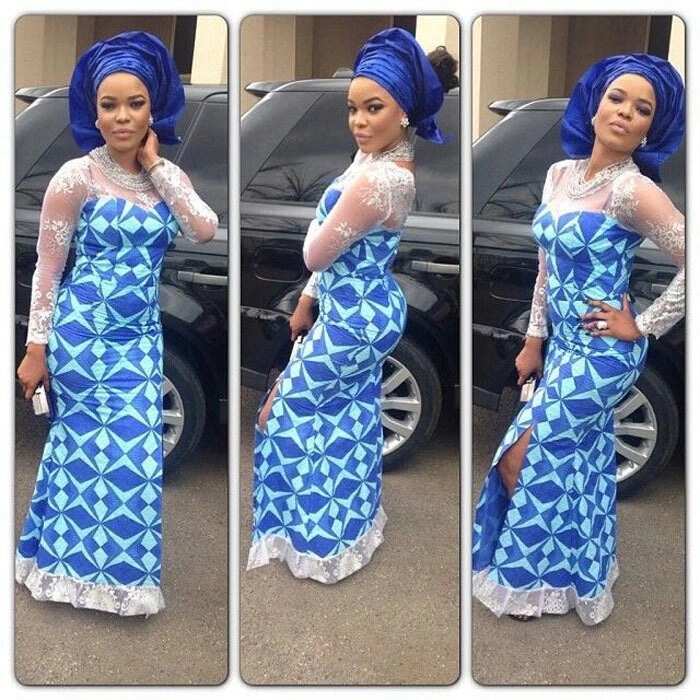 Ankara dresses with white lace in the neck, décolleté, shoulder area, and at the long hem are trendy too. Such trim is not only tender but also solemn.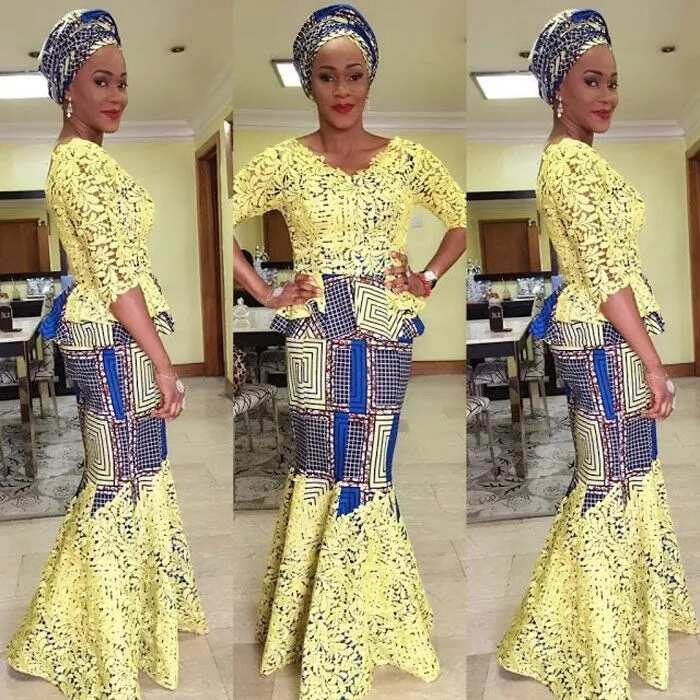 Ankara long dresses with lace
You can put on a long Ankara dress with lace for any occasion. Ankara long gown with a flowing skirt and tight fitting lace bodice looks very original. A maxi dress with lace and chiffon inserts is original enough.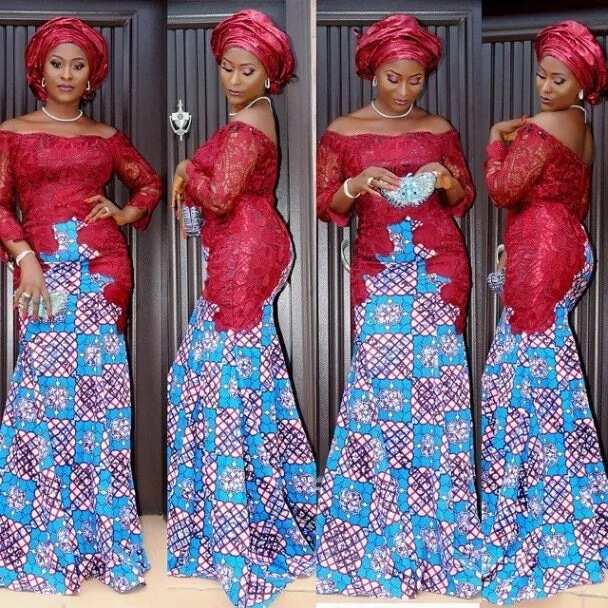 You make Ankara long dress lighter by adding lace patterns. It can be lace sleeves, lace motifs only on the chest, shoulders or the entire lace corsage.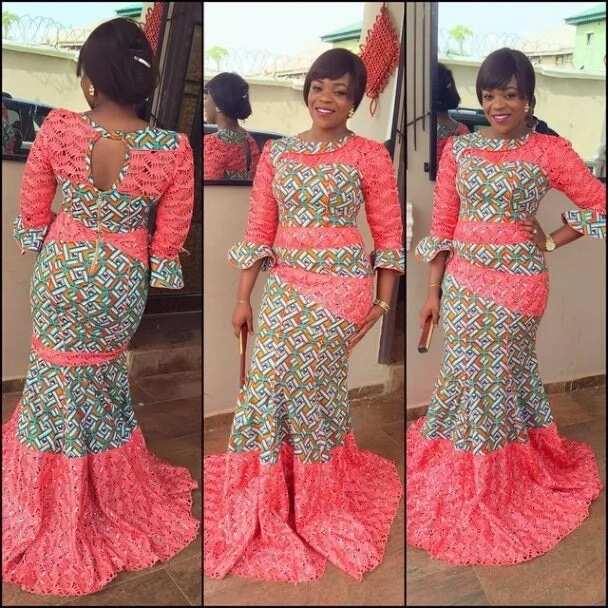 Today there are actual Ankara and lace evening dresses with or without straps, sleeves of different length or sleeveless, open shoulders and back.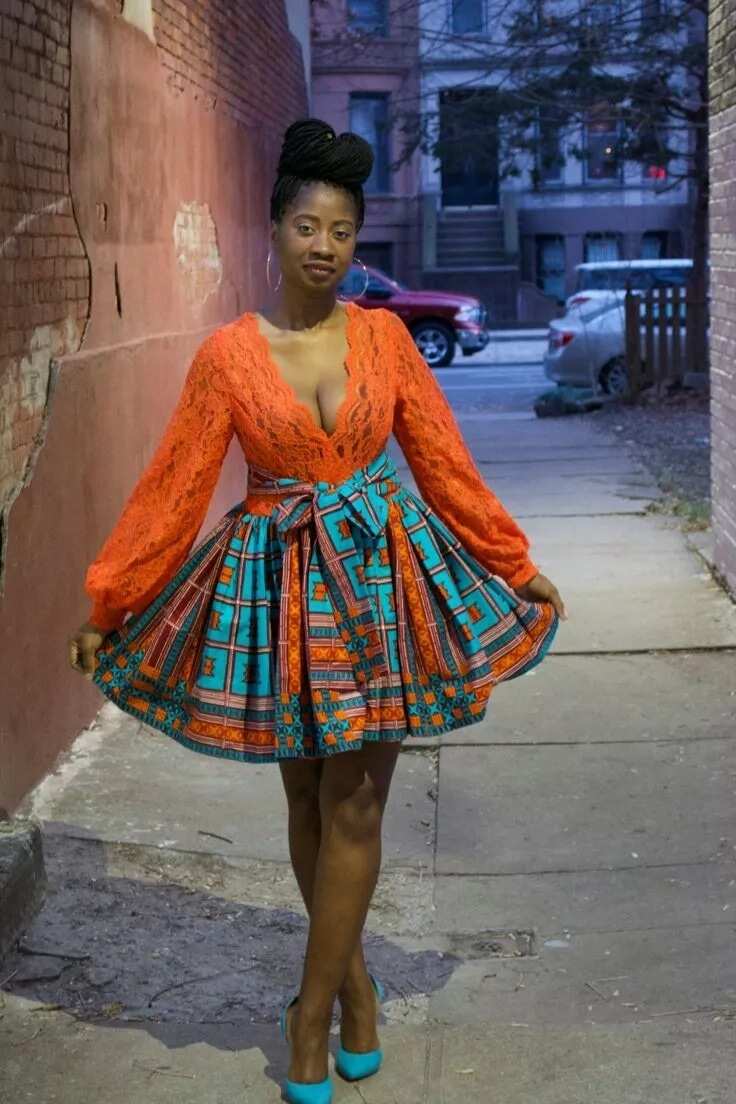 Ankara short gowns with lace
In fashion, there are Ankara short dresses made with elements of the various lace techniques from the white guipure, mini dresses with buttons and embroidery. Such outfits adorn any lady, and they are suitable for young girls too.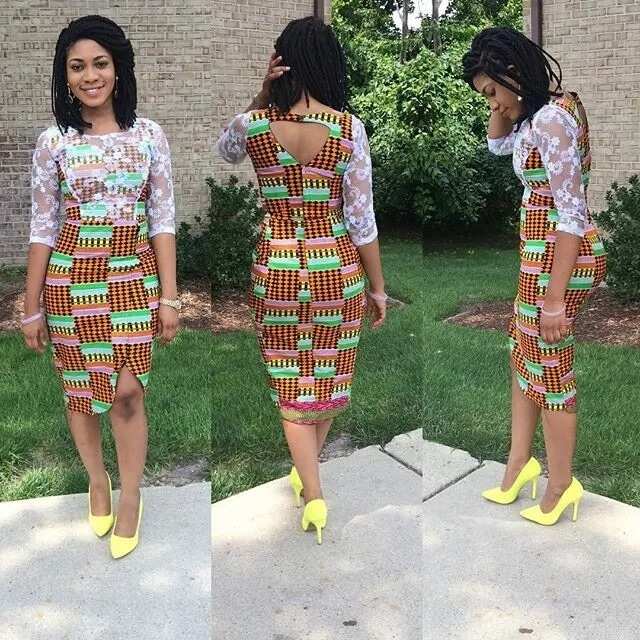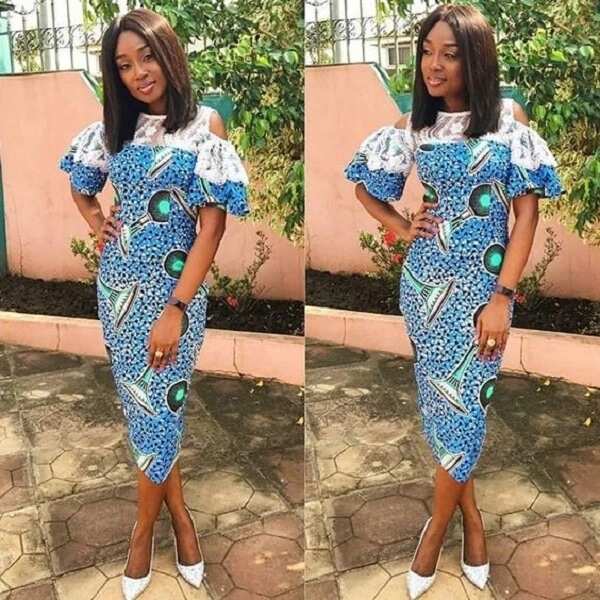 Ankara midi dress-cases with lace: feminine strictness
Lace also takes place in the strict office gowns making. Such dress can look especially attractive, and suitable for office, business meetings, social parties, or it can be worn for any event.
READ ALSO: Latest Ankara styles 2017-2018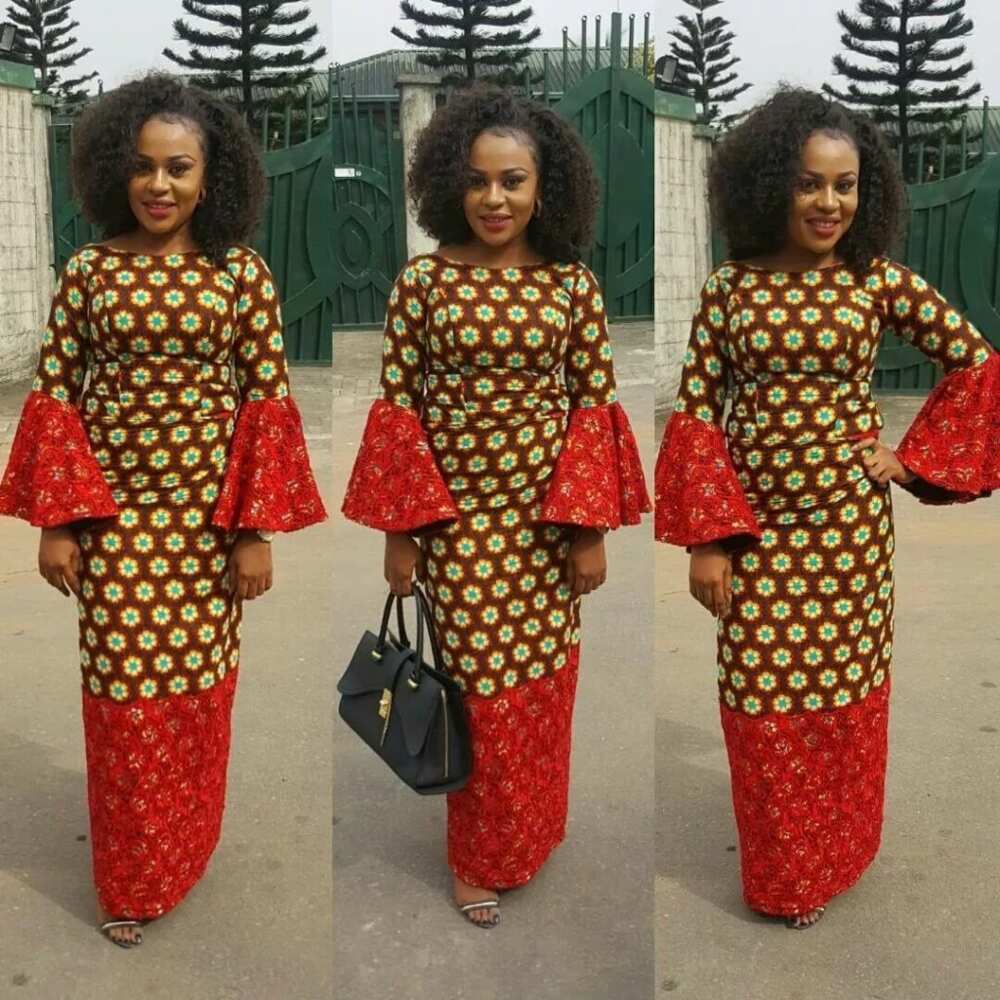 Ankara dresses with lace at the hem
Ankara gown with lace trim on the hemline is a perfect solution. The simplicity of the top is counterbalanced by a refined and delicate bottom's decoration. In such outfit a woman can have a different image every time, picking up various accessories for a special events.
Ankara combination styles for events
Ankara red mini dress combined with black lace radiates passion and femininity of a lady. Ankara restrained long gown of pastel colors adorned with lace emphasizes the modesty and tenderness of a woman.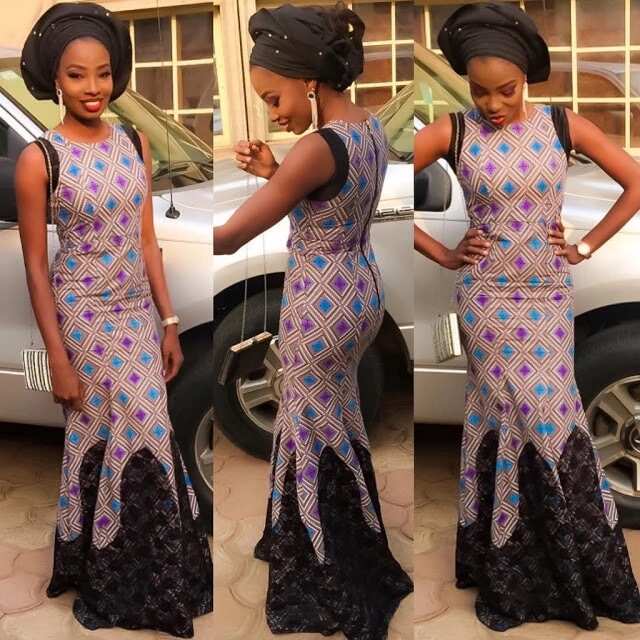 This contrast in the style's selection of an evening dress with lace shows that the attire can be elegant or passionate. But both items look no less exquisite. It depends on you what look you are going for.
Color palette
Among the trendy colors of Ankara and lace styles are:
black
white
gray
purple
red
beige
yellow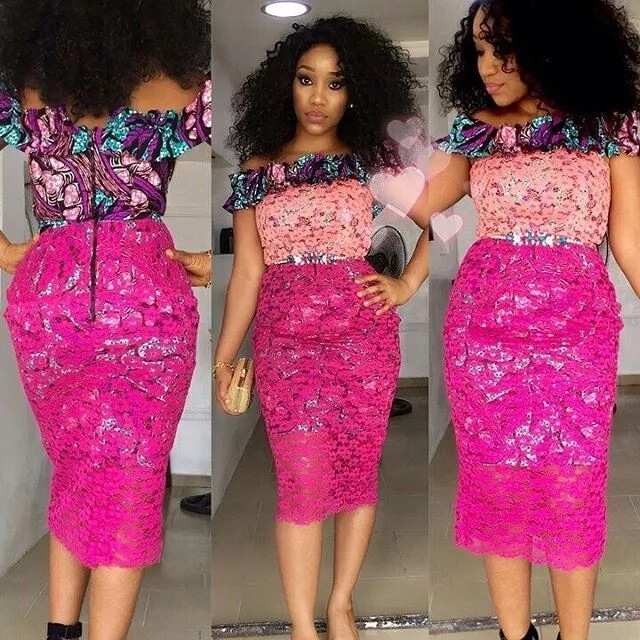 In creating models of Ankara and lace combo styles, Nigerian fashionistas masterly combine different types of Ankara fabrics with multi-colored patterns and mix laces of various contrasting colors.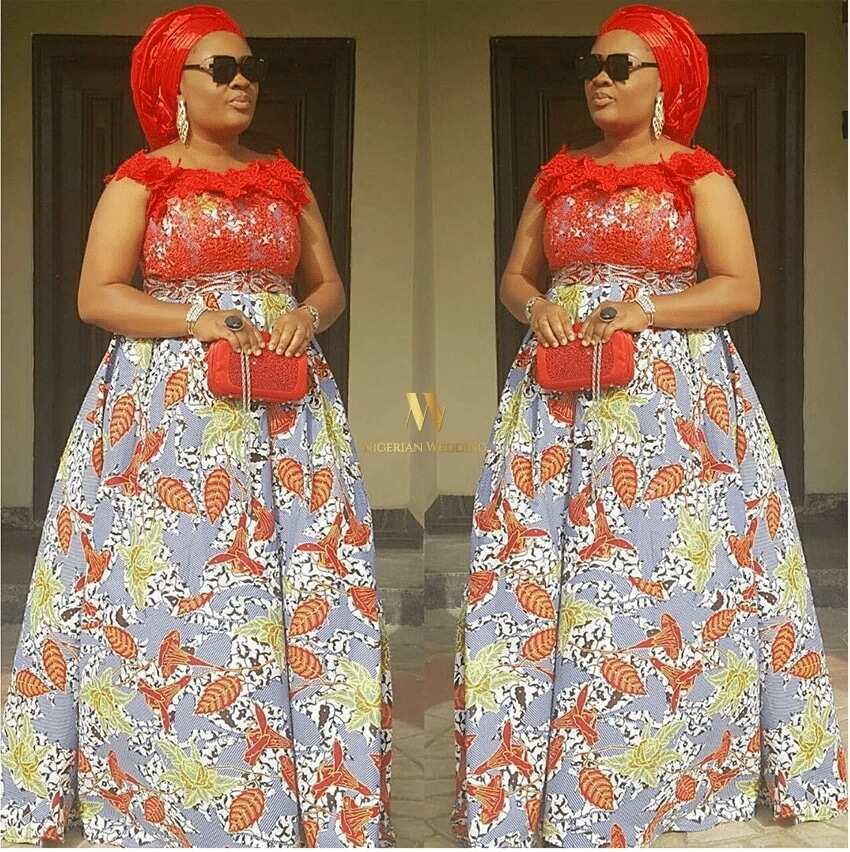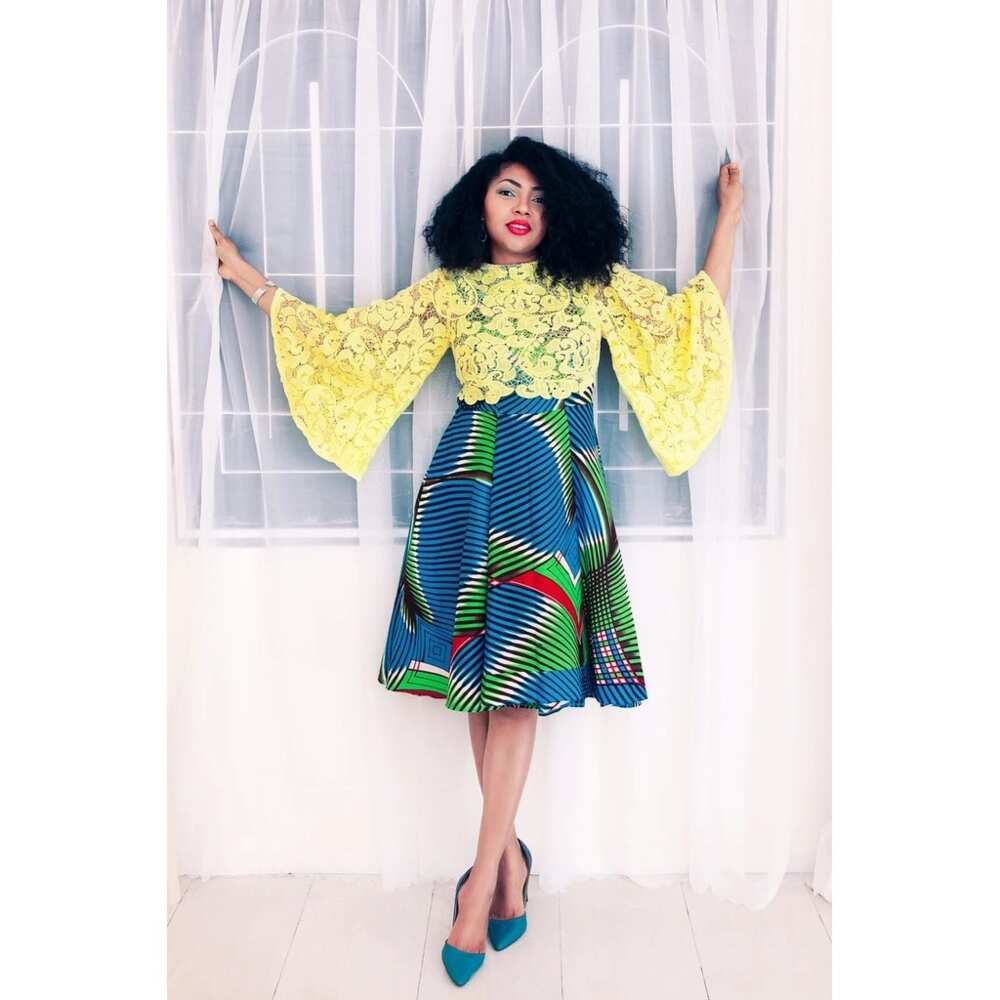 Aside the colors above, you can choose bright red, yellow, blue or pink instead of white and black for pastel Ankara fabrics. Combine such outfit with your favorite neutral accessories. This option is bound to attract attention to your look.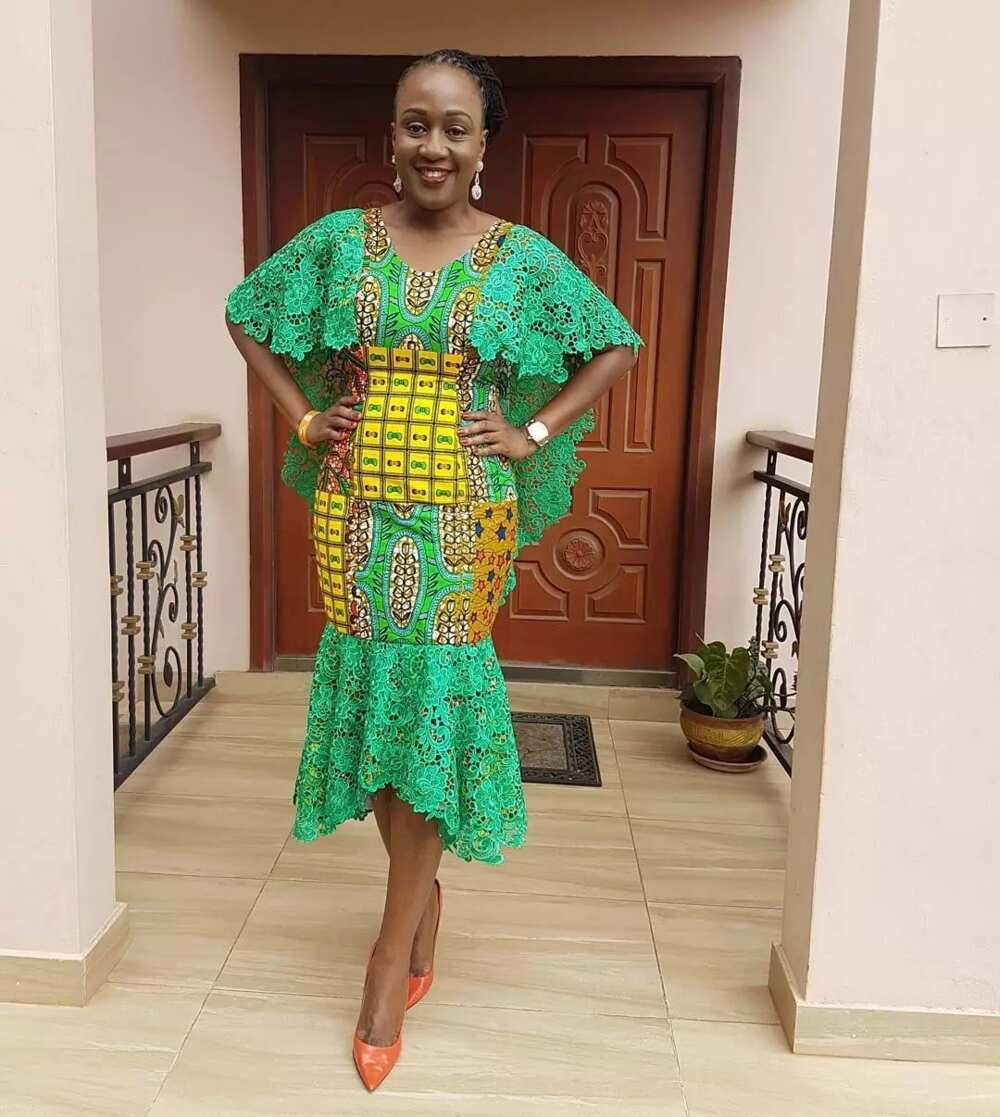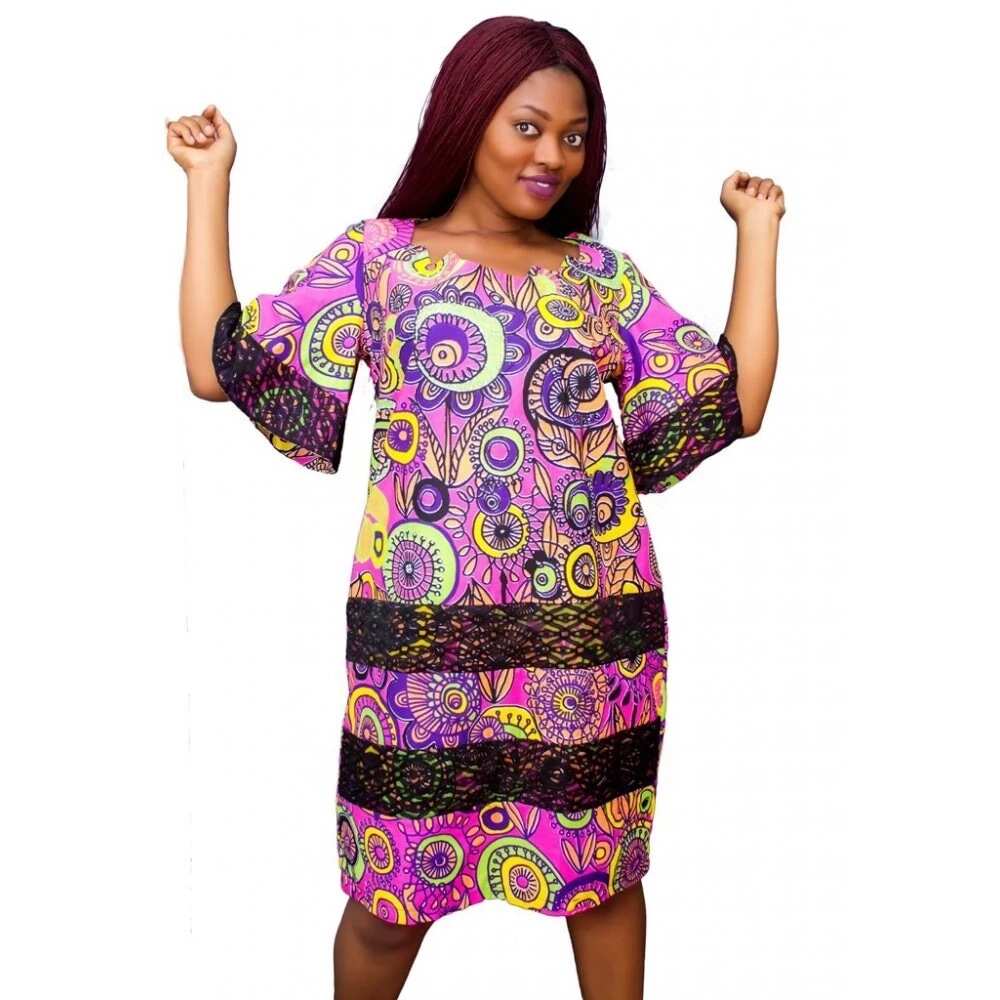 The combination of contrasting colors is very impressive and festive. On the background of a pastel Ankara dress black, blue, violet, and burgundy lace fragments look beautiful. Elegant black dresses with beige, pink, mint or multi-colored lace on sleeves are always attractive and exotic. Bright green, coral and yellow dresses with lace on the hem are beautiful.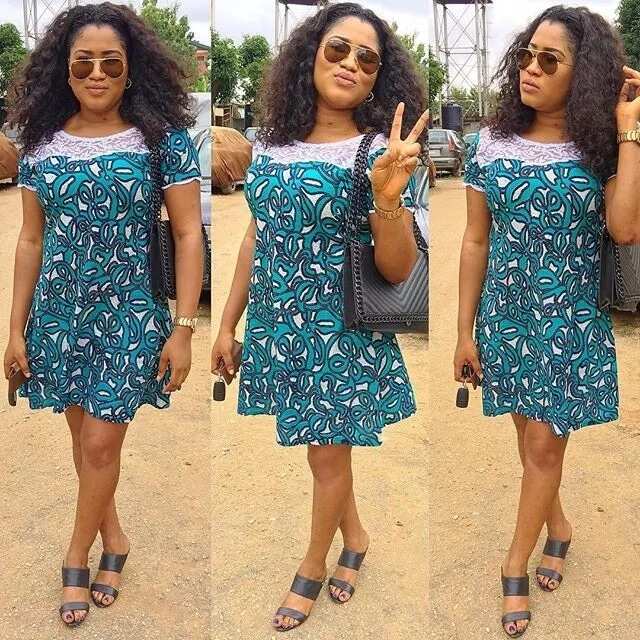 Tailoring of Ankara and lace combination styles
Choosing an outfit, you should take into account not only the taste preferences but also the features of your figure. For plump women dresses with an overstated waist are good. Thin and graceful girls look great in items with magnificent ruffles and frills. The silhouette seems slim with a lacy belt and translucent sleeves.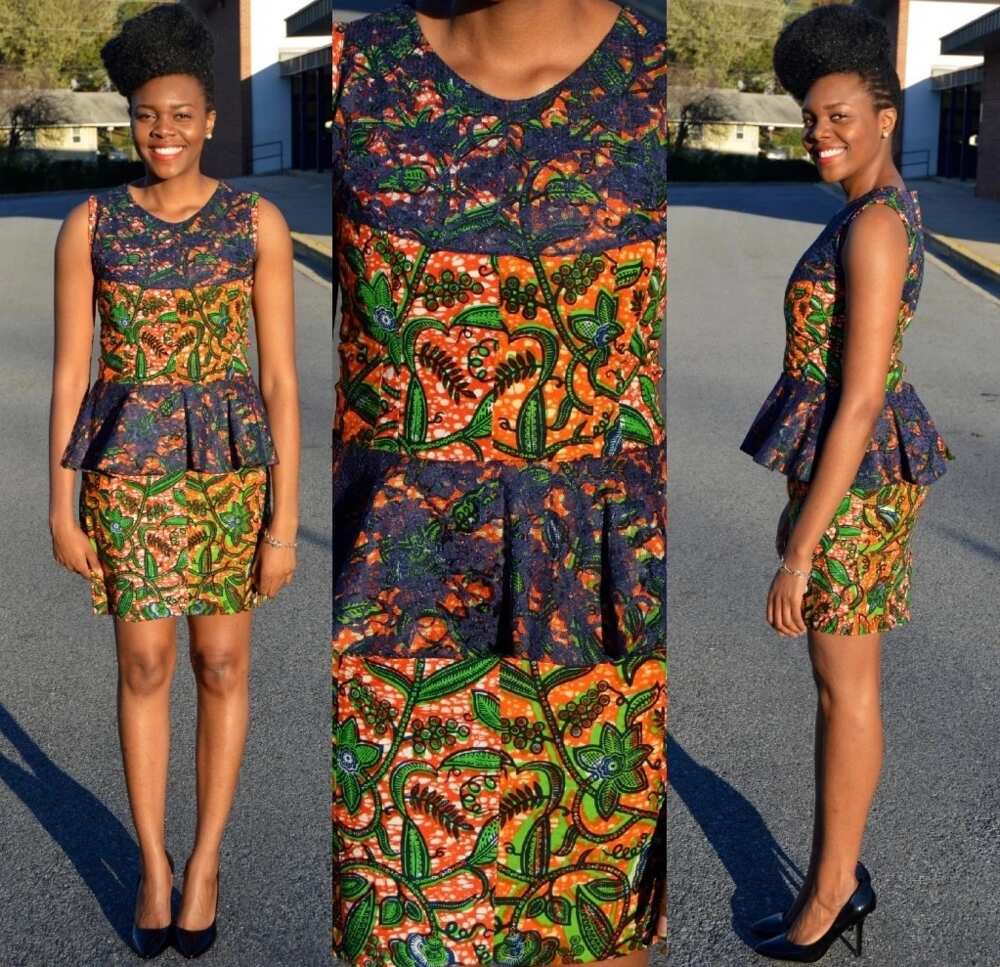 Dark dresses with lace and peplum as well as options with a low waist allow hiding excess volume on the abdomen and hips. The fragments of lace on the gown's side mask the extra pounds and add grace to the silhouette. Lace inserts in the décolleté zone emphasize the beauty of the chest, and the belt underlines a thin waist.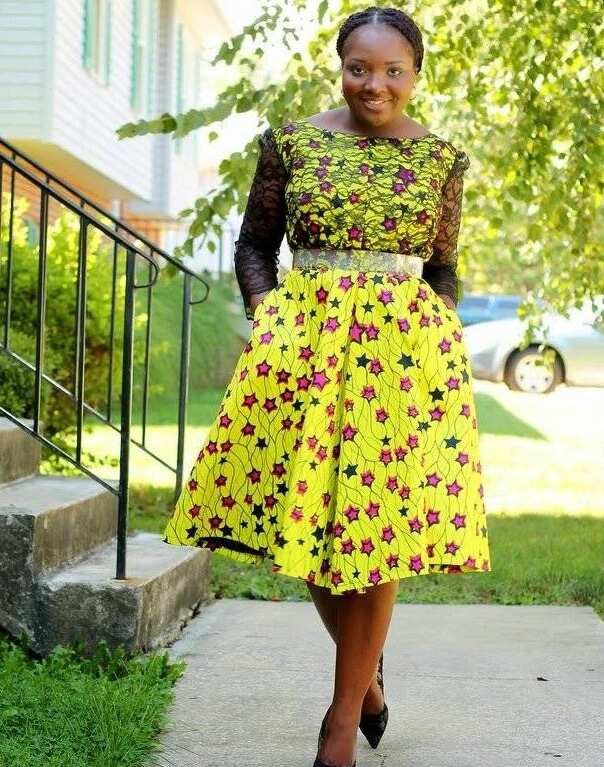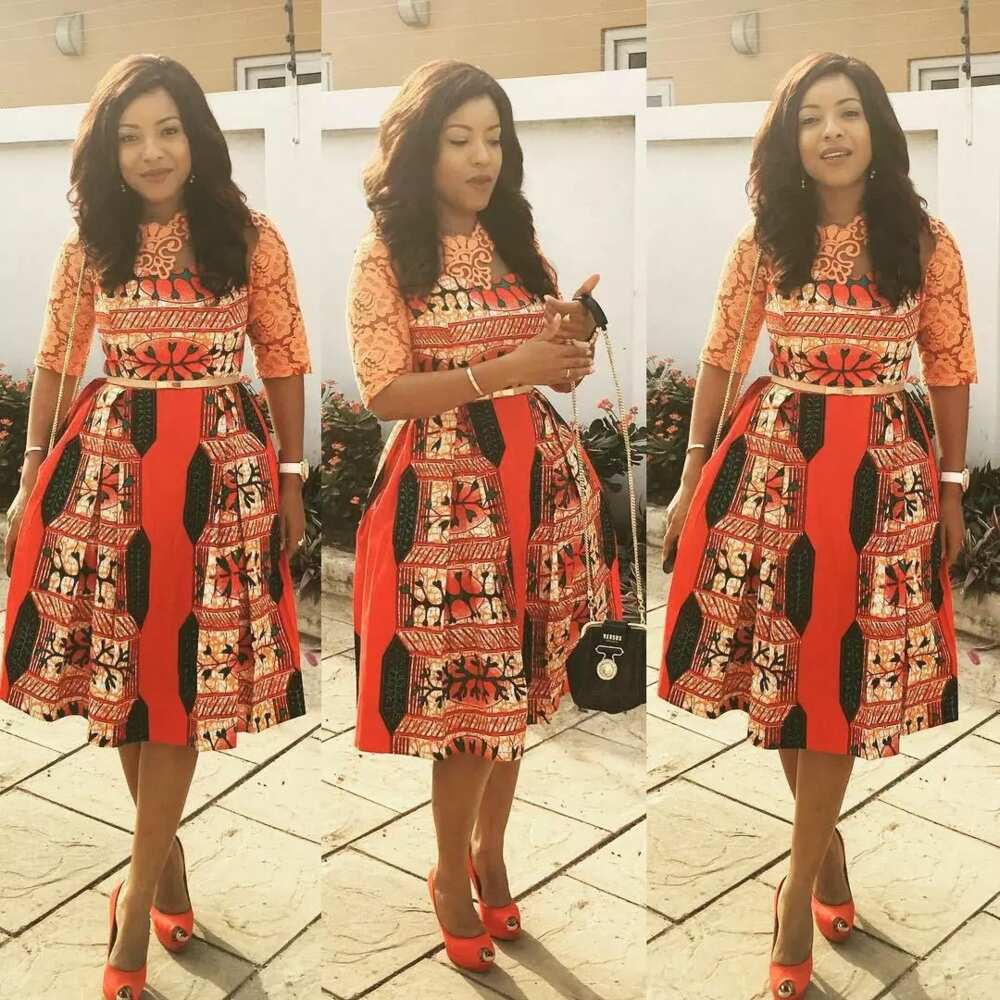 Women with short stature can safely put on items with a lace strap that visually lengthens the silhouette. The knee-length with a detachable waist make a figure slender. Lace details as frills, ruffles, stand collar, inserts on the chest and back are the accent of style and add zest to your look.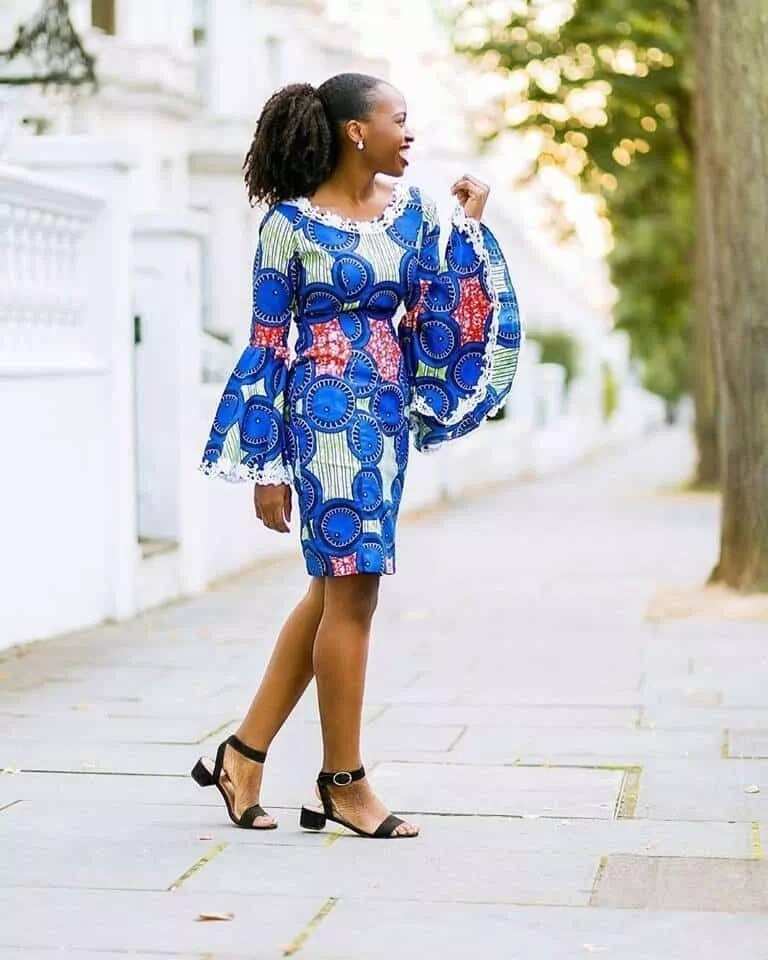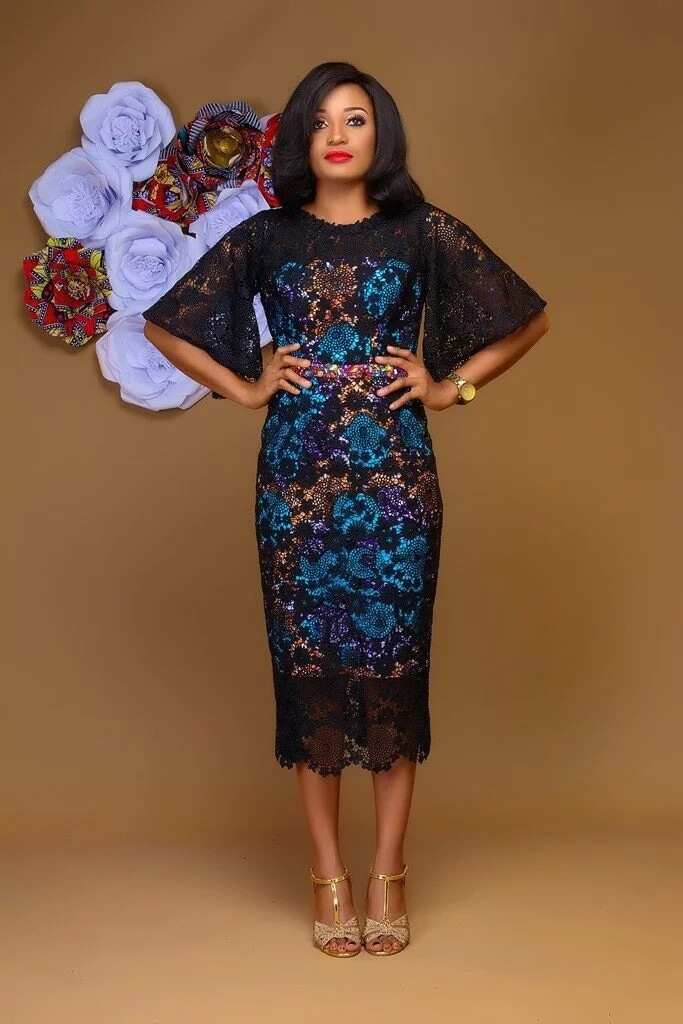 Magic Ankara mixed with lace dresses always stay relevant, because they give incredible femininity and beauty to the woman's look. Beautiful Ankara gowns with lace inserts are elegant, luxurious outfits that give mystery and romanticism to the female image.
READ ALSO: Get chic in Ankara gowns