2019: Governor Okorocha allegedly compels Imo lawmakers to endorse son-in-law
- The political drama playing out in Imo state is still a trending topic
- The state governor, Rochas Okorocha, seems hellbent on installing his son-in-law, Uche Nowsu, as his successor
- Okorocha has reportedly threatened to deny any lawmaker who fails to endorse his son-in-law ticket to return to the House in 2019.
Governor Rochas Okorocha of Imo state has reportedly concluded arrangements to arm twist Imo state lawmakers into endorsing his son-in-law on video camera.
According to Vanguard, the governor is using the tactics to ensure that his son-in-law and chief of staff staff, Uche Nwosu, emerges as his successor.
According to the report, Governor Okorocha was furious that twenty lawmakers who had purportedly endorsed Nwosu for governor come 2019, turned round to deny the claim.
A source revealed that the exercise of recording the endorsements of the said 20 lawmakers will take place at an unnamed hotel in the state capital, Owerri. The hotel has reportedly become a beehive of activities for mobilising support for the governor's son in-law.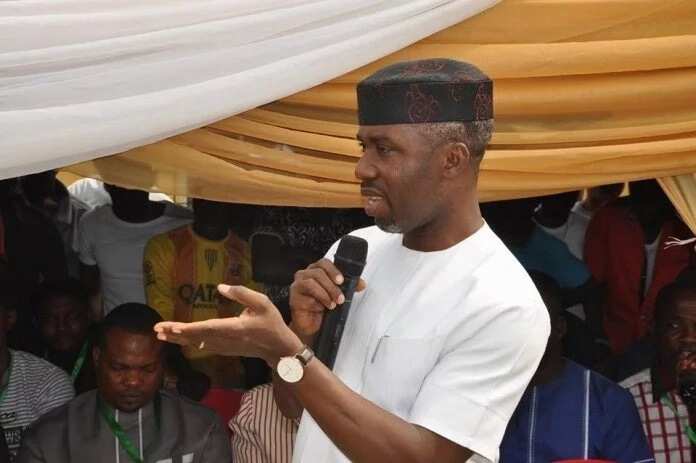 READ ALSO: Okorocha's son-in-law is qualified to run - Obiareri
It was revealed that Governor Okorocha had threatened to deny any lawmaker who fails to endorse his son-in-law ticket to return to the House in 2019.
Honourable Henry Ezediaro, member of Imo state House of Assembly, last week, addressed the press, stating that 20 lawmakers had endorsed the governorship ambition of Nwosu.
Highlighting more on the reasons for supporting Nwosu, Ezediaro said, "Uche Nwosu was the pioneer candidate of APC in 2014, the party endorsed him to run for governor, he has not changed since then."
Angered by Honourable Ezediaro's revelation, the lawmakers accused him of telling lies against them, with some of them distancing and out rightly backing down on the said endorsement of Nwosu.
Some of the lawmakers who preferred to speak on condition of anonymity, for fear of victimization said: "We are surprised that one of us will go to tell the press that 20 of us who had a meeting at the Speaker's residence endorsed Nwosu. There is nothing like that. We enjoined him to make the agenda public than use our names to gain cheap scores from the governor and his son-in-law.
"If we wanted to tell the public about the endorsement of Uche Nwosu as the outcome of our meeting, the press would have been invited for briefing than allowing one of us to speak on our behalf."
But the source disclosed that "Governor Okorocha's insistence of foisting Nwosu on Imo people may not be unconnected with fear of prosecution over some of his administrative misdeeds, which may attract lawsuits against him."
Ezediaro had listed the following lawmakers to be in support of the endorsement: Ugonna Ozuruigbo representing (Nwangele) Luggard Osuji, former Majority leader (Owerri Municipal) Chukwuemeka Lloyd (Owerri North) Ekenna Nzerue (Oru East), Innocent Egwim (Ideato North), Obinna Egu (Ngor Okpala), Ngozi Obiefula (Isu) and Uju Onwudiwe (Njaba).
Others are Victor Onyewuchi (Owerri West), Uche Agabiga (Orsu), Emma Orie (Ohaji/Egbema), Ikechukwu Anwunka (Ideato South), Henry Ezediaro (Oguta), Roman Duruji (Ehime Mbano) and Marcel Odunze (Orlu).
Meanwhile, Okorocha has said that there is nothing capable of stopping Nwosu, from succeeding in his governorship ambition.
According to the governor, Nwosu's emergence as a governor in the state come 2019 has already been ordained by God.
The governor said that 24 out of the 27 local government areas in Imo state are in support of sn in-law's ambition, adding that no level of propaganda and lies being peddled against him or Nwosu will overturn the decision of the people of Imo state.
READ ALSO: 2019: Okorocha's son-in-law woos PDP members
What is cooking in Imo state? on Legit.ng TV
Source: Legit.ng