Nnamdi Kanu's brother reacts to IPOB's tag as a terrorist group
- The Indigenous Peoples of Biafra (IPOB) has reacted to the Nigerian military's declaration that it is a terrorist group
- The group described the military's declaration as 'laughable'
- The group's position was made known by Emmanuel Kanu, the younger brother of IPOB leader, Nnamdi Kanu
Pro-Biafra group, IPOB, has reacted to the Nigerian military's declaration that it is a terrorist group.
Emmanuel Kanu, the younger brother of IPOB leader, Nnamdi Kanu,described the military's declaration as 'laughable'.
Kanu made the statement during a phone interview with Channels Television aired on Friday, September 15.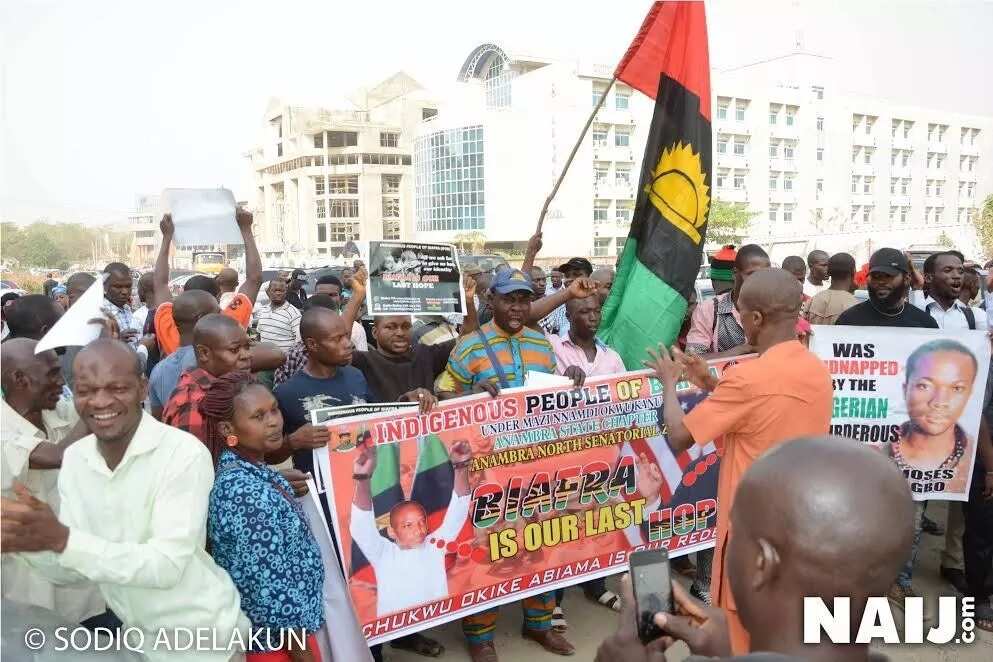 READ ALSO: Nnamdi Kanu can't manage his life, but wants to manage a country - Isima Odeh
He stated that IPOB is a non-violent group that do not carry arms and have not killed anyone.
His words: "We never asked anybody to kill for us, neither have we killed anyone. Our record is clean and straight. We don't believe in violence. Violence never solves the problem.
"From inception, Nnamdi Kanu made it clear to the whole world that we are non-violent freedom fighters and that is the way it has been. We are not Boko Haram, we are not ISIS."
Asked about the activities of the Biafra Secret Service and the Biafra National Guard, Kanu said they are a vigilante group meant to protect the southeast region.
"They are a vigilante group, not secret service. There is a lot of misconception. They are there to take care of our land against attacks from the herdsmen and from criminals," he said.
When asked about the group's next step having been tagged a terrorist group, Kanu stated that IPOB will do everything within its power and within the law to make sure that the tag is removed.
He added that they have petitioned the United Nations and other international organisations on the issue.
Watch the full interview below:
Legit.ng recently released 14 safety measures that residents of the southeast are expected to adhere to as the Nigerian military carries out the Operation Python Dance II in the region.
READ ALSO: United Nations interested in Operation Phyton Dance II - Moses Siasia
Watch Legit.ng TV interview with IPOB leader, Nnamdi Kanu's lawyer, about the military invasion:
Source: Legit.ng