Mass rally rocks Abuja in support of President Buhari
- The Centre for Civil Society and Justice held a rally in support of President Buhari in Abuja
- The members of the organisation were received by Femi Adesina, Buhari's aide
- Adesina told the participants that they were on a good course
A Nigerian group, the Centre for Civil Society and Justice (CCSJ), marched on Aso Rock Villa with its members declaring their support for President Muhammadu Buhari on September 5.
Legit.ng reports that the organisation which has its membership from the six geo-political zones of the country, tagged its march Peace and Unity Rally.
READ ALSO: OBJ set to replace Buhari with El-Rufai or Kwakwanso - Abdullahi Sugar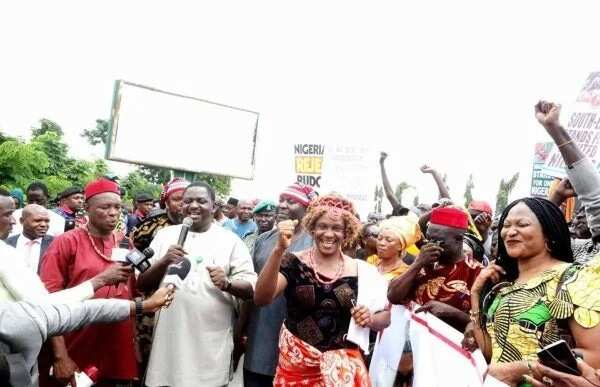 The members of the organisation were addressed by Mr Femi Adesina, the special adviser on media and publicity to President Muhammadu Buhari.
"The CCSJ members pledged support for President Buhari in his resolution to keep Nigeria together, saying they opposed any effort to balkanize the country. They were led by Comrade Prince Goodluck Obi," Adesina said in a statement obtained by Legit.ng.
Adesina, who spoke on behalf of the president, described the participants as being on a good course.
He also stated that the president would uphold the constitution of the country and keep the nation as an indissoluble entity.
PAY ATTENTION: Read the news on Nigeria's #1 new app
Adesina stated that just as good news had come on the economic front, with the country exiting recession, salutary news would equally come from other sectors of national life, in the lifetime of the Buhari administration.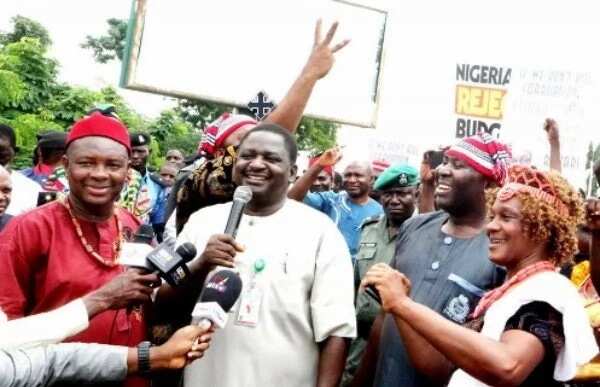 Legit.ng earlier reported that a socio-political group, the Nigerian Wailers, revealed it is carrying out massive sensitization of Nigerians ahead of the 2019 general election in the country.
The group said the enlightenment has become necessary to help Nigerians avoid a repetition of the mistake they made in the choices of candidates in 2015.
Watch this video as the daughter of Buhari's aide leads protest against the All Progressives Congress:
Source: Legit.ng