"You were sent packing due to your bad character" - Sister-in-law of lady who called off her wedding
A Nigerian lady identified as Okibe Olivia has been attacked by her ex-fiancé's family members because she claimed she left him after celebrating a lavish introduction ceremony.
According to her, she and her ex-fiancé Emeka Augustine celebrated their introduction on Saturday, January 7.
The lady who failed to give a detailed explanation about her relationship advised ladies to date and get to know their partners before getting married.
However, Olivia's former sister-in-law identified as Diamond Kelly blasted her on Facebook, saying that she was dumped because of her bad personality.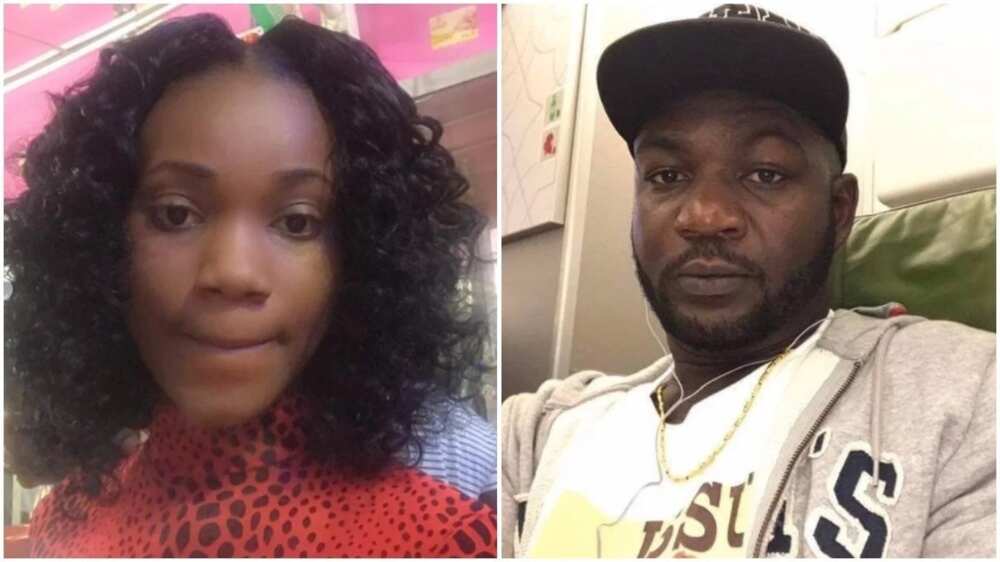 In the post, Kelly noted that Olivia should be grateful that she met her brother rather than condemn him for leaving her.
See post below: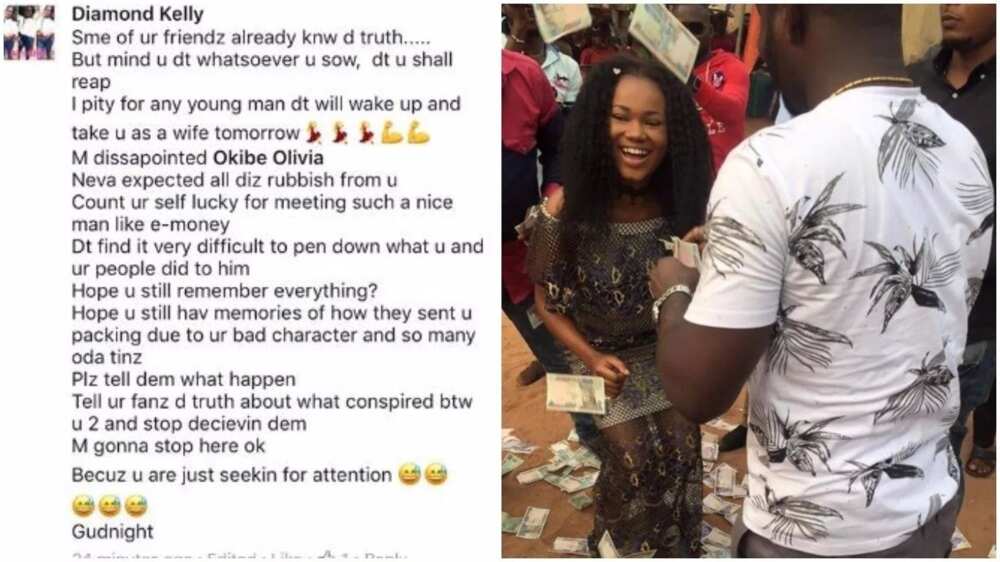 Olivia who was not bothered by her former sister-in-law's claims, said she would expose Augustine's secrets to the world.
READ ALSO: Lady loses N5m she was paid after losing her job to church's micro-finance bank (photos)
She said: "And the kid sister to my Ex by name Diamond Kelly on FB is here parading herself on my On wall, lolz. I understand their plight right now, but unfortunately am not stopping dear , so go ahead and cry more or you guys put out your own stories too, am awaiting and am ready for it.
This your yelling Diamond reminded me of his elder brother's act , when he was busy doing the part 1 of the movie and my sisters and good friends were busy jumping upandan like you are doing right now , so as to quench the heat but he never headed , he was catching his fun but guess what he will receive double fold of what he started.
Am Okibe Olivia a proud ex to your brother, and am glad am doing what am doing and I won't stop. Am not doing it to Pain him or for revenge , am way too kind to be messy moreover God is already doing my vengeance for, so am only doing it for the likes of me (every lady on this platform ) they need to learn from my experience. That's all So kid sister ex inlaw , keep mumuing yourself because it calls for it.
Yes am not out to pay him back in his own coin , am only here to educate young girls and I maintain my stand. I know , why He is running up and down ; even threatening me and all dat because he doesn't want the skeleton in his cupboard to be known publicly …… lolz
Oga , you cannot stop me. Go ahead with ur fake gist by 6:30 ; I wonder what is left for you to say again outside the one you said around February on my wall. Calling me an Online Prostitute thus into Shuga daddies and so on. Chai!!! Das way too cheap to compare to what the world will know about you .
I will release the bomb on your head soonest, everyone will know the real you soonest ; Fake human being Emeka Augustine Okoronu, a fool without wisdom dat thinks he is wise , I will teach you how to respect a woman.
After you are done with me, you will know dat age is just a number ; I am 22 female and you are 32 Male ….. let's see who goes home victorious at the end. After am done with ur gist , am sorry but it will be difficult for any one to dine or wine with you because you are a beast in human form.
Evil men like you needs to be exposed for the world to make a better place. Meanwhile, girl don't panic because I exposed our chat ; I know why I shaded off your name. I bet you he doesn't know which one of the girls his flirting with ; that sent me this gist.
You are not the only one bae , so calm down. Am glad right now you took up the challenge I gave you in my last post to prove if you are a man. Come with urs because it will give me an edge as I continue with mine. It is not yet over until it is over
You want to make Live Video because you can't type what someone can comprehend. I understand your plight Ex. Okibe Olivia is out to save young girls , das all so go ahead and think anything. Meanwhile all of u fakers ; I know you all and for Ray ; am piling up ur own case .
Wait till I upload all our inbox messages before u come to display ur stupid self on my wall ; ensure you are clean in my inbox bcos I don't delete messages. Thank you."
PAY ATTENTION: Get all the latest gossips on NAIJ Gossip App
Meanwhile, another Facebook user identified as Amanda Chisom claimed that Olivia's ex-fiancé left her after he found out that the young lady was still working as a night worker.
According to Chisom, a friend of the Malaysia-based man came in contact with the lady at a hotel in Nigeria.
See post below:
Meanwhile, Legit.ng TV went to the street to get people's opinion on how long a person can be engaged for. Watch replies below:
Source: Legit.ng