Ah, skirts! What a wonderful invention. It might seem that a skirt is little more than a piece of fabric hanging around your waist. However, each person can style this piece of fabric in different ways and make it look absolutely stunning and stylish. Today, we will tell you about 17 cool skirt styles you should definitely look out for on your next shopping spree. Or, if you are handy, let this article be an inspiration for your new DIY sewing project!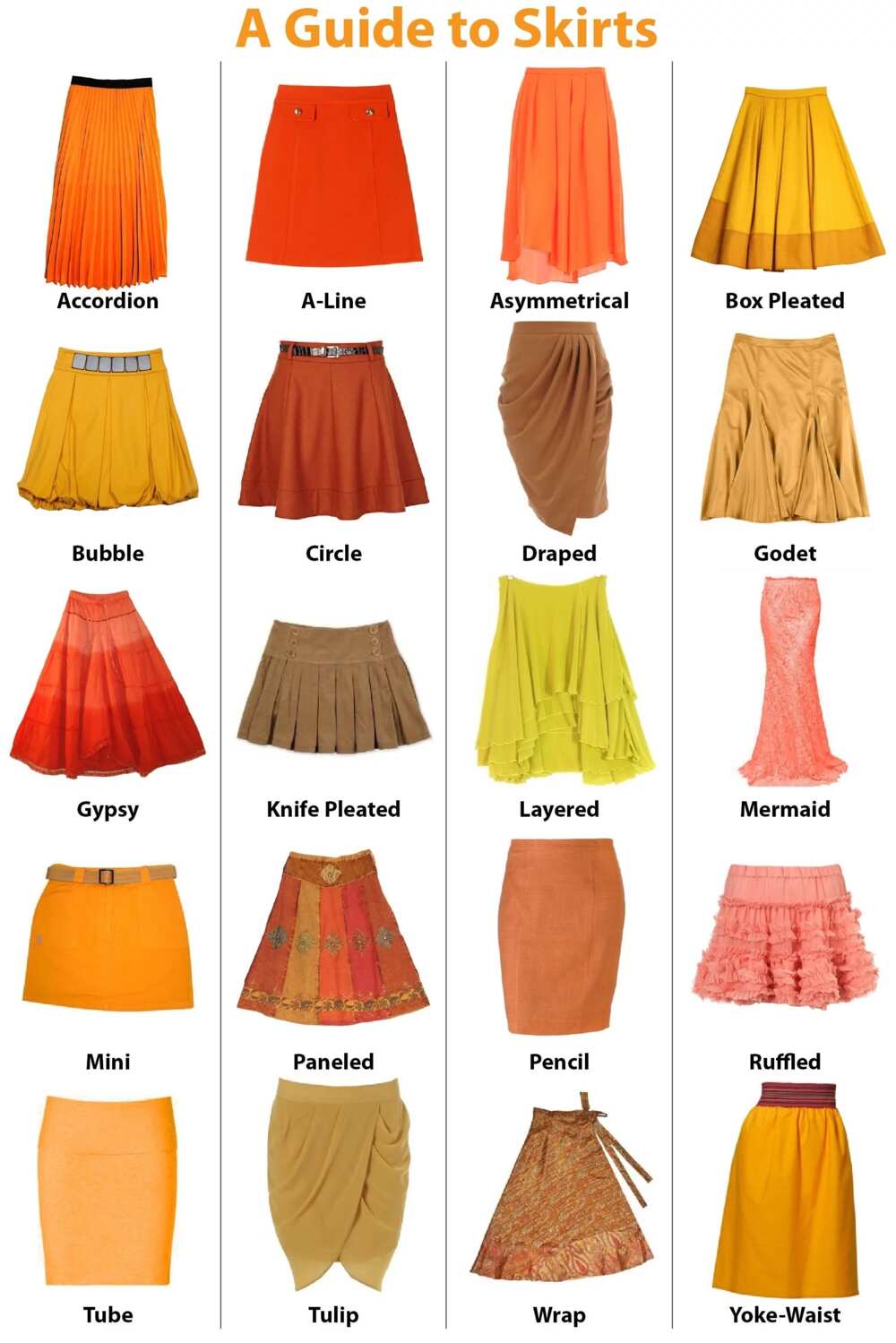 Skirt lengths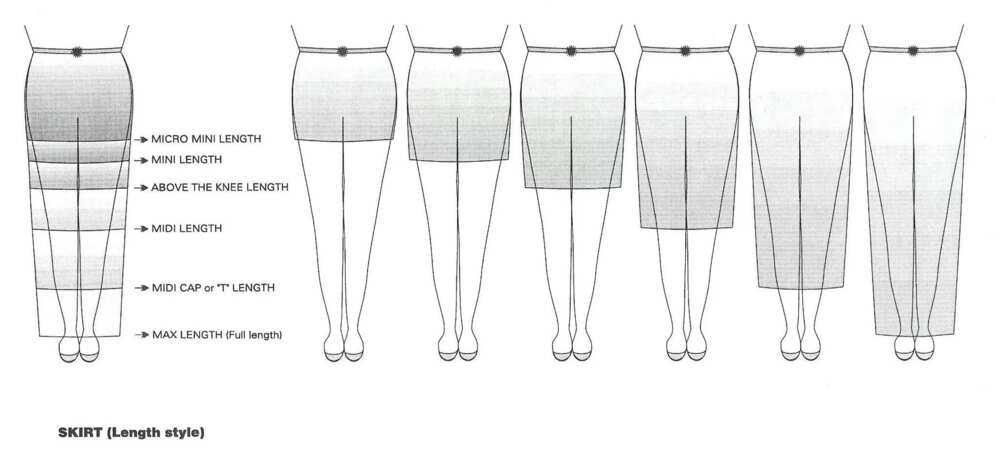 Before we go into the types of skirts, let's take a minute to define what some of the skirt lengths mean. While short skirts, long skirts, floor length and knee length skirts are pretty self-explanatory, you might not know what lengths hide behind the maxi or cocktail.
Mini skirt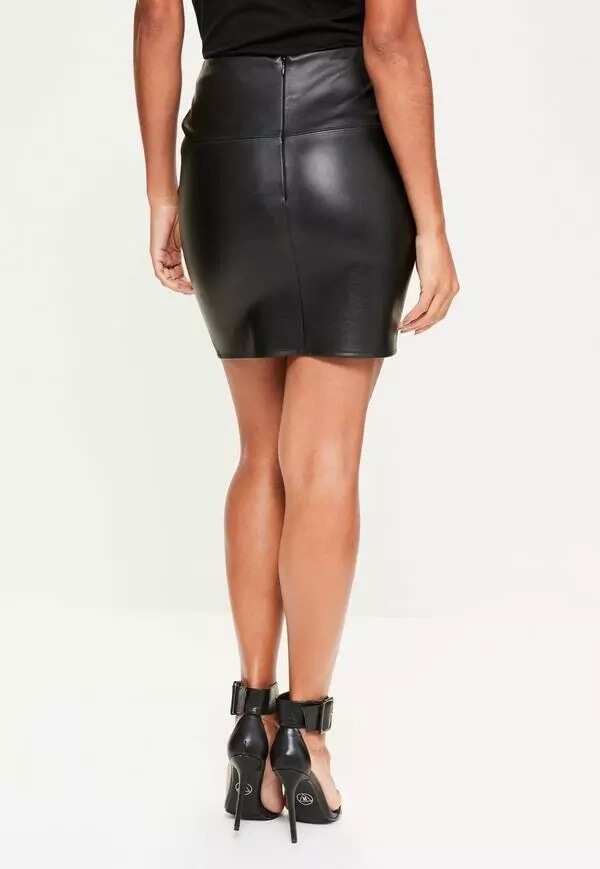 Mini skirts are skirts that reach the middle of the person's thigh. However, there are also micro mini skirts, or, as moms like to call them, 'overly large belts'. These skirts barely cover your bottom area. They usually end barely 2 cm below your bum, but some are even shorter. This length is strictly informal and in some places even inappropriate.
Cocktail length skirt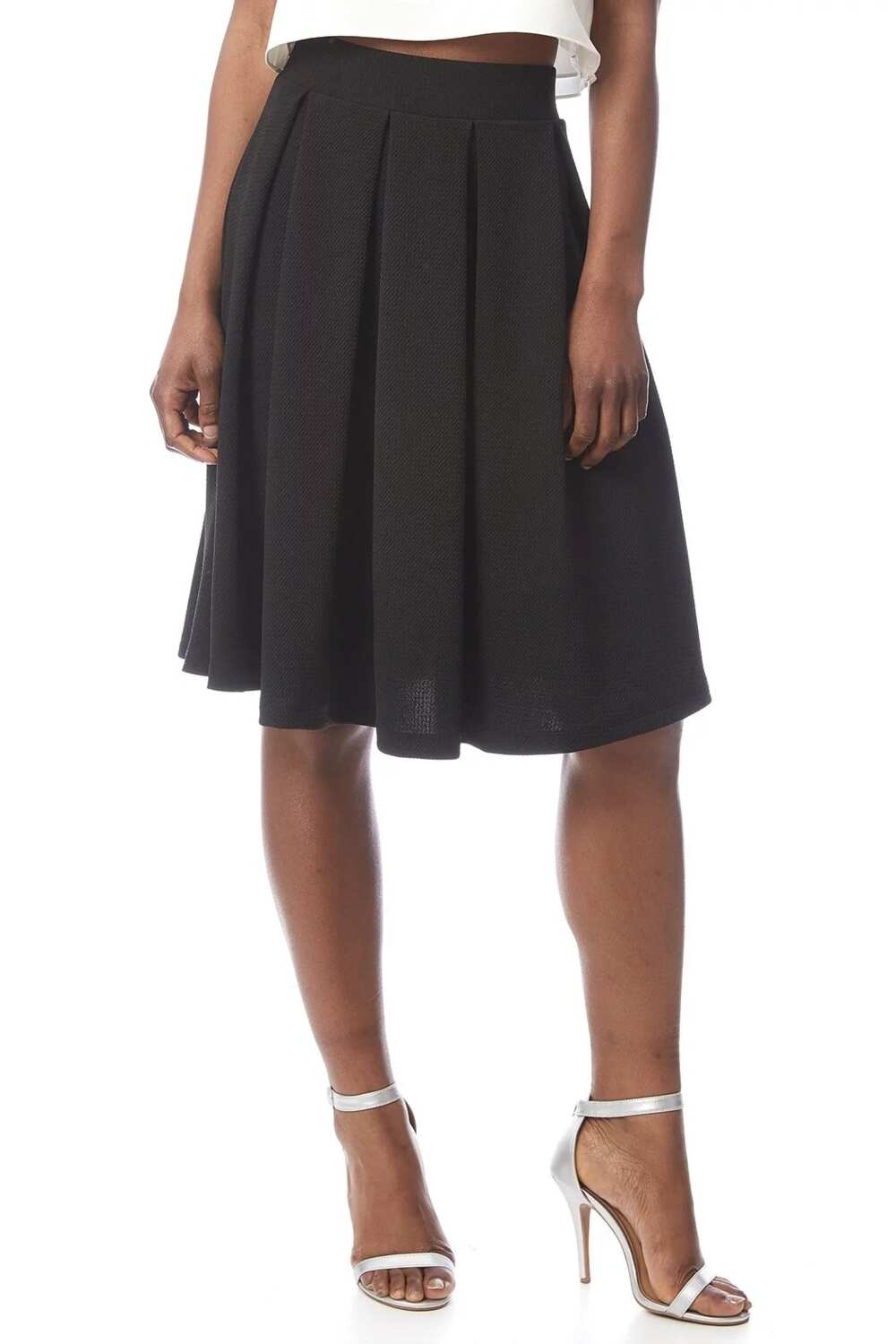 These skirts are also known as street length skirts. The common meaning of this length ranges from slightly above the knee to the mid-calf area. This length is perfect for casual occasions, parties or even weddings.
Midi skirt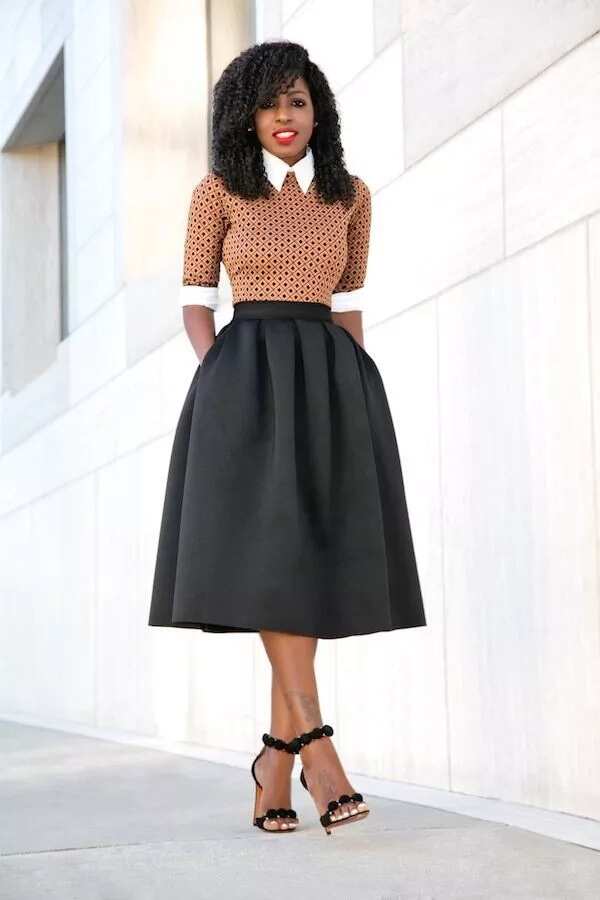 Midi skirts can be placed on a range from below the knee to above the ankle. They are slightly longer than cocktail length skirts. This length is also great for every occasion, including those that require formal wear.
Maxi skirt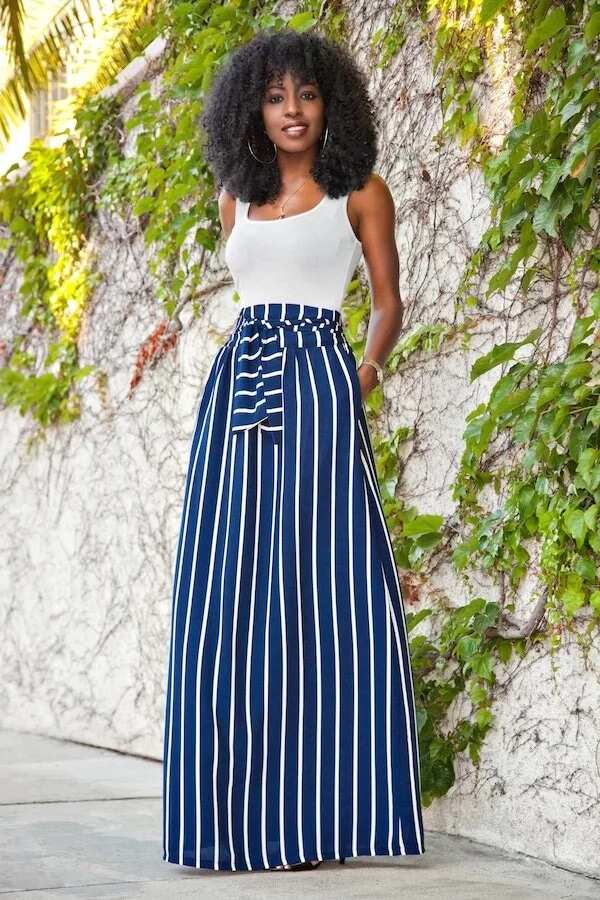 Maxi skirts are the longest among the ones we mentioned. The shortest maxi skirts usually reach the ankles, while the longest hit the floor. This length includes formal evening (or full length) skirts and floor length skirts.
Now it is finally time to go to the skirt styles!
Types of skirts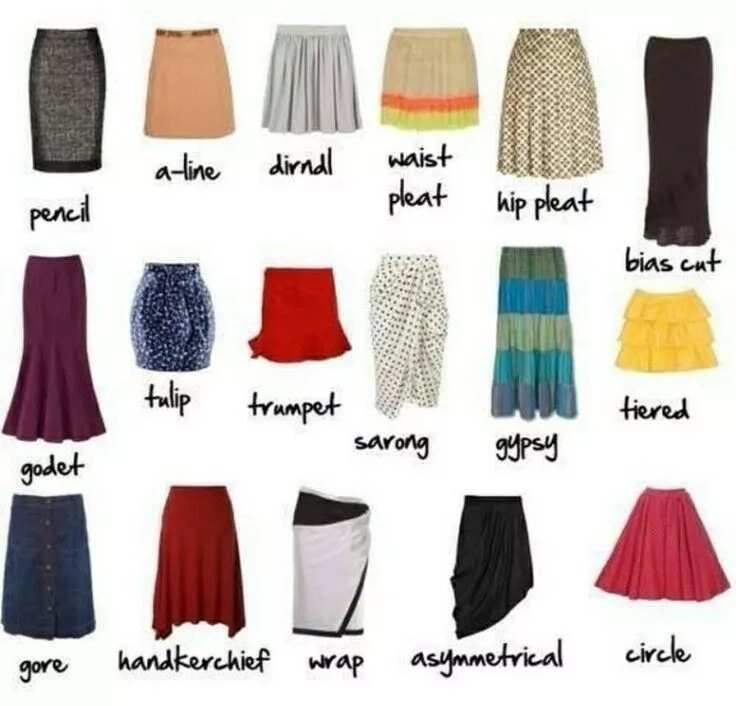 READ ALSO: Ankara peplum top and skirt: how to rock them?
Fashion knows no limits, especially when it comes to feminine garments. There are so many different styles of clothes to choose from that the variety can make your head spin. We are here to make it a little bit easier to choose the style of skirt that you want. Here are our 17 skirt styles that you should consider.
A-line skirt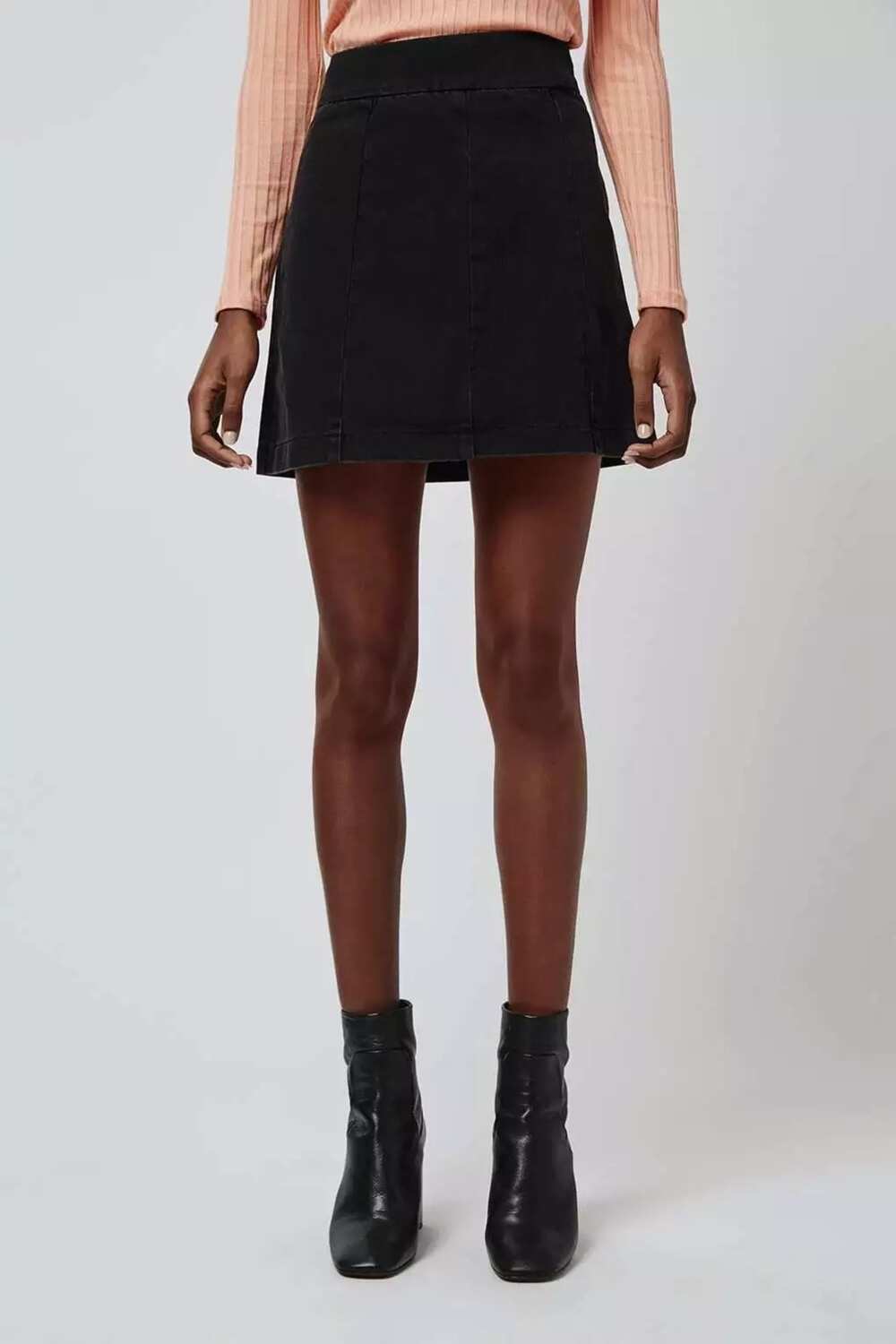 A-line skirt got its name from the silhouette it creates. It fits snugly around the waist and widens in the direction of the hem. It comes in different lengths, ranging from mini to maxi. People who are more bottom-heavy might find them particularly flattering, as well as those who have no curves. A mini-length A-line skirt can also make you look taller.
Flared skirt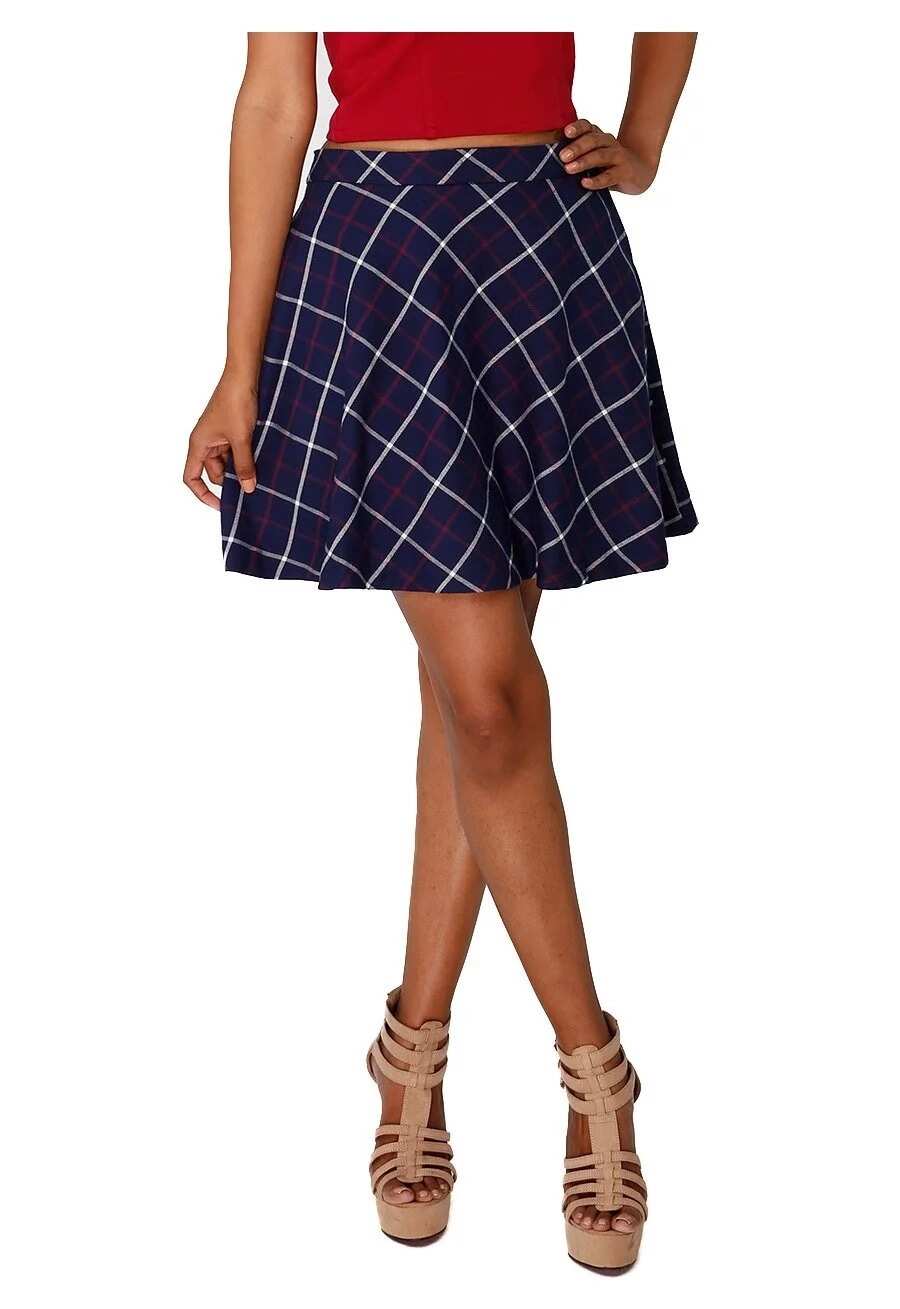 Similar to the A-line skirt, a flared skirt encompasses a variety of skirts that widen to the hem. The main difference is that it also flares, which makes it much fuller than the previous type. You can wear this skirt to any occasion, as long as you choose the right material and colour that would fit the situation.
Pencil skirt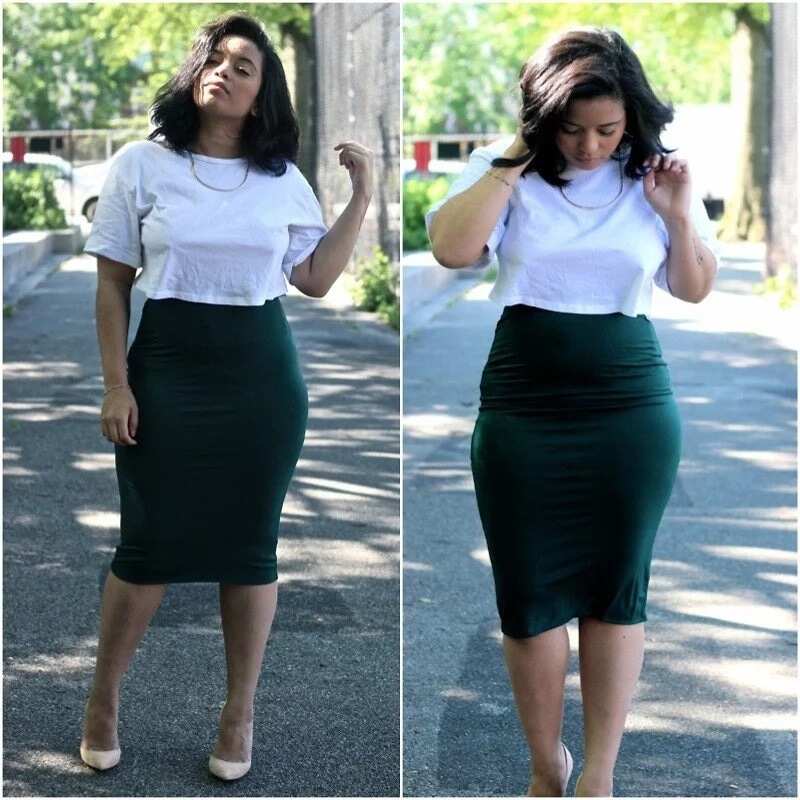 Pencil skirt is a very slim-fitting and narrow skirt. It is usually medium-length, ending around the knee area. This type is a classic and a must have for any person who wants to look stylish and important. Anyone can pull off a pencil skirt, as long as it fits them well in all the right places.
Tulip skirt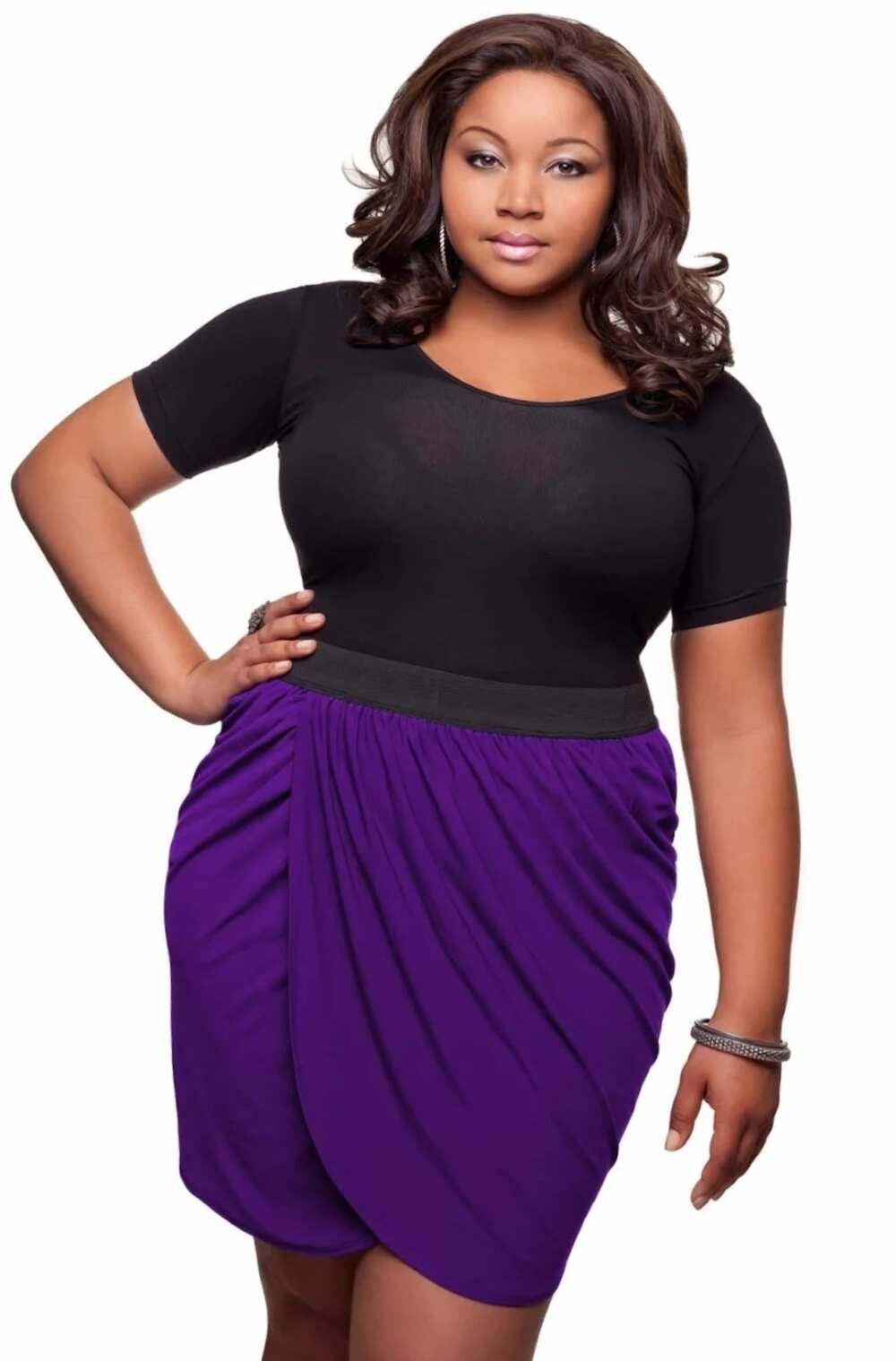 This type of skirt is quite similar to the pencil skirt, only tulip skirt is not as tight and constricting. Some of the tulip skirts have pockets, which is a big plus for people who do not like purses. Most of these skirts are mini skirts; the longest ones barely graze the knee. They can be worn for both formal and informal events.
Dirndl skirt
This type of skirt is defined by its fullness and gathered tight waistband. It is usually a midi skirt. The skirt came from the traditional Austrian dress called dirndl, where it also got its name. This style was particularly popular in the last century among housewives. It is mostly informal.
Sarong drape skirt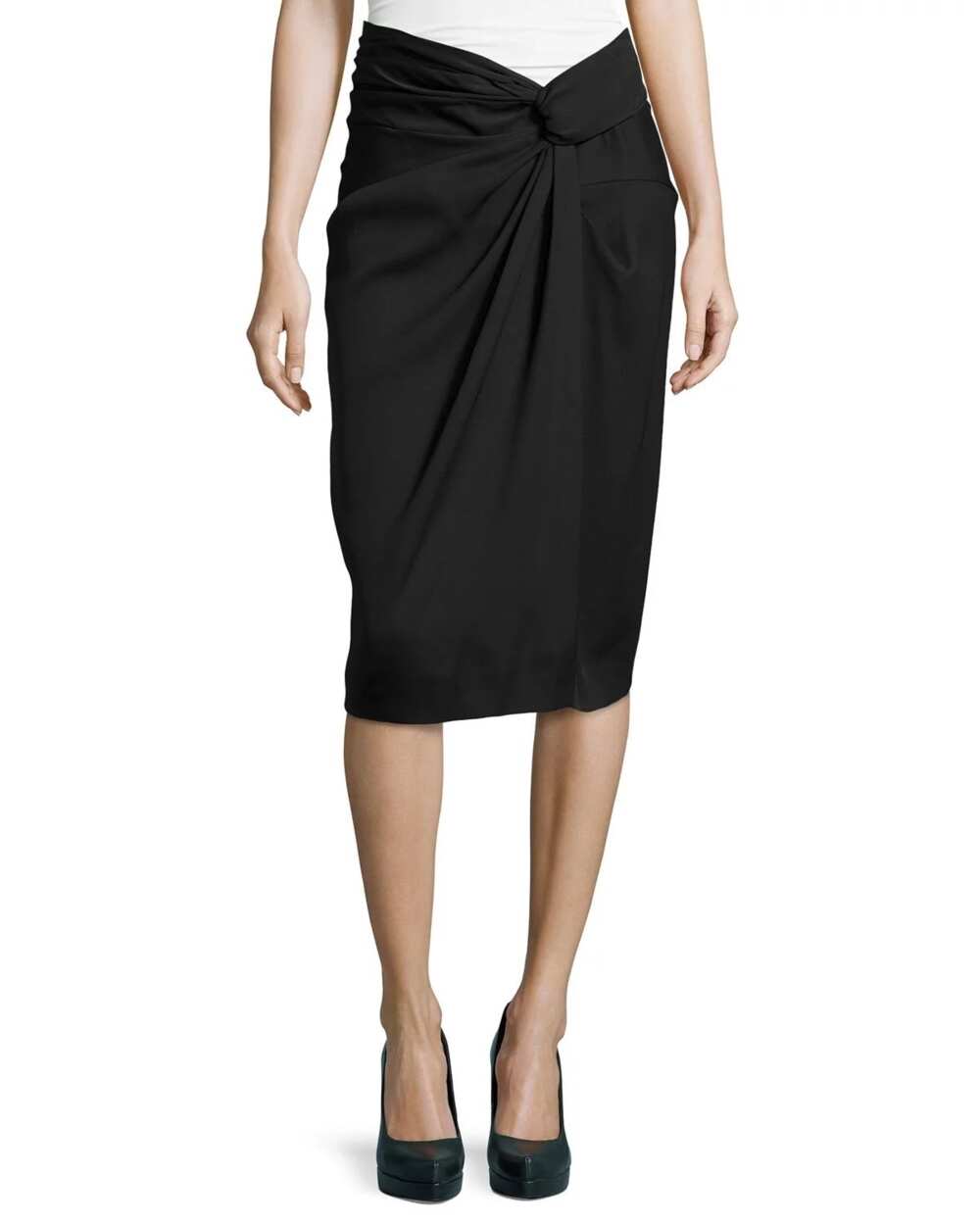 Despite what we said in the introduction, this skirt is literally a piece of fabric that you tightly wrap around your waist. There is little more to it. Sarong skirts are considered to be informal wear, however some of them look formal enough to wear to the office. They come in all lengths, depending on the size of fabric you are working with.
Wrap skirt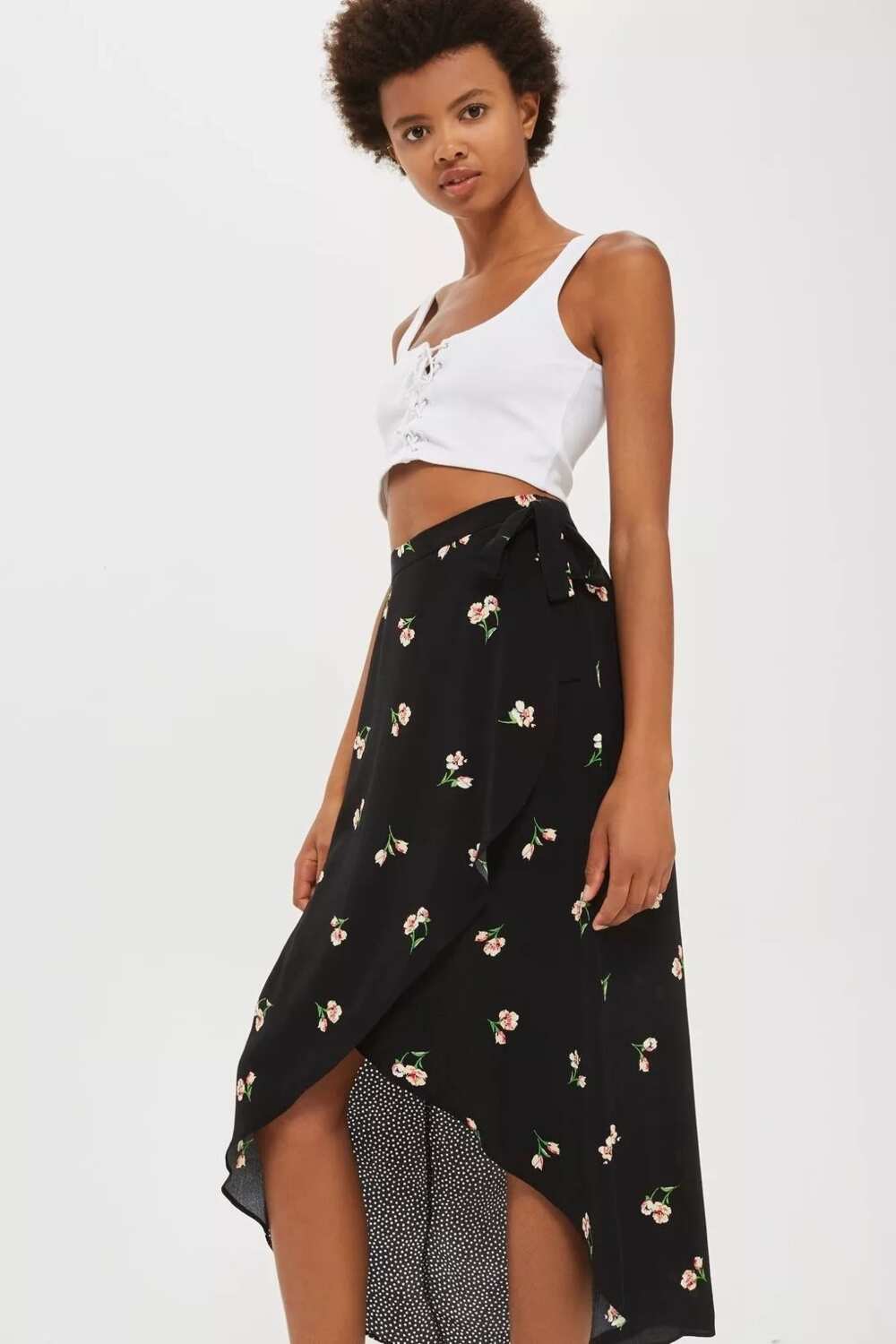 While this skirt also wraps around your body, it is different from sarong. Sarong's silhouette resembles that of a pencil skirt. A wrap skirt's silhouette, on the other hand, is closer to the A-line skirt. You can fasten the wrap skirt with buttons, ribbons or belts, while sarong does not require extra elements to hold on. Wrap skirts range from mini to full length and are mostly casual.
Broomstick skirt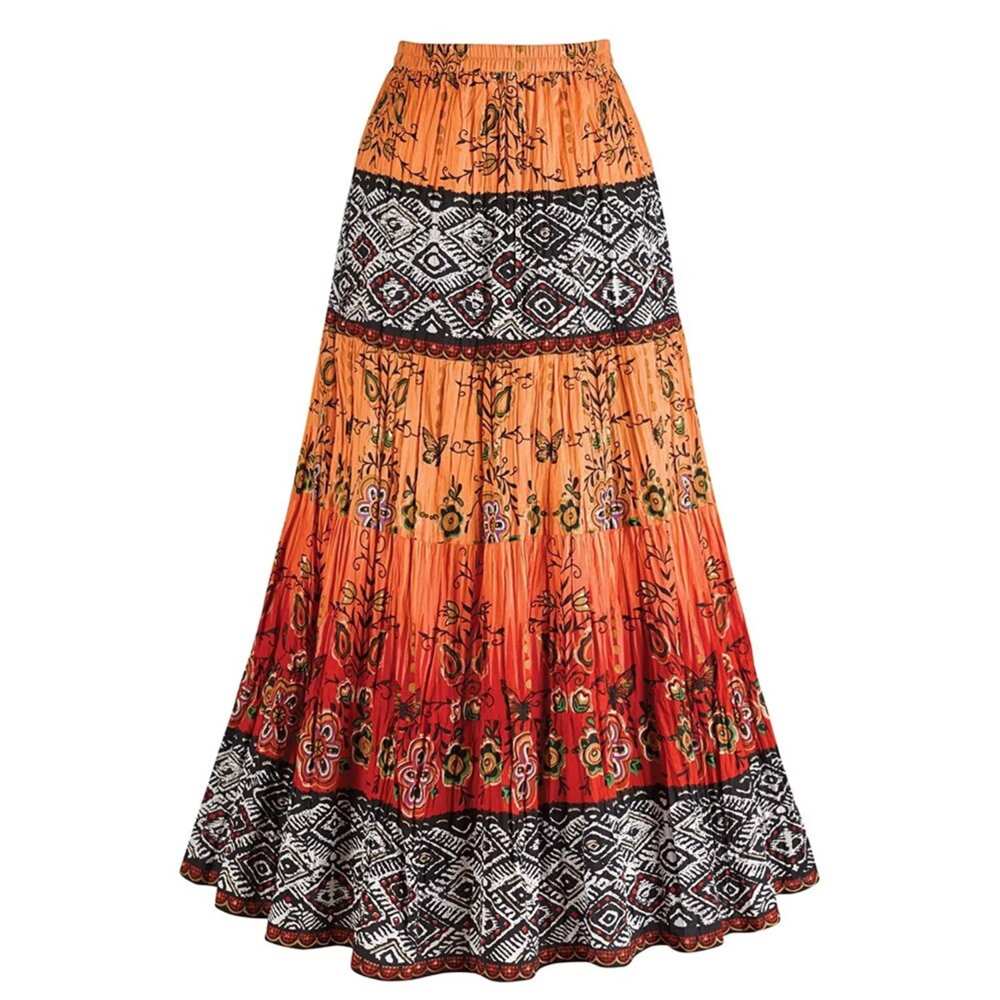 This skirt's most defining feature is its wrinkled texture. Back in the old days, this signature texture was achieved by twisting the wet skirt around the broomstick handle, hence the name. This skirt is traditionally a maxi skirt and it is very casual.
Layered skirt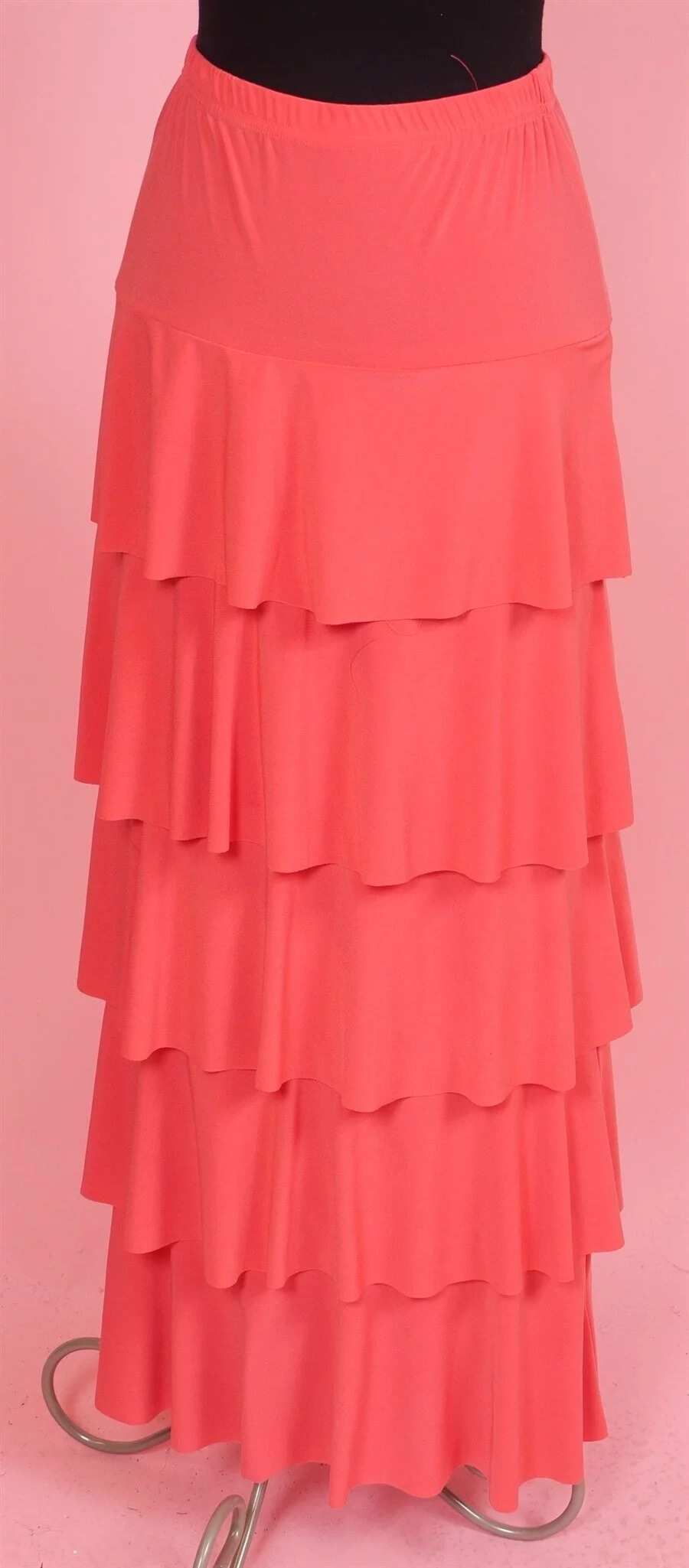 Somewhat similar to the previous type, layered skirts are long and casual. However, they lack the wrinkles to be considered broomstick skirts. Layered skirts are also known as peasant skirts. These skirts are made out of few horizontal layers of fabrics, and the fabrics do not have to match.
Circle skirt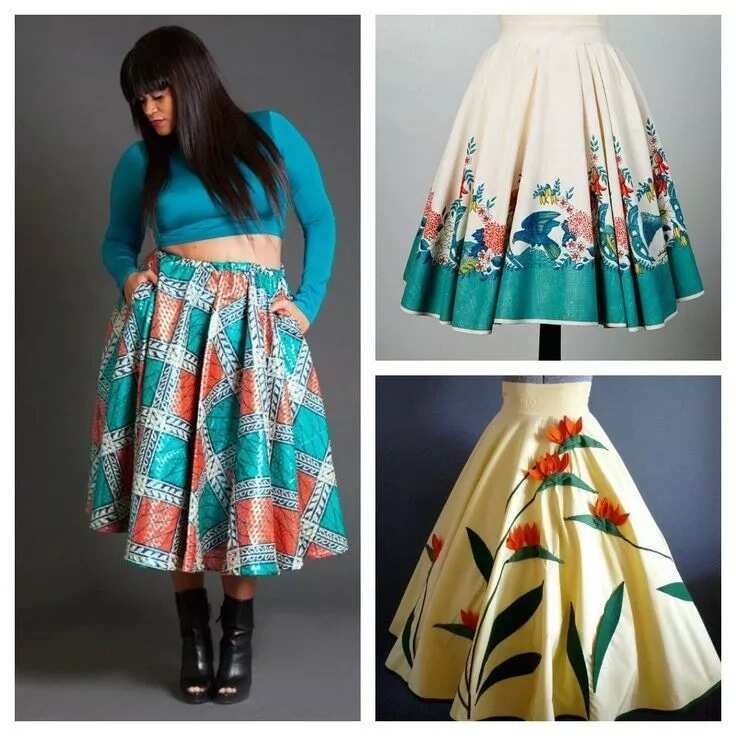 These skirts earned their name from their circular shape when they are laid flat. In some countries, they are known as sun skirts, as they resemble the sun. You can make a circle skirt by cutting a large circle in the fabric of your choosing and then cutting a smaller one for your waist. These skirts usually range from mini to midi length and are considered casual.
Godet skirt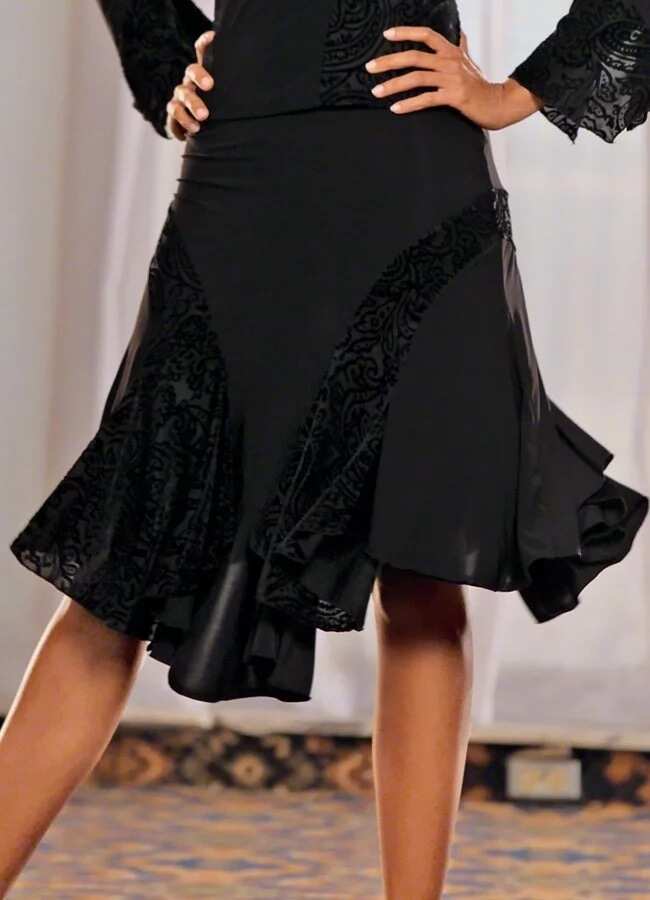 This skirt is called that way because of the triangular inserts between the seams near the hem. These inserts are called godets and they make the skirt look fuller and frillier. Godet skirts come in all lengths, but the most popular length is mini. Depending on the fabric, pattern and colour, these skirts can be worn to all sorts of events.
Pleated skirt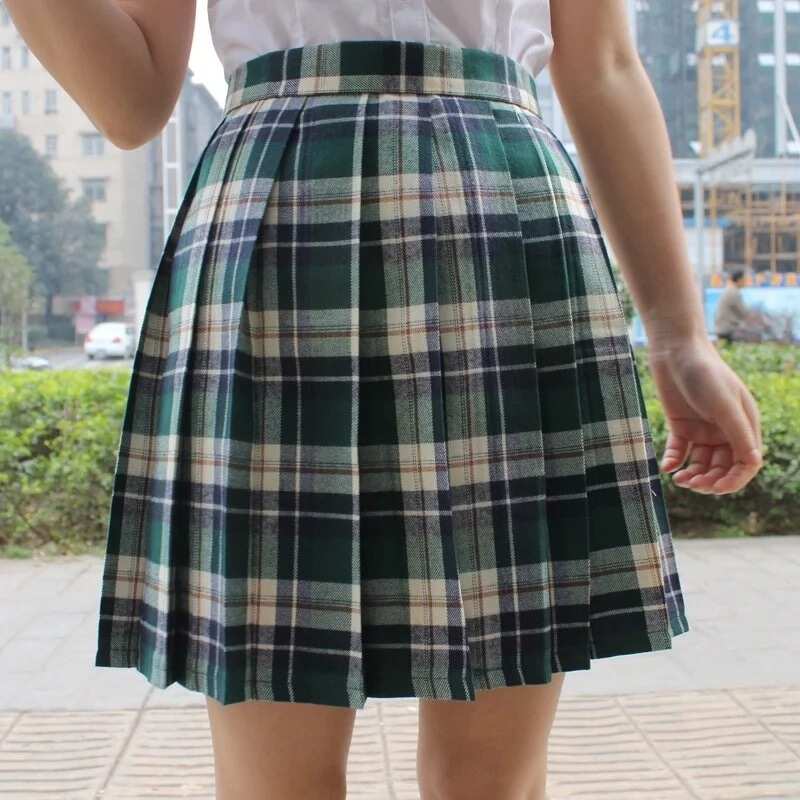 Pleated skirts consist of vertical pleats that run all around the skirt from waist to hem. They are a bit of a high maintenance, if you ask us. To keep the pleats neat, you need to iron your skirt every time before wearing. Most of the pleated skirts are mini; therefore, they are more suitable for informal occasions.
Fishtail (mermaid) skirt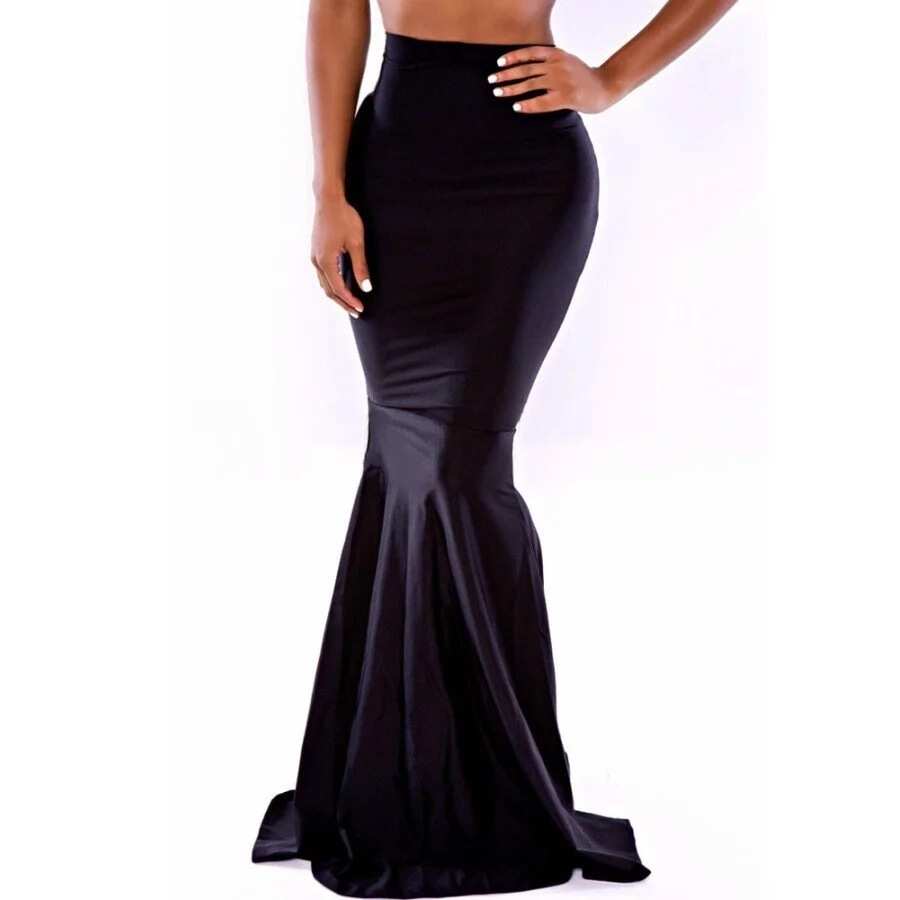 If you have ever dreamed of becoming a mermaid, this skirt is definitely for you. It fits snugly around the waist and hips and flares from the knee down. It is traditionally a maxi length, but some designs come in midi length as well. Despite the dreamy name, this skirt is mostly formal. However, if it is made to look like actual fish scales, you might reconsider wearing it to work.
Asymmetrical hem skirt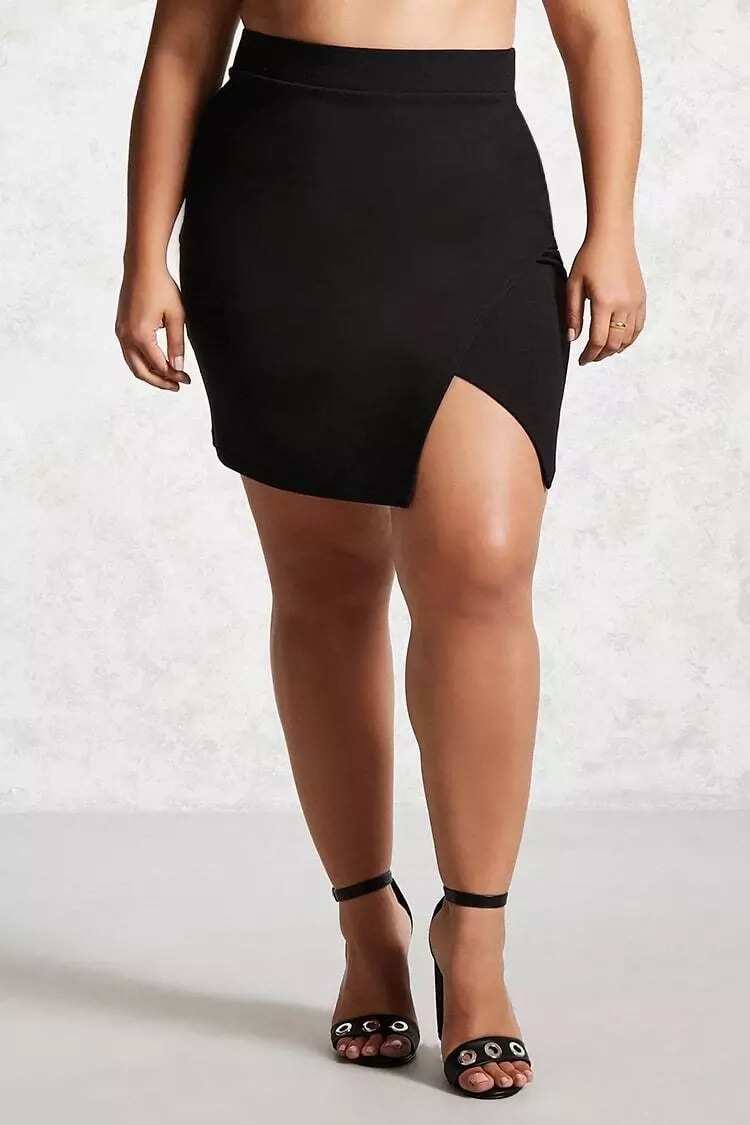 If you cannot imagine your life without symmetry, you might want to skip this skirt. For all the other people who love to experiment with their clothes, this style would be just the thing. Asymmetrical hems come in all shapes; as long as the hem is not a straight unbroken line, it is asymmetrical. Most of the skirts with asymmetrical hem are mini skirts, which makes them perfect for casual outfits.
Bubble skirt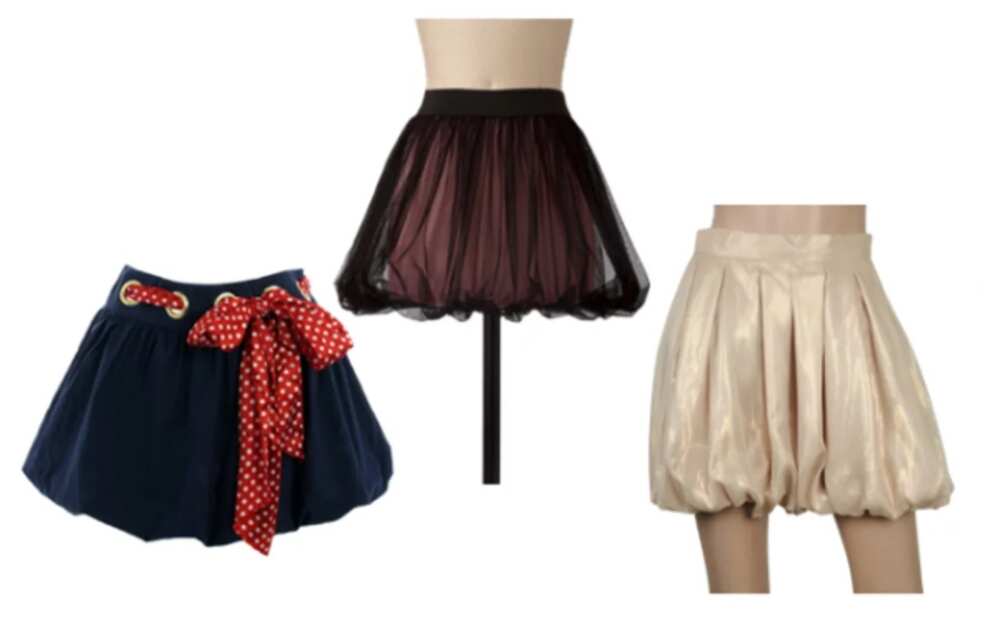 This type of skirt lives up to its name, as it is bubbly and fun. It has an elastic waistband and a scrunched up hem, which makes it look very light and fluffy. Bubble skirt is a mini skirt by design and is great for playful date looks.
Yoke skirt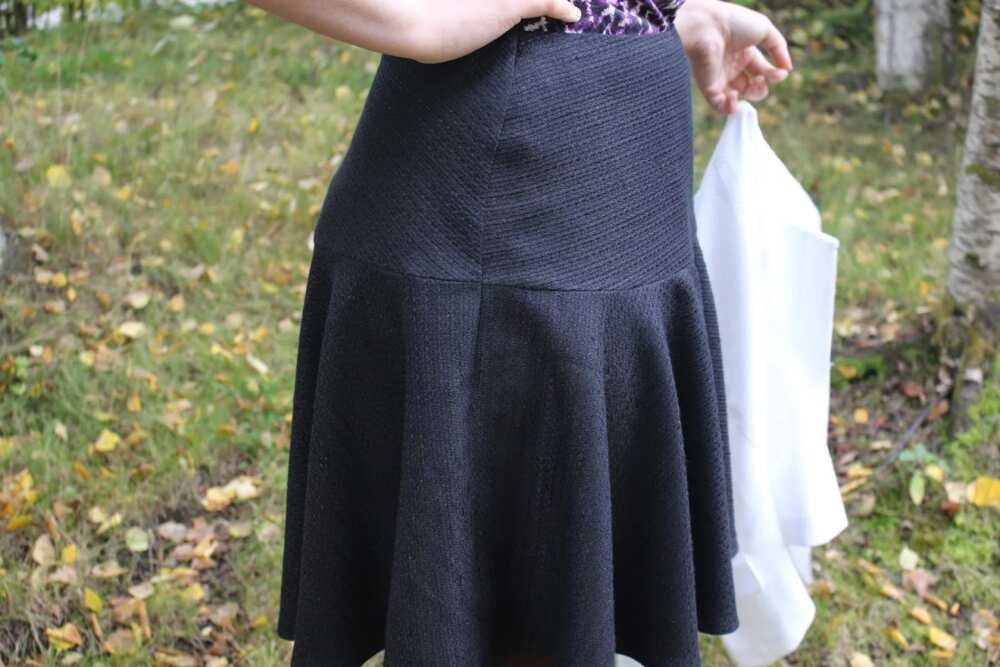 The main feature of this skirt is that it consists of two parts — the waist part, which is the yoke, and the rest of the skirt, which is usually very frilly. Many yoke skirts are maxi skirts that hit the floor, but some also come as midi skirts. They can be formal and informal, depending on the material and the pattern.
High waisted skirts
As a good way to end this list, we want to talk about high waist skirts. We know it might seem a bit like cheating, as any of the aforementioned skirts can be high waisted. However, we wanted to give them a spot on the list, as they are trendy, classy and cool. They come in all lengths and sizes, and anyone can rock them. High waist skirts are a must-have for all skirt lovers.
This concludes our list of cool skirt styles. Do you see something that you like? Do not hesitate to go to the nearest clothing store and try on all of these skirts. Have fun!
READ ALSO: How to dress classy in Nigeria?
Source: Legit.ng