God revealed to me that Buhari will achieve his mission in 2017 - Blind prophet speaks on president's health
The general overseer of the Hour of Mercy Prayer Ministry Worldwide, Prophet Muyideen Kasali, has revealed what God told him about President Muhammadu Buhari.
Prophet Kasali who is the founder of the church popularly known as Ori Oke Alaseyori in Ibadan, Oyo state, said God made some revelations to him concerning President Buhari.
According to Abiyamo, the blind preacher said God told him that the steady increase in sins and crimes being committed by Nigerians, has made it nearly impossible for Buhari to have a breakthrough in resolving Nigeria's issues.
The preacher said God told him that Buhari would have completed his presidential assignment in January 2017, but for the illness that has held him back.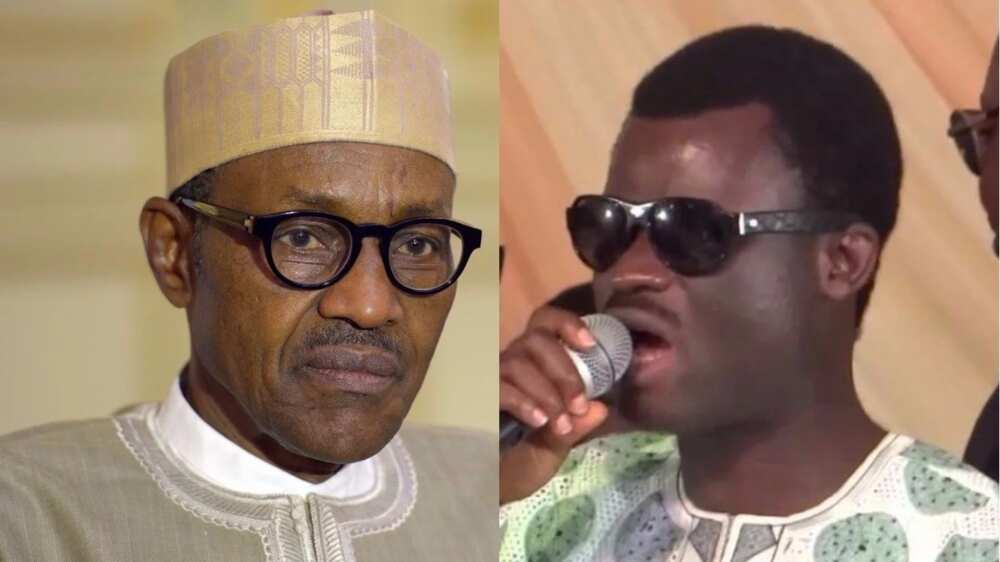 READ ALSO: Group of concerned Nigerians in protest at Abuja House in London over Buhari's continued absence
Speaking during a gathering in his honour at the Oke-Agelu mountain church, Iseyin, Oyo state, Prophet Kasali said there's a need for Nigerians to return to God. He also said:
"Though, the president meant well for the country, but sins were responsible various challenges confronting the nation. Even in sickness, Buhari can still solve our problems but the burdens of crimes and sins are making it difficult to achieve."
Referring to the revelations about the president, he said:
"God has revealed to me that the President may have completed his assignment as Nigeria's leader on January, 2017. Let us just return to God, If we do so and know who God really is, He would solve the challenges surrounding the president's health.
President Buhari meant well for Nigeria but the devil has got hold of the country through many sins we commit. It is only in Nigerians that you would hear somebody buried money like he is burying a dead body."
READ ALSO: President Buhari calls Osun state governor over his mother's demise
Prophet Kasali seized the opportunity to address other preachers at the gathering, urging them to endeavor to be Christ-like, and not behave like or visit herbalists. He said:
"All you need is God's anointing which comes with a price to pay, and that price is total submission to God's will and the leading of Jesus Christ and the Holy Spirit. You don't need any ritual with any prayer objects, No.
Before the almighty touched me and anointed me for His works, I had suffered greatly, I suffered rejection from friends, siblings and even my parents. It was only my mother who believed in me. My father had dismissed me as a child who would never make anything out of his life.
All this is because I am blind. I was later abandoned in the bush and from the bush I was fetching firewood and coming to the village market nearby to sell so as to feed myself. I got infected with serious ailments which many thought were incurable. But one day, the almighty touched me, healed me and gave me an anointing far greater than my knowledge, understanding and imagination. Here I am today; I have many houses and great cars. As a blind man, I have even given out cars worth millions to friends and some ministers of God."
Meanwhile, Benue state governor, Samuel Ortom, said they have asked President Buhari to take his time before returning to the country:
Source: Legit.ng