How a 25-year-old Nigerian female student, Ifeoma Onuike, clinched first class in Cyprus law faculty
- A Nigerian lady, Ifeoma Chinenye Onuike, has made Nigeria proud in Cyprus as she clinched first class from Law faculty of Girne American University in Cyprus
- Onuike, who hails from Anambra state, beamed with smiles as she received her certificate from the university authority
As Nigerians are known for being the best in whatever and wherever they find themselves, Ifeoma Chinenye Onuike has, again, beamed the spotlight on the giant of Africa, graduating from Girne American University, as the best graduating student with a first class cumulative grade point average of 3.99/4.00 after acing all her courses from her first through her fourth year.
The 25-year-old lady, who hails from Ukwulu in Dunukofia local government area of Anambra state, had her early education in Infant Jesus Nursery and Primary School Kubwa, Freedom Academy Nursery and Primary school Kubwa and L.E.A. Primary School Kubwa, all in Abuja, the Federal Capital Territory of Nigeria. Her secondary education was at Government Secondary School Kubwa Abuja, Government Secondary School Nakere, Nassarawa state.
After several attempts to gain admission to study Law in different Nigerian universities, she got admitted into the prestigious University of Nigeria Nsukka, Enugu state where she studied Business Management and graduated in 2012. Subsequently, when the opportunity came to go to North Cyprus to study English common law, it was like starting all over from the beginning.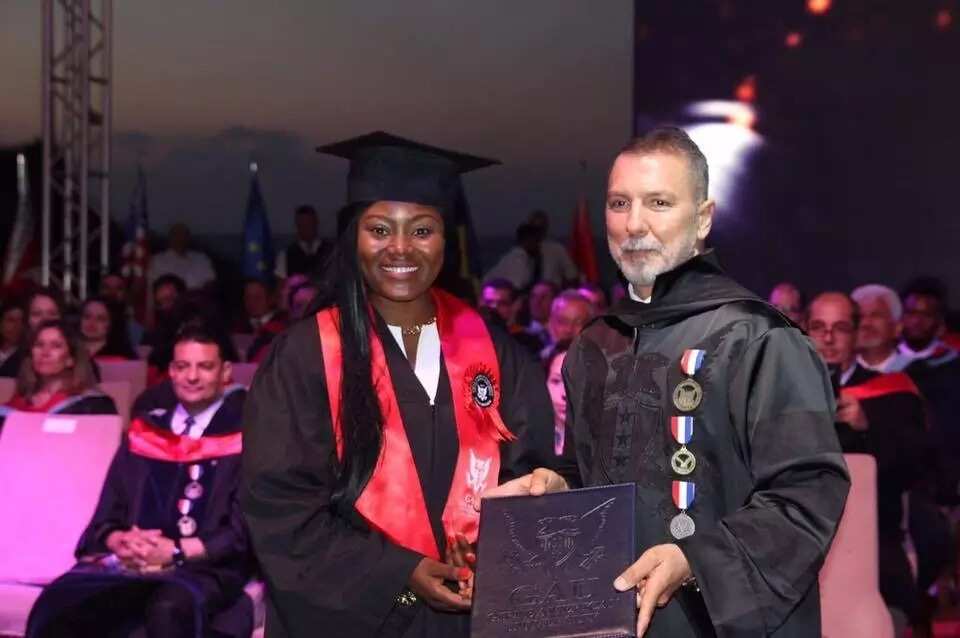 According to her: "I heard of Girne American University North Cyprus from a friend who said it was announced on the radio. I took interest in it because of 50% scholarship. I was thrilled when I got the admission to study Common Law but at the same time had some mixed feelings, going back to a level of education I have passed. It was like starting all over again law department."
READ ALSO: Nnamdi Kanu spotted praying at 'holy ground' in Anambra
She, however, decided to take advantage of the opportunity as studying law had always been her dream, so much that she continued to write the matriculation up till her third year in school.
"I wrote JAMB in 2012, got a good score, unfortunately, University of Abuja did not conduct post UTME so I did not get the admission. Second JAMB, I put Anambra State University wrote the post UME but they wanted to give me another course not Law. I decided to wait for my result from UNN to apply for direct entry. While waiting, that was when I heard about Girne American University and the offer of 50% scholarship."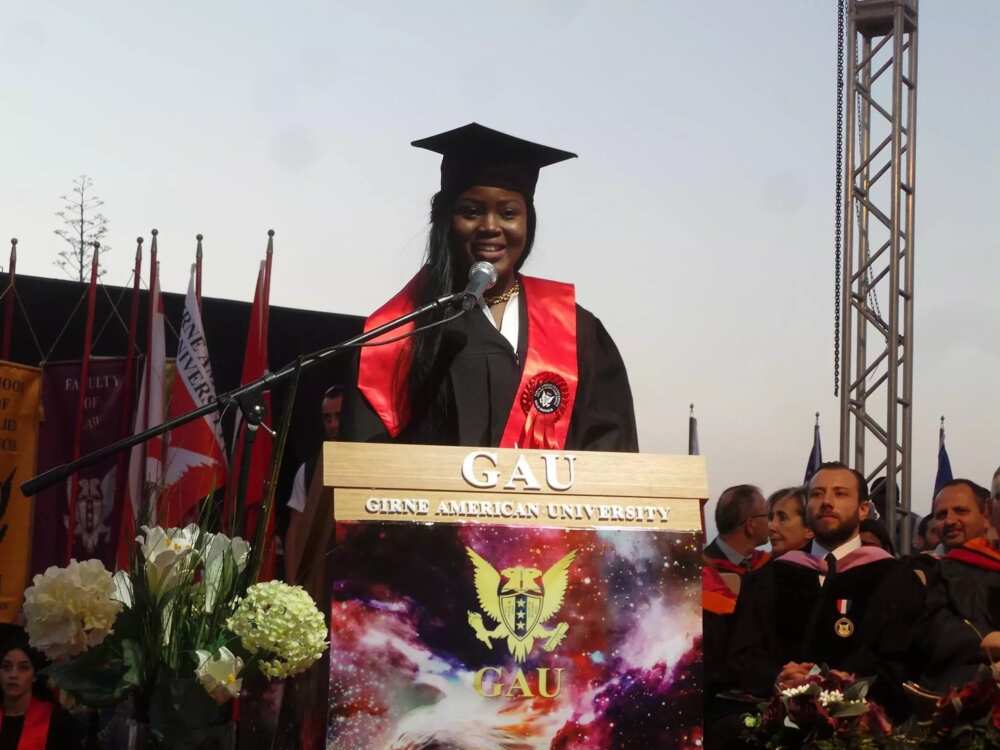 For her, going to Cyprus to study was initially a challenge but eventually brought her closer to God. "Coming to Cyprus brought me closer to God and I gained some understanding that God has deposited a lot in us, and expect us to use them and achieve the purpose He has created us. I tried to stretch myself, do things twice than normal." The philosophy behind such actions was that for one to stand out from the crowd, he must do the things that no one else wants to do, he must do the unexpected and go the extra mile.
As it is said that man is a social animal and cannot live in isolation, Ifeoma was a member to some groups and student associations and even held positions such as President of Law Student Society, Girne American University 2016/17, vice-president, National Association of Nigerian Students 2016, Ex-officio of National Association of Nigeria Students 2015 and Accountant General Law Student Society, Girne American University 2015.
PAY ATTENTION: install our latest app for Android, read best news on Nigeria's #1 news app
All of these side attractions did not in any way stop her from graduating as the best student in 2017, as she was highly motivated to be the best. According to her, the sacrifice made by her parents to enable her travel to Cyprus and study till the end was a constant pull on her to succeed and make them proud by making a first class, a feat which she did not achieve in her first degree.
Regarding her performance, Sevi Kayikci, her lecturer who also doubles as the faculty head, in a comment made available to Legit.ng, said she was not surprised when she emerged best graduating student as she had always had a confident personality and exhibited such brilliance and confidence even in classroom discussions. He added that her great character and hard work left him in no doubt that she would attain greatness in life.
This can be seen in the fact that even as a student, she had already started running a platform and online community called the EMBLER-Enhancement Module for Best Legacies and Essential Reformation, which is targeted at giving people, especially women, an opportunity to generate ideas, share and develop same and work towards its actualization. She also started and still maintains a column on a blog www.toktok9ja.com called 'Living in Diaspora with Onuike' where she shared stories and experiences about how easy and hard living abroad could be.
In her academic sojourn, Ifeoma is far from being done as she plans to commence her Masters Degree programme by September 2017, and complete her Doctorate degree within the next five years. While this is going on, some of her literary works are expected to be published as she wants to be effectively equipped to "effect change and not get entangled again with the Nigerian system" when she eventually gets back to Nigeria.
Meanwhile, Nigerians have continued to ask where is President Muhammadu Buhari. Watch reactions from Nigerians on Legit.ng after Buhari has stayed out of Nigeria for almost 60 days
Source: Legit.ng