BREAKING: Sultan declares end to Ramadan, says Sunday June 25 is Eid-el-Fitr day
- Seven countries have announced end of Ramadan
- The countries include Saudi Arabia, Qatar, Malaysia, Indonesia and the United Arab Emirates
- Nigeria has announced the sighting of the moon
Sunday June 25 equivalent of Shawwal 1 is Sallah, Sultan of Sokoto and President-General Nigerian Supreme Council for Islamic Affairs (NSCIA), Alhaji Muhammad Sa'ad Abubakar III, has said.
Declaring the new moon Saturday night at his Palace in Sokoto, Alhaji Abubakar said the new moon was sighted in parts of the country including Borno, Yobe and Adamawa. He therefore called on Muslims all over Nigeria to cease to fast as it is not permitted to fast on Sallah day.
Legit.ng had earlier reported that Saudi Arabia, Qatar, Malaysia, Indonesia and the United Arab Emirates have announced an end to this year's Ramadan Fast, according to Aljazeera.
Consequently, the countries have therefore fixed Sunday as the first day of Eid-el-Fitr 1438, the report said.
READ ALSO: OPINION: If Nigeria is a zoo then Nnamdi Kanu and his followers are the animals
Eid al-Fitr is usually commemorated marks the end of the Muslim holy fasting month of Ramadan.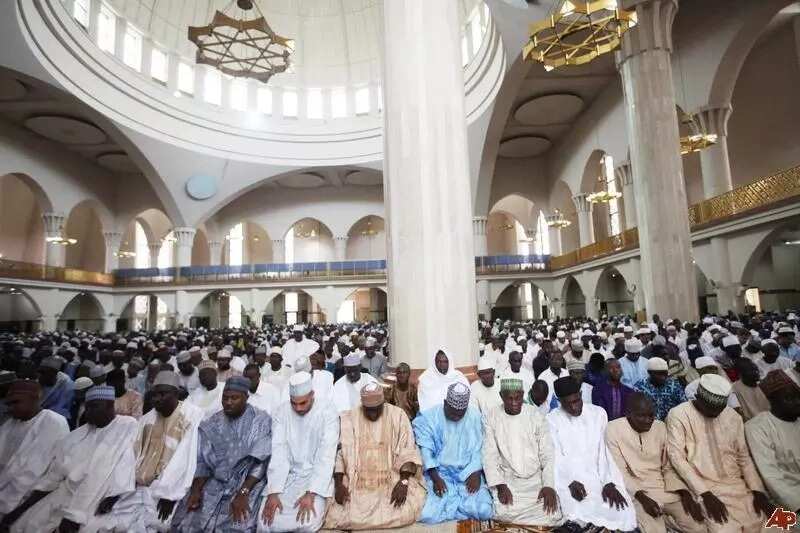 The report said that: "Turkey and Muslim communities in North America, Europe and Australia had previously announced they would celebrate Eid al-Fitr from Sunday June 25 based on astronomical calculations.
"Oman, however, has not sighted the moon, and thus declared Monday June 26 as the first day of Eid al-Fitr.
"Bangladesh, Pakistan, India will be sighting the moon on Sunday. These countries started Ramadan on May 28 and so Sunday will be the 29th of Ramadan for them."
All the countries who have confirmed Sunday as Eid-el-Fitr are Australia, Bahrain, Canada, Iraq (Sunnis), Indonesia, Jordan, Kuwait, Palestine, Qatar, Saudi Arabia, Sudan, Lebanon, Malaysia, UAE, UK, United States and Yemen.
Nigeria is yet to announce the sighting of the moon.
PAY ATTENTION: Read the news on Nigeria's #1 new app
Legit.ng had earlier reported that the Sultan of Sokoto, Alhaji Sa'ad Abubakar, has urged the Muslim Ummah in the country to look for the new Moon of Shawwal on Saturday, June 24.
Legit.ng gathered that the Sultan made the call in a statement signed by the Chairman, Advisory Committee on Religious Affairs, Sultanate Council, Sokoto, Prof. Sambo Wali on Thursday June 22.
Watch a Legit.ng TV video below of how Ramadan has affected price of items in the market:
Source: Legit.ng