Maid of honor dresses in Nigeria
The wedding day is always a special day. Every bride wants to have a perfect wedding. In order to make it truly unforgettable, everything has to be right. The church, the restaurant, the wedding dress, the suits, meals, decorations and other details. One of the most important parts of the wedding are the bridesmaids and the groomsmen. The task of every bride is to choose a wedding dress and dresses for her bridesmaids. Today we will tell you how to do it!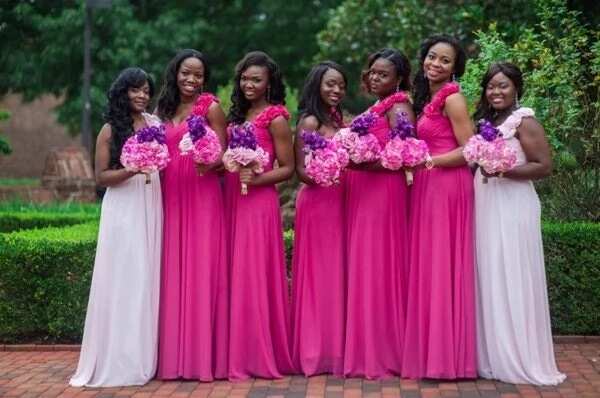 Bridesmaid dresses in Nigeria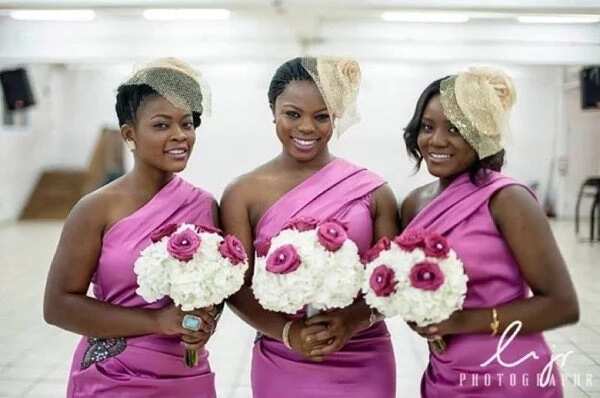 What bridesmaid dresses should you choose for you Nigerian wedding? There are so many options! Choosing the right dress for the bridesmaids can be a challenging task. You will have a lot in mind - color, texture, different patterns and shapes.
But the most important thing that you should remember - even though it is your wedding, you need to consider the opinions of the bridesmaid. They will wear the dresses, right? You need to choose the bridesmaid dresses and keep in mind their body shapes and personal preferences.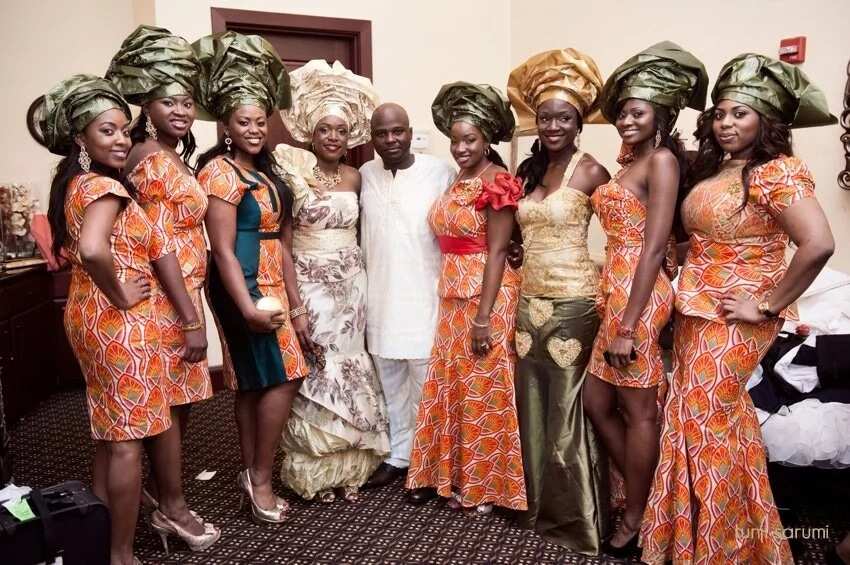 READ ALSO: Souvenir ideas for weddings in Nigeria
There are a lot of different beautiful Nigerian dresses for the bridesmaids. However, you also need to think about your maid of honor. Do you want her to have a dress that will be different from others or will she look the same? It all depends on your relationship with the maid of honor. If you want her to differ, then you can choose a unique dress for her.
For example, your bridesmaids can have yellow dresses with red geles or purses, and your maid of honor can be in a red dress with a yellow gele. This combination will look beautiful!
Here are some ideas for the dresses both for your bridesmaids and the maid of honor:
1. As you can see, bridesmaid and maid of honor are in the same dresses. But they still look gorgeous!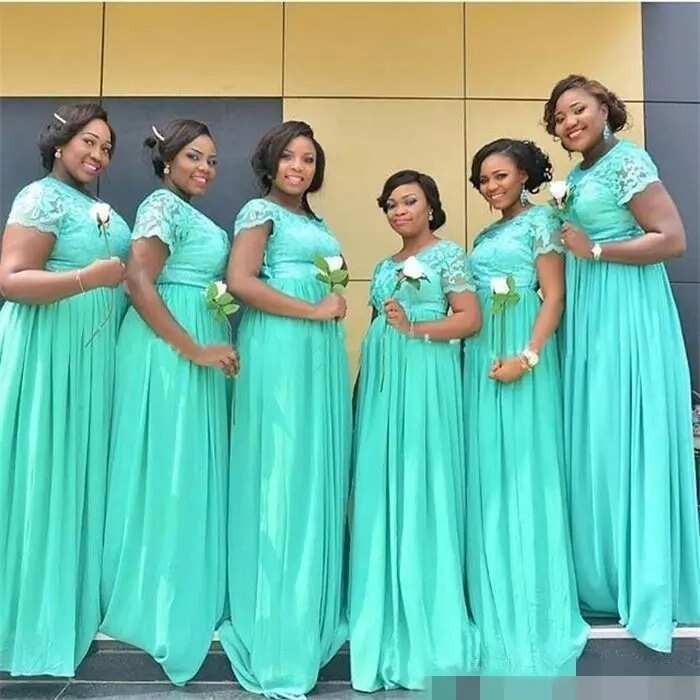 2. Here is a fine touch - the maid of honor is in red, while the bridesmaids have red belts. Looks nice!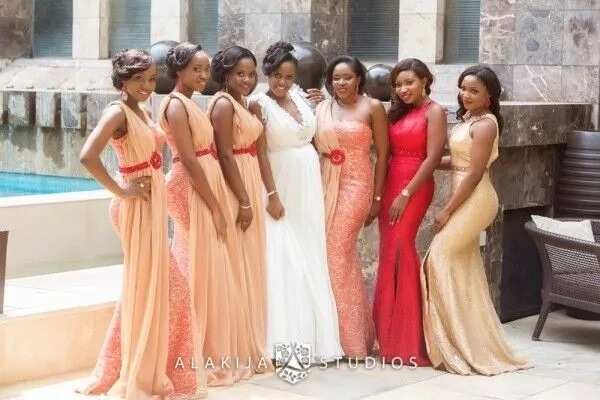 3. The bridesmaids are so beautiful! The pink color makes them look young and fresh.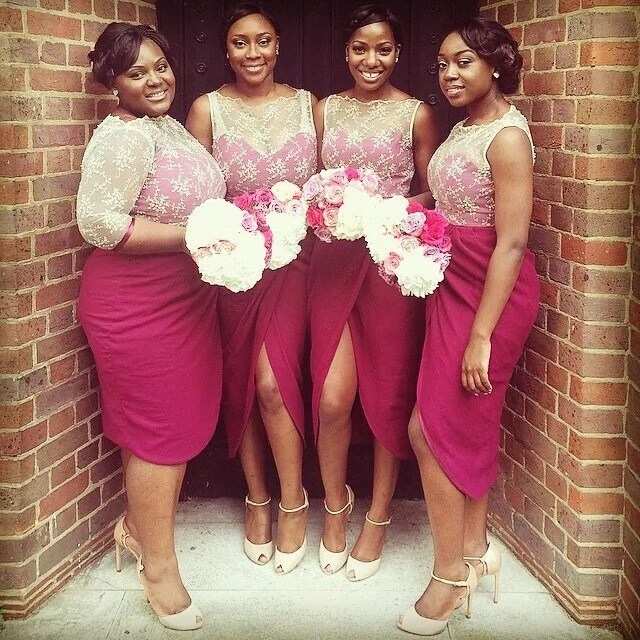 4. Add some interesting accessories! Yellow flowers and purple dresses look amazing together!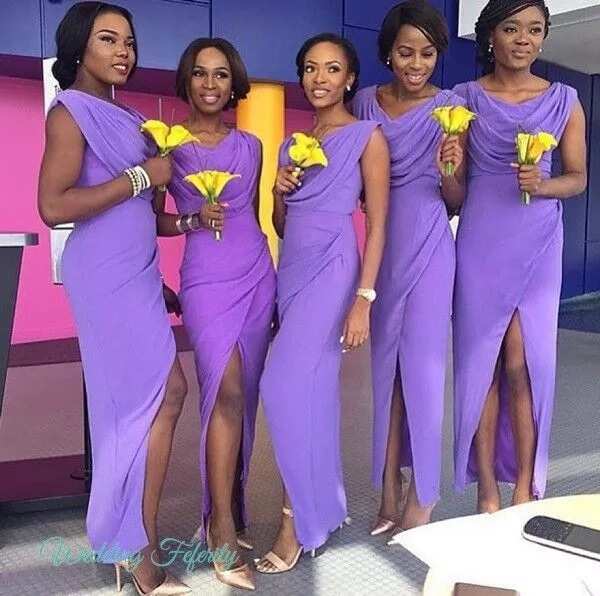 5. And again, the maid of honor has a different dress. She stands out from the bridesmaids and captures attention.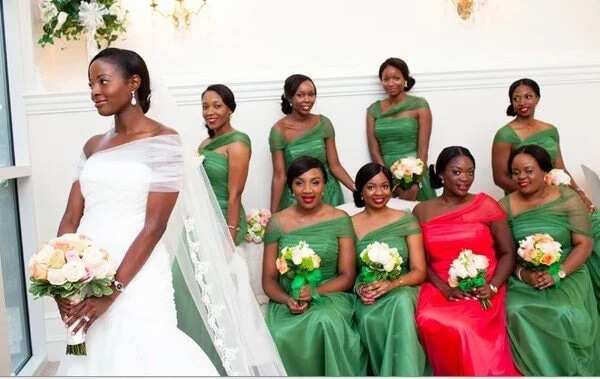 The wedding is an event that has to be planned. We gathered some useful tips for the bridesmaid and chief bridesmaid dresses. They will make your wedding even more gorgeous and exciting! They are listed below:
- Don't forget about the accessories.
They are essential both for you, your bridesmaids and your maid of honor. They will make your look complete and fashionable. Consider adding headpieces like flowers or feathers to make a unique look.
- Hairstyle is important.
Besides having the same dresses, bridesmaids tend to have the same hairstyle. Choose the one you and your bridesmaids like and work with it. Add some finishing touches to make them look glamorous!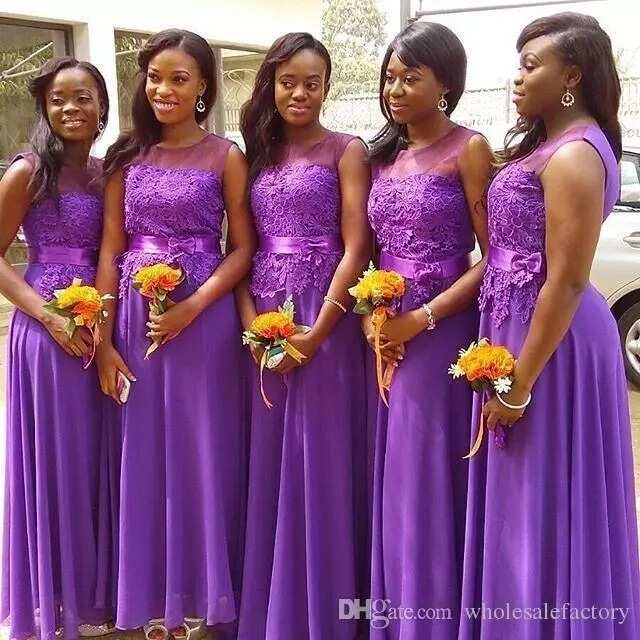 - Don't forget about the groomsmen!
Try and plan the bridesmaid dresses to be color-coordinated with the neck ties of your groomsmen. It will look nice and will compliment the dresses.
A wedding is not an easy thing to plan. Use the help of your maid of honor (she is there for you, right?) and make your day special. We hope that our tips and examples inspire you and you will create the look for your bridesmaids that both everyone will like. There are many maid of honor dresses in Nigeria, so we bet you will find the right ones!
READ ALSO: Lace blouse and wrapper styles 2017
Source: Legit.ng