Why Nigeria's economy may soon collapse - Peter Obi lashes out at FG
- Peter Obi, the former governor of Anambra state has warned Nigerians that the economy may collapse soon
- He also criticized the federal government policies and huge cost of governance
- Mr Obi spoke at an address at the Federal University, Ndufu Alike Ikwo (FUNAI) during the grand-finale and presentation of awards to winners of a creative writing competition
Peter Obi, a former governor of Anambra state, Peter Obi, has warned that the Nigerian economy will collapse soon if the federal government does not take immediate steps.
During an address at the Federal University, Ndufu Alike Ikwo (FUNAI) during the grand-finale and presentation of awards to winners of a creative writing competition, he criticized the federal government.
The event was organised by the university's chapter of the Creative Writers Association of Nigeria, with the theme "Hope for Africa: The Birth of A New Age.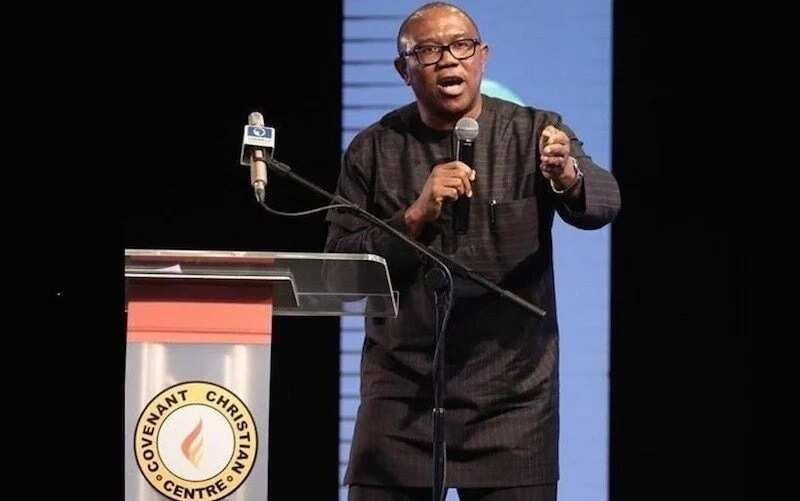 Mr Obi said they were not doing enough to alleviate the sufferings of the people.
According to Premium Times, he said: "Our leaders are doing things wrong, we should not follow them to celebrate what is wrong. What we have in Nigeria is that we are celebrating what is wrong.
"And I am of the opinion that we should stop celebrating what is wrong and start doing things right so that this country can grow.
"People are hungry and we should join hands together to question our leaders to tell us what is happening in this country and making sure that the right thing are done."
Speaking on the cost of governance, the former governor urged the government to cut cost and employ frugal methods.
READ ALSO: Group denies listing Ekweremadu, Peter Obi, others as sponsors of Biafra movement
"Our leaders should cut the cost of governance and show more concern to how to improve the standard of living of all Nigerians.
"All of us, from 1960 when we gained independence, if we had done the right thing from then, it is not the question of PDP or APC. We have lived wrongly, we have done the wrong things and that is why the country is not growing.
"If we don't do anything now the country will collapse. Nigeria is living on a borrowed money. So, you see things are difficult in Nigeria and we need to change our society so that things will get better," he concluded.
PAY ATTENTION: Watch more videos on Legit.ng TV
Legit.ng earlier reported that Peter Obi said that the Igbos must arise and invest in their future. He said the Igbos must stop wallowing in self-pity and start doing greater deeds for themselves.
Obi stressed that restructuring the nation is the only way the country can move forward. He said: "I believe in the restructure of Nigeria but for us as Ndigbo, emphasis should be on investing in our future more that political demands."
Watch this Legit.ng video on how Nigerians feel about Buhari's presidency so far:
Source: Legit.ng