UK court awards James Ibori £1 for unlawful detention
- The former governor of Delta state has been compensated for his unlawful detention by a court in United Kingdom
- Ibori was awarded £1 as compensation for his detention in UK
- The former governor who ought to be released on December 20, 2016, but was held by the immigration service for two days
The former governor of Delta state has been compensated for his unlawful detention by a court in United Kingdom.
BBC reports that Ibori was awarded £1 (N408) as compensation for his detention in UK.
Legit.ng gathered that the former governor who ought to be released on December 20, 2016, but was held by the immigration service for two days.
READ ALSO: Nigerian man wears Biafra cap to his graduation ceremony in US (photos)
The judge, Justice Cheema-Grubb, ruled that Ibori was unlawfully held for a day, 18 hours and 10 minutes after was supposed to be released.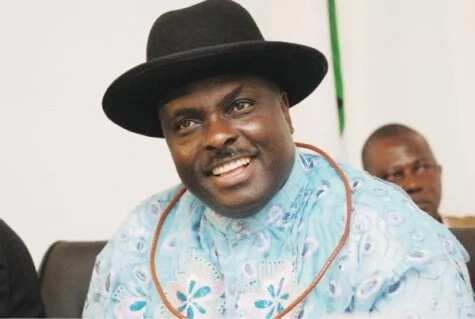 Although the former governor had demanded £4,000 as damages, the judge said: "There is no compensatory loss to Mr Ibori and I fix nominal damages at £1."
READ ALSO: Ridiculous! Zimbabwean pastor makes phone call to God during church service (Video)
The court said the decision by the immigration to detain him was probably in an attempt to recover at least £57m from the former governor.
Legit.ng earlier reported that Ibori was convicted by a court in UK for fraud and money laundering during his tenure as the governor of Delta state.
Ibori returned to Nigeria on Saturday, February 4, after serving a 13 year jail term for fraud in the UK.
Watch this Legit.ng video of Nigerians lamenting of the current economic situation in the country:
Source: Legit.ng