How 1,268 Nigerians voluntarily returned to Nigeria from Libya in 5 months — NEMA
- Over 1,000 Nigerians have voluntarily returned to Nigeria from Libya
- The National Emergency Management Agency (NEMA) said the Nigerians returned between December 16, 2016 and May 16, 2017
- NEMA said the returnees were brought back to Nigeria with the support of International Organisation for Migration (IOM) and the Nigerian Embassy in Libya
One thousand two hundred and sixty-eight Nigerians are said to have voluntarily returned to Nigeria from Libya.
The National Emergency Management Agency (NEMA) said the Nigerians returned between December 16, 2016 and May 16, 2017.
The director general of NEMA Mustapha Maihaja while receiving a fresh batch of 258 Nigerians who arrived in Lagos on Tuesday, May 16, said the returnee arrived at the Murtala Mohammed International Airport, Lagos aboard a charted Libya Airline Airbus A330-200 with registration number 5A-LAU at about 8:30 p.m.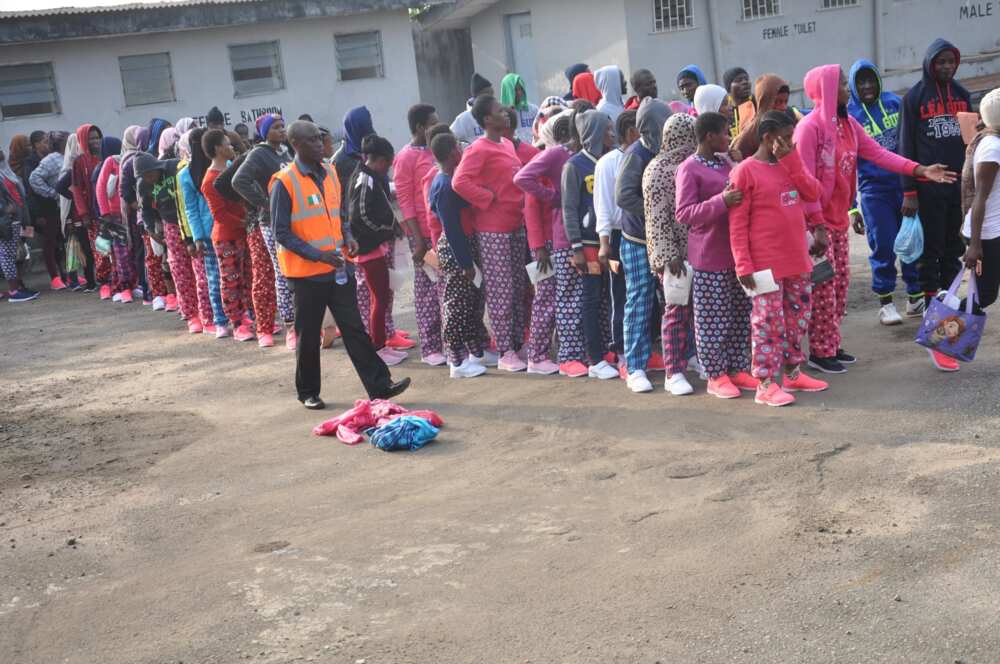 READ ALSO: Goodluck Jonathan's 6 years as president a waste - Bayelsa Governor Dickson declares
The returnees were received at Hajj Camp area at the airport by officials of the Nigerian Immigration Service, the the National Agency for the Protection of Trafficking in Persons (NAPTIP) and the Nigeria police.
Represented by the deputy director, search and rescue Onimode Bandele, NEMA DG said the returnees had among them 20 children and infants.
The were brought back to Nigeria with the support of the International Organisation for Migration (IOM) and the Nigerian Embassy in Libya with another set of returnees expected on May 25.
READ ALSO: See photos of Nigeria's most wanted kidnapper Evans
Legit.ng gathered that Bandele added that repatriation exercise will continue as long as Nigerians stranded in Libya are willing to return.
"Since December 2016, we have been able to bring back 1,268 Nigerians and the exercise will continue in collaboration with the IOM," Bandele said
"The Federal Government is collaborating with the various state governments to rehabilitate and reintegrate the returnees," he said.
Also, in her reaction, the public information officer of the IOM Julia Burpee said the organization has supported the Nigerian government in the return of over 7,000 Nigerians over the past 16 years.
Burpee said IOM would further assist the returnees to get back to their feet and continue to provide assistance to others willing to leave Libya.
Watch this Legit.ng video of Nigerians reacting to President Muhammadu Buhari's r eturn to London below:
Source: Legit.ng