Woman welcomes quintuplets 10 years after marriage (photo)
- Nigerian woman living in Cross River finally welcomes quintuplets after 10 years of marriage
- The proud mother revealed that her mom's elder sister gave birth to twins
- Also, a young couple in Abuja welcomed a set of quintuplets on Wednesday, April 12.
The case of another beautiful lady has been made public, as she welcomed five beautiful daughters after 10 years of been childless.
Leadership newspaper revealed that after 10 years of marriage without the fruit of the womb, Mrs Ekpo Edet, a civil servant in Cross River state civil service was gifted with quintuplets and given all that she is passing through, she says she wants no more.
Legit.ng gathered that although, Mrs Edet did not bargain for it but a woman who couldn't conceive 10 years after marriage was shell-shocked as gets fruits of the womb five times in one fell- quintuplets in her first and only pregnancy in a decade.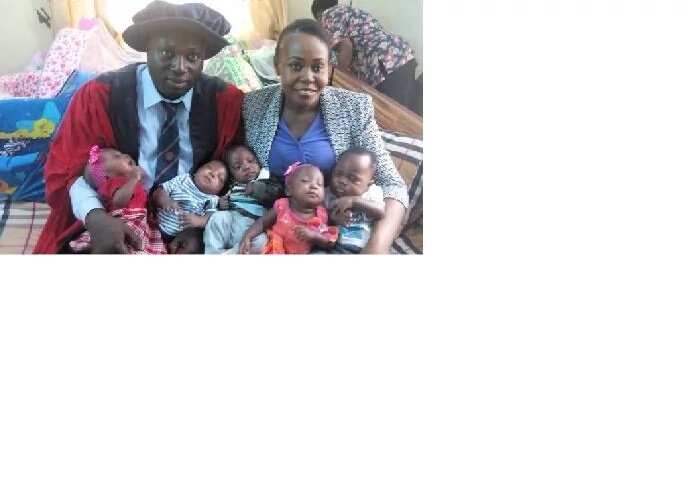 READ ALSO: Hilarious names of churches you will find in Nigeria (photos)
So, was the case of Mrs Ekpo Edet, a civil servant in Cross River state civil service, who recently gave birth to five bouncing babies consisting of three males and two females at the University of Calabar Teaching Hospital (UCTH), Calabar.
According to the man who shared this story, Olanrewaju Rotimi, who further explained that:
"Despite the daunting challenge of nursing five babies in a harsh economy, the middle-aged mother and administrative officer had since accepted her fate, describing the babies as marvelous and previous gifts from God. Mrs Ekpo disclosed that she didn't pray to have quintuplets, but has a family tree that has a record of a delivery of a twin babies. She said at that conception she was only interested in having just a baby, and not babies, especially having been unable to have one after 10 years of marriage."
However, the proud mother also recounts her experience revealing that she, alongside her husband, Dr Edet Effiong Ekpo, had been full of praises to God Almighty for blessing them with a set of quintuplets, after waiting upon God over the past 10 years, amidst persecution from different quarters that demand a child from her.
She reaffirmed that the babies, who are now four months old, were a reward for her waiting upon the God over the years, adding that it pays to be steadfast when trusting God for a child.
Mrs Edet said: "It was marvelous having those babies. Even though I didn't pray for it, and it just came, I give God the praise. But I wouldn't want to have another experience. I won't. The stress is much with this present economic situation. I won't. Remember that we are all civil servants. I don't have help from anywhere, except God. Finance has been the major challenge at the moment, but I believe that with God all things are possible. God will always take care of them."
READ ALSO: Twin sisters, 32, give birth to bouncing baby boys on the same day
The woman further added saying: "Actually, my mom's elder sister had twins. Since after delivery, I have not had any course to take them to the hospital, though I treat them of malaria, every two month. In the course of all these things, I never had high BP, except on the day of delivery, my BP rose a little out of anxiety. I was scared as a human being. But, in the whole, we all have not had any health issue, so far. We are hale and hearty."
Watch video of how Nigerian women laments how Nigeria is upside down:
Congratulations!
Source: Legit.ng