What Gowon said about Ojukwu after the Biafra war
In this history post, Legit.ng looks at the end of the civil war fought between Nigerian forces and the Biafra secessionist and how General Yakubu Gowon perceived the aftermath.
The Biafra war fought from July 6, 1967, to January 15, 1970, was as a result of what ill-treatment and pogrom of the Igbo people in the country. The then military governor of the eastern region, Odumegwu Ojukwu complained about the killing of the Igbos especially in the northern part of the country.
The Aburi accord held in January 1967 in Ghana was supposed to prevent the war as Ojukwu and the then head of state, General Yakubu Gowon, met in other to discuss how to stop the rising tension between Igbos and other part of the country but this failed to have the desired impact as the agreement reached there was not followed.
READ ALSO: Rare photos capture moment a female Boko Haram bomber blew herself up
In his declaration on May 30 Ojukwu said: "Having mandated me to proclaim on your behalf, and in your name, that Eastern Nigeria be a sovereign independent Republic, now, therefore I, Lieutenant Colonel Chukwuemeka Odumegwu-Ojukwu, Military Governor of Eastern Nigeria, by virtue of the authority, and pursuant to the principles recited above, do hereby solemnly proclaim that the territory and region known as and called Eastern Nigeria together with her continental shelf and territorial waters, shall, henceforth, be an independent sovereign state of the name and title of The Republic of Biafra."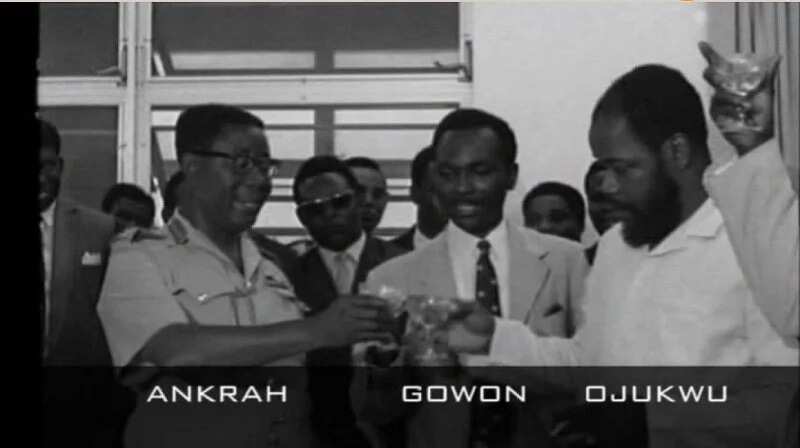 At first, the mid-western region fell to Biafra troops but this was taken over by Nigerian forces led by Colonel Murtala Mohammed. From then, the war became bloodier.
The Nigerian army launched an offensive and after several attempts, the Biafra capital of Enugu was captured in October and was moved to Umuaiha. In December 1969 after two years, it fell to Nigerian troops and was again moved to Owerri.
Between January 7 to 12 in 1970, Operation tailwind led by General Olusegun Obasanjo broke the Biafra stronghold of Owerri and Uli. On January 9, Ojukwu boarded his private jet and fled to Ivory Coast. The mantle of leadership thus fell to Phillip Effiong.
On January 15, Effiong officially surrendered to Gowon at Dodan Barracks in Lagos where he also officially declared the Republic of Biafra cease to exist.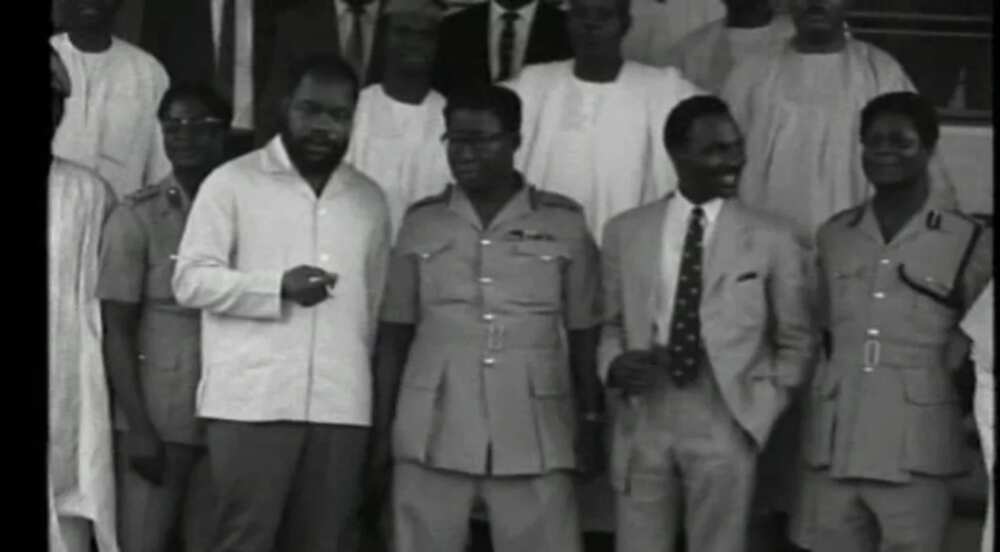 "I, Major-General Phillip Efiong, Officer Administering the Government of the Republic of Biafra, now wish to make the following declaration:
"That we affirm that we are loyal Nigerian citizens and accept the authority of the Federal Military Government of Nigeria.
"That we accept the existing administrative and political structure of the Federation of Nigeria. That any future constitutional arrangement will be worked out by representatives of the people of Nigeria.
"That the Republic of Biafra hereby ceases to exist."
But what did Gowon think about Ojukwu especially his decision to flee the country and hand over to Effiong?
In an interview with a foreign media, Gowon, described Ojukwu as a coward who fled after he had subjected his people to sufferings. He said if Ojukwu had a conscience, he would realise that his action by forcing his people to a war and then fleeing to safety when things were getting tough was a cowardly self-centred act.
READ ALSO: BREAKING: Boko Haram release new video taunt special forces
He said: "The foreign press seems to know better than I do. They seem to give him all sort of excellent qualities. So much than the rest of us. Ojukwu the gallant chap who said: I will fight to the last man and I will be the last to fall. What a pity.
"How are the mighty fallen and in such a cowardly way. If he had done a Hitler, probably, he could hat put up a mount of courage.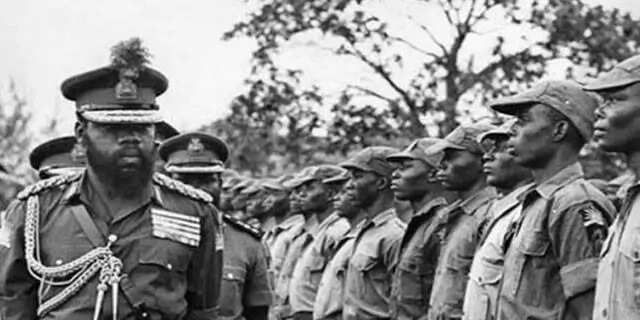 "Ojukwu ran away and left these poor people that he led into such suffering, such abject position and just left them and probably because of the money he has amassed outside, he think he will go and live in joy and plenty. I hope he will enjoy he rest of life, I hope his conscience hill allow him to rest. God know.
"If at all those who are supporting Ojukwu allow him to get away to what he had done to his people, to Nigeria to Africa, then I think they need to examine that conscience and honestly I have got no faith in such people."
Asked about whether he would allow those supplying aid to Biafra since the war has ended, Gowon said:
"Are they not the very people that really spit on our face and told us that we go to well, we can do our worst, we can shoot down the aircraft and that will be the world opinion against us, they mounted a lot of evil propaganda against us. They are the one that allowed Ojukwu to continue his recalcitrance. They gave him the moral and financial support to be able to continue killing those people. They are the ones that should examine their conscience.
"Do you really think that Nigerians will accept such people who have been party to the lives we have lost in the country? Let them keep their blood money; let them keep their relief supply we don't want it. We will do it ourselves. This is a challenge to us and will do it. Those people should know that we do not want their assistance. We do not want it.
"When we told them to do things properly so we can end the suffering of these people much earlier on; what did they do? They defied us. I do not wish to have anything to do to them."
Source: Legit