- Former President-General of Ohaneze Ndigbo, Dr Dozie Ikedife has spoken on the ill-heath of President Muhammadu Buhari
- Ikedife urged Nigerians to pray for the president so that he would get well soon and return to the country
- He lamented over a situation where some Nigerians are wishing the president death
Former President-General of Ohaneze Ndigbo, Dr Dozie Ikedife has spoken on the ill-heath of President Muhammadu Buhari.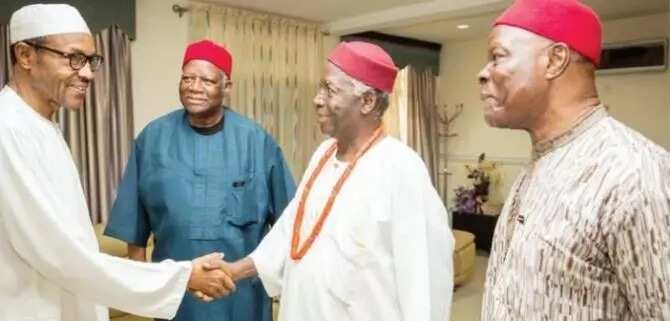 Ikedife urged Nigerians to pray for the president so that he would get well soon and return to the country, even as he frowned at those wishing the president death.
He however expressed his displeasure over how the presidency is handling the president's health situation.
PAY ATTENTION: Get the latest News on Legit.ng News App
"I'm not happy how the presidency is handling the comments coming out. That leaves a lot of speculations," Ikedife told The Authority in in his Nnewi residence in Anambra state.
"Generally, it is clear to me, from what is going on, that most Nigerians do not believe what is being dished out," he added.
Ikedife however said there would be no need for the president to resign and hand over to Vice President Yemi Osibajo, if he (President Buhari) returned to Nigeria hale and hearty.
His words: "I have never heard it discussed or written in any constitution that the president of a country can never fall sick.
"So, I do not agree with those who are saying that he should resign when he comes back. I do not know why people are wishing Buhari death.
"President Buhari is not dead, to the best of my knowledge; and based on the information available to Nigerians."
Similarly, Afenifere chieftain and elder statesman, Ayo Adebanjo recently said the presidency is not sincere about the true state of President Buhari's health, adding that those around the president were taking Nigerians for fools.
President Buhari has been in London since January 19. The presidency had first announced that he was there for a 10-day leave. But he has since extended the leave on medical grounds.
READ ALSO: Unfulfilled promises holding President Buhari back in the UK - Adewale Giwa
Meanwhile, the House of Representatives has dismissed some rumours that it is contemplating using the 'doctrine of necessity' to remove President Buhari from office.
The position of the green chamber was made known by its spokesman, Honourable Abdulrazaq Namdas on Wednesday, February 22.