A Biafran reveals list of countries with diplomatic relations with IPOB
The prolonged confinement of Nnamdi Kanu, the leader of the IPOB group, has not in any way affected the functionality of the group and what they believe in.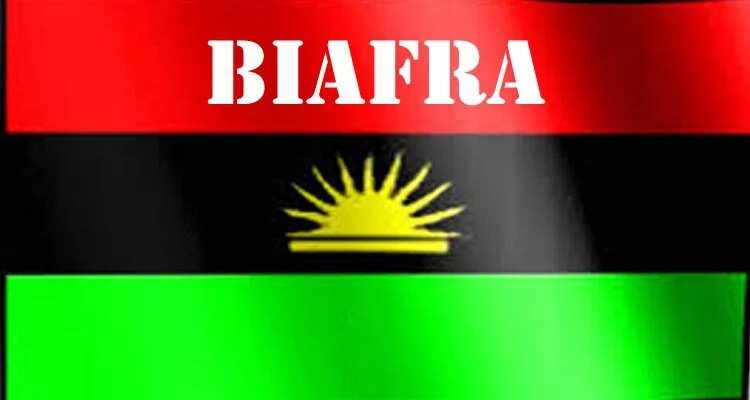 The Indigenous People of Biafra are ready to give their all in this fight for an independent nation. With the activities of the group and their leaders, it is evident that the Igbo people would not stop until they have made way with the secession launched during the first Nigerian civil war.
Barrister Benjamin Onwuka, the leader of the Biafra Zionist Federation who just got released from the prison, has promised to restore the Republic of Biafra by March 15, 2017.
READ ALSO: 4 things that will happen to Coco Ice after leaving Big Brother
Onwuka emphasized that the rebirth of the Biafran agitation and independence originated from the diplomatic relations this group has.
Check out the countries supporting Biafra below:
1. America
2. Great Britain
3. France
4. Israel
5. Russia
The relationship this group has with powerful countries of the world has helped a great deal according to Onwuka.
"The state of Biafra will be announced on March 15, 2017 by the Zionist Federation. I, Ikedi Benjamin Onwuka will be leading Biafra. I will be the President of Biafra.
"The work we have done underground permits that America will endorse the Independent state of Biafra in March 15, 2017; we expect that this will come with the endorsement of President Donald Trump", he said.
The Biafra Zionist Federation leader also revealed that the immediate past president of the United States of America, Barack Obama, endorsed the policy for an independent state of Biafra. This approval was gotten on October 15, 2014.
PAY ATTENTION: Get the latest News on Legit.ng News App
Onwuka said it is necessary for newly elected president of the United States of America to also implement the action since he is not expected to ignore the foreign policies of his predecessor.
Note that the released declassified secret CIA document predicted the Biafra war ahead of the time it happened. The document also revealed the impact played by Ojukwu, the Biafran war lord. Another secret CIA document approved for release showed that some countries supported Biafra in the past; on this note, the Nigerian government suspected the United States and some African countries.
Source: Legit.ng