Recently, the State Security Service (SSS), also known as the Department of State Services (DSS) has been carrying out arrests of Boko Haram members in places like Lagos and other parts of the south west.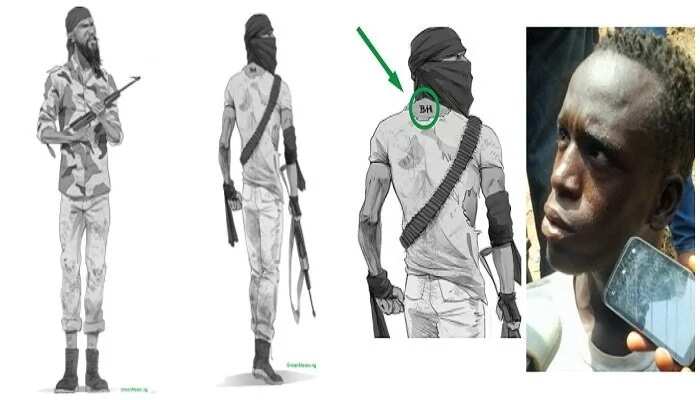 One thing is clear, the members of the insurgent sect have fled their stronghold and are now searching for places to hide and likely perpetrate evil.
Nigerians need to be more security-conscious than ever. Here are some helpful tips to spot a Boko Haram member in your area:
1. Shopping
It is possible that the fleeing terrorists will take their bombing ways with them, wherever they go. When the Nigerian army released a statement about spotting a Boko Haram member, they said:
"When you see somebody buying bells of nails and you know for sure he does not have the capacity to buy that quantity of nails and you know him very well to the point that he is not embarking on a building project, then something is wrong."
Apparently nails were used in making their crude explosives. So please watch out and alert the police.
2. Dressing
Another way to spot members of the sect is from the way they dress. Usually the favor long gowns, but they also use turbans a lot. While this might sound like anyone, since most of these people are fleeing, their clothing is usuallyworn and dirty.
3. Physical appearance
They do not shave their beards, so if you notice a new person in your area with a long and dirty beard, you should be on the alert. Although it is hard to narrow them down to a certain complexion, if you see a group of skinny men, you do not recognize in your area, you shuld be careful.
4. How they pray
If you are a Muslim, you know that most Muslims perform ablutions before praying, however Boko Haram members pray without performing ablutions. So even in the mosque be on the watch for new faces who do not perform ablutions and inform the police.
5. Tattoos
Although this might be a difficult identifying mark, research shows that Boko Haram members tattoo BH on their body usually at the neck or ankles.
6. Suspicious movements
Also, it is important to watch out for suspicious characters and happenings around your area and report such as quickly as possible.
Below is a video of an arrested Boko Haram member: