Reincarnation: Between Mesut Ozil And Enzo Ferrari
Have you heard of reincarnation before? Do you believe in it?
Do you know who Enzo Anselmo Ferrari is? Have you ever seen the picture of Enzo Anselmo Ferrari?
Well let's take you down history; Ferrari, the founder of the Italian sports car bearing his name, Ferrari, was born in Modena on 18 February, 1898 and he died on 14, August 1988.
He was an Italian motor racing driver and entrepreneur. He is also the founder of the Scuderia Ferrari Grand Prix motor racing team and the Ferrari automobile marque.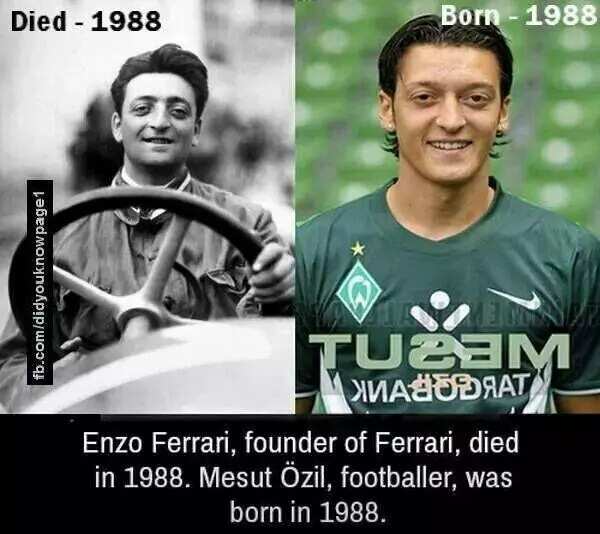 German national team player and Arsenal Club player, Mesut Ozil is enjoying a successful football career no doubt about it and he is well celebrated too. But there is more to this lover of the round leather game that many do not know.
READ ALSO: Policeman Gets Jail Time After Driving Ferrari To Work 
Exactly three months after Ferrari died, Mesut Ozil, the footballer was born in another country. He was born on 15, October 1988.
Ferrari is an Italian while Mesut Ozil is a German.
The question now is Mesut Ozil a reincarnation of Enzo Anselmo Ferrari? Many believe it is true because both have a touch of finesse to their chosen career. Do you believe this to be true?
Ferrari is a luxurious automobile, an exclusive of the rich while Ozil is an attacking midfielder and winger.
Source: Legit.ng