The Science Behind BetKing's Jackpot: How You Can Beat the Odds
Psst! Wanna know a secret? Betting jackpots are some of the most popular games for gamblers looking for a big win, and now, you can be one of them with BetKing!
These games offer life-changing amounts of money to skilled & lucky players who can correctly predict the outcome of multiple fixtures. And since one of the biggest and most exciting jackpots around is BetKing's Jackpot, we've decided to demystify the game to improve your chances of winning big.
Read on to improve your chances of becoming an instant millionaire this weekend!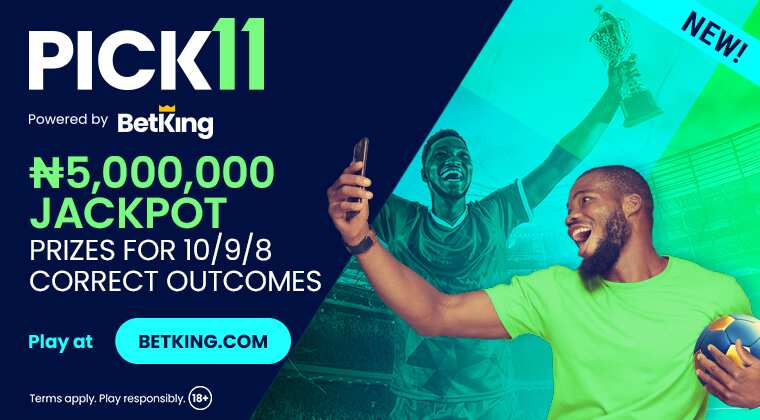 How to play BetKing's Jackpot
Thanks to the optimized UI/UX of Betking's mobile site, this is a breeze. On the Mobile homepage, click on the drop-down menu in the top right corner of your screen and select 'BetKing's Jackpot'.
On the Jackpot page, make your eleven selections and place your bet by wagering just ₦200, that's it.
Rules to follow
Here are seven tips to help boost your chances of winning:
Do your research: Before placing your bets, take the time to research the teams and fixtures. Examine their form, game history, injuries, suspensions, and any other relevant factors that could impact their performance. This information will help you make more informed Jackpot choices and improve your chances of winning the grand prize.
Understand the odds: Every team has odds assigned to them, which reflect their likelihood of winning. Simply put, a team with higher odds has less chance of winning and the team with lower odds is the favourite. Most of the time, the favourite wins. However, in Football, anything can happen, which leads us to the next point.
Take calculated risks: Betting on underdogs can be risky, but it can also be highly rewarding. If you decide to take a chance on an underdog, make sure you've done your research and that it backs up their chances of winning.
Avoid bias: It's easy to let your personal preferences influence your betting decisions, but this can be a costly mistake. If, for example, you support Manchester United, betting on them to win high-profile games can be an error, especially this season. Keep an open mind and focus on the facts rather than your emotions.
Bet responsibly: It's important to set out a budget for your betting beforehand AND STICK TO IT. It's easy to get carried away when betting so it's important not to let the excitement of the game cloud your judgment and cause you to surpass preset limits.
Never stop learning: The world of sports betting is constantly evolving, so it's important to stay up-to-date with the latest trends and strategies. Keep learning and experimenting to improve your skills and increase your chances of winning big.
Using BetKing also comes with a range of benefits that make it an attractive option for both experienced and novice bettors. Some of these benefits include quick payouts, a secure platform, entertaining fixtures, and the chance to get your money back even if you get three Jackpot picks wrong.
There are also other amazing products available for you to enjoy on the BetKing platform. From sportsbook (which you're already familiar with), to virtual games & virtual leagues and the upcoming online Casino, you're spoilt for choice with BetKing.
In conclusion, if you're looking for a chance to win big, BetKing's jackpot is an excellent option. By following these tips and taking advantage of the benefits that come with using BetKing, you can increase your odds of success and potentially win life-changing amounts of money. So why not sign up today and give it a try? The next big winner could be you!
[Sponsored]
Source: Legit.ng