Lionel Messi Earns £108.2m yearly More Than Double of Cristiano Ronaldo's £46.7m Salary Per Year
- Lionel Messi Barcelona pay is more than double of Cristiano Ronaldo's salary
- A breakdown of the Barcelona talisman salary shows he earns an incredible weekly wage of £2.1m, £7m monthly, and £108.2m yearly
- While Ronaldo earns £900,000 weekly, £3.8m monthly, and £46.7m yearly at Juventus
PAY ATTENTION: Join Legit.ng Telegram channel! Never miss important updates!
Lionel Messi earns more than double of Cristiano Ronaldo's salary according to a recently released figures by L'Equipe and quoted by Sportbible.
The Barcelona tops the list of highest paid players in Europe with a monthly pay of £7million which is double of what Ronaldo who is in second place earns.
Messi's salary breaks down to an incredible weekly wage of £2.1 million.
Despite Barcelona being in a £1.1billion debt, the club still gives Messi a pre-tax salary of £108.2m.
According to the report, Cristiano Ronaldo is second on the list and earns £900,000 weekly at Juventus,
A break down of his salary shows the Portuguese earns £3.8m at Juventus and £46.7m per year, but that is less than half of Lionel Messi's salary.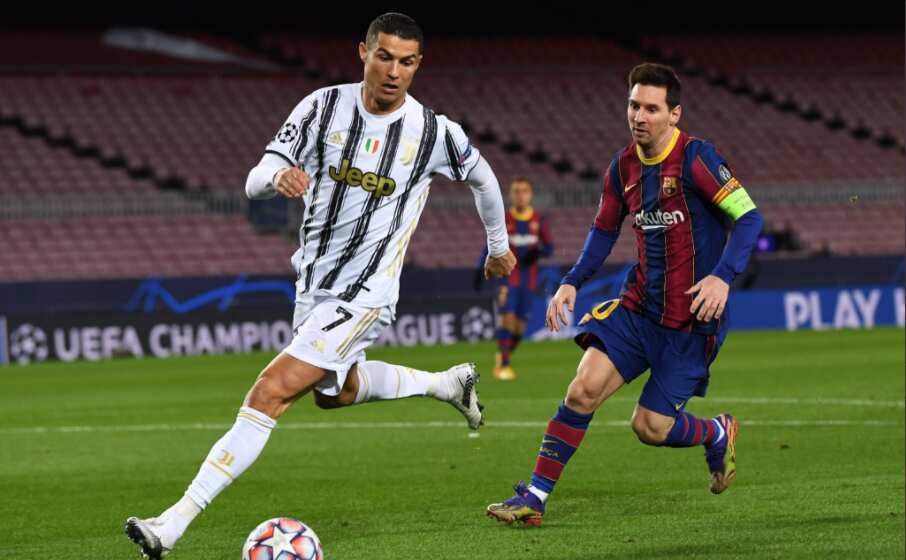 Coming in third place is the most expensive player in history Neymar. The 29-year-old Brazilian earns £606,000 per week (£31.5m per year) from PSG.
Joint fourth on the list are two La Liga stars - Luis Suarez and Antoinne Griezmann.
Both players are being paid a reported £575,000 per week and earn just under £30m per year.
PSG star Kylian Mbappe comes in 5th as he earns £25.7 million per year.
However, the 22-year-old will get a salary increase to €30m per season if he signs a new PSG contract.
Top 5 highest paid footballers in Europe
1. Lionel Messi - £108.2m yearly
2. Cristiano Ronaldo - £46.7m yearly
3. Neymar - £31.5m yearly
4. Luis Suarez and Antoinne Griezmann - £30m yearly
5. Kylian Mbappe - £25.7m yearly
Earlier, Legit.ng reported that Cristiano Ronaldo has been named Serie A player of the year for the second successive time which is an incredible record for the Juventus superstar.
Since joining the Old Lady from Real Madrid, Cristiano Ronaldo has been in good form for the Italian champions even though they are yet to win the Champions League.
During his first season with Juventus, Cristiano Ronaldo also won the award.
Last term, Cristiano Ronaldo was in amazing form for Juventus netting 31 goals in 33 games which helped the Old Lady to retain their League crown.
Source: Legit.ng