2023 Nigeria Governorship Elections Begin: Live Updates
The 2023 Governorship and State Houses of Assembly Elections hold today, Saturday, March 18, across Nigeria.
The governorship elections will be held in 28 states while elections will be conducted by the Independent National Electoral Commission (INEC) for all the 993 State constituencies nationwide.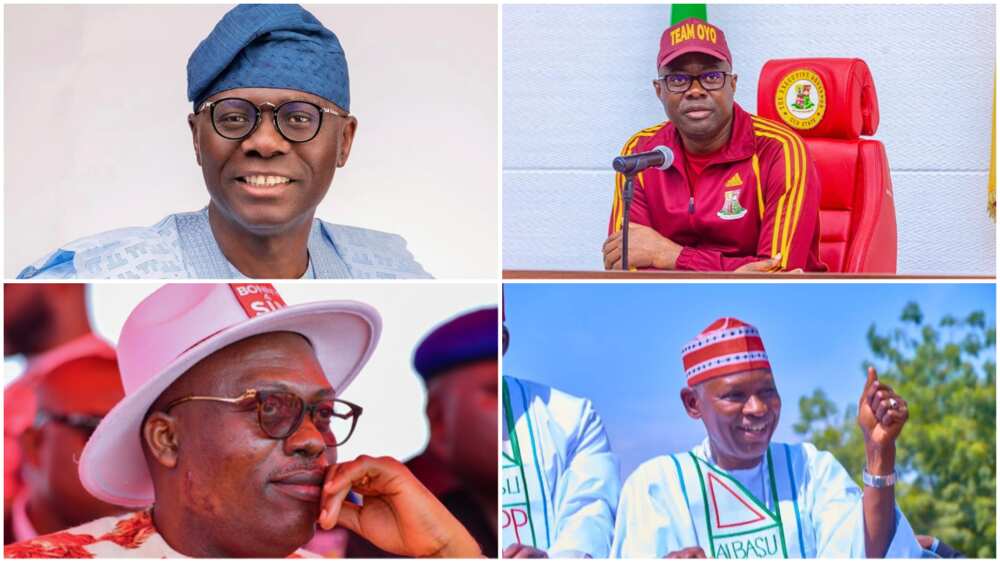 As Nigerians troop out to vote for the preferred candidates in the elections, Legit.ng is on ground to provide accurate live updates of the electoral process. Stay tuned.
PDP's Atiku casts vote in Adamawa
The Peoples Democratic Party's candidate in the last presidential election, Alhaji Atiku Abubakar, has cast his vote in Yola, Adamawa state capital.
Atiku wrote on Twitter on Saturday, March 18:
"I just voted in the House of Assembly and Governorship elections here in Yola, Adamawa State.
"Proud to participate in this crucial democratic process toward a sustainable future for our dear state. Let's come together and make our votes count."
Lagos PDP's Jandor casts his votes
The Lagos state Peoples Democratic Party governorship candidate, Abdul-Azeez Adediran (Jandor) has cast his vote.
Buhari to electorate: Vote your preferred candidate
President Muhammadu Buhari has cast his vote at polling unit 003, Sarkin Yara A in Daura, Katsina State, with a call to the electorate to vote for their preferred candidates even if politicians tried to offer them money.
The president, who briefly spoke to newsmen both in English and Hausa languages after casting his vote on Saturday, said his administration had been preaching against vote-buying and monetisation of politics, calling on politicians to desist from such acts.
"If they (politicians) still give you money, collect, but vote for your preferred candidates," Buhari maintained.
He again thanked the electorate for trusting the All Progressive Congress (APC) in the Feb. 25 Presidential and National Assembly elections where the party's candidate, Sen. Bola Tinubu, emerged winner.
The president, who cast his vote at about 9.55 a.m, refused to 'openly' display his ballot paper as he did during the presidential election
Sanwo-Olu speaks after casting his vote
The governor of Lagos, Governor Babajide Sanwo-Olu, has called Lagosians to come out and exercise their franchise.
Sanwo-Olu said:
"I have just exercised my right to vote as a resident of Lagos State. It's an important responsibility we all share in building the future of our beloved state and country. I urge all eligible voters to come out and make their voices heard."
VP Osinbajo casts vote, reveals his take on condut of poll
Vice president Yemi Osinbajo has cast vote.
Speaking on the conduct of the election in his ward at Ikenne, Ogun state, Osinbajo says the process is peaceful.
Osinbajo stated this after voting at his polling unit 14, Egunrege Ward 1, in the Ikenne local government area of Ogun.
The vice president and his wife, Dolapo arrived at the polling unit at around 10:31 and voted around 10:36 am.
Buhari at his polling unit in Daura
President Muhammadu Buhari is at his polling unit in Daura during the gubernatorial election.
Lagos Deputy Gov Hamzat speaks on conduct of elections
The Lagos deputy governor, Hamzat, has commended the conduct of the gubernatorial elections.
Hamzat said:
'Seems Better."
Babajide Sanwo-Olu arrives polling unit, casts hs votes
Governor Babajide Sanwo-Olu arrives at his polling Unit 006, Eiyekole at Adeniji Adele, Lagos Island.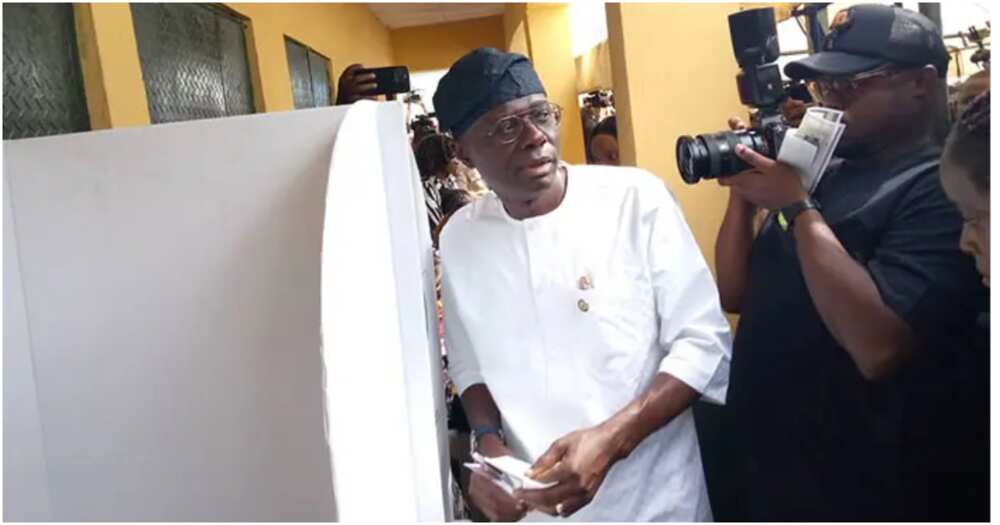 Unrest in Nasarawa, Karu LGA, PU 001
NSCDC officials are on standby as party officials argue over voting procedures in ASO Gudape 001 Polling unit, Karu LGA, Nasarawa state.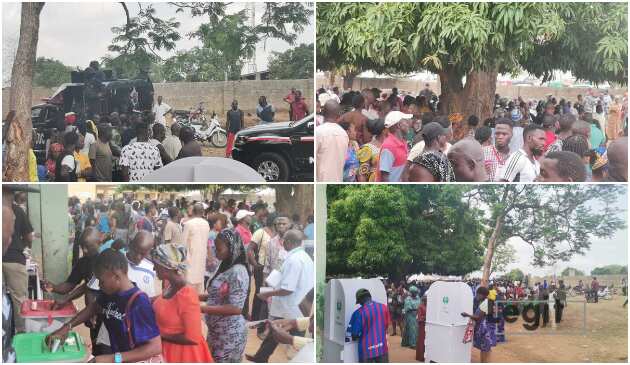 Rhodes-Vivour speaks after casting his vote
The Labour Party's governorship candidate in Lagos, Gbadebo Rhodes-Vivour has spoken after casting his votes in Ikeja, Lagos state.
He said:
"I just cast my vote at my Polling Unit in Anifowoshe, Ikeja.
"State Capture must end!! Every Lagosian's voice, lives and properties matter.
"Èkó E dìde!!"
Kano APC guber candidate displays ballot papers
APC governorship candidate in Kano, Nasir Yusuf Gawuna displays his ballot papers.
Gbadebo Rhodes-Vivour votes
Lagos State governorship candidate of the Labour Party, Gbadebo Rhodes-Vivour, casts his votes at about 9:40am at polling unit 045 Anifowoshe, Ikeja, on Saturday, March 18.
Gbadebo Rhodes-Vivour arrives own polling unit in Lagos
The Lagos governorship candidate of the Labour Party, Gbadebo Rhodes-Vivour, arrives at his polling unit 045, Oshifila/Abule Igbira in Anifowose, Ikeja.
Tinubu votes in Lagos
President-elect Asiwaju Bola Ahmed Tinubu cast his vote in Ikeja, Lagos state, on Saturday, March 18.
Tinubu tweeted on Saturday:
"I just joined other Nigerians in exercising my civic duty in the ongoing governorship and state assembly elections. I encourage you all to go out and vote peacefully."
Thugs are fighting in the Chiranchi area of Kano
Thugs are fighting in the Chiranchi area of Kano.
Security operatives are already addressing the issue.
Police deploy surveillance, vehicles, anti-riot equipment in Kano
Nigerian Police Force deploys surveillance helicopters, operational vehicles, and anti-riot equipment for the Governorship and State Assembly elections in Kano state, on Saturday, March 18.
Governor Yahaya Bello voting at the polling unit at agasa-ovete , Okene
Governor Yahaya Bello voting at the polling unit at Agasa-ovete, Okene.
Voting Begins In Sanwo-Olu's Polling Unit
Voting in the governorship and State House of Assembly elections has begun in the polling unit of Lagos State Governor Babajide Sanwo-Olu at PU06, Eiyekole, Adeniji Adele, Lagos.
INEC Officials Arrive Rhodes-Vivour Polling Unit
Officials of INEC have arrived at the polling unit of the Labour Party candidate in the Lagos governorship election, Gbadebo Rhodes-Vivour.
Voters troop out in Iseyin, Oyo
It's a serious business as usual as Nigerians are already at various polling units to choose their governor and state assembly reps in Iseyin, Oyo state.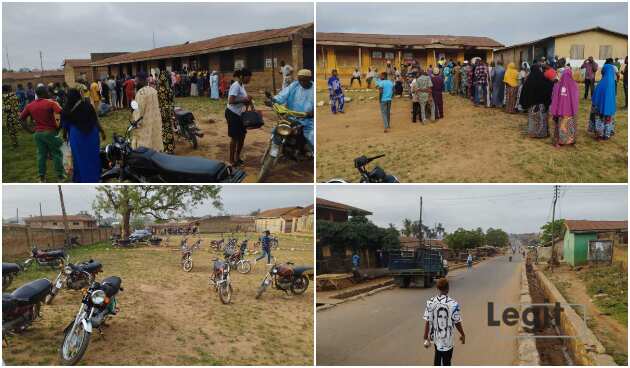 No chairs and tables for the INEC staff in PU 002, Kaltungo West, Gombe
State: Gombe
Ward: Kaltungo West
PU: 022
Report: No chairs and tables for the INEC officials.
INEC officials arrive at Katagum LGA, Bauchi, PU 041
STATE: Bauchi
LGA: Katagum
WARD: Nasarawa B.
PU: 041
INEC officials just arrived.
Voting begins in Darazo LGA, Bauchi, Ward Wahu, PU 001
State: Bauchi
LGA: Darazo
Ward: Wahu
PU: 001 Wahu primary school
Report: Voting commences.
INEC yet to set up somewhere in Ondo West
Time: 8:44 am
State: Ondo
LGA: Ondo West
Ward: 11
PU: 001 and 002
INEC officials are yet to set up, with voters waiting to cast their votes.
Voting ongoing smoothly in Kabba Bunu LGA, Ward Okebukun
The election is ongoing peacefully in Kabba Bunu, Okebukun, PU 003, but the list of registered voters was not posted. Three security personnel and one party agent were present.
INEC staff in Boripe L/G Osun waiting for official time
INEC staff and voters are waiting patiently for the official time of the commencement of vote at ward 8, unit 1, Ada, Boripe L/G Osun state.