Man Transformed Self Into Dog With $14,000, Stepped Out for First Walk? Facts You Should Know
A Facebook user, EmmyG's claim that a man transformed himself into a dog with $14,000 and was stepping out for a walk for the first time was misleading.
The video, which was 44 seconds, showed an unnamed woman posing with the dog while people passed by.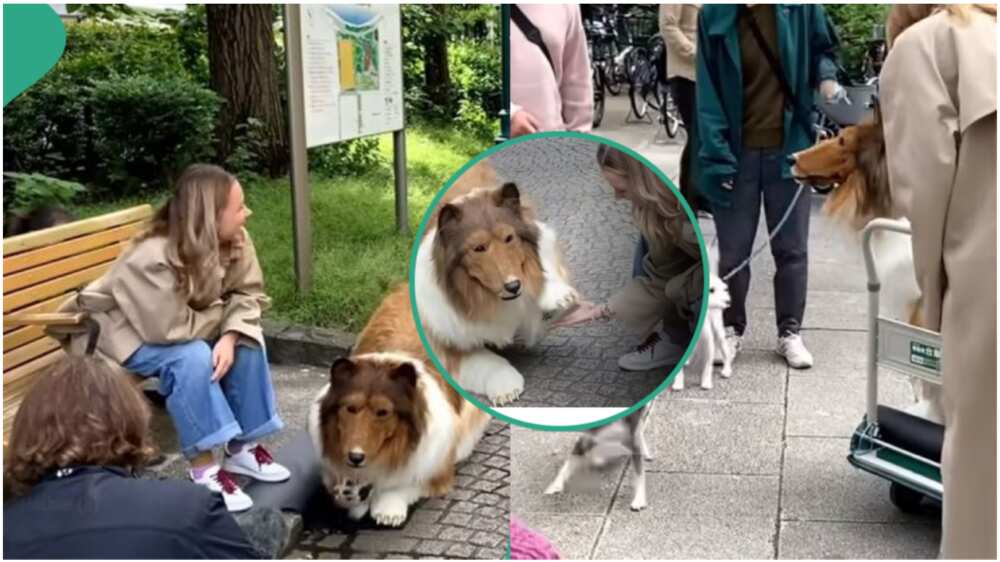 As of the time of writing this report, the video has garnered over 1.3 million views, over 19,000 likes and over 4.9 million comments.
While body modification has become global, the claim that a human could transform himself or herself into an animal has become topical.
A Facebook user, Dycen Victor, disbelieved the post and concluded it was a costume. He said:
PAY ATTENTION: Follow us on Instagram - get the most important news directly in your favourite app!
"This is not true; no technology or anyone can do this. It's a costume."
However, Legit.ng learnt that it was a misrepresentation of information on sensitive subjects.
Red flag about a man who allegedly transformed into a dog
A careful examination of the video revealed that some typical behaviour of dogs was exhibited in the trending picture and video. For instance, it leapt while lying on the ground rather than walking upright.
Also, this particular one did not give any facial movement or open its mouth, even when it rolled on the floor when the woman with it beckoned.
Fact about Toco, a Japanese man turning into a dog, revealed
Following a Google search by Legit.ng, several articles revealed a certain Japanese man, Toco, went viral for spending $15,000 to get a dog costume in 2022 to appear like an animal.
A report in Mirror, a UK-based news medium, reported that the man spent "roughly £12,480 on a realistic border collie costume to look exactly like his favourite breed of dog".
At least, this medium came across the story of Toco on three other media during the probe of the claim that the man transformed into a dog.
Toco was also discovered to own a YouTube channel named "I want to be an animal". As of the time of writing this report, it has 53.8K subscribers, and 37 videos have been uploaded.
His latest video, "Dogs and people's reactions to seeing a realistic dog costume", uploaded in July, made him go viral and has gathered over seven million views on YouTube since writing this report.
See the latest video here:
Fact to claridy about Toco, Japanese costumer
The claim on Facebook that a man has transformed himself into a dog is misleading.
Several reports revealed that the Japanese man dreamt of becoming an animal. He currently looked like after purchasing a costume resembling a dog.
Wise dog stays with the owner in the hospital
In a related story, Legit.ng reported that a dog stayed with its owner, who was admitted to the hospital.
The man suddenly got sick and was taken to the hospital, but the dog refused to leave.
When he was discharged from the hospital, the man appreciated his dog for his loyalty.
Source: Legit.ng