"Can't Believe This": Incredible Artwork Stuns Viewers, Shows Ageing Transformation in 1 Frame
1n a stunning display of artistic prowess and creative thinking, a recently unveiled painting has captured the imagination of art enthusiasts worldwide
The remarkable artwork has left viewers stunned as they witnessed a young woman seamlessly age before their eyes with each passing step
Netizens have hailed the artist as a genius for their ability to create a thought-provoking piece of art, showcasing the passage of time through the painting's transformation
A breathtaking piece of art has captivated viewers and showed the passage of time in a single frame.
The incredible video shared on Tik Tok by @arts_help showcased a mesmerising transformation, which began with a captivating depiction of a radiant young lady.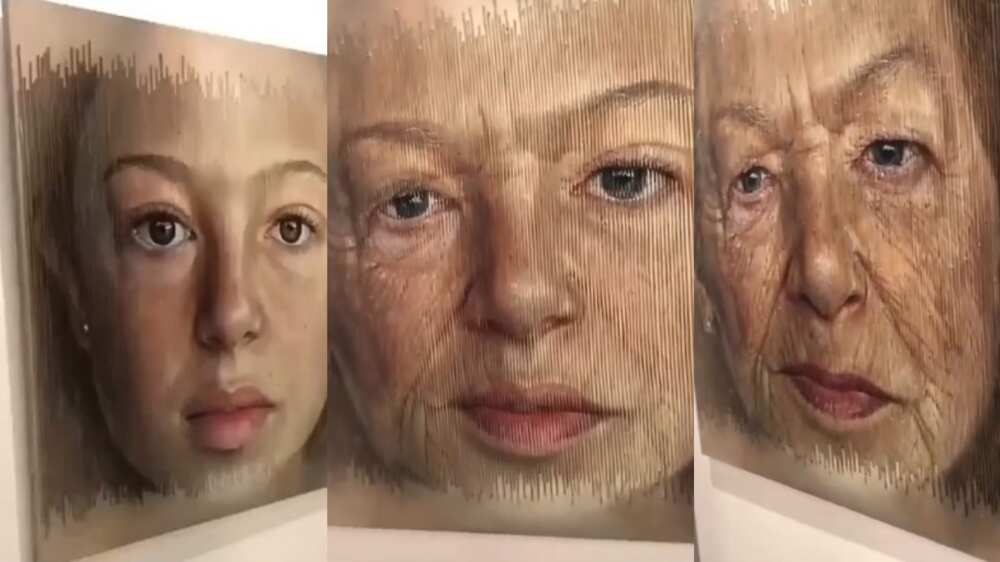 As intrigued spectators approached the painting, they were treated to a spellbinding spectacle.
The moment one stepped before the artwork, an inexplicable phenomenon unfolded. The once youthful face began to change gradually, which captured the essence of time's passage.
Wrinkles gently etched themselves upon the face, the complexion subtly shifted, and the vibrant colours of youth faded into a portrayal of old age.
The mesmerising transformation utterly wowed many; they expressed their awe and praised the artist, hailing the artist as a genius.
The video so far has gathered 700,000 likes with more than a few comments on TikTok.
Social Media Relations:
@EBellmore said:
"So many incredibly talented people in this world! To think of this concept and turn it into an actual piece of art.... incredible! "
@user wagiedoll commented:
"This is brilliant, OMG the artist has to be brilliant to do this."
@Joni Joseph Johnston:
"How magnificent but scary because time goes that fast ."
@jinda527Herjinder said:
"Absolutely breathtaking!".
@Delise LePool said:
"What? How?! Absolutely stunning".
@dyjlv2hj3w4w said:
"That's amazing". No idea how this is painted. Amazing talent".
Young Artist Unveils Stunning Artwork, Internet Pours Out Their Admiration
Meanwhile, in a related story, Legit. ng previously reported about how a young artist unveiled a stunning artwork.
A young artist who displayed her art on social media has caught the attention of many people.
In the tweet where she shared one of her new works, the artist indicated that she is a Salsoburg in South Africa.
Many people also noticed the challenges that many young artists face in Africa, making it hard for them to excel but they did not stop at that as they also appreciated Nassi's work.
Source: Legit.ng