"I Was 7 Weeks Pregnant Without Knowing": Woman Gives Birth to Baby Who Came Out Holding Her Contraceptive
A 20-year-old woman has given birth to a baby which came with her contraceptive in his hand
The woman named Violet Quick was using an intrauterine device (IUD) when she fell pregnant
Photos showed that the baby boy came out from her womb clutching the T-shaped device in his hand
A pregnant woman has given birth to a baby boy that came out of her womb clutching a contraceptive device.
The woman named Violet Quick got married to her husband, John Francis and she was on an intrauterine device contraceptive.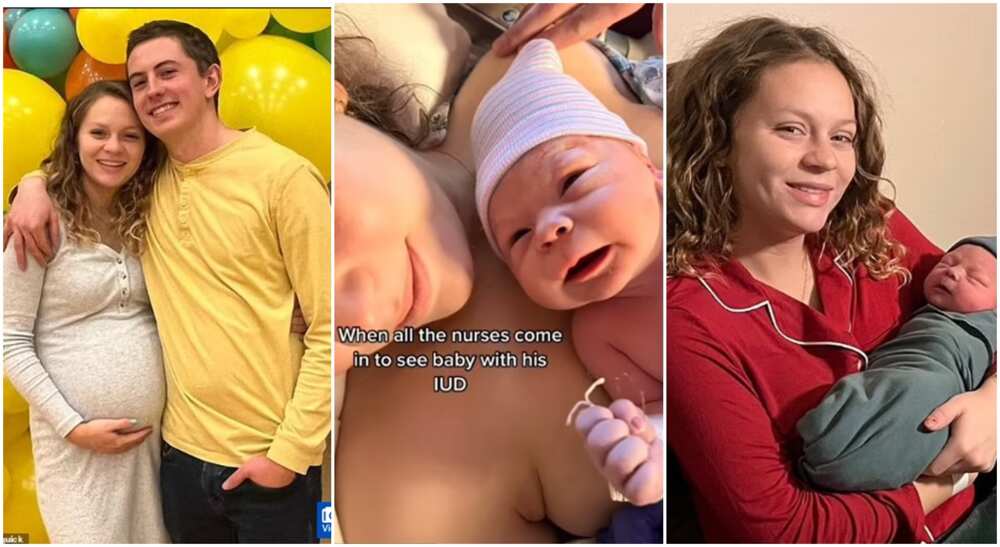 She did not expect to get pregnant but was surprised when she suddenly started feeling symptoms of pregnancy.
Multiple tests came out positive
Violet took a pregnancy test and it turned out that she was already seven weeks pregnant despite the contraceptive still in her body. She said:
"So I had my Skyla IUD for nine months before I got pregnant and the reason that I decided to take a test was because I was feeling nauseous for about two weeks and I would just throw up every once in a while.
"I didn't know what was going on and so I took a test and it was positive right away."
She didn't believe she was pregnant because her contraceptive was still active. She decided to take more tests just to be fully sure. She explained:
"They were all positive and I actually went to the ER and I was seven weeks pregnant. I would say if you are having any of those signs of pregnancy or if your period is late to take a test."
When she gave birth a few weeks ago, the 20-year-old Idaho woman said her baby came out with a piece of T-shaped contraceptive in his hand. She posted a video on TikTok and captioned it:
"When all the nurses come in to see a baby with his IUD."
Video of mum who welcomed twins
In a related story, Legit.ng reported that a woman gave birth to twins.
According to a video she posted on TikTok, she spent half of the year 2022 being pregnant.
She showed the faces of her beautiful babies and the video went viral.
Source: Legit.ng