Palm Wine Tapping: How Traditional Practice Made Nigerian Man a Millionaire and Lessons for the Youths
Palm wine tapping is a traditional practice in Nigeria and other parts of West Africa, where the sap of various species of palm trees is collected and consumed as a refreshing alcoholic beverage.
The most commonly tapped palm trees are the oil palm and the raffia palm, both found in large numbers in these regions.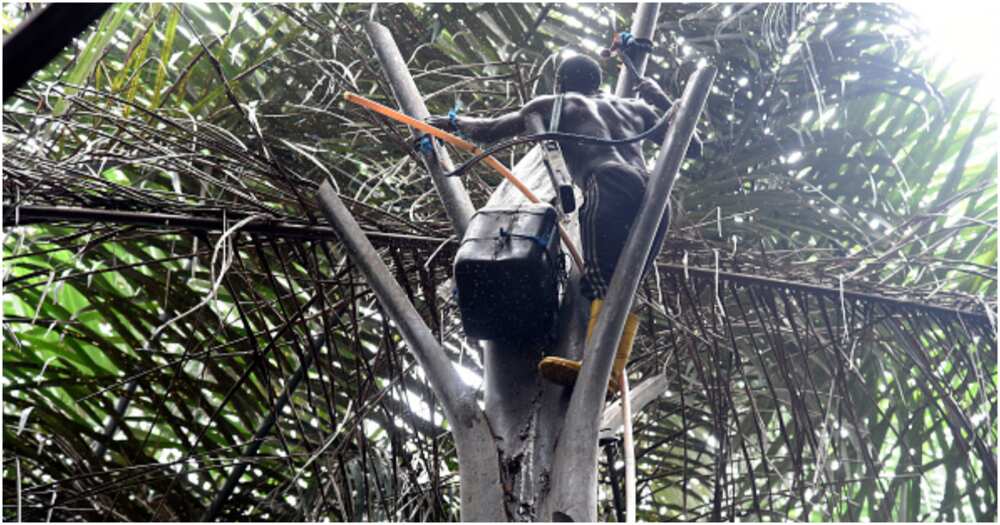 Palm wine tapping in Nigeria
In Nigeria, palm wine tapping is prevalent in the southern and eastern regions, where palm trees are abundant.
The process of palm wine tapping involves climbing the palm tree and making a small incision in the tree's bark with a sharp instrument, such as a cutlass or a knife.
PAY ATTENTION: Сheck out news that is picked exactly for YOU ➡️ find the "Recommended for you" block on the home page and enjoy!
The sap, called "emu" in the Yoruba language and "ubu" in the Igbo language, is then collected in a container, usually made of bamboo or plastic.
Across some relaxation spots in Lagos, Nigeria's most populous city, a 150-centilitre bottle of palm wine is sold for $1.1 - or higher, depending on which area of the commercial town the drink is being sold and to whom, an article by The Anadolu Agency posited.
The collected sap is left to ferment for a few hours or days, depending on the desired taste and alcohol content the tapper hopes to achieve.
Palm wine is a mildly alcoholic drink often consumed fresh, although it can be stored for a short period.
Palm wine tapping is an essential source of livelihood for many people in Nigeria, particularly in rural areas. It is also an important part of the country's cultural heritage and is often featured in festivals and celebrations.
Benefits of palm wine tapping
Tapping palm wine has several economic and cultural benefits for communities in Nigeria and other parts of West Africa.
For one, palm wine tapping provides a source of income for many people, particularly in rural areas where job opportunities may be limited. It can be a profitable venture for those skilled at tapping and processing the sap.
It also has cultural significance in many communities in Nigeria and other parts of West Africa. It is often associated with celebrations and festivals and is an integral part of the local cuisine and social life.
Palm wine is a natural drink rich in vitamins and minerals, including potassium, calcium, and magnesium. It is also low in calories, making it a healthy alternative to other alcoholic beverages.
It has medicinal properties. Palm wine is believed to have several medicinal properties in traditional medicine. It is used to treat various ailments, including stomach ulcers, jaundice, and fever.
It is also of immense environmental benefit. Palm trees are critical for soil conservation, as they help prevent erosion and promote biodiversity. Palm wine tapping can help preserve these trees and the ecosystems in which they grow.
Challenges of palm wine tapping in Nigeria
While tapping palm wine has several benefits, some challenges are associated with the practice in Nigeria.
One is the lack of regulation, which can lead to unsustainable practices and environmental degradation. There is a need for more precise guidelines and rules to ensure that palm wine tapping is done sustainably.
Over-tapping is another significant issue because it can damage the tree and reduce its lifespan, which can have long-term economic and environmental consequences. This is mainly a problem in areas with a high demand for palm wine.
The climate poses a challenge too. Climate change can significantly impact palm trees and their ability to produce sap. Changes in rainfall patterns and temperature can affect the yield and quality of the sap, which can have economic and environmental consequences.
There is also the concern for the health and safety of tappers. Climbing palm trees can be dangerous, and there is a risk of injury or death if proper safety measures are not followed.
Additionally, there are concerns about the quality and safety of palm wine, as it may be contaminated with harmful bacteria if proper hygiene practices are not followed.
Is palm wine tapping a profitable venture in Nigeria?
Palm wine tapping can be profitable in Nigeria, particularly for those skilled at tapping and processing the sap.
However, the profitability of palm wine tapping can vary depending on several factors, including the location, demand for palm wine, and the efficiency of the tapping and processing methods.
In areas with high demand for palm wine, such as urban centres, palm wine tapping can be lucrative.
However, competition from other uses of palm trees, such as palm oil production, can make it more difficult to access the trees and limit the potential for profitability.
Efficiency in tapping and processing methods can also have an impact on profitability. Skilled tappers who can tap the sap without damaging the tree and process it quickly and efficiently can produce more palm wine and increase profitability.
If you have other doubts about venturing into it, let the story of Utobo motivate you. Utobo is a professional tapper from Amufi, Enugu Ezike, Enugu state.
He started tapping palm trees and producing wine at the age of 12 and has not only built a mansion with the business but bought a Mercedes Benz. He is a millionaire thanks to palm wine tapping.
Source: Legit.ng