"We Need to Share Her": Frustrated Father Warns Son in Funny Video, Protests His Closeness to Mum
A hilarious video of a Nigerian dad warning his baby that he needs his wife back has kept netizens in stitches
In the video, the father lifted the little boy and aired his pain while the baby laughed at him
The frustrated father lamented that his son keeps on taking most of his wife's time and they needed to share her attention
A funny video of a Nigerian dad warning his baby against capturing his wife's full attention has gone viral on TikTok.
In the funny clip, the man confronted his baby, lifted him up, and spoke directly to his son about the need to share his wife.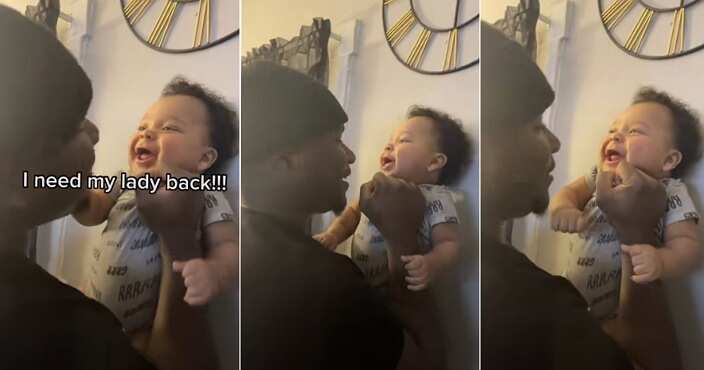 He lamented the baby takes up most of her time and his wife now has very minimal time to care for him.
Reacting to his father's demand, the baby boy laughed in a very cute way as his dad spoke about how much he wanted his wife back.
"Let me tell you something now, you keep taking all her time. We need to share her, we need to share her. Are you listening to me? I need my lady back. Do you hear me?", the father lamented.
Social media reactions
@Thabo Syto said:
"This a lost battle accept."
@Jasmyne Chantel commented:
"You the one that put him in her life."
@AB replied:
"He's laughing like he knows what he's doing. Like he be crying internally."
@Ezra best added:
"He is not listening to you actually just laughing at you."
@PressurebytheLb commented:
"He like bruh, you see this face and smile you don't stand a chance."
@Big P641 added:
"He's taking you for a joke pops."
@Big Xiie wrote:
"He said "silly man, she's mine now."
@J Cabrera39 said:
"He is laughing because he ain't giving her back."
@user6097324761987 replied:
"Lil man don't give a dam, he laughing in your face cause he already knows what it is. Sorry for your loss."
@barbarathomas3145 reacted:
"Screaming that's hilarious I don't think so so adorable and cute Love that smile."
@lesleyharrell28 said:
"Awwww he's laughing he knows better and got Momma in his back pocket...love this."
@user3744003155466 added:
"You've lost your Woman to this guy, he charmed the lady with his sense of humour."
@gogoqueen012 commented:
"That fact he laughing straight to your face is too cute."
@Samuel Trevino835 wrote:
"That's a beautiful baby, how I miss my babyies. Enjoy your baby cause they grow up so fast, love this video."
Watch the video below:
Frustrated dad lifts daughter for staying awake
Similarly, Legit.ng previously reported that a funny father had a brief conversation with his little daughter regarding her activeness at night. A hilarious video shared on TikTok shows the heartbroken father venting out his pain at the little girl.
He complained that he hadn't been able to spend quality time with his wife at night because the little girl is always awake. The little girl stared at him and smiled sweetly as her dad ranted. She didn't care what he was saying.
"If you don't sleep tonight, there's trouble. I want my wife. You're taking my wife away from me. Do you understand? You think I'm playing? Friday night I couldn't, on my birthday, I couldn't. Look, I'm not playing games. I want my wife", the father complained.
Source: Legit.ng