5 Reasons to Sell Your USDT and BTC for Naira on Jackocoins
Key point
• Best place to sell USDT and BTC in Nigeria
• Why you should sell on jackocoins?
• How to Get started on jackocoins?
• How to contact jackocoins?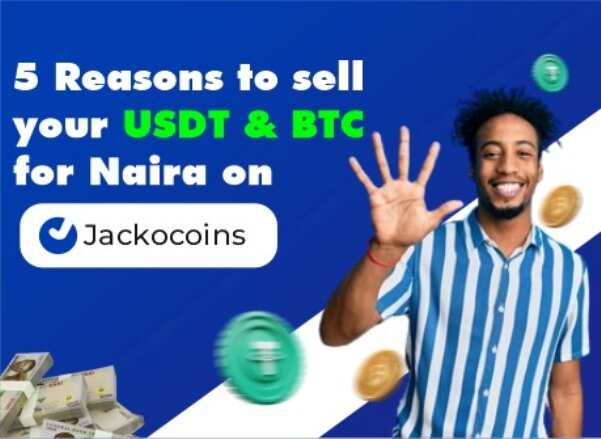 BEST PLACE TO SELL USDT AND BTC IN NIGERIA
Tether with ticker USDT is a cryptocurrency with equivalent USD value on the blockchain. This token is minted on several blockchains like Ethereum, Tron, Binance, Solana, and others. This is created to serve as a stablecoin with very low volatility and pegged with USD Reserve.
Bitcoin with ticker BTC is regarded as the father of all cryptocurrency, being the first digital currency to be created with full decentralization and a large community.
We have several exchanges to sell USDT(trc20) and BTC in Nigeria but one of these exchanges that offer this service at a satisfactory rate is jackocoins with the following advantages over others.
WHY YOU SHOULD SELL ON JACKOCOINS?
1. High Rate
When it comes to the high rates in Nigeria's crypto exchange market for USDT and BTC, there is no doubt that jackocoins is the top exchange that offers it best. This lets users make more profit on their crypto, especially crypto vendors. The rate is the same for vendors selling low volume as low as #100k and higher volume without any limit.
2. Fast Payment
Delayed payment can result in many undesirable instances in businesses which is why jackocoins exchange takes fast payments very important except in some cases where payments are delayed due to bank network or due to users errors like inputting wrong details although these delays are to prevent loss of funds. Apart from all these likely cases, the payment is super fast like the speed of light once you receive 1 confirmation on the blockchain network.
3. Enough Liquidity
One of the challenging problems most cryptocurrency exchanges do have in Nigeria is the lack of liquidity to process large payments in time which do cause delayed payment for users and can disrupt daily business activities. This is why some exchanges have limits to which users can trade on daily bases. On the jackocoins exchange, this is not an issue at all as we have more than enough liquidity to process all these large USDT and BTC funds at once without any delay and even no limit to which users can trade, unlike other cryptocurrency exchanges.
4. Automated Trading System
This feature is one of the unique features of jackocoins that make it stand out among others cryptocurrency exchanges in Nigeria. The automated trading system enables users to make a one-time setting on their jackocoins account and allows them to automatically sell their cryptocurrency and receive naira whenever cryptocurrency is sent to the cryptocurrency address associated with each user account on jackocoin without needing to click on sell every time. You can easily give your USDT and BTC address to your customer and received naira once the USDT and BTC is confirmed, your wallet mode is OFF and you set your default bank account details.
5. Easily Accessible
Simplicity and user experience are very essential when it comes to trading, Developers at Jackocoins have made the platform very easy to interact with and use. Jackocoins exchange is easily accessible on mobile phones and PC with a very simple interface that can be easily understood has No complicated components, and can easily be navigated for the best trading experience. It can be easily downloaded on a mobile app on Android through playstore and easily bookmark on iPhone, the app coming soon on iPhone though. On PC, jackocoin can be accessed through our web address.
HOW TO GET STARTED ON JACKOCOINS
You can easily get started in 3 steps
1. Register on jackocoins
2. Link your bank details to your jackocoin account
3. Copy your USDT or BTC wallet address, send your coin, and receive your bank alert!
HOW TO CONTACT JACKOCOINS?
You can reach us through
1. Our live support on our website and mobile app
2. WhatsApp on +234 813 001 5202
3. Email jackocoins247@gmail.com
Finally, when it comes to High rates, fast payment, automatic payment, and good trading experience, we must always include jackocoins based on users' reviews over the years. jackocoins never stop improving daily to offer the best trading service in Nigeria and Africa at large
[Sponsored]
Source: Legit.ng