Fuel Scarcity: NNPC Finally Opens Up on Cause of Queues in Lagos, Abuja
Nigerians have been informed of the reason for the long fuel queues in parts of Lagos state and Abuja
According to the NNPC on Tuesday, November 29, the queues are caused by ongoing road projects in the state
This was revealed by Adeyemi Adetunju, the executive president of the NNPC, who said there is no scarcity of petroleum products
Abuja - The prevailing appearance of fuel queues in Lagos and Abuja is caused by some ongoing construction projects in the state.
This was revealed on Tuesday, November 29, by the executive vice president of the National Petroleum Company Limited (NNPC), Adeyemi Adetunju, during a press conference in Abuja, Channels TV reports.
Adetunji noted that the situation in Lagos is taking its toll on Abuja, which is why the Federal Capital Territory is also experiencing queues at the moment.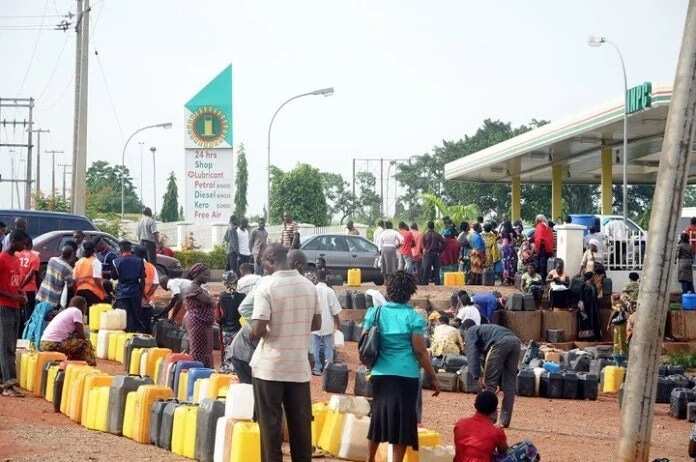 However, he disclosed that while the gridlock is easing out, the NNPC is channelling vessels and trucks to unconstrained depots, Sahara Reporters reports.
Adetunju explained:
"The recent queues in Lagos are largely due to ongoing road infrastructure projects around Apapa and access road challenges in some parts of Lagos depots.
"The gridlock is easing out and NNPC has programmed vessels and trucks to unconstrained depots and massive load outs from depots to various states are closely being monitored.
"Abuja is impacted by the challenges recorded in Lagos. NNPC Retail and key marketers have intensified dedicated loading into Abuja to restore normalcy as soon as possible."
Is there scarcity of petroleum products?
The NNPC debunked viral claims and fears that there is a scarcity of products in Nigeria.
Adetunji stated clearly that the NNPC has PMS stock of over 2 billion litres, which is equivalent to over 30 days of sufficiency.
He said:
"We want to reassure all Nigerians that NNPC has sufficient products, and we significantly increased product loading including 24-hour operations in selected depots and extended hours at strategic stations to ensure products sufficiency nationwide.
"We are also working with the NMDPRA, MOMAN, DAPPMAN, IPMAN, NARTO, PTD, and other industry stakeholders to ensure normalcy is returned."
Nigerians in pain as black marketers sell petrol at N350 a litre
Black marketers in Lagos are now selling petrol for N350 a litre. According to them, the product has increased at fuel stations, hence the reason for their actions.
There were queues across filling stations while some others shut down services in the state.
Long queues were seen at the Nigerian National Petroleum Company (NNPC) Limited filling stations at Ishefun road, Ayobo and Oregun road, and Opebi, Ikeja and in many areas of the state.
Source: Legit.ng