Comfort Peter: 23-year-old Impregnated by Runaway Soldier Wants Military to Fish Him Out
A young Nigerian lady has called out the Nigerian military to assist her in searching for a soldier who used and dumped her
Identified simply as Comfort Peter, the 23-year-old lady is sad as her alleged lover impregnated her and abandoned her
It is indeed a worrisome case as she could no longer cope with the pregnancy, she appealed to the military to help fish him out
Bauchi state- Love indeed is beautiful and sweet but sometimes it can turn sour, this is the case of a 23-year-old lady, Comfort Peter.
Comfort has called out the military seeking assistance in the search of her lover who allegedly impregnated and abandoned her.
The Nigerian Tribune reports that Comfort, a resident in Bauchi but from Bogoro LGA of the state, lament over being betrayed by a serving soldier, Sergeant Julius Simon for abandoning her with pregnancy.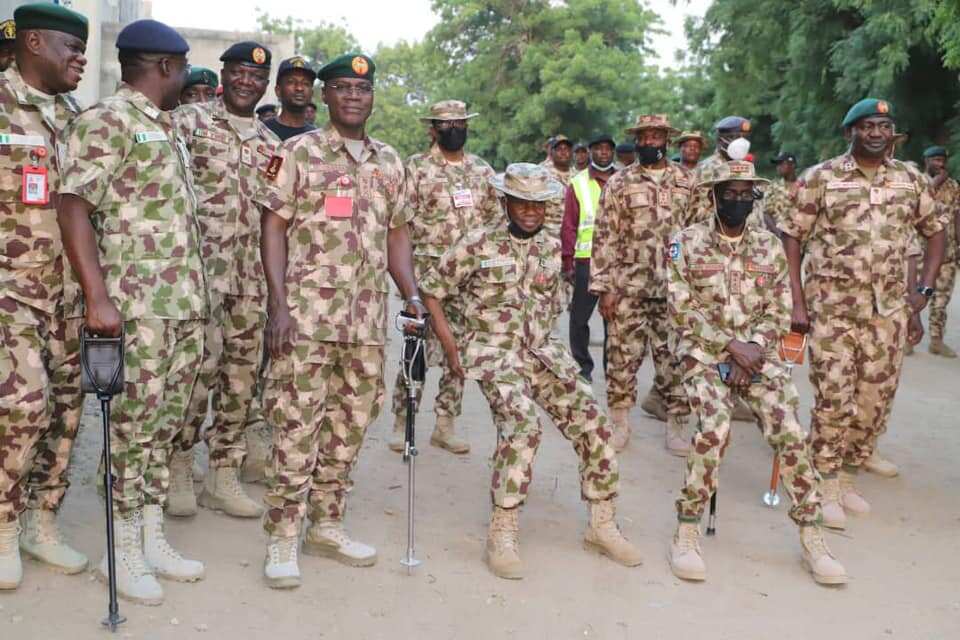 This indeed is a mixture of love, pain and sorrow, one that is characterised by betrayal.
She narrated her ordeal to newsmen at the NUJ Press Centre on Thursday, November 4, in the state.
Comfort disclosed she had met the soldier when she newly graduated from the Government Day Secretary School, Federal low cost, Bauchi and he was on a special assignment at the Defence Industry Corporation (DIC) plant in Bauchi where she was assisting a food vendor, and he professed love to her.
How they met
She said:
"We met in April 2018 when I just graduated from Government Day Secretary School, Federal Low cost, Bauchi and he was on a special assignment at the Defence Industry Corporation (DIC) plant in Bauchi where I was assisting a food vendor and he approached me that he was in love with me.
"I told my madam about it but she warned me against it. Julius kept disturbing me and when I told my madam, she said that I should tell him to go to my house and see my parents if he actually loves me. I told him what my madam told me and he agreed to come to our house.
With tears rolling down her cheek, she said that, "He actually came to our house, met my father and declared his intention to marry me. My father asked him several questions which he answered and my father reluctantly agreed telling him to bring his people for introduction."
The departure of the soldier
"One evening in August 2018, he called to tell me that they will be leaving Bauchi back to Biu having completed the assignment. He then asked me to come over to Shadawanka Barracks to see him so that we will discuss before he will leave the next day.
"I went to the Barracks as he directed, he took me to the house of one of his friends and slept with me all night. He was the person who 'disvirgined' me, he was so excited that he met me as a virgin promising that he will definitely marry me. I didn't know that it was a fake love he displayed."
Contacting him
According to her, all efforts to get him have proved abortive as he has stopped using the phone number he gave her.
Comfort said crying:
"I informed him that I was pregnant and he assured me that he was coming but when I did not see him. I travelled to Biu to see him, he apologised for not coming as promised because he said that he was busy in the bush.
"I also went back to Biu with my uncle when the pregnancy was seven months old. He also apologised to my uncle and promised again to come with his family to formalise the marriage. "We came back to Bauchi but he refused to come as promised.
"I delivered a baby in June 2019, I told him but has refused to come to see the boy who is two years three months now.
"Julius was the one that 'disvirgined' me. He promised to marry me but deceived me. I will never love or trust any man again, but he must take care of his son."
Comfort, who came with her father, a retired Assistant Superintendent of Police, called on the military authority to fish him out and make him responsible for his son.
Efforts to get the military authority in Bauchi to react to the allegation proved abortive as an officer who spoke to our correspondent pleading anonymous advised that she goes back to the unit where the soldier is serving to lodge an official complaint.
12 Terrorists, bandits leaders killed so far in 2021
Meanwhile, Legit.ng had earlier reported that though the fight against terrorism is far from over in Nigeria, some positive developments have been witnessed in the current year.
So far in 2021, at least 12 terrorists/bandits leaders have lost their lives even as the security forces continue to intensify the war against the criminal elements tormenting the nation.
Here is the list of terrorist leaders that so far died in the year 2021. The piece is based on a statement from the Nigerian military and reports from various news media.
Source: Legit.ng