"SA Babes Fighting Over Nigerian Man": BBTitans Blue Aiva Walks Away As Khosi Marks Territory With Yemi
South African BBTitans star Khosi is serious about her relationship with Yemi and she made a move many people consider desperate
Khosi was seen in a video confronting Blue Aiva about her closeness with her man
Blue made it clear that Yemi is the one after her, not the other way and even walked out on Khosi
Khosi recently had a woman-to-woman discussion with Blue Aiva about Yemi and it didn't exactly go well.
The South African housemate made her colleague understand that her closeness with Yemi in the house would be a problem for them both.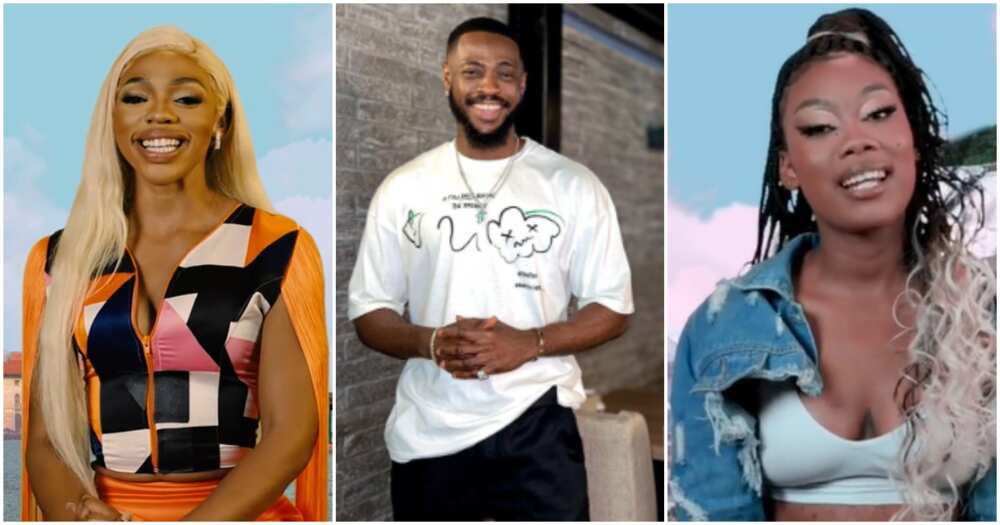 Blue Aiva seemed indifferent and also made it clear she doesn't care about what happens because Khosi's man is the one after her and not the other way around.
The conversation didn't exactly end well for Khosi as Blue eventually walked out of the room.
Watch the video below:
Reactions to Khosi's confrontation
mzmeemee1:
"South African babes fighting over a Nigerian man."
juicyemjay:
"Real housewives of Yemicregx"
tamar_natalie:
"Wait isn't Khosi in a relationship outside the house? Why is she taking this so personal?"
maleeka_berry:
"I love how both of them are having this conversation without any emotions just laughing and catching cruise."
usiotaiga:
"This James Brown's sister won't concentrate on her game....be fighting for man that doesn't feel bothered at all and playing his own game."
tamar_natalie:
"So annoying when the guy is the problem."
charlsuche3:
"She should go and thank her God that it wasn't someone like Sandra or Olivia she confront like this."
musaagbajeolaide0:
"I think khosi and yemi are in love and me i love khosi's maturity i just hope she doesn't lose it one day here."
anthoniaobi:
"Najia guys are sweet ooh, imagine two south Africa ladies fighting over Yemi "
Khosi asks for space from Yemi
With just two days into the show, BBTitans South African contestant Khosi already asked for space from her Nigerian counterpart, Yemi.
In a video which made the rounds online, Khosi had a talk with Yemi where she told him their closeness was becoming uncomfortable.
The reality star suggested that they both gave each other space and ended whatever closeness they shared.
Source: Legit.ng