"The Potential of African Movie Industry Is Enormous": Jimmy Jean-Louis Speaks About Nollywood
International movie star Jimmy Jean-Louis was recently in Lagos for the popular African Movie Academy Awards (AMAA)
During his time in Nigeria, the veteran action movie star got to speak with Legit.ng, about the African movie industry and its potential
The Haitian hero noted during the conversation that a lot of work needs to be done to change the African narrative globally, and the movie industry is at the centre of it all
Haitian-born American movie star Jimmy Jean-Louis recently arrived in Lagos, Nigeria, for the 19th edition of the African Movie Academy Awards.
The AMAA award was held in Lagos at the Sheraton Hotel, Ikeja, on the 29th of October, where Jimmy picked up the award for Best Actor In A Supporting Role for the movie Rise.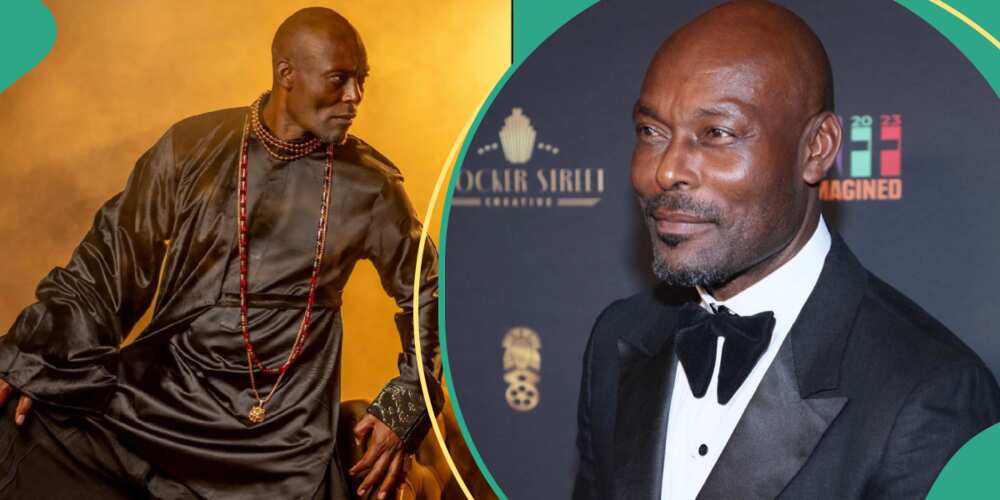 Jimmy, during his time in Nigeria, spoke with Legit.ng's Oke-Hortons Nosa. The Hollywood star shared his thoughts about the African movie industry and its global potential yet to be tapped.
Jean-Louis also spoke about awards in Africa and why there is a need to encourage and embolden the culture of meritocracy.
PAY ATTENTION: Сheck out news that is picked exactly for YOU ➡️ find the "Recommended for you" block on the home page and enjoy!
"Africa doesn't need validation from the West" - Jimmy Jean-Louis notes
Speaking with Jean-Louis was quite an inspiring experience. He spoke with so much passion, love and enthusiasm love for the African continent. Jimmy said:
"First, I would love to say this: we, as Africans we matter; we are relevant, 1.4 billion people, we don't need any other race or people to validate what we do. We don't need validation from any other group. There is a need to purge our minds of the colonial, neo-colonial and racist mentality sold to Africa and Africans for years."
"We just have to do what we do right" - Jimmy reiterates
The veteran Hollywood star further reiterated during the conversation that Africa is too blessed to continue to be sold globally as a poor continent. Jimmy shared the simple solution for Africa to witness immense growth:
"Like I said before, we don't need anybody's validation. All we need is just to do what we have to do by doing it right."
Jimmy noted that the movie industry in Africa is not yet functioning at the highest it can. He said:
"We have to structure the business, We have to build the foundational blocks that would give it the right base for it to shoot up and become a huge economy. I live in Los Angeles, California, and one thing I have come to understand is that the movie industry is a major cash cow for the American economy Africa and Nigeria can also tow this line and become a global player."
Jimmy shares why California is the 7th biggest economy in the world
The movie star noted during the conversation that if Lagos wants to maximize the African movie market, the potential is there, and it just needs to structure itself better.
"According to the World Bank, California is the 7th biggest economy in the world, Which means if it were a country, it would be the 7th most powerful country on earth. And the truth is the largest chunk of this wealth, power, and prestige comes largely from the entertainment industry. The ecosystem around the entertainment industry is huge; if you do it well from the top, everybody else right to the bottom echelon of society will benefit from it immensely. From dry cleaners, hotels, limousine rentals, everybody would benefit from a well structured industry."
"Lagos is a beautiful place" - Jimmy says
When we asked Jimmy about his thoughts about Lagos, he said:
"Lagos is a beautiful place. I love coming to this ever-buzzing melting point of culture, cinema and commerce."
Haitian Actor Jimmy Jean-Louis set to grace the 2023 AMAAs
Legit.ng recalls reporting when the board of the AMAA confirmed Jean-Louis would be in Lagos, Nigeria, to grace the 2023 Movie Academy's award show.
According to Raymond Anyiam-Osigwe, the Haitian-born actor will attend the event alongside several film practitioners worldwide.
Also billed to attend are the executive governor of Lagos state, Babajide Olusola Sanwo-Olu and Lagos state commissioner for tourism, arts and culture, Toke Benson-Awoyinka.
Source: Legit.ng