Indian Industrialist, Gautam Adani May Overtake Elon Musk as Second-Richest Man in the World
Except something extra-ordinary happens, Elon Musk may lose his position as the second-richest man in the world
Indian billionaire, Gautam Adani is fast closing in on the Tesla CEO with a $5 billion gap separating the duo
Elon Musk has lost about $200 billion in the last 12 months while Adani has gained over $44 billion
In a few weeks, Elon Musk may lose his position as the second-richest person in the world to Indian billionaire, Gautam Adani.
Elon Musk has lost over $200 billion in the last year, the first man in history to ever lose that much fortune.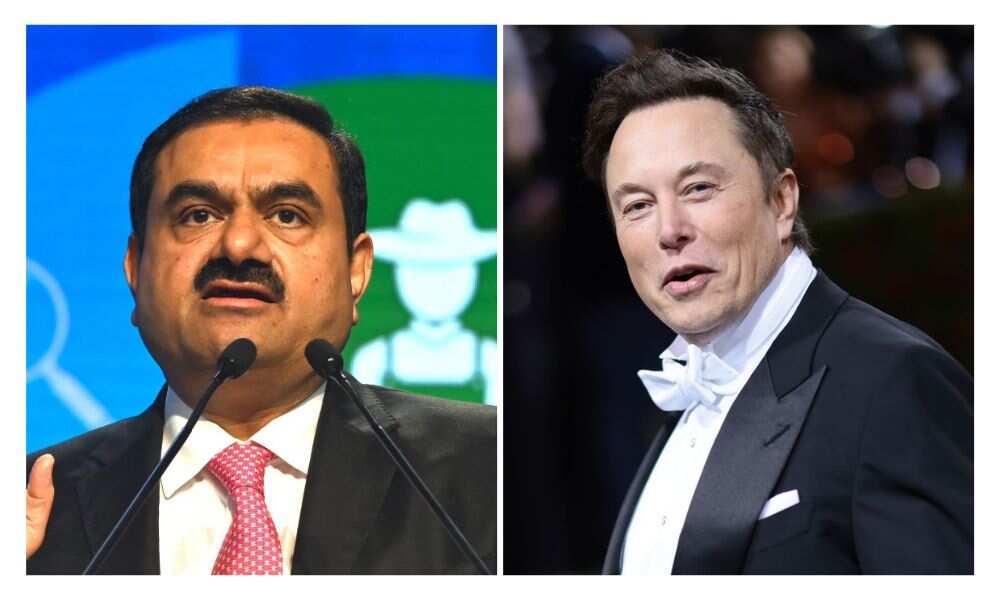 Elon Musk loses $200 billion in 12 months
What is separating Musk, whose car company's shares, Tesla has consistently posted losses in the last few weeks, from Gautam is just $ billion.
Gautam has made over $40 billion in the last three months, according to Bloomberg's Billionaire Index.
Adani is currently worth $119 billion and is ranked the third richest man in the world while Musk is worth about $124 billion.
Per Bloomberg's estimate, Musk lost a whopping $128 billion on Wednesday, January 4, 2023.
Adani reportedly added $0.12 billion to his wealth daily in 2022 while Musk lost about $0.36 billion every day in 2022.
Where Adani's wealth comes from
Adani could overtake Musk in a matter of weeks if he continues his gain trajectory in 2023.
Reports say that the Indian billionaire owns 75 per cent of stakes in Adani Enterprises, Adani Power and Adani Transmissions, stock filings show.
He owns stakes in Adani Gas, Adani Ports and Special Economic Zone and Adani Green Energy, all of which are publicly traded and based in India and held by promoter groups which include family members and holding firms credited to Adani to reflect his position as the founder.
Tesla's losing streak affects Musk's fortune
Elon Musk's net worth hit an all-time high of $320 billion as his Tesla car's shares surged.
Tesla's market capitalisation hit the $1 trillion mark for the first time alongside Google's parent company, Alphabet, Apple, Microsoft and Amazon.
Analysts have said the SpaceX CEO is distracted by his latest acquisition, Twitter which has seen a turbulent ride since Musk took the reins in October.
How Elon Musk made history as first person ever to lose $200 Billion in 12 Months
Legit.ng reported that Tesla Chief Executive Officer, Elon Musk became the first and only person to both make and lose $200 billion in recorded human history.
He is currently trailing behind French luxury merchant, Bernard Arnault with a personal fortune of $137 billion, according to Bloomberg Billionaire Index.
Many believe that Musk, who recently acquired Twitter for $44 billion, is distracted by the microblogging site.
Source: Legit.ng