Abacha's Loot, Other Funds Missing from Central Bank of Nigeria Records, Auditor-General Demands Answers
Despite the consistent announcement of recovered funds, the Central Bank of Nigeria (CBN) has failed to provide a record of the monies recovered
The All Progressives Congress, APC, Legacy Awareness and Campaign, recently announced that N1trn stolen funds, assets were recovered in 6 years
However, CBN failed to record in its books recovered funds between January 2016 and December 2019
The Central Bank of Nigeria recorded zero naira (nil) as recovered funds between 2016 and 2019 in its account.
Office of the Auditor-General for the Federation disclosed this in its 2019 audit report published on its website.
The report signed by Aghughu, Adolphus, Auditor-General for the Federation also has CBN response confirming the audit observation.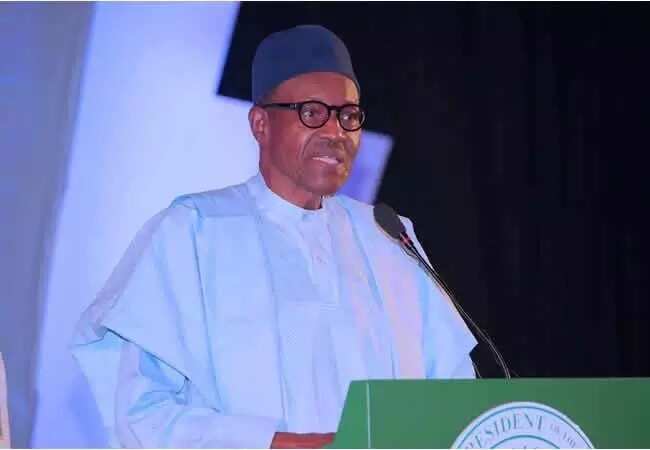 Part of the report reads:
Do you have a groundbreaking story you would like us to publish? Please reach us through info@corp.legit.ng!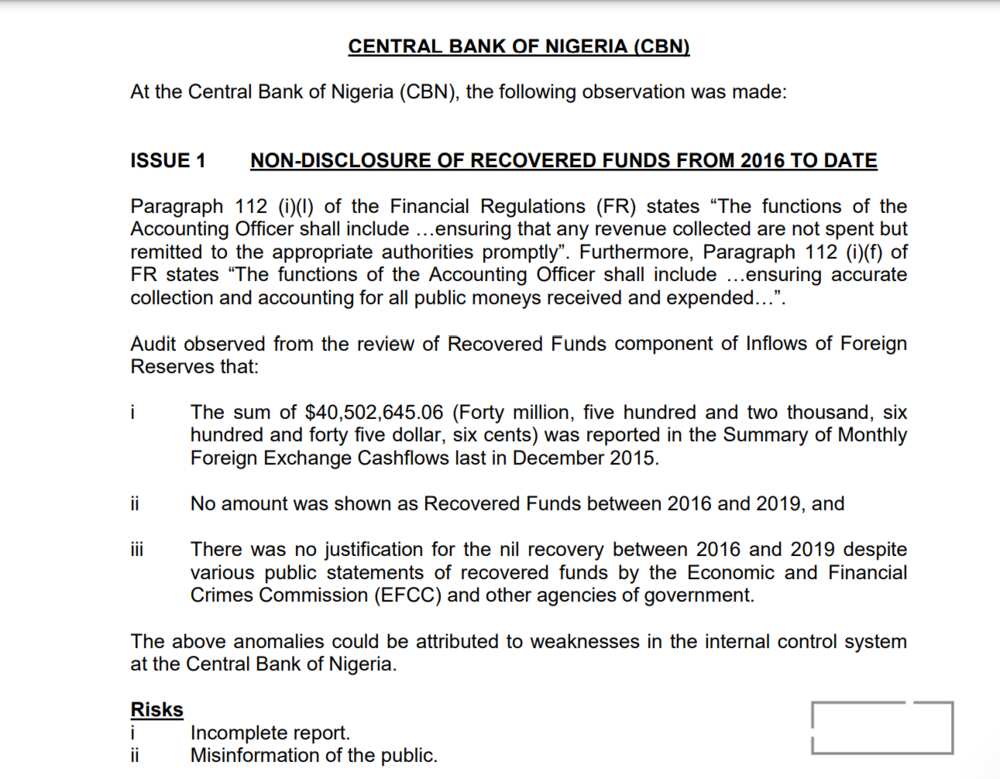 The audit report also raised worry that the CBN's inability to release specifics for the seized cash might lead to public misinformation.
As a result, the Audit Office requested that the CBN Governor explain why there were no recovery records or otherwise face sanctions for gross misconduct.
In response to the allegation, CBN said there was no inflow for the period of January 2016 – December 2019.
CBN was quoted as saying:
"However, a review of the account showed credit interest for the period. Kindly find attached a summary of review."
A quick check by Legit.ng discovered that the present administration during the period under review declared various recoveries including loot of former Military Head of State, General Sani Abacha.
Recoveries over the years
In June 2016, the federal government announced the recoveries as part of its campaign promise on transparency.
According to the statement titled interim report on financial and asset recovery made by the Federal Government of Nigeria from May 29, 2015 to May 25, 2016, the Federal Government made cash recoveries of N78,325,354,631.82 (Seventy-eight billion, three hundred and twenty-five million, three hundred and fifty-four thousand, six hundred and thirty-one Naira and eighty-two kobo).
The statement also stated that from 29 May 2015 to 25 May 2016, N185,119,584.61 (one hundred and eighty-five million, one hundred and nineteen thousand, five hundred and eighty-four US dollars, sixty-one cents); 3,508,355.46 Pounds Sterling (three million, five hundred and eight thousand, three hundred and fifty-five Pounds and 46 Pence); and 11, 250 Euros (eleven thousand, two hundred and fifty Euros) were recovered.
Also in 2018, the Nigerian government was quoted as stating that $322 million stolen by the former military head of state, Sani Abacha was returned by Swiss Authorities.
EFCC celebrates Chairman's achievement
Meanwhile, the EFCC has highlighted the achievements of its chairman, Abdulrasheed Bawa, to mark his 100 days in office.
Bawa was appointed by President Muhammadu Buhari in February to head the anti-graft agency following the infamous exit of Ibrahim Magu.
Among the listed achievements are the recoveries of N6,142,645,673.38 (over N6 billion), $8,236,668.75, £13,408.00, €1,730.00, 200 Canadian dollars, CFA374,000.00, and ¥8,430.00 (Japanese Yen).
Source: Legit.ng